Booze 101: Mead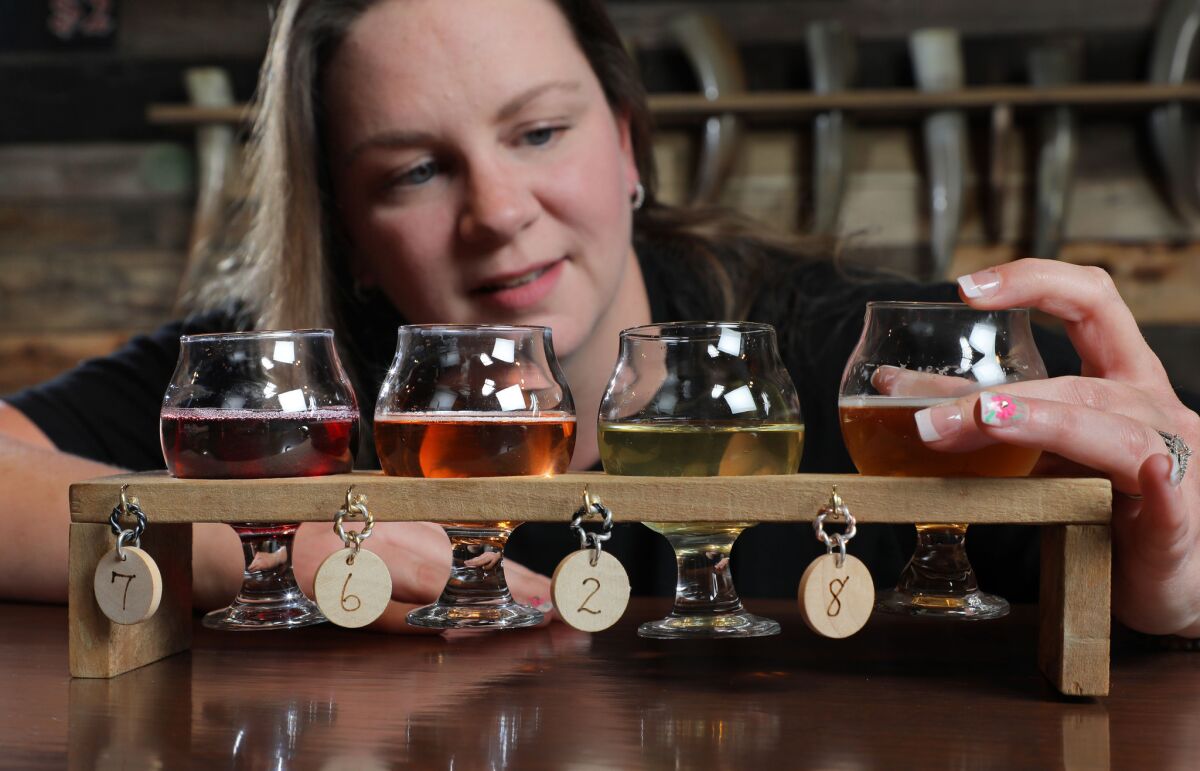 Once referred to as the 'nectar of the gods,' mead might just be the mother of all alcoholic beverages. Dating back to 7000 BC in China and to 2800 BC in Europe, mead has been around the block, or brothel, a time or two. Over the millennia, it has been the liquid fodder for writings by Aristotle, Pliny the Elder, Chaucer and J.R.R Tolkien, and was the drink of choice for King Midas, Queen Sheba and warriors in the epic poem Beowulf.
In a nutshell, mead is an alcoholic beverage made from fermented honey, utilizing the same (or similar) yeast as that used in wine making, and often is flavored with spices and herbs. It can be produced sweet, semi-sweet or dry, and may be still, naturally sparkling or carbonated.
There are more than 40 different variations on mead worldwide, flavored with a stunning array of ingredients including acorns, blueberries, carnation blossoms, rose petals and red currants, to name only a few.
Here in San Diego, on the wave of craft beer and artisan spirits, locals are warming up to mead, thanks primarily to the influence of Golden Coast Mead, located in Oceanside. Supporters like Waypoint Public, Bottlecraft, San Diego Wine and Beer Co., and Top Shelf Wine & Spirits help spread the gospel of the ancient beverage to San Diegans, encouraging its rise in popularity.
While meaderies are still rare locally, here are a few must try local meads for newbies.
Golden Coast Mead
With locations in Oceanside and Julian, this startup has changed the face of craft beverages in San Diego. Meads here range from 6-14% ABV and come in sweet, semi-sweet and dry varieties.
Orange Blossom (10.5% ABV): This classic version is made with California orange blossom honey and Palomar Mountain spring water, which lends light floral and citrus notes, while finishing dry, due to fermentation down to 1% residual sugar. Try pairing with fruit and cheese plates or creamy Thai curry. Like this one? Try the Orange Blossom Sour, a Champagne-like blend of the Orange Blossom and Sour varieties, clocking in at 12% ABV.
American Oak (10.5% ABV): A must for California wine lovers, this semi-sweet version is light and fresh, but has oaky notes for depth and complexity. Golden Coast recommends pairing it with fish tacos, grilled foods and hanging by the fire.
Savage Bois (12% ABV): Kicking up the alcohol a notch, this full bodied, dry version features French oak chips for those looking for a certain je ne sais quoi. Made from California wildflower honey, this mead shows notes of vanilla, clove, and cinnamon.
4089 Oceanside Blvd., Ste. H, Oceanside, goldencoastmead.com
Twisted Horn Mead & Cider
Offering a variety of flavorful options, there's something for everyone. Try the Blue Cloak (9.5% ABV) made with blueberry juice, Freja's Folly (9.1% ABV) with Madagascar vanilla beans, and the Wizen Elder (9.5% ABV), with elderflowers and lemon. Don't miss the unique Oarsman's Grind (9.2% ABV) made with a blend of roasted Kenyan and Brazilian coffee beans with mountain sage honey.
1042 La Mirada Ct., Vista, 760.295.5888, twistedhornmead.com
Bronto Mead
Complete with a dinosaur theme, these meads have clever names including Velociberry (8% ABV) with strawberries, blackberries and blueberries, and the Hoposaurus (9% ABV), with Mosaic hops. Not sure what to try? Go with the Pterodactyl Flight of three 4-oz. tasters.
9235 Trade Pl., Mira Mesa, 619.796.3096, brontomead.com
Booze Brothers Brewing Co.
Honey Bloom (6.4% ABV): Known around San Diego for its blonde and IPA beers, this North County brewery makes a dry mead with Scottish heather flowers.
2545 Progress St., Ste. D, Vista, boozebrothersbrewery.com
Lost Cause Meadery
Sharing a space with Serpentine Cider and Good Food Seed Co. at the Miralani Makers District, this relatively new meadery on the local scene is founded by husband and wife Billy and Suzanna Beltz. Billy is a winner of over 35 medals and their combined research on technique has been published in publications Zymurgy and American Mead Maker.
8665 Miralani Dr., #100, Mira Mesa, lostcausemead.com
More...
Booze 101: All about beer yeast
Booze 101: All about sour beers
Booze 101: All about infusing spirits
Sign up for the Pacific Insider newsletter
You may occasionally receive promotional content from the Pacific San Diego.