Some of San Diego's biggest restaurateurs worry about surviving financially with fewer diners coming through their doors amid strict social distancing rules
As Jeff Rossman stepped up to the podium at the county's coronavirus briefing Thursday, the San Diego restaurateur couldn't contain himself. He let forth with a jubilant "woohoo," raising his arms above his head. Restaurant owners, he told his virtual audience, are "extremely ecstatic" about the state's OK to reopen their dining rooms following a two-month shutdown.
Jubilation, though, has not been a universal reaction.
Fear, anxiety, and uncertainty have instead roiled veteran operators who question whether it even makes sense to rapidly reopen their once successful restaurants — absent a dining room buzzing with 100 percent filled tables and a bar with customers, cheek to jowl, ordering up craft cocktails.
As San Diego's $10 billion a year restaurant industry looks ahead to navigating a post-COVID-19 landscape, business owners are trying to retool upscale concepts, tame rising labor and food costs, and eke out some steady revenue at a time when not everyone will feel comfortable dining out amid masked waiters and plexiglass barriers and sneeze guards.
For some, the highly profitable trend of social dining as entertainment feels as though it may never return.
"I've run the emotional gamut with this thing," said Arsalun Tafazoli, one of San Diego's highest-profile restaurateurs, whose portfolio of 16 restaurants and bars includes the tony — and often crowded — Born and Raised in Little Italy. Its signature tableside preparation of Caesar salads and steak Diane are verboten under the new county health regulations.
"I've tried to be rational and not overreact. Now, two months in, man, I don't know what it looks like and that's really scary. Maybe we're just dead men walking. Last night I couldn't go back to sleep thinking we are done and we don't know it."
Little by little, restaurant owners, large and small, are dipping their toes this week into the uncharted waters of reopened dining rooms as they reconfigure tables to be at least 6 feet apart, designate certain employees for regularly sanitizing surfaces and restrooms, and, if able to do so, maximize outdoor space for more al fresco dining.
In the last couple of months since the state-mandated coronavirus shutdown went into place, fast-casual concepts, from pizza to Asian cuisine, have seen some success with a relatively robust delivery and curbside pick-up business, and local independents have supplemented takeout with the sale of groceries and prepared meal boxes. Other restaurateurs opted to avoid takeout altogether because it's a niche they had no experience with, hoping to weather what they hoped would be a short-lived lockdown.
Some experts have predicted sobering restaurant failure rates of anywhere from 25 to 40 percent in the coming months for a sector that already operates on thin margins. Earlier this month, the company that owned Souplantation permanently closed its 97 restaurants and filed for bankruptcy after a more than 40-year run.
San Diego County's more than 8,100 eating establishments last year employed nearly 129,000, making the industry the single largest private employer. In April alone, nearly 57,000 restaurant jobs vanished, according to a state employment report released Friday.
"I think it will be 40 percent that will fail," said Robert Irvine, host of Food Network's "Restaurant: Impossible" makeover series, who has made a career out of fixing struggling restaurants. "Think of the mom-and-pop operations that are lucky to scrape by for a week, maybe two or three weeks, without any income. But then this thing comes along and they can't survive it."
Restaurateur Brian Malarkey, of Bravo's "Top Chef" fame, launched a trial takeout program this weekend at his Encinitas restaurant, Herb & Sea, but says he has no intention of restarting dining-in yet at his 10 venues. The prospect of operating in what he sees as a more antiseptic setting, with capacity reduced anywhere from 25 percent to 50 percent, is unacceptable. In his more reflective moments, he fears a culinary cataclysm wrought by the coronavirus crash. Before March, his 10 restaurants had been on pace to do $30 million in annual sales.
When he does reopen, Malarkey said he's thinking about transforming his casual Herb & Eatery, located in the same Little Italy building as his more upscale Herb & Wood, into a liquor store and wine shop with takeout. More problematic is his sumptuously designed Animae dining room on the Embarcadero, which Malarkey says may be marketed as an even more special occasion, intimate dining destination.
"I don't want to eat in a hospital setting. It's not comfortable and fun because people like to have fun when they eat," said Malarkey, who had to furlough most of his 400 employees and has negotiated with landlords for rent relief. "My whole life of work is a big giant question mark, it's everyone's in our industry. You can argue about whether we are doing the right thing, but living with the reality right now is completely crushing."
Whither fine dining?
One of the higher-profile casualties of the pandemic is the year-old contemporary Italian restaurant Il Dandy and its upscale six-seat tasting menu sister concept, Arama, in Bankers Hill. The sister project, which debuted last spring, was a collaboration of brothers Dario and Pietro Gallo (of Civico 1845 in Little Italy) and Michelin-starred sibling chefs Luca and Antonio Abbruzzino of Calabria, Italy.
Dario Gallo said the county's new social-distancing requirements and the economic challenges caused by the pandemic make Il Dandy/Arama no longer viable. They will be put on indefinite hold, and the Bankers Hill space will be transformed into the more affordable and familiar Civico by the Park concept.
"We're in a new world with a lot of challenges," Gallo said. "We have to try to adapt to this new world and with that in mind, me and my brother decided to put on hold this beautiful project Il Dandy/Arama and bring a concept that's been very strong for the past five years to this beautiful location."
Longtime fine-dining icons, Mister A's in Bankers Hill and Mille Fleurs in Rancho Santa Fe, have the fortunate advantage of extra dining space to play with because of unused banquet rooms that would normally be filled with conventioneers, tourists and business travelers. Still, the loss of that special event business is financially challenging, said Ryan Thorsen, director of operations for the two restaurants.
"Many of us will continue takeout and attempt other revenue streams to fight for a reimagined break-even point. We expect a lot of excitement out of the gates, and a very busy patio, due to the time of year. But our biggest challenge in all of this is the not knowing. Many guests will simply not have the confidence to go out due to COVID-19, but many more will feel that the temperature checks, restrictions and other mandates are bothersome."
Born and Raised, a gilded, $6.5 million venture from the CH Projects group, will not be casualized in hopes of luring more diners, insists CH co-founder Tafazoli, who, like Malarkey, estimates annual sales of around $30 million before the pandemic. Dining out at the two-level restaurant may well be more costly, he said. For now, CH is doing very limited takeout at only three locations.
"The economics of what we do will become more expensive and ultimately, it's going to be more expensive to go out but we still need to give people an experience where they think it's worth it," Tafazoli said. "It costs $70,000 for us to reopen, on average, each restaurant. If it turned out that we would need to close down again after reopening, we might not be in a position to reopen, so when we make that decision we have to be on firmer ground."
Who survives, who may not
Longtime restaurant broker Mike Spilky foresees a sort of hierarchical survival of the fittest, with fast-casual eateries better positioned to weather a drawn-out transition to full occupancy, whenever that may be. Restaurants that rely on healthy alcohol sales to make a decent profit will have a much harder time, he predicts.
"Sit-down, full-service bar-centric restaurants where a lot of the revenues come from alcohol sales, they will suffer for a while until we can be more closely seated," said Spilky, president of Location Matters. "Those sorts of businesses require density and in a bar area, they require people to be packed in. Right now, there is no secret sauce for them."
Eventually, as the inventory of restaurants is inevitably thinned, there will be rental deals to be had from landlords looking to fill empty storefronts, Spilky expects.
For Brad Wise, executive chef and partner with the Trust Restaurant Group, 2020 will be the year that proves whether the company survives to see 2021. Last year, its flagship 4-year-old Trust Restaurant in Hillcrest had strong sales, it opened Fort Oak in Mission Hills, rebranded its Hillcrest cocktail-forward restaurant/bar as Rare Society, and took over the former Brooklyn Girl space in Mission Hills for the new café/bakery Cardellino, which opened this past January.
Currently, it survives on a now-depleted cash reserve and a trickle of takeout sales from Fort Oak and Cardellino. And like many other restaurant operators, it has held off spending its federal Paycheck Protection Program loan money for fear of not being able to spend 75 percent of the money on payroll quickly enough, as required by the rules.
A few weeks ago, Wise, who is still wrestling with when he will reopen, took a tape measure to all four of his restaurants to map out how many tables could remain under the six-foot-distance rule.
"When we did the layout I will say it was the most gut-wrenching experience I've had in a long time," he said. "It's lower than 50 percent capacity. It's terrifying to think about the dollar per head you need to make to survive. If we can make it through the year and we get a vaccine in 2021, we should be OK."
Phil's BBQ owner Phil Pace held a news conference early this week to demonstrate how his four San Diego County restaurants will be reconfigured to offer a safer dining environment. He plans to open his Rancho Bernardo location on Monday with less than half the normal capacity. His other venues will open later. Over a seven-week period, he estimates he has served takeout to more than 150,000 customers, the goal being to simply make enough money to conserve his cash reserve.
"We are being 100 percent positive in making our restaurants survive this pandemic," said Pace, whose payroll went from 400 to 55. "The best thing that can happen to us is we reopen, business gets back to where it was and we don't have to touch our loan money and we write a check to the government."
Taking it to the streets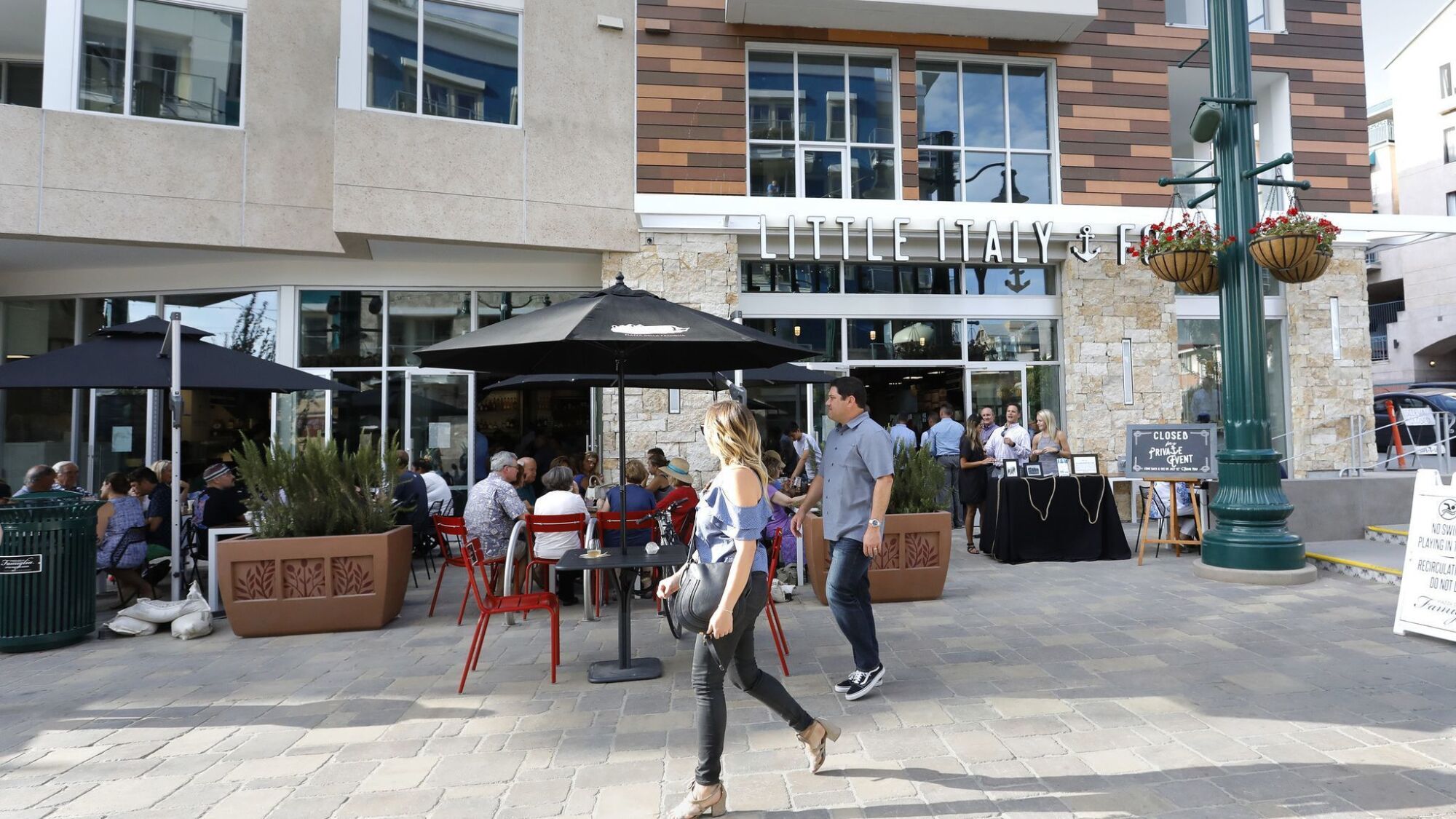 Faced with the prospect of far less space for dining inside, restaurant owners and business leaders have been discussing with city planners throughout the county about ways to open up dining on larger portions of sidewalks and on streets — an option perfectly suited to San Diego's temperate climate.
San Diego Development Services Director Elyse Lowe says she has been exploring how to accelerate the approval process for special event permits that would allow weekend closures of such boulevards as 30th Street in North Park, India Street in Little Italy and Fifth Avenue downtown to allow dining out to the middle of the street. Other options include granting restaurants the right to serve diners in adjacent parking lots, Lowe said.
Buy-in would still be needed from county health officials, but one big assist came earlier this week when the state's Alcoholic Beverage Control department agreed to allow restaurants to serve alcohol in nearby public areas, including streets and parking lots. Toward that end, San Diego's Little Italy Association is hoping to close India between Beech and Grape streets the first Saturday in June as a trial run, said the association's chief executive administrator, Marco LiMandri.
"We're trying to figure this out the best way we can do this so restaurants have an opportunity to generate more revenue," LiMandri said.
The relaxed regulations fit in perfectly with Carlsbad restaurant owner John Resnick's plans to close his dining rooms entirely until the pandemic is over. Jeune et Jolie, a 90-seat modern French bistro, has its own parking lot, which will become an al fresco dining room known as Jeune et Jolie Starry Night. He's also hoping that Carlsbad would be willing to occasionally open State Street to temporary dining for his nearby Campfire restaurant, which doesn't have a parking lot to expand into.
Jeff Rossman, who is also president of the San Diego chapter of the California Restaurant Association, says he plans to open his Terra American Bistro by early June. Between reconfiguring his dining room and space in an adjacent parking lot he owns, his restaurant will be able to reach nearly full capacity. The question remains, he says, how eager will consumers be to venture into dining rooms amid the pandemic.
"It's like throwing a dart. I don't know to be honest with you," said Rossman, who had also operated a thriving catering business before the coronavirus shut that down. "I know millennials are eager to get out. The elderly are not as eager to go out. It's like opening up a new restaurant, which everyone is doing now."
Sign up for the Pacific Insider newsletter
PACIFIC magazine delivers the latest restaurant and bar openings, festivals and top concerts, every Tuesday.
You may occasionally receive promotional content from the Pacific San Diego.