After bankruptcy, 3 different owners, how Mediterranean restaurant Daphne's has landed on its feet
In the past decade, Daphne's filed for bankruptcy and was sold to three different owners.
The latest ownership change for the restaurant chain — a formerly Carlsbad-based company that started nearly 30 years ago by a former professional soccer player whose family immigrated from Greece — occurred last year. Elite Restaurant Group, a Los Angeles-based company that also owns Slater's 50/50, paid an undisclosed sum for Daphne's 23 restaurants in California.
Since then, Elite has grown Daphne's into 32 restaurants in California, Texas and Massachusetts.
"To be able to do that in one year is amazing in the restaurant industry," said Richard Mora, director of operations for Daphne's.
Daphne's opened its eighth San Diego County restaurant last month in Mission Valley at 2195 Station Village. The restaurant is 3,000 square feet, bigger than the 2,200 square feet it occupied at the previous spot across the street. Elite also has signed a lease to open another restaurant in mid-October in Escondido at Westfield North County mall.
Even with the expansion, the restaurant count is still less than half of what Daphne's had at one point. In 2010, the year the chain filed for Chapter 11 bankruptcy protection, it had 69 restaurants, including 16 locations in San Diego County. After Daphne's filed for bankruptcy, it was later picked up by investment groups Wreath Equity and then Victory Park Capital Advisors.
New owner Elite looks to continue to open Daphne's restaurants either initially as corporate owned or franchised owned.
Below, Mora, 42, chats about menu additions and ingredient changes, its expansion into Costco and its franchising strategy. The interview has been edited and condensed for length.
Q. What's been Daphne's most popular foods?
A. Hands down, they are the classic pita, Greek salad and Daphne's plate. Those three have been there for 30 years and have made the brand. They are our signature staple items. That's what people come to Daphne's for. That's what we're known for.
Original owner George Katakalidis did a great job, but we evolved it. (It's the same dishes made healthier.) As long we stay true to our roots, we can always make modifications. We have healthy grains, we have turmeric, which is good for your body. We use organic spring mix for salads. Right now, we just use wild fish not farm raised. We don't use chicken with antibiotics. We (introduced) halal chicken, steak and gyro.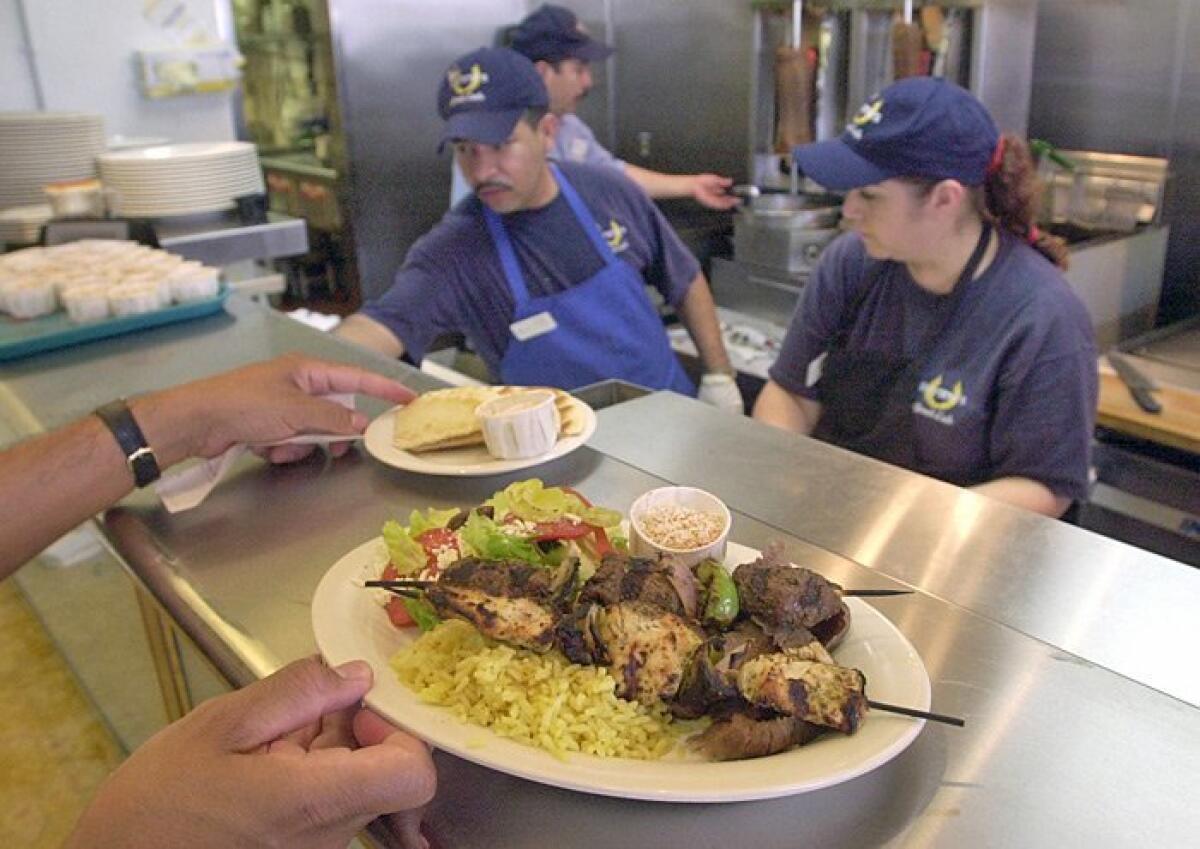 Our vegan and vegetarian options are not new but highlighting them on the menu is new. San Diego County and California in general is healthy and other states are becoming more conscious of what they eat too.
Q. Why has "California Greek" been dropped from the Daphne's name?
A. Daphne's has had several evolutions. We don't want to be just Greek or just California. We want to be Mediterranean cuisine. We will still have some Greek flare to it because that's our roots but not only Greek food. We want to explore other things, bring in different flavors, spices and condiments and broaden that menu. So we added the Mediterranean fish plate, hummus bowl, gyro bowl, Mediterranean salad, spicy grilled chicken pita and Mediterranean lentil soup. We want to give consumers more variety. That's our overall goal.
Q. Talk about the company's franchising strategy.
A. It was always an ambition starting with George Katakalidis to franchise Daphne's but it was never fulfilled. We have been able to franchise all 21 Daphne's restaurants in California. (Elite first held onto those for about six months.)
We wanted to make sure it was the right location, operating on all four cylinders (in terms of) hospitality and food quality and then hand them over to a franchisee. (Elite) inspected the food, reviewed how the meat was marinated, how it was cooked. How does the food taste? How to warm up a pita? Is it nice and fluffy and not burnt and crisp? Are employees welcoming customers to Daphne's with a big smile? There are a lot of restaurant selections out there and we want customers to come to Daphne's.
The Mission Valley location is owned by a franchisee but corporate is there to help. Escondido is corporate owned (until Elite finds a franchisee.)
We currently have 32 restaurants in California, Texas and Boston, only 10 of those are company owned. Our goal is to continue with franchising.
Q. How many restaurants would Elite ultimately like to have for Daphne's?
A. What is the magical number? We came to realize we didn't want to it to be 40, 50 or 60. We are going to see where it's going to take us. We are going to continue to expand the brand nationwide. We have 10 in Texas and one in Boston. It's good to set goals, but you have to be able to change your goals. If you lock yourself into a certain number, what happens after you make that number? We are going to keep pushing every day.
Q. Beyond the restaurants, last fall the company began launching a Daphne's-branded gyro kit for $10.89 in 90 Costco stores in California and Texas. Why?
A. The kit has precooked gyro meat that can be warmed up on the skillet. Our gyro meat is 80 percent beef and 20 percent lamb. It also comes with small pita breads, tzatziki sauce and salad dressing.
A lot of consumers go to Costco. Instead of going to a Daphne's restaurant or using a third party like Grub Hub, Costco is another venue to try Daphne's food. We're doing really well selling the gyro kits. In the future, we'd like to sell salad kits and dips at Costco.
Hang Nguyen is a freelance writer for The San Diego Union-Tribune. You can reach her at htnguyen33@hotmail.com.
Sign up for the Pacific Insider newsletter
You may occasionally receive promotional content from the Pacific San Diego.