Festive Cinco de Mayo brews
With San Diego's close proximity to the Mexican border, it's no surprise that Mexican lager-style beers have been making their imprint on the local craft beer scene. Once viewed as macro swill from mega producers like Corona, Tecate and Dos Equis, only drinkable with a lime or tomato juice, Mexican lagers are enjoying a renaissance amongst San Diego breweries. The approval stamp of craft producers is also succeeding in bringing drinkers of major labels over to the artisan side of beer, along with a surge of Mexican-inspired breweries opening.
With Cinco de Mayo right around the corner, it's time to raise a glass to these breweries and those producing Mexican-style lagers:
SouthNorte Beer Co.
Head to this San Diego/Tijuana cross-border brewery (located at Tijuana's Telefonica Gastro Park) on Cinco de Mayo for a range of beautifully labeled, Mexican inspired beers. Don't miss the Aniversario 1, a saison produced in collaboration with brewmaster Ryan Brooks and chef Javier Plascencia, to pair with his famous grilled octopus. The beer is made with Mexican honey and epazote (an aromatic herb), then dry-hopped with fresh cilantro.
For more south of the border inspiration, try the Pan a Flores porter, with cajeta (a Mexican caramel sauce), cinnamon, Oaxacan coffee and Mexican chocolate. The Sea Señor is their Mexican-style lager (4.5% ABV), with which they encourage you to "close your eyes, take a sip and be transported to the crossroads."
For a special kick to their lager, they offer the Agavemente (6.3% ABV) inspired by Agua de Jamaica (hibiscus water), made with agave nectar and hibiscus for a cool, pink hue.
Telefonica Gastro Park, Blvd. Agua Caliente 8860, Centro, 22000 Tijuana, B.C. Mexico, southnorte.com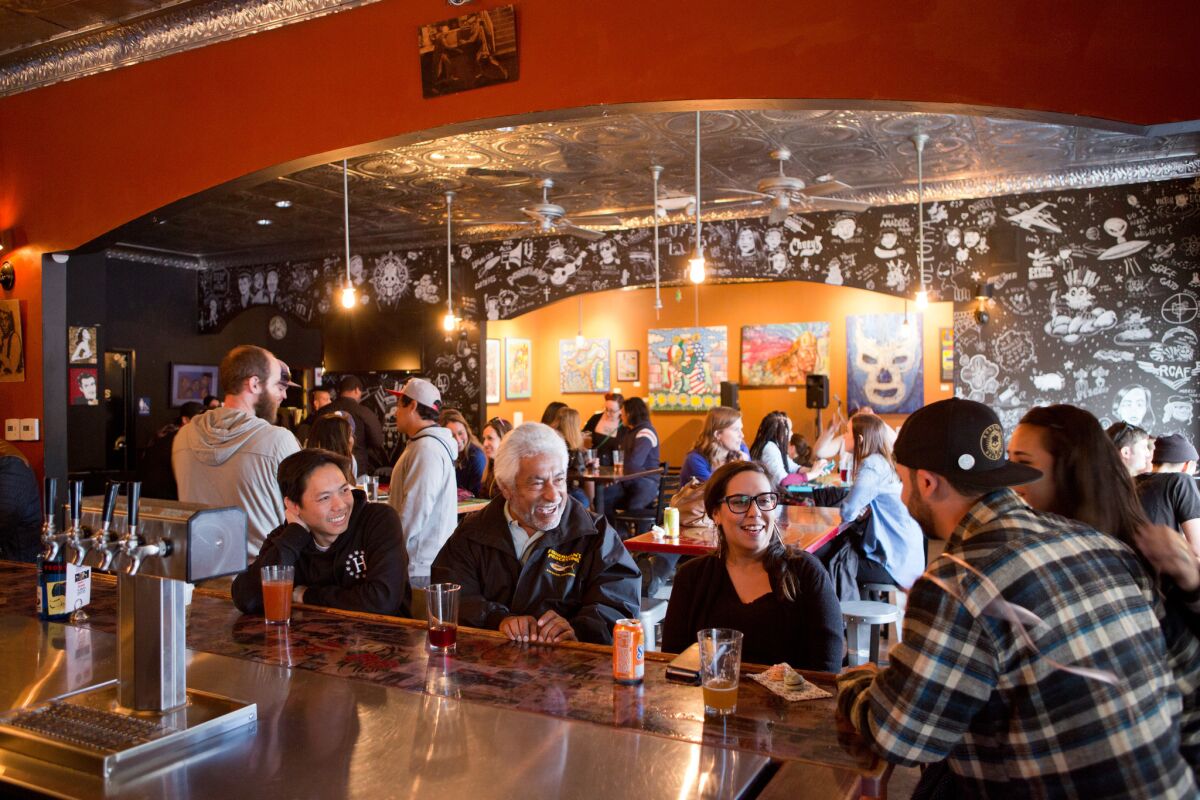 Border X Brewing
Using a variety of Mexican ingredients, this Barrio Logan spot is another must-visit on Cinco de Mayo. Sip on the Horchata Golden Stout (9% ABV), inspired by the famous drink and made with vanilla bean and cinnamon sticks, or Abuelita's Chocolate Stout (7.5% ABV), crafted with Mexican chocolate.
For a lighter-style tipple, try the Blood Saison (7% ABV), inspired by the drink Jamaica, with hibiscus and agave.
2181 Logan Ave., Barrio Logan, 619.501.0503, borderxbrewing.com
Here are a few other San Diego breweries making Mexican-style lagers to sip on this Cinco de Mayo:
Alesmith Brewing Company
Sublime Mexican Lager, 5.2% ABV
9990 AleSmith Ct., Miramar, 858.549.9888, alesmith.com
Belching Beaver Brewery
Buenos Tiempos, 4.8% ABV, or for a darker Cinco beer, try the Mexican Chocolate Peanut Butter Stout, 7.5% ABV
North Park: 4223 30th St., 619.282.1062; Vista: 980 Park Center Dr., 760.599.5832; Vista: 302 E. Broadway, 760.295.8599; Oceanside: 1334 Rocky Point Dr., 760.732.1415, belchingbeaver.com
Cerveza Xteca
Mexican American Lager, 5% ABV
Look for this new beer tap at ¡Salud! in Barrio Logan or National City (click here to read more about this newly-released brew).
¡Salud! Barrio Logan: 2196 Logan Ave, 619.255.3856, National City: 2333 Highland Ave., 619.434.6464, saludsd.com
cervezaxteca.com
Kilowatt Brewing
K58 Mexican Lager, 5.5% ABV
Kearny Mesa: 7576 Clairemont Mesa Blvd., 858.715.3998; Ocean Beach: 1875 Cable St., 619.255.9775, kilowatt.beer
Port Brewing
Amigo Lager, 4.3% ABV
155 Mata Way, Ste. 104, San Marcos, 800.918.6816, portbrewing.com
Rough Draft Brewing Company
Muesa Nueva Mexican-Style Lager, 4.2% ABV
8830 Rehco Rd., Ste. D, Miramar, 858.453.7238, roughdraftbrew.com
St. Archer Brewing Co.
Mexican Lager, 4.8% ABV
Miramar: 9550 Distribution Ave.; Encinitas: 978 N. Coast Hwy. 101, 858.225.2337, saintarcherbrewery.com
Thorn Brewing
Barrio Lager, 4.5% ABV
North Park: 3176 Thorn St., 619.501.2739; Barrio Logan: 1745 National Ave., 619.255.9679, thorn.beer

Sign up for the Pacific Insider newsletter
You may occasionally receive promotional content from the Pacific San Diego.