Red or white, local wine industry is booming and in the black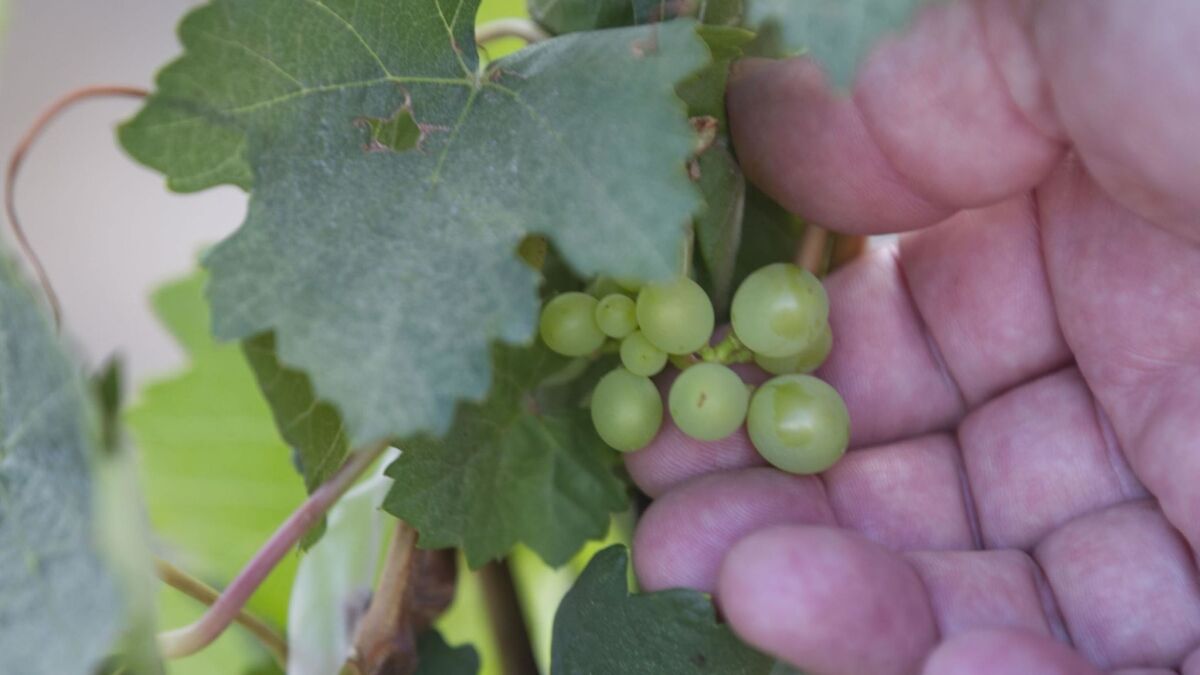 Anyone who has driven along state Route 78 from Escondido to Julian has noticed the plethora of small road signs advertising wine-tasting rooms.
Indeed, these days travelers in the backcountry of San Diego County are never too far from vineyards and tasting rooms.
In the past eight years, ever since the county eased regulations making it far easier and less expensive to open boutique wineries, the local wine industry has exploded.
San Diego isn't Napa or Sonoma, but each year more and more operations are opening.
"We had an economic impact to the county in 2017 of just over $50 million," said Ed Embly, president of the San Diego County Vinters Association and owner of Hungry Hawk Vineyards and Winery near Escondido and just west of the San Pasqual Valley.
"That was a 40 percent increase over the previous year. It indicates our industry is really growing at a rapid pace."
As of June of this year, there were 174 active winegrower licenses in the county, 10 more than the same time last year, according to the report.
That number ranks San Diego County fifth for most wine licenses in the state, trailing Napa (1,616 licenses), Sonoma (1,270), San Luis Obispo (555) Santa Barbara (456), but ahead of Riverside (97).
Embly said wineries and vineyards can be found throughout the county "from Warner Springs to Campo to San Ysidro and all the way up to Rainbow. We really cover the whole county. You look at Riverside County and it's all centered in Temecula. Here, we cover the whole county, which puts us within reach of the entire population."
The Vinters Association issued its 2018 Wineries Economic Impact Report last week using survey data, economic modeling software, and local, state and federal data sources.
Highlights:
San Diego wineries generated a $50 million economic impact in the region in 2017, an increase in one year from $30.4 million. To put that into perspective, the entire impact of agriculture in the county in slightly more than $3 billion.
It's estimated that county wineries generated more than $26 million in gross sales in 2017, a 9.4 percent increase from 2016.
The county is experiencing seven years of record growth. 2016 was an all-time high for new wineries opening in the county (26), followed closely behind by 2017 (23). Preliminary 2018 data shows the growth streak will be extended another year.
More acres of wine grapes were harvested in the county last year — 1,210 acres — than ever before.
More than 45 wine varietals were grown, cultivated and/or sold last year. Among the top 10 wine varietals Cabernet Sauvignon and Syrah tied for first place, with Merlot and Sangiovese following close behind. New varietals that emerged this past year were Grenache, Tempranillo, and Mourvedre, replacing Viognier, Petit Syrah & Sauvignon Blanc in the top 10.
Based on survey responses, the association projects that total industry jobs in the region increased from 519 in 2016, to 557 in 2017. Most of the growth is due to a 26 percent increase in hospitality and tasting room jobs.
Embly, whose Hungry Hawk Vineyard and Winery includes a tasting room and 4.5 acres of vineyards, said the average grower in the county harvests around three to five acres each year.
The largest vineyards in the county are Emerald Creek, located off state Route 79 near the Riverside County line with more than 50 acres. That operation is owned by a consortium of investors led by a semi-retired anesthesiologist from Los Angeles.
Rancho Guejito, the privately owned, 23,000-acre tract east of Escondido, has also gotten in the wine grape growing industry in a big way, with more than 40 acres planted and more vines being put in the ground every year, said Hank Rupp, Rancho Guejito's chief operating officer.
Other large operations include Orfila Vineyards and Winery near Escondido, the Fallbrook Winery, and Carruth Cellars Urban Winery and Tasting Room in Solana Beach.
Much of the credit for the wine making explosion, Embly said, goes to county Supervisor Dianne Jacob, who championed the boutique winery ordinance.
"It really started off in 2010 when the Board of Supervisors passed an ordinance which relieved a lot of the vineyards at that time of the cost and the huge expense of trying to get a winery permit, which required a Major Use Permit," he said. "They brought it down to a zoning issue. It made it much easier for people to go into the boutique winery side of things."
To get a boutique winery license, owners must agree that 75 percent of the grapes used to make their wine is grown in the county with at least 50 percent coming from their own vineyards.
Jacob last week said the emergence of the new industry has exceeded her expectations.
"The wine industry is going gangbusters right now," she said, "and has really emerged as a significant player in our economy."
She said when the supervisors rolled back the regulations, "there was only one winery with a tasting room and retail sale in Ramona and now there's over 30, for example. And countywide, there's about 115 wineries now.
"It's a great success story about how government, by rolling back regulations and making it easier for property owners to do business," can bring real change, she said. "The real success of this is the can-do spirit among the vinters. While the county will do everything we can to help, it would not have happened without the vinters willing to jump in and put those grapevines in the ground and make that wine."
jharry.jones@sduniontribune.com; 760/529-4931; Twitter: @jharryjones
Sign up for the Pacific Insider newsletter
PACIFIC magazine delivers the latest restaurant and bar openings, festivals and top concerts, every Tuesday.
You may occasionally receive promotional content from the Pacific San Diego.