T&H sausage shop closing, seeks new space
San Marcos —
After more than 30 years of churning out gourmet sausages from around the world, T&H Prime Meats and Sausage will be closing its doors on East Mission Road on Saturday. But its owner vows to return.
Dave Krohn, who bought the business in 2014, said his lease on the property expired in November but the landlord gave him a few extra months to find a new location. Unfortunately, finding a commercial kitchen that meets his needs has been harder than expected and he ultimately ran out of time.
"I've probably looked at 50 places over the past eight months and couldn't find anything that met the zoning and special requirements placed on us by the state, county and city," Krohn said. "I'm negotiating for a place right now but even if we're able to move there it will be six months at least before we can get it open."
Krohn said that the old-fashioned, white-walled butcher shop has operated in the lot at 735 E. Mission Road for 40 years. It started out as a grocery store, then was renamed TLC Meats, and eventually T&H Meats.
Over the years, the aging, red-roofed structure across the street from Mission Hills High School hadn't kept up with code and zoning requirements. Krohn said his landlord may need to bulldoze the building if it proves too expensive to repair.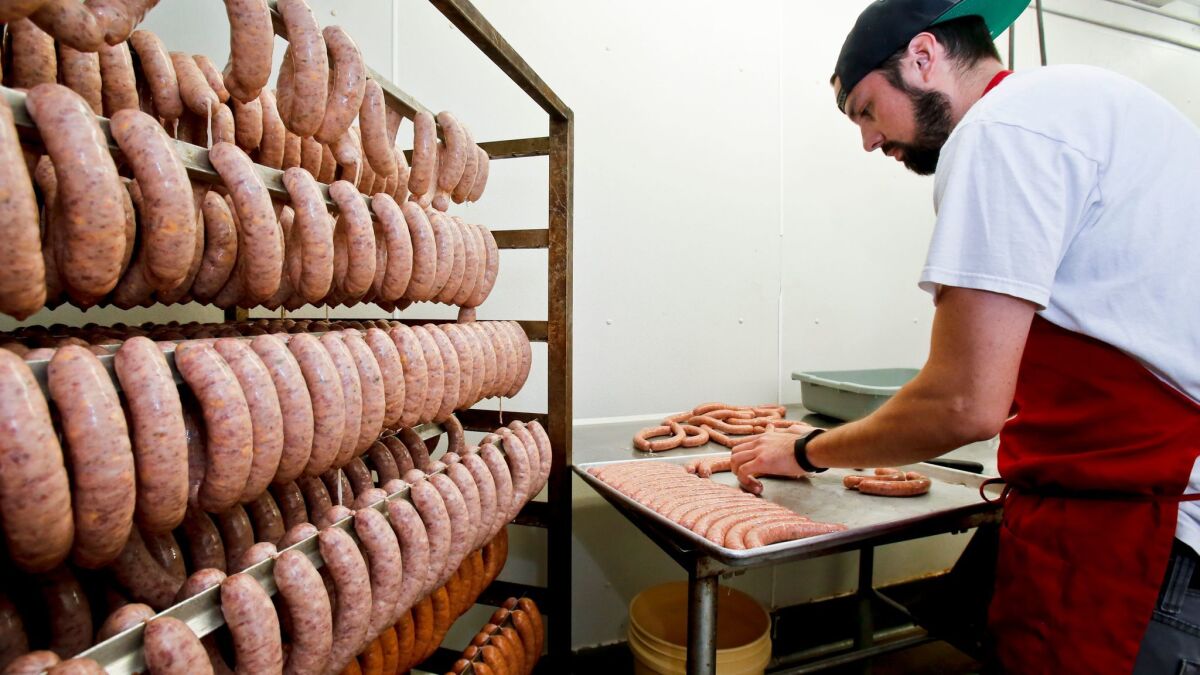 Krohn said he's been telling his customers about the impending closure and is planning to update progress on a new store via email and the store's Facebook page (facebook.com/tandhsausage/). He's negotiating for space in a building at 1355 Grand Ave. in San Marcos, but isn't certain that it will meet the strict code and zoning requirements for working with raw meat.
Because of the uncertainty about the future, Krohn said he will have to let go his longtime staff to seek jobs elsewhere. But all of them — including butcher Armando Salazar, who has been at the shop for 40 years — have promised to return when T&H reopens.
On Friday morning, the shop's meat case and freezers were still chock full of the one-of-a-kind products that have brought T&H more than 50 awards over the years. A 25 percent off sale, and buy-one-get-one-sausage deal is under way through 5 p.m. Saturday to clear out the existing inventory.
Shopper Dorothy Young of Vista was shocked on Friday morning to learn about the impending closure when she showed up at 9:30 a.m. to buy her favorite product, the Moroccan spiced lamb sausage she uses in her homemade lentil soup. She stocked up on the product to tide her over until the business finds a new home.
"I really like their sausage. It's not like the packaged sausage you see at other stores. It's really hard to find lamb and theirs is very good quality and so flavorful," she said.
The Moroccan lamb sausage is one of more than 40 sausage varieties sold at the store. Other top sellers include the cherry bomb, chicken pesto, hot Italian, Swedish potato, pork apple, bratwurst, turkey apricot, spicy Cajun and sweet onion.
The sausages were the creation of the shop's former owner, Jacob Kappeler, who ran the shop for 20-plus years before selling it to Krohn in 2014 so he could retire to Washington state.
Born in Switzerland, Kappeler studied meat and sausage-making in Europe. When he emigrated to the U.S. in the 1960s, he brought along dozens of old-world sausage recipes, including one that dates to the 1600s.
Krohn is a former Camp Pendleton Marine who served two tours in Iraq, including time in Fallujah in 2004. He was a culinary school graduate working at a high-end D.C. restaurant when the Pentagon was hit on 9/11. After four years in the Marine Corps, Krohn returned to the culinary world.
He said he's heartbroken to close the store but hopes his customers will come back when he reopens.
"It's been a really hard time but we will be back," he said. "It's just going to take a while."
---
Sign up for the Pacific Insider newsletter
PACIFIC magazine delivers the latest restaurant and bar openings, festivals and top concerts, every Tuesday.
You may occasionally receive promotional content from the Pacific San Diego.