Local pastry chef making the holidays sweet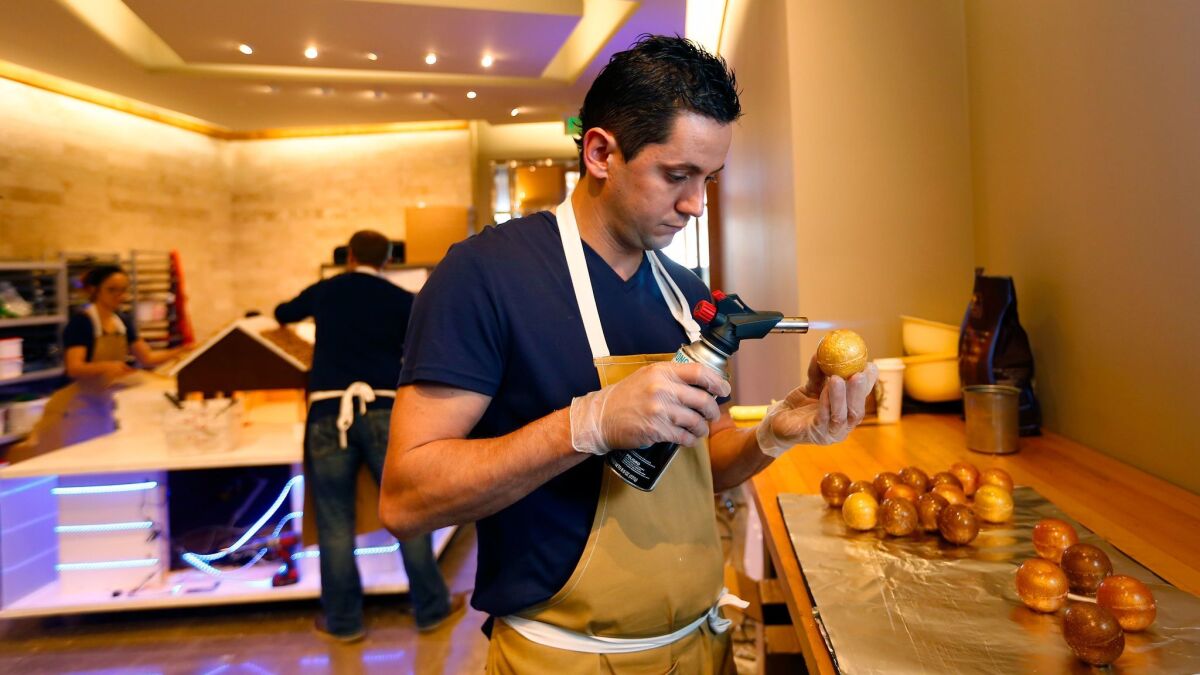 Carlsbad —
A sweet holiday display of gargantuan proportions made its debut in Carlsbad this week.
On Thursday morning, the Park Hyatt Aviara Resort unveiled in its lobby an 11-foot-tall, illuminated display featuring a Christmas tree and a North Pole village constructed almost entirely from sugar sculptures, chocolate, gingerbread, cookies, candy and royal icing.
It's the latest eye-popping showpiece created by the resort's executive pastry chef Christophe Rull. The 32-year-old San Elijo Hills resident is fresh off a big win on Food Network's "Halloween Wars" competition, and he got a little help from some culinary friends on this year's project.
Rull and his fellow "Team Ghoul'd" teammates Liz Marek and Mike Brown won first place and a shared $50,000 prize in the TV competition's seventh season, which aired in October.
Marek is a cake decorator and teacher from Portland, Ore., and Brown is a pumpkin carver from Springfield, Mo. The three had never met before being teamed up on the series.
Although tensions ran high in the contest's fast-paced, pressure-cooker atmosphere, Rull said that a solid friendship formed between the trio. Not long after filming wrapped, they got in touch via Skype and started planning a repeat performance: Rull's annual Christmas display at the resort.
For Christmas last year, he built a 250-pound Christmas train out of molding chocolate, which is an edible clay made from chocolate and corn syrup. But that was just the warm-up for this year's much-larger showpiece.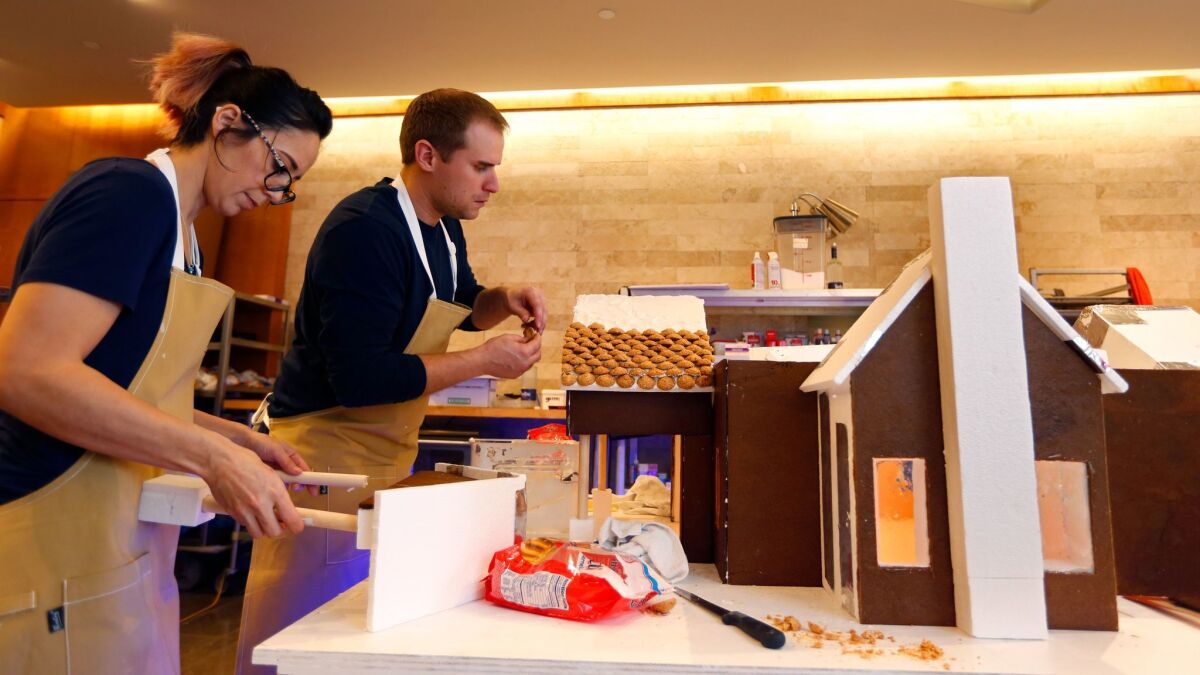 On Nov. 24, Marek and Brown arrived at the Park Hyatt, where they and Rull spent an average of 13 hours a day together building the mammoth project in a glass-fronted workroom near the lobby, where hotel visitors could stop by for a look.
Rull said he couldn't have created the project without his teammates, whose skills intertwined in winning ways. All three members developed the concept, which morphed and grew with time.
Brown, who has studied architecture, created 3-D computer designs for the elements and carved the project's plastic foam infrastructure. Marek, a competition veteran, worked out the timetable, keeps the project on track and is a decorating ace. And Rull focused on all the showiest elements of the project: golden sugar ornaments, chocolate bows and stars, sugar icicles, swirled candy ribbons, isomalt "glass" windows, hand-modeled candy elves and penguins and much more.
Set on an illuminated table, the display's base is a large gingerbread Santa's workshop with a marbled chocolate working clock, and a North Pole village made with candy canes, a crushed peppermint and chocolate trail, crispy rice treat hills and a dozen solid chocolate pine trees sprayed with edible green sugar.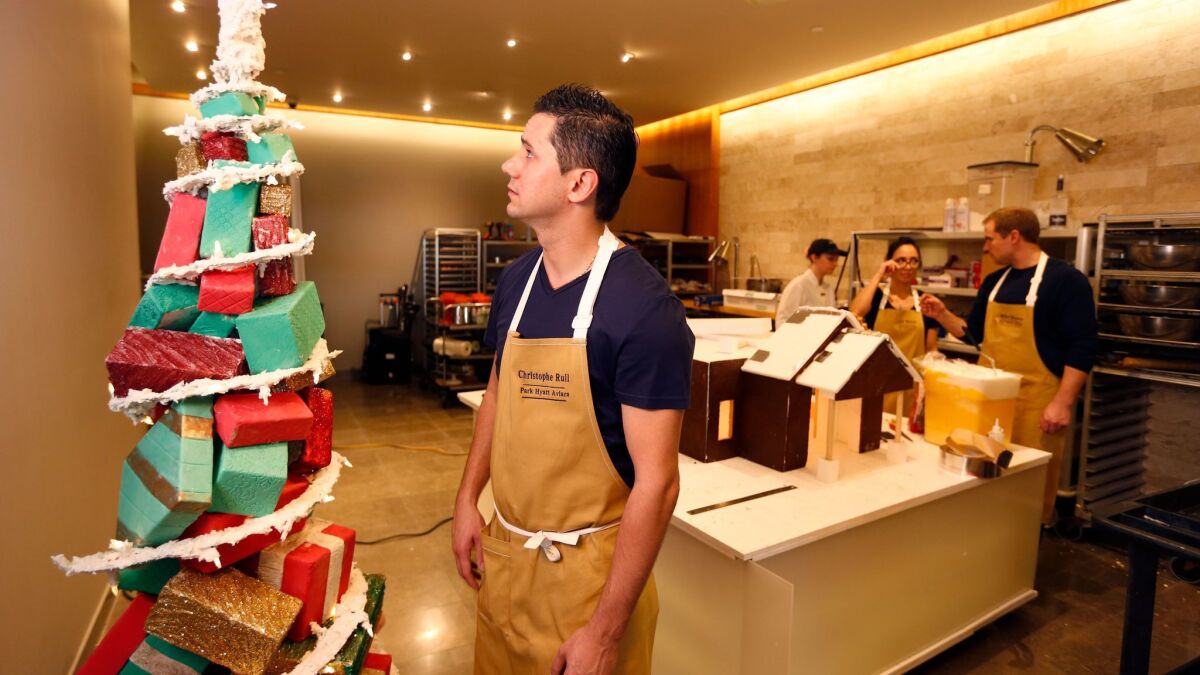 Sitting on top of the workshop's roof is a seven-foot tree made from dozens of Christmas presents wrapped in colorful stamped fondant on a swirling track of royal icing. The tree is decorated with more than 100 gingerbread ornaments and 100 ornament bulbs hand-cast from sugar and gold powder. At the top is an illuminated sugar star made with dozens of hand-pulled icicles.
The project incorporates hundreds of pounds of sugar and gingerbread pastry, 50 pounds of marshmallows and dozens of pounds of top-quality Cacao Barry chocolate and crisped rice.
Last year's showpiece proved too tempting for young hotel guests who constantly broke off pieces of the train to eat. To keep children's hands and mouths off this year's display, Rull is surrounding the project with a three-foot non-edible fence.
Marek said that even though the work was exhausting, it was great fun re-teaming with her partners and they're already talking about how they'll top themselves next year.
"People wonder why we'd put ourselves through this again, but we're all the same kind of crazy," she said.
Rull was born and raised in Marseilles, France, where his grandfather was a bread-maker. He began cooking by his father's side as a small boy, where he graduated from peeling carrots and potatoes to cooking the family's meals by the time he was 12.
"It became a passion for me," he said. "When people would taste my food and smile, I got a lot of satisfaction from that. It meant a lot."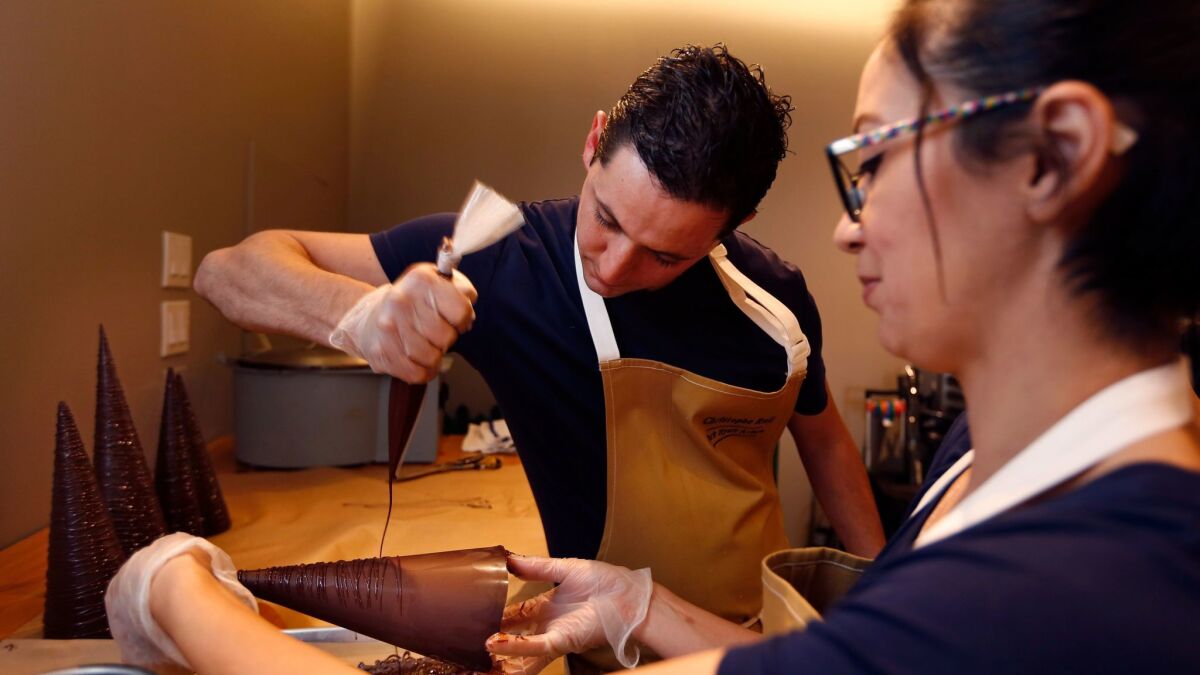 After high school, he spent four years in cooking schools, where he grew to prefer the art of pastry-making.
"I liked the artistic side of it," he said. "You can be more creative with pastry because you can go bigger and 'up' the volume with it in ways you can't do with other cooking."
He finished his training at the prestigious Ecole Nationale Superieure de Patisserie in Yssingeaux, France, then worked at a series of European resorts. He moved to the U.S. in December 2009 for a job as a founding pastry chef at the Aria Resort & Casino in Las Vegas.
It was there where he helped create the largest showpiece of his career, a hanging mobile of 20 sugar sculptures that descended from the ceiling as the dinner finale at a gala for the Michael Jordan Foundation.
He joined the Park Hyatt staff in early 2016, where he said he's revamped and perfected the resort's pastry program. He lives near San Marcos with his accountant girlfriend, Wilma Rosete, and her 13-year-old son, where he said he generally avoids dessert because he gets enough of them at work.
With the success of "Halloween Wars," Rull said he'd like to compete on more TV baking shows. Yet while he's confident in his solo technique, he admits it won't be nearly as fun as it has been working on a team with Marek and Brown.
"We all complement each others' skills," Rull said. "They make me look good."
The sugary holiday display will remain on display through the holidays at the Park Hyatt Aviara, at 7100 Aviara Resort Drive, Carlsbad.
Sign up for the Pacific Insider newsletter
You may occasionally receive promotional content from the Pacific San Diego.