Belching Beaver brewery makes a case for wine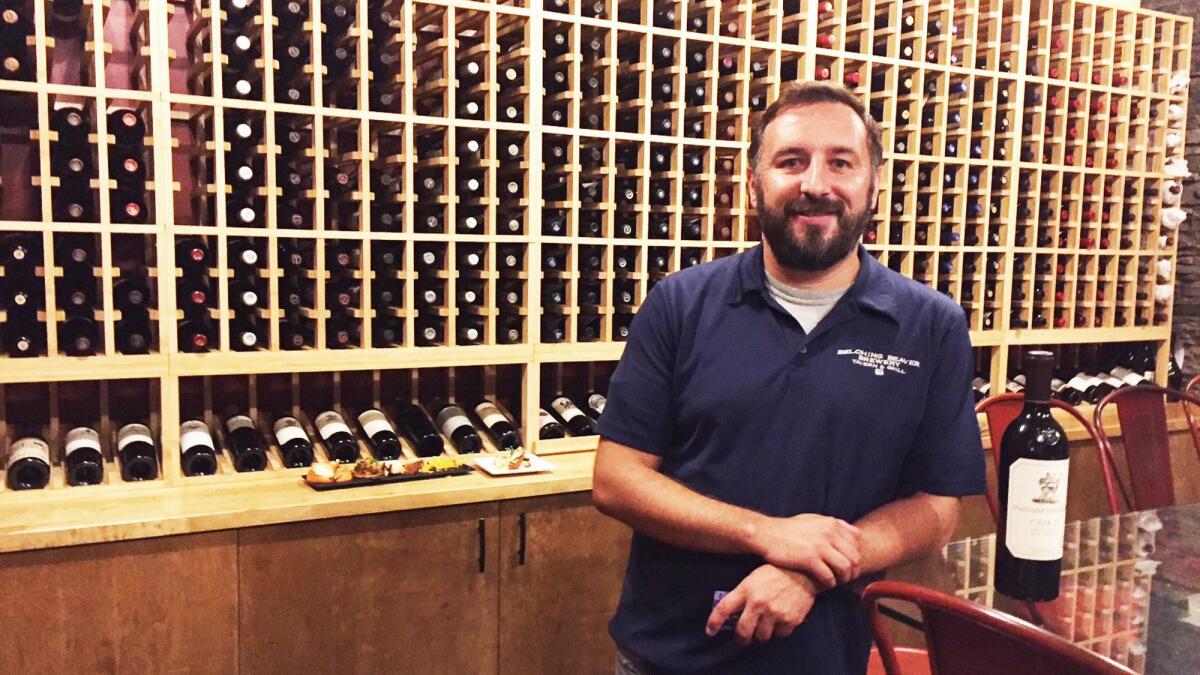 Vista —
When Wine Spectator unveiled in July its list of the 20 San Diego County restaurants that won its 2018 Award of Excellence, most of the names were to be expected.
Perennial winners Addison, Mille Fleurs, Humphrey's, Vivace and Juniper and Ivy turned up, along with a surprise new addition: Belching Beaver Brewery Tavern & Grill in Vista.
Since its founding in 2012, Belching Beaver Brewery has built a small empire on its famous Peanut Butter Milk Stout beer and a near-constant stream of new flavorful stouts and inventive IPA beer releases.
So how did the whimsically named Vista brewery end up earning an honor that no other brewpub in America can claim? That credit goes to Ralph Lizarraga, a Level 1 sommelier who joined the company three years ago as its director of hospitality.
He's also director of wine at the company's 2-year-old Tavern & Grill in downtown Vista, which has more than 1,000 bottles stored in its wine vault. The wine list features 93 wines by the bottle and 15 to 20 wines by the glass.
The Vista resident said Belching Beaver is proud to have received the prestigious recognition from Wine Spectator, but getting the word out about its award-winning wine program remains "a work in progress."
Not surprisingly, beer makes up nearly 80 percent of alcohol sales at the 280-seat restaurant. Wine competes with distilled spirits for the rest.
Belching Beaver may be unlikely to attract the lion's share of North County's wine-sipping crowd, but Lizarraga hopes some of his new sales, marketing and dining-related ideas will help.
Lizarraga was managing Truluck's seafood and steak restaurant in La Jolla in 2015 when he met Belching Beaver's owner Tom Vogel. The enticement Vogel offered him to join Belching Beaver was impossible to turn down: the ability to create his own restaurant wine list from scratch.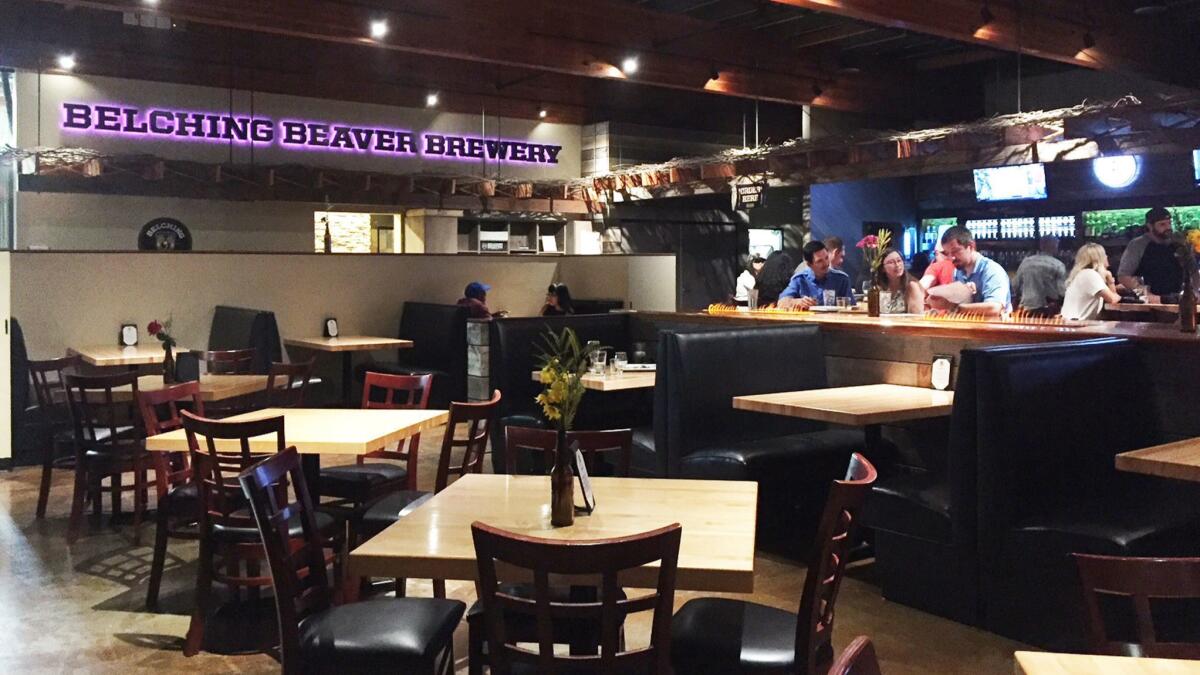 Lizarraga started drinking wine while a student at UC Santa Barbara, then got his first industry job at a wine bar in San Luis Obispo. In 2010, he joined Truluck's as a server and bartender before working his way into management.
At the time, Truluck's sold 100 wines by the glass, which gave him a golden opportunity to immerse himself in the study of wine, which led to him earning Level 1 sommelier certification.
When Lizarraga joined Belching Beaver, Vogel gave him just two rules — to stock his favorite wine, Caymus, and to not gouge customers with over-inflated bottle prices.
Thanks to the high volume of beer sales, Lizarraga said he's had the financial freedom to find bargains through bulk-buy discounts. As a result, most wines are priced at $30 to $50 a bottle, and all wines under $60 are half-price on Wednesdays.
The wine list is intentionally made up of mostly California wines along with selections from New Zealand, Australia, Italy, Chile and more, so that everything is in English and easy to understand.
"I wanted my wine list to be not too intimidating so people aren't afraid to ask questions," he said. "My goal is for people to get a great bottle of wine that's affordable but really high-quality stuff."
Vogel said he likes having the wine program because it's part of his company policy of serving customers what they want to drink, rather just than what the brewer wants to make.
"Our customer is boss," said Vogel, a San Marcos resident.
Before the recession hit in 2008, Vogel was working in the real estate industry, but new lending restrictions made it tough to do business so he decided to try something new.
"I wanted to find a business that was fun and the beer industry sounded like fun," he said.
In keeping with that theme, he named his 2012 startup Belching Beaver, a suggestion he heard at a cocktail party "which was catchy, fun and lighthearted."
Five years ago, head brewer Thomas Peters joined the company. A home brewer who'd worked before as beer buyer at Sublime Alehouse in San Marcos, Peters came to Belching Beaver as an unpaid trainee.
He started out cleaning brew tanks, but his beermaking genius was apparent from the start. Six months later, Vogel hired him as head brewer and nine months after that he won first place in the 2014 Alpha King Challenge, a national competition that attracted 170 breweries last year (when Peters won first place once again).
To keep up with demand for its beer, Belching Beaver now has five San Diego County locations, including breweries, tasting rooms and pubs. It will soon expand production into Orange and L.A. counties as well as Arizona, and by next spring its beers will be available in eight foreign countries.
Each year, Belching Beaver releases as many as 100 new beers, which equals the number of taps at the Vista restaurant. With so many beers to keep track of, the servers have scant time to study the wine list. Lizarraga said he runs a weekly wine education program to try and fill that knowledge gap.
He's looking at adding less-expensive, half-bottle options to the wine list to encourage beer drinkers to give wine a try.
He also uses the restaurant's wine vault — built inside a former bank branch vault — as a private dining and events room for added visibility.
Finally, this fall, executive chef Ramiro Guerra will introduce a new menu that will include, for the first time, suggested pairings of beers and wines for each entree. Guerra said wine pairings are easy compared to pairing beers with food because beers can have a complexity of flavors.
Belching Beaver Brewery Tavern & Grill
Where: 302 E. Broadway, Vista
Phone: (760) 295-8599
Online: https://belchingbeaver.com/menu
Sign up for the Pacific Insider newsletter
You may occasionally receive promotional content from the Pacific San Diego.