Working in the family business and for his community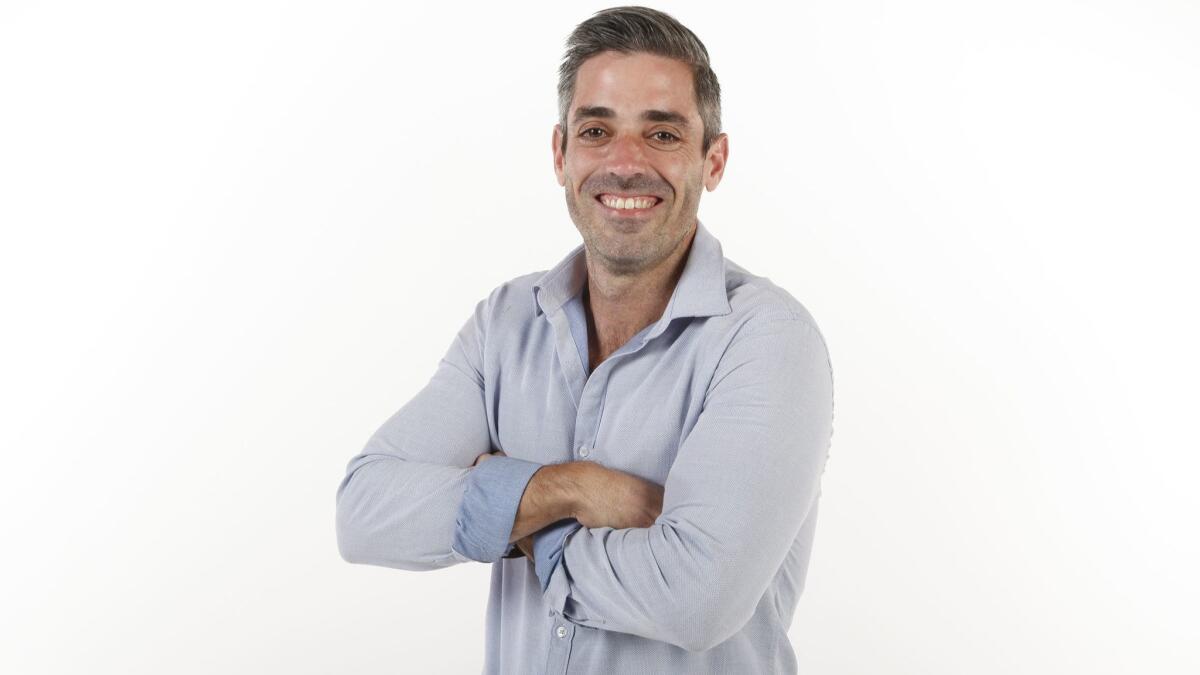 A couple of years ago, after speaking before the City Council to advocate for raising the minimum wage, Juan Pablo Sanchez was approached about joining the board of a local non-profit.
The executive director of Business for Good San Diego "wanted to see if I would like to join a group that pushed for these types of policies," he says. "It was very refreshing to find a board of my business peers who had similar values to mine."
This would make the fourth non-profit board of directors Sanchez would join, having previously joined the City Heights Business Association, the City Heights Area Planning Committee and the City Heights Coffee House. His family's restaurant and catering company, Super Cocina, has operated in the neighborhood since the late 1980s and he currently runs the business, continually looking to improve the circumstances and environment for other business owners, employees and his community.
Sanchez, 38, lives in North Park with his wife, Daniela, and took some time to talk about his work in his community, finding his voice to support his community, and lacking the one skill people might expect him to have in the restaurant business.
Q: Tell us about the work you do with each of the non-profits you're working with.
A: The City Heights Business Association was the first non-profit I joined and still currently serve as a board member. It provides resources and services as well as promoting the business community in the neighborhood. On the board of the City Heights Area Planning Committee, we look at different proposed projects and act as advisers to the city council on anything to do with planning or development affecting public spaces within City Heights. With the City Heights Coffee House, I was invited to work with them early on, using my expertise in the hospitality sector. We advocate and employ people from marginalized groups and provide extended on-the-job training, scholarships, and other resources through our partnerships with other non-profits. We started by selling at farmers' markets and then moved to a coffee cart. I am proud to say that we are now moving into our first brick-and-mortar space that will allow us to create a social meeting space for the community. Although I joined Business for Good most recently, it is one that has me very excited.
Q: Why did you want to join the board of Business for Good San Diego,a non-profit that works to bring small business owners together to advocate for policies they believe will benefit their communities?
A: In the past, I had felt very isolated when policy affecting my business was being developed or passed. It seemed to lack input from the small business community and address our needs. The same was true when policies that were labeled "pro-business" were passed; they often felt cold and devoid of addressing community concerns or the concerns of my employees. Imagine the pleasant surprise when I found that there were not only business owners like myself, but a lot of them who wanted to be able to be part of the conversation in passing responsible legislation that considered all aspects of the community. We could finally change the image of the hand-wringing business owner who only cares about the bottom line. In this way, we can also incorporate our collective voice in legislation so that we all benefit.
Q: How has Business for Good helped you with your voice in pursuing the things that help your business and the neighborhood of City Heights?
A: Having been involved with City Heights for so many years, there are several key issues which must be addressed, like access to capital to start a new business, single-payer healthcare, welcoming immigration policies, and environmental issues. These things are being tackled by our organization very effectively. Not only do we wield power by being a collective voice of business owners throughout San Diego, we also do a great job of getting the word out and finding the right people to talk to, to begin strategizing for change.
What I love about North Park ...
North Park is where my family and I first moved when we came to this country 30 years ago. This was my first experience of not only living in San Diego, but of living in this country. I love seeing the buildings that I knew so well as a child, and even though North Park has progressed and become so vibrant, I can still see a lot of the character it showed me as a child. It doesn't hurt that it neighbors City Heights as well.
Q: In talking about the "social health of City Heights," what does this mean to you?
A: City Heights is the most diverse community in San Diego and there is a big push to increase economic development and revitalization on one side, and a lot of groups that promote social causes on the other. These two sides are often isolated and Business for Good provides a bridge between the two. A healthy City Heights is one where there is an integration of both social and economic opportunities for its residents, which are necessary for any strong, healthy community.
Q: You also participated in a summit to help integrate immigrants into San Diego? What can you tell us about it?
A: We participated in a summit called Welcoming San Diego in February. It was the culmination of several meetings held the year before on how to create a San Diego that is better equipped to help new citizens in their navigation through the civic, public and business sectors. More than 200 people attended and we were involved with creating a plan on how to equip the large immigrant community to enable them to succeed economically.
Q: Why did you want to be involved in this summit?
A: As an immigrant business owner and naturalized citizen myself, I believe we can do a better job of preparing immigrants for life in San Diego.
Q: What's most helpful to immigrants when integrating into San Diego?
A: Whether it be new immigrants, refugees or newly naturalized citizens, I believe access to resources is the most helpful to integration. Educational opportunities, civic engagement and economic tools are all important in creating more productive members of San Diego, and we all benefit directly or indirectly from a productive and engaged immigrant community.
Q: What's been challenging about your work with the various non-profits you're involved with?
A: The most challenging thing about working with any non-profit is having effective time management. I run a restaurant full time, so scheduling that and the different board and committee meetings can be very challenging. Time is the most important form of currency for effective membership, so you must always try to maximize the time you put in.
Q: What's been rewarding about this work?
A: The most rewarding thing for me is to see an idea you are working on become reality, whether it be something physical like the construction of a building for the benefit of the community, or something intangible like a change in policy for the benefit of San Diego.
Q: What has it taught you about yourself?
A: I think I have learned that even if I lack the expertise or the experience in certain issues, if it is something I care about, I can add to their cause, even if just a little.
Q: What is the best advice you've ever received?
A: I have received a lot of good advice throughout the years, but by far the best has been never being afraid to ask questions. In fact, try to always ask something. I have learned a lot and probably made fewer mistakes by swallowing my pride and asking about things I do not know, even if it felt like a dumb question.
Q: What is one thing people would be surprised to find out about you?
A: I have been in the restaurant and catering business for around 15 years, and it might come as a shock to many that I am a horrible cook.
Q: Describe your ideal San Diego weekend.
A: San Diego's neighborhoods are amazing! They each have their own character and I love walking or biking around and enjoying what each one has to offer. It might be food or drink, or even a hike in one of our urban canyons. I like the idea of experiencing so many different things without having to drive far.
Email: lisa.deaderick@sduniontribune.com
Twitter: @lisadeaderick
Sign up for the Pacific Insider newsletter
You may occasionally receive promotional content from the Pacific San Diego.