Malarkey-inspired beet ice cream goes on sale today
Little Italy —
If you can't get enough of chef Brian Malarkey's roasted beet salad at Herb & Wood restaurant in Little Italy, an ice cream version went on sale today just five blocks away.
Roasted Beets & Humboldt Fog ice cream is one of five specialty flavors available in the month of June at all Salt & Straw ice cream shops, including its newest location at 1670 India St. in Little Italy.
The beet ice cream is one of five seasonal flavors featured this month in the Portland-born ice cream chain's Guest Chef Collaboration series. Salt & Straw's co-founder and head ice cream maker Tyler Malek, 30, spent months working with acclaimed chefs in each of the five West Coast cities where it operates shops.
The other specialty ice creams and their chef co-creators are Duck Crackling with Cherry Preserves co-created by Traci Des Jardins of Jardinière restaurant in San Francisco; Tokyo PB&J by chef Gabriel Rucker of Le Pigeon in Portland; Ras El Hanout & Pickled Rose Petal Jam by chef Renee Erickson of The Walrus and the Carpenter in Seattle; and Jeweled Brown Butter Rice Gelato by chefs Sara Kramer and Sarah Hymanson of Kismet in Los Angeles.
Salt & Straw is known for its unusual and often savory ice creams, so creating a beet ice cream isn't that far out of the box for Malek. In a visit to Little Italy this week, he and Malarkey talked about their unusual collaboration.
Malarkey, who rose to fame as a finalist on Bravo's "Top Chef" series, owns five restaurants in San Diego, with two more on the way in 2019. They include his fine dining restaurant Herb & Wood, the casual Herb & Eatery, two quick-service Green Acre locations; and The Farmer & The Seahorse restaurant and event space in La Jolla.
He and Malek met a few years ago at a food festival in Pebble Beach and bonded over their shared connection to Portland, which is Malarkey's hometown.
To create the chef collaboration ice creams, Malek visited each restaurant and tasted his way through the entire menu. Malek said choosing to riff off a menu dessert item is too easy. He prefers to make "drastic choices" with his flavors.
His first choice for a flavor was Malarkey's roasted baby carrot dish made with cashew sesame dukkah (an Egyptian nut and spice blend), yogurt and carrot top pesto.
He also tested out a flavor inspired by Herb & Wood's hiramasa seafood dish. He created a fish sauce caramel and white soy and seafood gelato, but it had too much of the "ick" factor so it was discarded.
Eventually, he and Malarkey settled on the highly acidic beet salad, which is one of the top-sellers at Herb & Wood. It is made with hard-roasted red beets, burrata cheese, house-made walnut pesto, Jamon Iberico, pickled golden beets and sherry.
Because burrata doesn't freeze well, Humboldt Fog cheese was substituted. The cheese is mixed in with the vanilla ice cream base. To preserve the rich flavor of the beets, they have been incorporated into a jam that is layered in with the cheesy ice cream, along with a swirl of walnuts. The ham and pesto were not incorporated into the ice cream.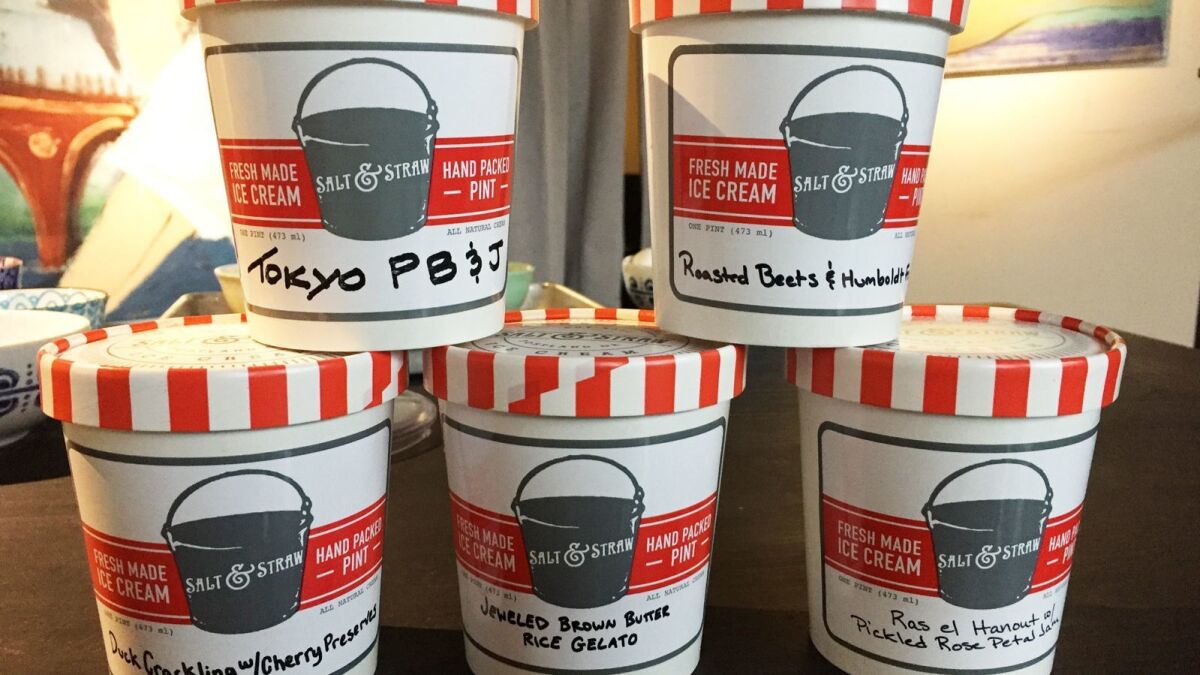 Malarkey said it took about 60 test pints of different concoctions of the ice cream to get it just right. The new beet ice cream is available through June 30.
Since Salt & Straw opened its first local scoop shop in December on Indian Street, the company has collaborated on flavors with numerous San Diego businesses.
All of the chain's coffee-flavored ice creams are now made with San Diego's James Coffee Co.; Modern Times Brewery collaborated on an an orange creamsicle sherbet in January; local chocolatiers Chuao and Nibble were featured in chocolate ice creams and sorbets in February; and Belching Beaver's stout beer is featured in the Peanut Butter Stout with Chocolate Chicharrón flavor; and San Diego's The Crack Shack restaurants sell two ice cream shakes co-developed by Salt & Straw and Crack Shack's Culinary Director Jon Sloan.
After taking a crash course in ice cream-making in 2011, cousins Kim and Tyler Malek opened their Salt & Straw as a single street cart. Within three months they moved into their first brick-and-mortar store. Since then they've expanded to 14 locations, with a 15th planned later this year in Anaheim's Downtown Disney shopping district.
The company's name is inspired by the way ice cream was made in the old days: churned by hand with rock salt, then packed in insulating layers of straw. While the company still mixes its ice creams by hand in-house in small 5- to 10-gallon batches, it has from the start embraced the new when it comes to flavor.
For consistency, each store always serves 12 classic flavors, including its two top-sellers Sea Salt with Caramel Ribbons (Malek's favorite) and Almond Brittle with Salted Ganache and locally sourced favorites. And five new flavors are featured every month.
Salt & Straw
Hours: 11 a.m. to 11 a.m. daily
Where: 1670 India St., Little Italy
Phone: (619) 542-9394
Online: saltandstraw.com/sd-locations/
Sign up for the Pacific Insider newsletter
PACIFIC magazine delivers the latest restaurant and bar openings, festivals and top concerts, every Tuesday.
You may occasionally receive promotional content from the Pacific San Diego.