Elegant recipes for holiday entertaining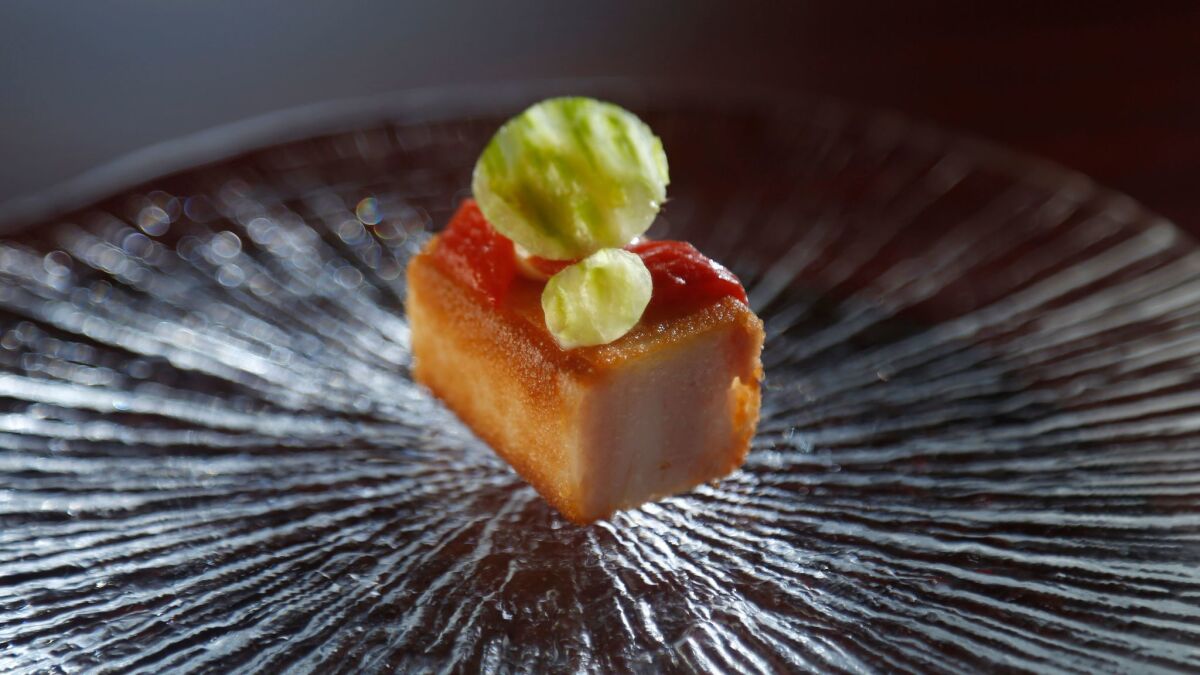 Are you about to hit the Evite or Paperless Post send button for your annual holiday party? Let's hope that behind that crisp invitation you have a menu worthy of the festive request.
Now a holiday party doesn't have to be a full spread of a meal. Make it easy on yourself — and your guests — and treat them to a cocktail party with elegant seasonal appetizers and drinks.
I spent some time at one of San Diego's most elegant restaurants, Addison, with both executive chef William Bradley and mixologist Ian Ward. They created what can be the foundation and inspiration for your holiday cocktail party.
Ward presented two cocktails: his Pumpkin Lemonade, a striking orange rum-enhanced drink that he had made earlier in non-alcoholic form for chef Mario Batali, and his Fleur de Noel, brilliantly red thanks to hibiscus tea, and popping with distinctly tropical flavors.
The Pumpkin Lemonade features Clement XO rum, a blend of four vintages. The rum, Ward said, adds warmth to the drink. He said it's available at BevMo, but if you can't find it, use any aged rum. And, if you decide to make it nonalcoholic, just substitute the rum with 2 ounces of water. If you haven't had pumpkin in a cocktail, it's a marvelous surprise. You'd think it would be thick and dense, but it's actually light and smooth, complemented with maple syrup and nutmeg.
The Fleur de Noel is a multistep, multi-ingredient cocktail that includes ginger root, mescal, hibiscus tea, cinnamon syrup, lime juice and espresso. Seem like a lot to combine in one little drink? Well, Ward believes that if it grows together, it goes together — and, he said, it has all the characteristics of a great gingerbread.
"It lends itself to Christmas without being too heavy," he added.
First you need to make the hibiscus tea. It's pretty simple. You can find hibiscus petals at Smart & Final, he said, or you can find them readily at Mexican markets. Pack a 1-quart container with the petals and add boiling water. Let it sit until it cools — about four hours — and then strain and chill the tea. You'll also need to brew a little espresso and make a cinnamon syrup. This is a simple syrup of sugar and water flavored with a tablespoon of ground cinnamon. Boil the ingredients together and then strain. (And if you have leftover syrup, spoon it over baked apples or dress a fruit salad or use it in a sorbet.) At that point, you do some ginger muddling, add the rest of your ingredients, shake and strain into a Collins glass filled with ice.
Bradley showed off "BLT" canapés, a pork lover's dream of unsliced bacon (feel free to use pork belly for real extravagance and richness) wrapped in feuille de brick — ready-made thin pastry sheets — and sautéed until crisp, then topped with tomato confit and tiny lettuce leaves.
Bradley is into creating interesting textures and playing off of food concepts we know and love. His BLT riffs off the sandwich, but instead of a series of hearty, mayo-laden bites, he creates a singular, delicate, memorable bite that floods your mouth with an even better echo of the sandwich.
The dish is simple to prepare, but before you fuss with the bacon, you'll want to prep the tomato confit. You'll need Roma tomatoes, which are meatier than other varieties. First you'll give them a quick blanching to help remove the skin, then peel, quarter and seed them. Season the quarters with salt and sugar and a good dousing of olive oil, then slow-bake them at a low temperature to dehydrate them and leave them tender. You can do this ahead of time and refrigerate them, submerged in olive oil.
You'll also want to make the garlic aioli, a nice riff on traditional mayo. This recipe makes four cups. You can cut the recipe, but also know that it will last a couple of weeks in the fridge if you want to enjoy it on sandwiches or as a dip.
To put it all together, you'll wrap long, 1-inch strips of the bacon in the feuille de brick and seal with egg white. Then you'll sauté them, cut into 1-inch portions and garnish with the aioli, a rolled slice of tomato, and a tiny lettuce leaf.
Bradley's Caviar Tart is totally New Years — a pâte brisée tart filled with crème fraîche and thinly sliced chives, then topped, of course, with caviar.
"I like to do things that are familiar," Bradley said. "Caviar is elegant, but it is familiar."
The pâte brisée is a simple dough of flour, egg yolks, sugar, salt, all-purpose flour and milk. The trick is to get the dough thin — like pasta dough thin. In fact, you could put the dough through a pasta extruder. And no worries if you can't get it super thin. It'll still be wonderful. You'll press the dough into tart molds, trim the excess, let it rest in the freezer, then blind bake. Once they've cooled, fill the tart shells with the crème fraîche and caviar.
Bradley, no surprise, loves to entertain. But, he said, the key to entertaining is that everyone brings something.
"It's a lot of work for one person," he acknowledged. "Having guests contribute dishes allows you to focus on a few things and do them well."
Golden is a San Diego freelance food writer and blogger.
Addison's Caviar Tart
Makes 20 small tarts
20 tart shells (see pâte brisée recipe that follows)
One 8-ounce container of crème fraîche
1 bunch chives
Salt and pepper to taste
One 7-ounce container of caviar
Thinly slice chives and mix into crème fraîche. Season to taste. Fill each tart shell with ½ teaspoon crème fraîche/chive mixture. Top with caviar. Serve immediately.
Makes 20 small tarts
26 ounces butter
2 egg yolks
2 teaspoons sugar
2 teaspoons salt
7 cups all-purpose flour
¾ cup milk, room temperature
Lightly paddle butter until it lightens a bit. Add egg yolks.
Sift dry ingredients together.
Alternate adding milk and dry ingredients to butter and egg mixture and mix slowly until everything has been incorporated. Wrap tightly and store in refrigerator.
Roll out dough as thin as possible — or put through a pasta extruder.
Press dough into small tart molds. Don't stretch dough, to prevent shrinkage while baking. Trim excess dough hanging over edges. Prick holes with fork tines across surface of dough. Wrap in plastic wrap and place in freezer for at least 30 minutes.
Preheat oven to 375 degrees. Remove tarts from freezer and discard plastic wrap. Place tarts on baking sheet. Fit pieces of parchment paper snugly against the surface of the dough of each tartlet and weight parchment with dried beans or baking weights.
Bake for 20 minutes. Remove baking weights or beans, along with parchment paper and bake another 20 minutes or until lightly browned.
Let tart shells cool, then remove from molds and fill.
Addison's BLT
Makes 12 canapes
1 pound bacon (whole, not sliced)
Feuille de brick sheets (available on Amazon)
1 egg white
Canola oil for searing
Tomato confit (recipe follows)
Garlic aioli (recipe follows)
Little gem lettuce, each leaf quartered (or micro greens or romaine)
Cut 1-inch-long strips of bacon.
Place 1 sheet of feuille de brick on cutting board and set one slice of bacon on the bottom portion of feuille de brick. Begin to roll the bacon in the dough, wrapping tightly. Once it has been wrapped twice, trim the excess and brush the edge with egg white to seal.
Heat a medium sauté pan with canola oil and sear wrapped bacon on all sides until golden and crispy. Cut bacon into 1-inch portions using a serrated knife.
Garnish with a small dollop of garlic aioli, a rolled slice of tomato confit, and leaf of lettuce.
Tomato Confit (Slow Baked Roma Tomato Petals)
Makes 12 pieces
3 Roma tomatoes
2 large garlic cloves, peeled and degermed
Extra virgin olive oil
1 tablespoon salt
1 tablespoon sugar
Preheat oven to 200 degrees.
Submerge Roma tomatoes in batches in boiling water for 10-second intervals while shocking in ice water (usually 2 blanches is sufficient).
Remove skin from tomatoes, quarter, and remove seeds.
Place tomato quarters — or "petals" — on a sheet tray lined with parchment paper. Season tomatoes liberally with olive oil, salt and sugar (if necessary).
Using a mandoline, slice the garlic into thin pieces and place one piece on each tomato petal. Bake in an oven at 200 degrees for 1 hour.
Flip all petals and continue to cook until tender and dehydrated without becoming crisp or colored.
Store tomatoes submerged in oil in refrigerator until ready to use.
Garlic Aioli
Makes 4 cups
1 head garlic
1 quart canola oil
4 egg yolks
Juice of 1 lemon
1 tablespoon salt
Split head of garlic in half and place in medium sauce pot. Add canola oil and slowly heat, just until warm. Turn off heat and let this oil cool completely with the garlic inside. Strain oil and set aside until ready to use (this can be made one day ahead).
Place egg yolks in the bowl of a food processor with 1 tablespoon lemon juice and pinch of salt. Turn on the machine and slowly drizzle in cooled garlic oil, letting the egg yolks emulsify with the oil, creating the base of the aioli. If the aioli gets too thick, simply thin out with cold water. Continue adding the remainder of the oil.
Season with salt and more lemon juice to taste.
Store in an airtight container.
Note: Feuille de brick (also called Brick Dough) is available on Amazon.com and at specialty markets. It may be substituted with a wonton wrapper or phyllo dough.
Pumpkin Lemonade
Makes 1 cocktail
1.5 ounce aged rum, like Clément XO
1 ounce fresh pressed lemon juice
0.75 ounce McLure's Maple Syrup
1 tablespoon pumpkin puree
Nutmeg to taste
Combine the rum, lemon juice, maple syrup and pumpkin puree in a shaker with ice. Shake and strain into a Collins glass with ice. Grate a healthy amount of nutmeg over the top of the cocktail.
Fleur De Noel
1 quarter-size piece of fresh ginger root, cut into three pieces
3/4 ounce cinnamon syrup (recipe follows)
1 1/2 ounces mezcal, like Espadin
1 ounce of chilled hibiscus tea (recipe follows)
1/2 ounce fresh pressed lime juice
1/4 ounce brewed espresso
Wedge of lime
Make cinnamon syrup.
Make hibiscus tea.
Muddle three pieces of diced ginger with cinnamon syrup, in the base of a cocktail shaker, or mixing glass.
Add mezcal, hibiscus tea, espresso lime juice and ice. Shake and fine strain into a Collins glass filled with ice. Garnish with a wedge of lime.
Cinnamon Syrup
1 cup sugar
1 cup water
1 tablespoon ground cinnamon
Boil together ingredients, cool and strain.
Hibiscus Tea
Hibiscus petals (found in Mexican markets)
Water
Pack hibiscus petals into a container. Add boiling water. Let sit until fully cooled — about 4 hours. Strain and chill.
Sign up for the Pacific Insider newsletter
You may occasionally receive promotional content from the Pacific San Diego.