Latte perks: VendiBean finds niche in local tech offices
Folgers and a Bunn brewer aren't cutting it for millennial workers. "Coffee" means something else to the Starbucks generation.
That's why trendy offices around San Diego have a sleek new latte machine humming quietly in their break rooms — the VendiBean robot. Designed by a couple of local college students barely in their 20s, the machines are a noticeable improvement on the hospital-grade coffee stations of yesteryear. VendiBean uses artisanal coffee beans from local roasters like Ryan Bros., and the machine grinds it freshly for every cup. The founders said they also hunted for high quality milks and offer non-dairy options for the vegans. The result? VendiBean's coconut mocha lattes rival those of chain coffee shops.
Founded by sister brother duo Teal, 24, and Tristan Cooper, 22, last year, VendiBean was meant to be the 24-hour stop for young folks looking for their coffee fix. The siblings planned to roll out the machine on every college campus and shopping mall across San Diego. But it turns out retail wasn't going to work.
"We wanted to place it in huge foot-traffic locations, but the bigger and better the location the more red tape there is," Teal said. "The sales cycle is long and it's really difficult to get in — especially for a startup."
Instead, VendiBean found a niche in the corporate arena — particularly in youthful offices focused on perks for their employees. Teal said the company has 42 machines deployed in San Diego, including at the coworking space Downtown Works, branding firm Smashtech, and major campuses like Hewlett Packard and Cox Communications.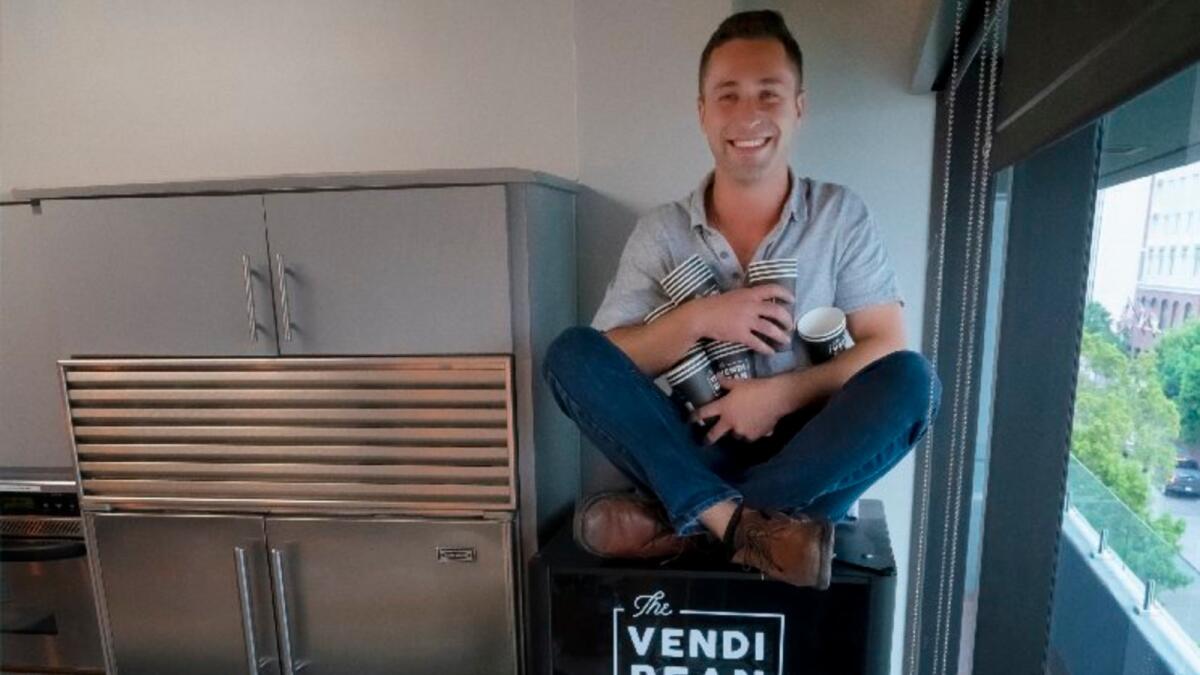 Teal said the office niche came as a surprise, with companies reaching out to her instead of the other way around. Many employers, especially in fields like marketing and technology, are looking for small perks to offer employees to keep them around.
"Companies staying ahead of employee culture and engagement trends want to find coffee that matches their culture," Teal said.
Several employees at the millennial-run Smashtech office crowed over the machine, particularly appreciating the non-dairy options. Justin Griffin, an employee at Smashtech, said it's like having a barista in the office. Others said they liked using it because it supports local entrepreneurs.
VendiBean is tapping into several trends with its branding. Not only is it vegan-friendly and customizable, but VendiBean has vowed to only use local beans in their machines.
The company plans to have 150 machines deployed by the end of this year, and the plan is to partner with roasters local to each new region.
"Local coffee roasters truly love what they do, and they're passionate about the craft so the quality is amazing," Teal said. "I never wanted to compete with them. First, because I'm not going to be better — they're amazing at what they do. And second, because I want to support mom and pops and artisanal roasters, not the mainstream brands."
Teal said VendiBean became profitable this summer, earning revenue monthly from contracts she has with companies. She plans on raising $600,000 in expansion capital to help scale the business, with a target of $300,000 from angels. But, she said fundraising has been tough. It's difficult to convince startup investors to back a small business like VendiBean. Unlike software and tech startups, the vending machine company doesn't have intellectual property protecting its core business. The value is in the brand, the niche, and the founding team's ability to score corporate clients. Teal said there's a good chance she'll opt for debt financing instead, as its critical to dominate a market segment quickly.
After tackling the San Diego market, VendiBean plans to roll out in Orange County, Los Angeles, and San Francisco.
brittany.meiling@sduniontribune.com 619-293-1286 Twitter: @BrittanyMeiling
Sign up for the Pacific Insider newsletter
You may occasionally receive promotional content from the Pacific San Diego.