Google's former top chef teams with San Diego engineer on kitchen tech startup Galley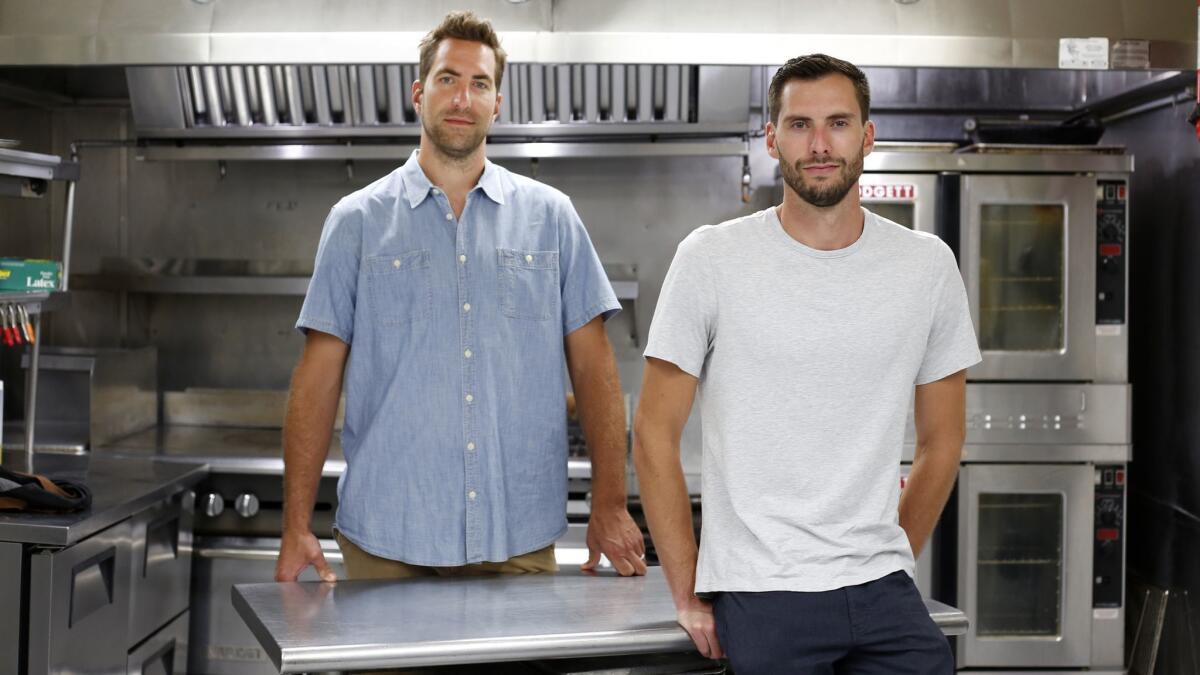 Despite Silicon Valley's promises of robots soon invading our kitchens, the bustling back galleys of today's restaurants are noticeably barren of technology — save a single dusty desktop loaded with spreadsheet software and an inventory system likely built in the 1990s.
"Food service companies generally aren't the most tech savvy in the world," says Nate Keller, the former executive chef at Google's massive corporate campus. "I can't tell you how many restaurants I've dealt with that still ask for faxes."
It's an opportunity for San Diego tech startup Galley, which is building software to power the back-of-house kitchens, corporate food and a new wave of "virtual" eateries. And they've got the help of ex-Googler Keller on their advisory board.
Chaos in the kitchens
Restaurants have always pulled a curtain between the dining room and the lively — sometimes chaotic — back kitchen. And now, as food delivery apps like Uber Eats and Postmates create another veil between production and presentation, it can be puzzling to realize kitchens still operate largely on pen, paper and spreadsheets.
To be clear, we're not talking about the software waiters use to punch in your order of Pad Thai. We're talking about the chef's system for ordering rice noodles from his distributor, making sure his bean sprouts are fresh, and how he keeps track of his numerous recipes to help train new staffers.
"Sometimes kitchen recipes are handwritten in notebooks that chefs keep in their pockets," said longtime Chicago chef Shawn Quaid, who ran eight restaurants under a shared kitchen called Green Summit. "Sometimes recipes are dog-eared in binders or coffee-stained on clipboards hanging in the kitchens."
The lack of software tools in small mom and pop kitchens isn't that surprising. But at Google, Keller managed the kitchen operations from startup stage in 2002 until tech giant status in 2008, growing the corporate kitchen from 400 meals per day to 40,000. Even housed at one of the most advanced technology companies in the world, Keller ran Google's massive kitchen using a simple spreadsheet. Pages upon pages were loaded with menus, ingredients and costs.
San Diego's startup gets legs
Keller eventually moved on from Google to co-found a new tech company, Sprig, an on-demand food delivery startup that caught fame — and $57 million in funding — before fizzling out last year. It was there that he met Benji Koltai, a programmer who built an internal software system to help sort out Sprig's massive inventory and food prep problems.
As big players like Uber Eats began to dominate the food delivery tech space, Koltai and Keller began wondering if there was more promise in their internal kitchen software than in Sprig itself.
"Kitchen software ... it's not a sexy topic in the tech world," Keller said. "But it's a real problem that can be solved."
Taking what he learned from building Sprig's infrastructure, Koltai started his own company Galley here in San Diego (with the full blessing of his former boss, Keller). Galley's software allows kitchens to create recipes, group them into menus, and export them into shopping lists. It also lets kitchen managers create inventories, track ingredient costs and create synergies between menu items that have shared ingredients or prep work.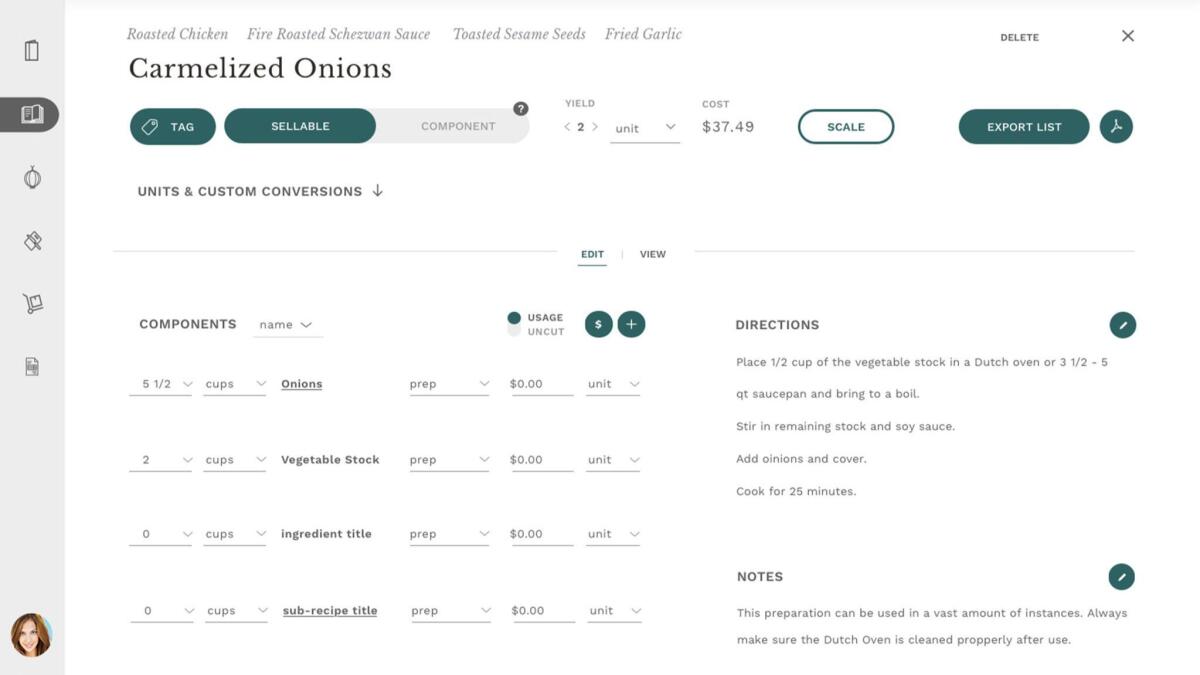 Now the director of corporate dining at Comcast, Keller said kitchen software could be a real boon for a massive kitchen operation like his, which juggles varied menus with complex sets of instructions and ingredient lists daily.
"The restaurant and food world is a low-margin business," Keller said. "If you can add a half point to your margin, it makes a big difference."
Quaid agreed that a smart software tool could cut costs in his kitchens. "Cross utilization (of ingredients) in a kitchen is very important, even if you're just a standalone restaurant doing one thing," he said.
But, he added, Galley has some competition. Major food providers like Sysco offer their customers a tool to create recipes and order ingredients through their proprietary systems. Sure, it only allows the chef to order from one vendor and the software is a bit clunky, but the prices update in real time and it cuts out some work for the chef.
"Chefs are perpetually stressed and their time is stretched already," Quaid said. "The prospect of hours of work setting up a new system — inputting recipes and all the prices of my ingredients manually — is daunting. No matter how shiny or wonderful the system might seem, I think the setup would be a barrier for (customers)."
"Ghost" kitchens on the rise
Galley is still a baby in the startup world, founded in October 2017 and only employing Koltai, his co-founder Ian Christopher, and a couple of engineers. The small team, which works out of coworking space Co-mmunity in La Jolla, raised about $100,000 in angel money at the outset, and has plans to raise a $500,000 round in the near future to help expedite development. But they have a way to go before meeting all their customers' needs.
There is, of course, a long list of potential customers outside of restaurants and corporate kitchens, including hospital cafeterias, university food courts, catering businesses, and any commissary kitchen. And a growing market segment for Galley to tackle is a new food trend called "virtual" or "ghost" kitchens. These are restaurants that have no dining room and no consumer-facing location. Instead, they rent small spaces and create food that's strictly sold online through food delivery apps. The concept is trending in big cities like San Francisco, Chicago and New York. In fact, London-based food delivery service Deliveroo opened a massive "shared" kitchen space in Paris, where several of these ghost restaurants can operate in one hub.
These businesses in particular could use a tool like Galley's, Quaid said, considering the software's ability to help chefs create synergies between several menus at once. Koltai says one such ghost kitchen — Taster, operating out of Deliveroo's Paris hub — was his first signed customer.
"I'm bullish on the ghost restaurant movement," Koltai said. "I think it's the way of the future, and the way that urban centers get fed. But it's still an early market, and our product is applicable to anybody who creates recipes."
brittany.meiling@sduniontribune.com 619-293-1286 Twitter: @BrittanyMeiling
Sign up for the Pacific Insider newsletter
You may occasionally receive promotional content from the Pacific San Diego.