2nd generation of Asian entrepreneurs poised to take Convoy District into future
Its aerospace origins now history, San Diego's original industrial powerhouse centers wants to be the next Little Italy in a post-car world.
The Convoy Street district has a crop of 30-somethings at the helm of a renovation campaign. They grew up eating and shopping in the mom-and-pop business district. Now, as business people, they want to reshape it.
The upcoming Kearny Mesa community plan update may allow new opportunities to change the look and feel of this neighborhood of strip malls.
The business district has never had a collective identity, or a chamber of commerce group to promote it. That's changing with the budding Convoy District association.
Convoy District into the future: Here's the full story
Cristian Liang's parents took him to San Diego's Convoy District as a child for Asian groceries and restaurants.
As a teen and college kid, he frequented its coffee shops and nightclubs.
As a young entrepreneur, it was natural then for Liang to choose the largely Asian, mom-and-pop business district for his own first venture, the craft beer pub Common Theory.
"We always knew that Kearny Mesa was where we wanted to open something," said Liang, 34, who partnered with a Korean-American buddy to launch the restaurant nearly four years ago. "We felt like we were part of this neighborhood. We've seen it grow."
Liang -- a UC San Diego engineering graduate who ditched his desktop for double IPAs and duck-fat fries — is one of several entrepreneurs who are second-generation patrons of the Asian district and have a vision to make it a regional destination.
Think: the next Little Italy -- a cohesive identity, better lighting and sidewalks for pedestrians and maybe even the first mixed-use buildings with apartments on top and retail on the ground floor.
"We saw there was already a vibrant neighborhood here — probably one of the greatest concentrations of diverse businesses is here in the Convoy corridor," said Ping Wang, a founder of the Convoy District organization and a child of the neighborhood, after his parents ran a store there for several years.
"One of the unique points of Convoy is that it's not just one ethnicity. It's not just Japanese or Chinese or Korean — it's all of these. But the underlying theme is that they're authentic."
Putting Convoy on the map
Their a-ha moment may have been the success in 2013 of the first Night Market in a parking lot on Clairemont Mesa Boulevard.
The one-night-only collection of open-air stalls was a smash hit. Organizers expected a few thousand people lining up for Asian food and goods; they got nearly 20,000.
"We thought, we're on to something here," Wang said.
Presently, the district is an eclectic mix of longtime stakeholders and young upstarts. For example, the venerable Jasmine is a white-tablecloth Chinese restaurant that seats hundreds.
In the same shopping center is Iceskimo, which began in 2014 as a summer "pop-up" shop selling Taiwanese desserts before opening its Convoy Street storefront later that year.
We could create that sense of place that San Diego is known for. You have very special neighborhoods with strong history, such as Little Italy and the Gaslamp.
— Tim Nguyen, co-founder of the Convoy District organization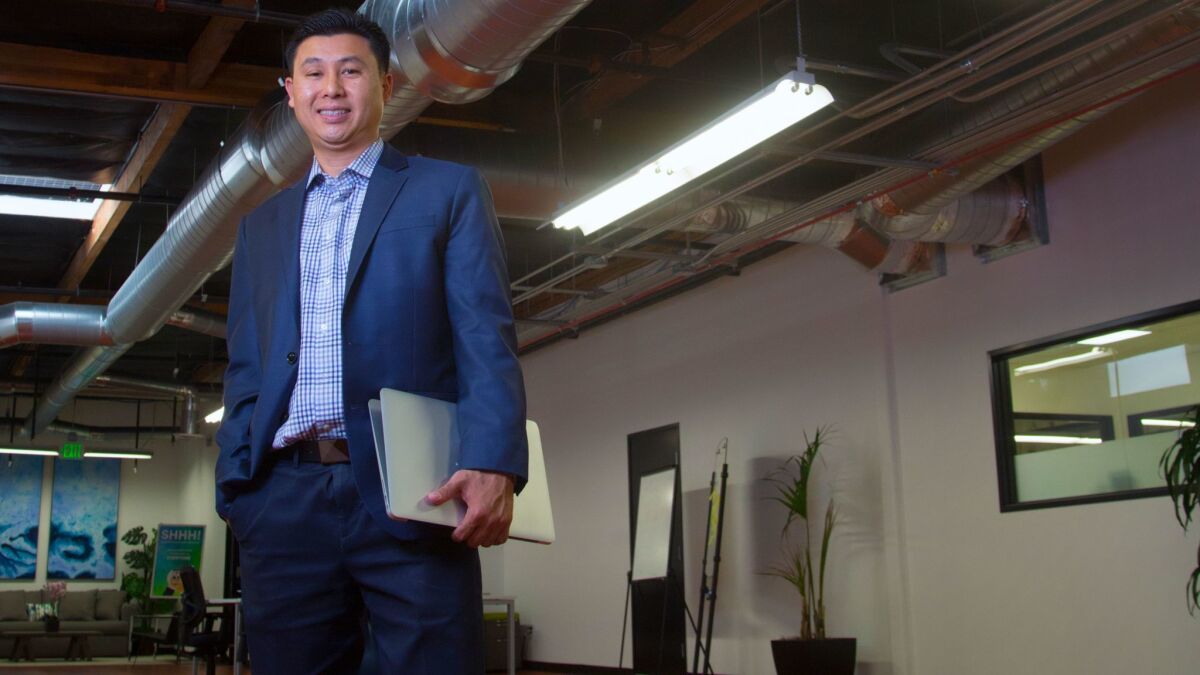 RELATED: Kearny Mesa: The next Little Italy? »
Wang, whose family business included an electronics showroom on Convoy, sees the story of the neighborhood through the prism of economics and generational change.
For decades, the rents in this strip-mall district on the edge of industrial Kearny Mesa were low enough that recent Asian immigrants could start mom-and-pop restaurants and stores.
This wave was fed in part by the Vietnamese population who settled in nearby Linda Vista after the Vietnam War. Mexico also had a role.
3 family stories of Convoy
Liang's parents moved to Mexico from China and operated Asian restaurants south of the border. Liang, who still speaks fluent Spanish, grew up in Tijuana and Chula Vista.
Wang's parents left Taiwan to run the family electronics manufacturing business in a Mexican maquiladora plant. Their Convoy showroom featured that merchandise.
The confluence of many cultures in Convoy meant there was little internal organization — in part because of the inherent language barriers.
But, this second generation of Convoy entrepreneurs is bringing a desire for a chamber of commerce-like association for the area.
You can almost track the starting point to Tim Nguyen running into Wang by accident.
Nguyen was a San Diego State MBA student who chose to analyze the Convoy District for his thesis.
Nguyen, who works in real estate development, was fascinated by the area because of his family history.
His parents escaped Vietnam as boat people in the early 1980s and ended up in City Heights and then Linda Vista and Mira Mesa. They and their relatives opened hair and nail salons around the county, including some on Convoy. Nguyen's parents put five kids through college that way.
Going door-to-door to survey business owners in 2012, Nguyen met Wang, who was sweeping up at the family business on Convoy.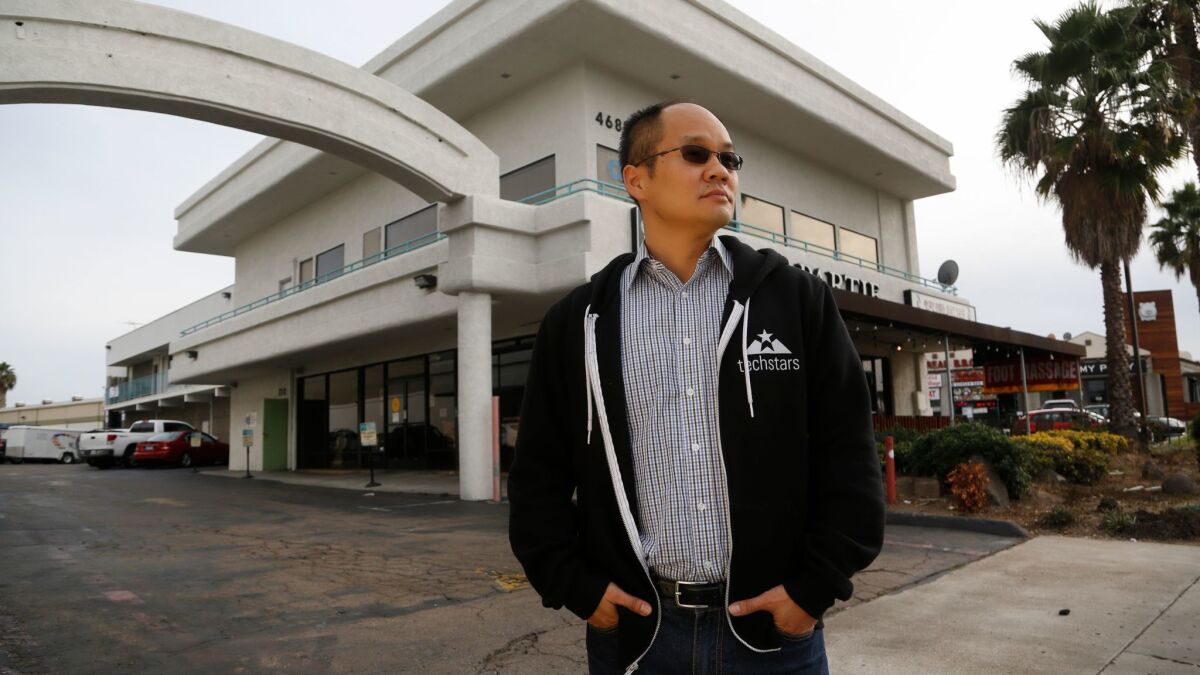 Wang went to the Bay Area for most of his university education. He finished up his engineering doctorate at UC San Diego and worked on incubating startup robotic technology at Qualcomm.
During the recession, he used an empty part of the family business' Convoy building to create one of the city's first tech coworking office spaces.
"We sat down for coffee, and we hit it off," said Nguyen, 36. "We had a lot of similarities in terms of growing up here in San Diego. We both went out of San Diego for school. Our passion for this city, and our family ties, drew us back here."
The two entrepreneurs viewed Convoy as a startup environment -- in other words, with lots of unrealized potential.
"We sat at that coffee shop and came up with ideas for how to grow the community, and bring more people to do business and work and shop," Nguyen remembers.
Launching a Convoy business association
Soon after, in 2013, they launched Convoy District, a nonprofit business organization. They organized that first mega-hit Night Market, which gave them a big appetite for more.
Now they want to transform the neighborhood into a vibrant cultural, dining and innovative economic neighborhood.
And, to some degree, it already is. But people like Liang, Wang and Nguyen see the opportunity for better branding and cohesion.
"We could create that sense of place that San Diego is really known for. You have very special neighborhoods with strong history, such as Little Italy, the Gaslamp Quarter and Hillcrest," Nguyen said.
They see an opportunity in the upcoming Kearny Mesa community plan update, which could result in new zoning and the mixed-use development now familiar in North Park and Little Italy.
Simpler fixes would be aimed at encouraging pedestrians, such as better lighting and walker friendly sidewalks and street corners.
A first step might be a sign that proclaims the area's identity. North Park and Hillcrest have their big placard signs, that straddle University Avenue in the heart of both neighborhoods.
If these entrepreneurs have anything to say about it, the big sign over Convoy Street one day will read, simply: Convoy.
"If you are in Hillcrest, you know it's the LGBT neighborhood of San Diego," Nguyen said. "And Convoy, you'll know you are in a special place where you will get the best pan-Asian cuisines anywhere in San Diego."
---
Sign up for the Pacific Insider newsletter
PACIFIC magazine delivers the latest restaurant and bar openings, festivals and top concerts, every Tuesday.
You may occasionally receive promotional content from the Pacific San Diego.