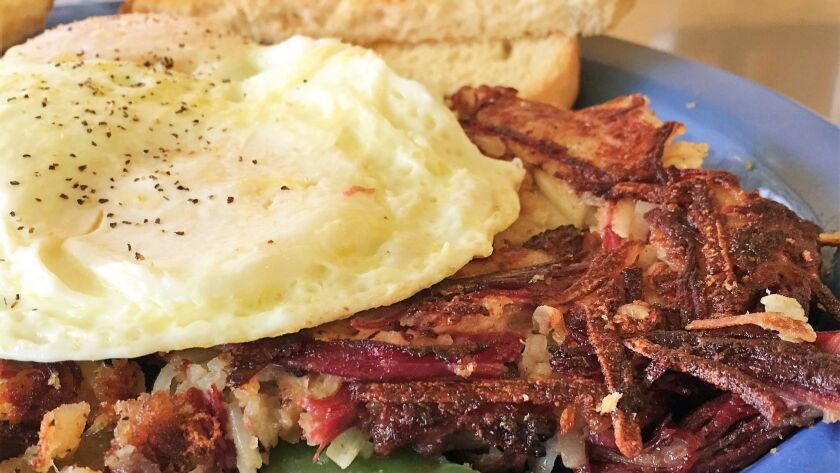 Sunday is St. Patrick's Day. Dress in your leprechaun best and get ready to celebrate in true Irish fashion at any one of these San Diego restaurants. Restaurant specials are available Sunday unless otherwise noted.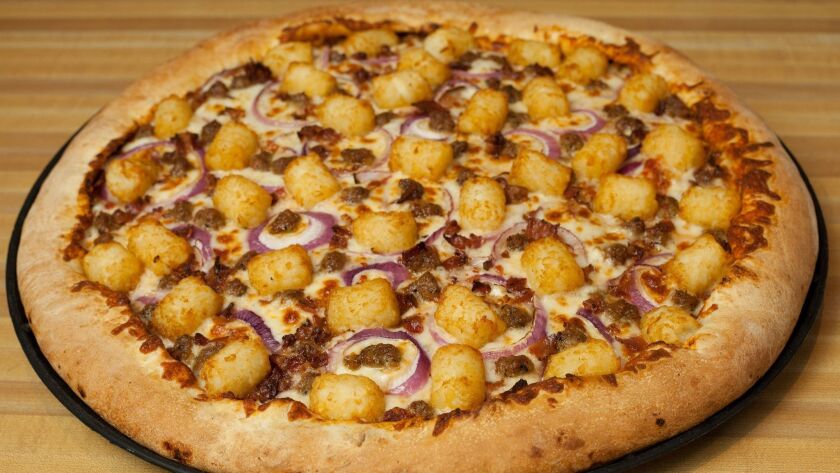 Woodstock's Pizza's nod to St. Patrick's Day begins with a Bangers & Tots pizza, a cheesy pie loaded with nitrate-free sausage and whole tater tots. Sweeten your pot of gold with free tots as a topping on any pizza of your choice with code SHAMROCK, available in-store and online. Campus Plaza Shopping Center near San Diego State University, 6145 El Cajon Blvd., Suite 3P, San Diego and 1221 Garnet Ave., Pacific Beach. woodstocksca.com
St. Patrick's Day isn't complete without whiskey and beer, and The Whiskey House will pour $1 Tullamore D.E.W. shot specials all night long with the purchase of any beer. A menu of house-made fare, including burgers and fresh ground sausages will round out the evening. 420 Third Ave., San Diego. (619) 546-6289. thewhiskeyhousesd.com
Osetra Seafood & Steaks will put a jig in your step with $5 special bartender shots along with $7 house wines, draft beers and an extended all-day happy hour available through sundown. 904 Fifth Ave., San Diego. (619) 239-1800. osetraseafoodandsteaks.com
Cusp Dining & Drinks will offer glasses of Bubbly Around the Clock, with a hint of Irish spirit starting at 4 p.m. at $4 per glass, and increasing $1 every hour. 7955 La Jolla Shores Drive, La Jolla. (858) 551-3620. CuspRestaurant.com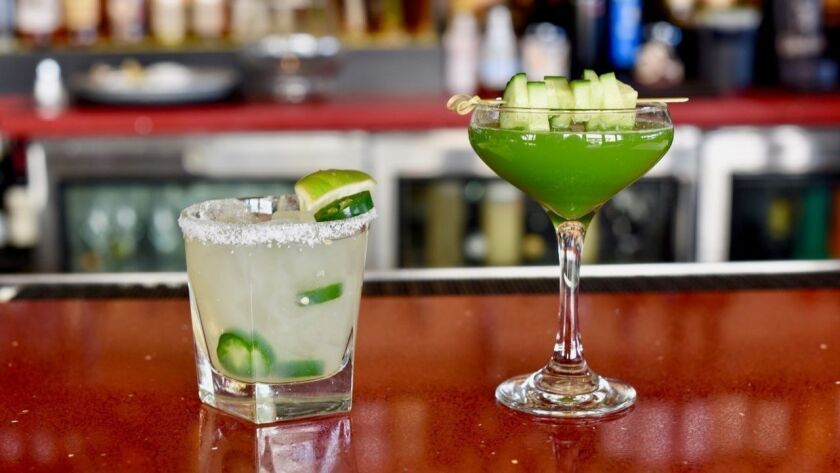 Pacifica Del Mar will pout its Pineapple-Chipotle Margarita and Green Flash Cocktail, both naturally green in hue in honor of St. Patrick's Day. 1555 Camino Del Mar, Del Mar. (858) 792-0476. PacificaDelMar.com
Curadero Mexican eatery and bar will serve corned beef tacos and Irish-inspired drinks on St. Patrick's Day. 1047 Fifth Ave., San Diego. (619) 515-3003. curadero.com
Vessel Restaurant + Bar will offer two themed dishes for the month of March: Shepherd's Pie and Lucky Charms ice cream. Kona Kai Resort & Spa, 1551 Shelter Island Drive, San Diego. (619) 819-8195.
Rustic Root's bubbles and berries cart will get a themed makeover featuring classic berries, juices and purees complemented by green rock candy and gold chocolate coins. Also on tap is its newest slushie, An Irish Frostbite ($14), made with Slane Irish whiskey, Stumptown chocolate cold brew, Kerrygold Irish Cream, Licor 42 and vanilla syrup topped with cream and espresso bean. 535 Fifth Ave., Gaslamp Quarter. (619) 232-1747. rusticroot.com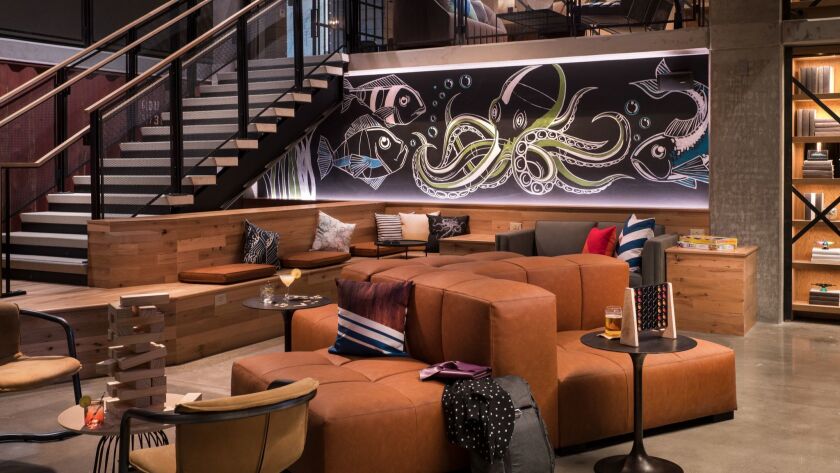 Moxy San Diego will offer $6 Irish Espressos from 8 a.m. to noon; $6 Jameson shots from noon to close; $6 Irish Bucks all day, specialty corned beef sandwiches, and DJ's in the lobby. Friday through Sunday; DJ only Friday and Saturday. 831 Sixth Ave., San Diego. (619) 239-6699. bit.ly/2S9BaN2
Harrah's Resort Southern California will test your luck on St. Patrick's Day. Starting at 3 p.m. Saturday and Sunday, the resort will have colorful bead giveaways, Green Beer specials at all bars and 22-ounce Bud or Bud Light drafts available in color-changing cups for $6. Listen to the smooth blend of Jazz and Bluegrass sounds from acoustic band Sligo Rags at SR76 Beerworks from 7 p.m. to midnight Saturday and 3 to 7 p.m. Sunday. 777 Harrah's Rincon Way, Valley Center. (760) 751-3100. harrahssocal.com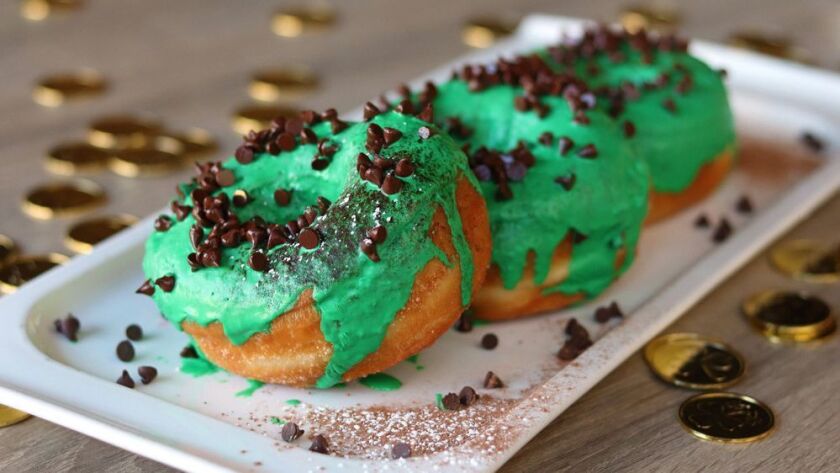 Great Maple at Westfield UTC will elevate St. Patricks Day with festive mint chocolate doughnuts coated in green and topped with chocolate chips and sprinkles with powdered sugar. Available through March 31. 8675 Genesee Ave., Suite 1200, San Diego. (858) 886-7403. thegreatmaple.com/la-jolla
Sheerwater at Hotel del Coronado will serve its signature Bloody Mary and corned beef sliders, made with shaved corned beef, beef patty, beer cheese sauce and braised cabbage on a brioche bun with caraway fries. $22 for a set of three. 1500 Orange Ave., Coronado. (619) 522-8490. hoteldel.com
Cafe 222 will serve a hearty St. Patrick's Day dish: corned beef hash, made with braised and shredded corned beef, shredded potatoes, onions, peppers and garlic, topped with two eggs any style and served with toast and breakfast potatoes. 222 Island Ave., San Diego. (619) 236-9902. cafe222.com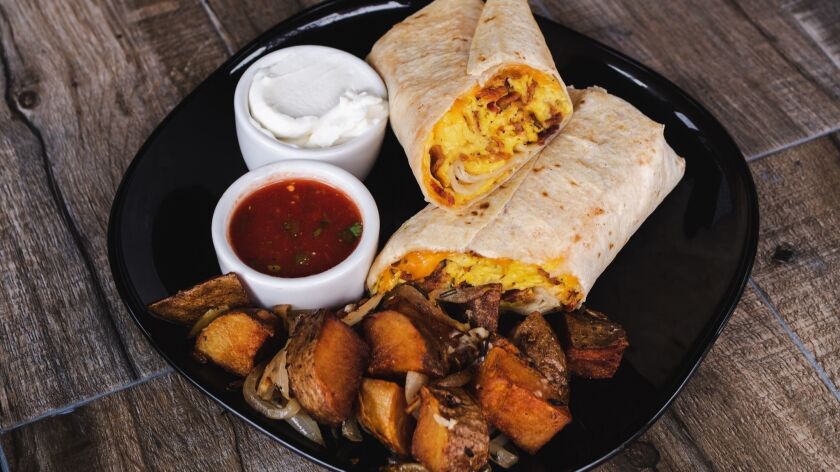 The Morning After will offer two celebratory dishes: The Leprechaun Special and St. Paddy Cakes. The Leprechaun Special will pair The Morning After's signature breakfast burrito, made with eggs, choice of sausage or bacon, cheddar cheese, house potatoes, pico de gallo and sour cream, serve with a pint of green lager. Created for the holiday, St. Paddy Cakes will include a stack of four pancakes topped with Lucky Charms cereal, served with butter and syrup. 531 F St., San Diego. (619) 542-9664. themorningaftersd.com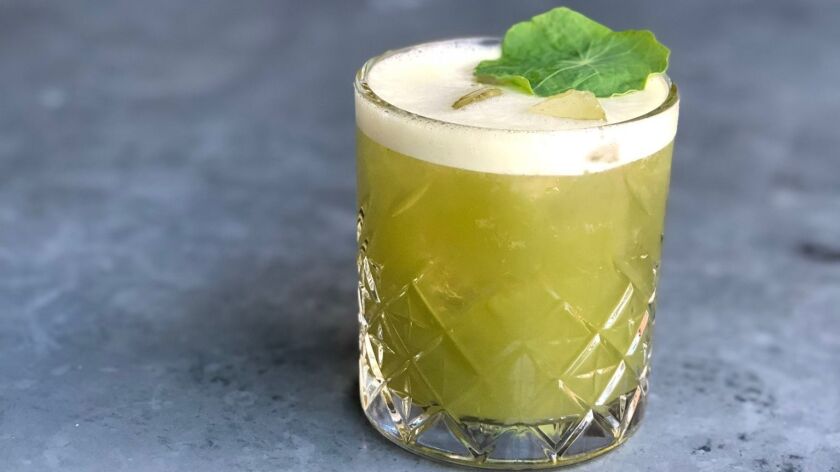 Bankers Hill Bar + Restaurant brings the spirit of an Irish garden to the glass with its Irish Garden cocktail ($12), made with Dingle Irish Gin, house-made nettle and barley cordial, house-made apple and nasturtium green juice, Bigallet China-China, honey and lime. 2202 Fourth Ave., San Diego. (619) 231-0222. bankershillsd.com
Primavera Ristorante is "Dublin" the fun with two vibrant cocktails: The St. Paddy's Sour is made with Jameson Irish whiskey, lime juice, lemon juice and simple syrup, garnished with a lime wheel and mint spring; and The Grasshopper, made with green Crème de Menthe, half-and-half, White Crème de Cacao and garnished with green sprinkles. 932 Orange Ave., Coronado. (619) 435-0454. primavera1st.com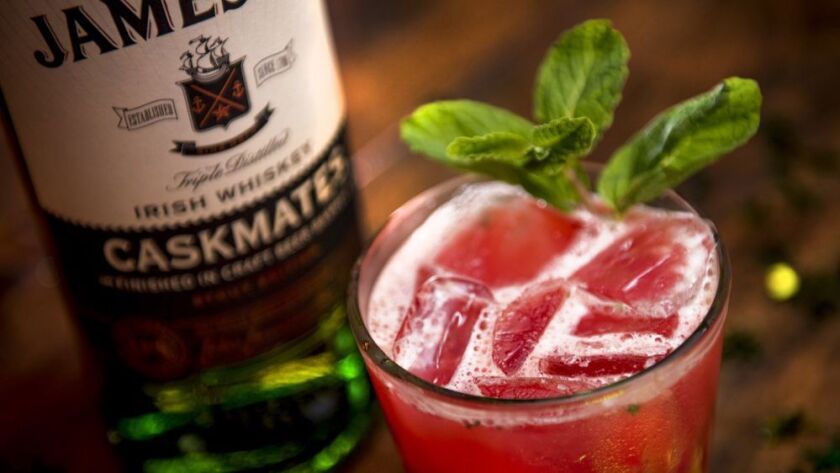 Havana 1920 will offer an alternative to green beer with its reimagined mojito. The Sunburnt Irishman ($12), is made with Jameson Caskmates, fresh lime juice, fresh mint, fresh blood-orange puree, demerara syrup, fresh sugar cane and R&D Sarsaparilla Bitters. 548 Fifth Ave., San Diego. (619) 369-1920. havana1920.com
Prohibition will celebrate St. Patrick's Day with The Irish 2-for-1 ($13), made with Jameson Black Barrel, Guinness demerara reduction, R&D Aromatic #7 Bitters and R&D Cherry Apple Bitters. 548 Fifth Ave., San Diego. (619) 501-1919. prohibitionsd.com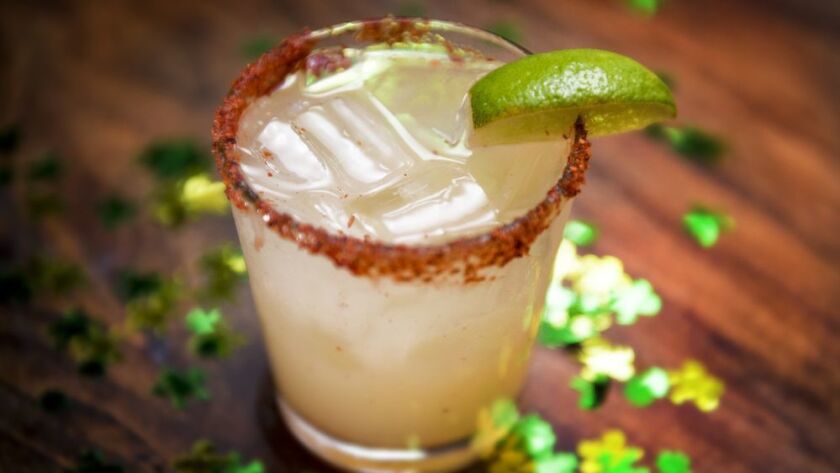 El Chingon will toast to the holiday with the Irishman Abroad ($12), made with Tullamore D.E.W., El Jimador Tequila, fresh lime juice, Cointreau and R&D house bitters. 560 Fifth Ave., San Diego. (619) 501-1919. elchingon.com
Monkey King combines ingredients from the Emerald Isle and the islands of the South Pacific to create the Whisky Mai Tai ($12), made with whisky, toasted cashew orgeat, lime, dry curaçao and R&D house bitters. 467 Fifth Ave., San Diego. (619) 359-8897. monkeykingsd.com
Farmer & The Seahorse will offer two festive specials, including homemade corned beef hash and eggs, made with crushed potatoes and served with cabbage, pickled mustard seeds, herbs and sunny side-up eggs ($14). Instead of coffee, try The Gentle Irishman boilermaker — a shot and beer — to transform your dish into a complete Irish meal. Or try Left Hand Brewing's coffee-based Milk Stout served with a shot of Jameson Irish Whiskey, Baileys Salted Caramel and Kalani Coconut Liqueur ($14). 10996 Torreyana Road, Ste 240, San Diego. (858) 260-5400. thealexandria.com/farmer-the-seahorse
Notorious Burgers will embrace St. Patrick's Day with What a Reuben ($13.50), made with two slices of toasted marbled rye with sliced corned beef, sauerkraut, Swiss cheese and dill pickles. Pair it with one of the locally sourced craft beers on tap. 6955 El Camino Real Suite 107, Carlsbad. (760) 431-2929. notoriousburgers.com
Moonshine Beach and adjacent Cerveza Jack's will have a DJ set with dancing, and the bar will offer games and discounted festive drinks, including $7 Jameson shots, $10 Irish Car Bombs and $3 Green Jello shots. The party kicks off at Cerveza Jack's at 11 a.m. and Moonshine Beach follows at 1 p.m. 1165 Garnet Ave., Pacific Beach. (858) 999-0158. moonshinebeachsd.com; (858) 999-0158. cervezajacks.com
The Deck at Moonshine Flats' salute to St. Patrick's Day includes specials like $5 shots of Jameson, $5 Guinness pints and $1 corned beef sliders all day. Arcade games and a variety of classic bar games like pool shuffleboard and foosball will take the party to another level. 335 Fifth Ave., San Diego. (619) 255-7625. thedecksd.com
Bahia Resort Hotel welcomes guests to dance a jig while sipping $5 Guinness and $4 Jameson drink specials aboard the Bahia's William D. Evans. The sternwheeler will cruise around Mission Bay from 9:30 p.m. to 12:30 a.m. with an additional stop at the Catamaran Resort Hotel and Spa at 11:15 p.m. 998 W. Mission Bay Drive, San Diego. (858) 539-7635. bahiahotel.com
Café Bahia and the Tangier Bar will welcome weekend guests in true Irish custom with corned beef and cabbage sliders and Guinness beef stew in a sourdough bread bowl. The Tangier Bar will host live music Friday night and karaoke Saturday. Friday through Sunday. 998 W. Mission Bay Drive, San Diego. (858) 539-7635. bahiahotel.com
Oceana Coastal Kitchen will serve "Lucky Charm-pagne," a brunch buffet featuring green champagne, braised duck chilaquiles, prime rib, waffle Romanoff and Alaskan King crab legs. 10 a.m. to 2 p.m. Sunday. $62 per adult; $28 per child ages 5-12. Catamaran Resort Hotel and Spa, 3999 Mission Blvd., San Diego. (858) 488-1081. catamaranresort.com
---