Culinary Icon: Chef William Bradley redefined fine dining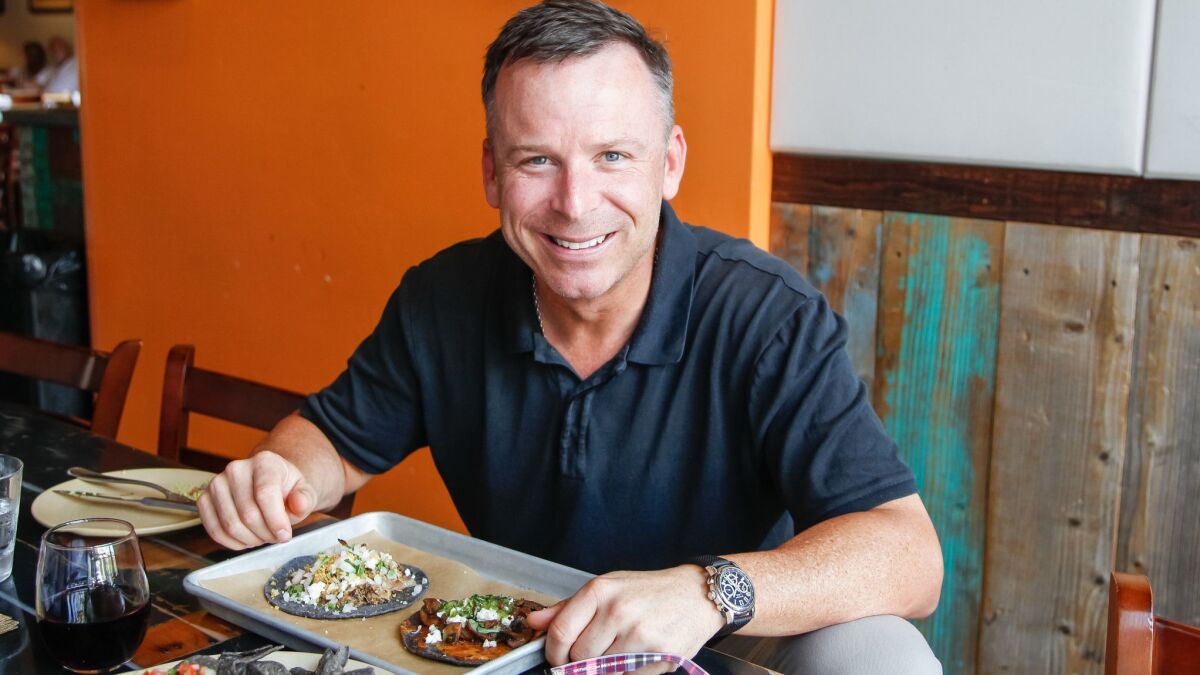 One in an occasional series on San Diego's dining icons.
Tacos are ridiculously off-brand for William Bradley, the nationally celebrated executive chef of San Diego's most unquestionably luxurious restaurant, Addison.
So when Trey Foshee, the longtime executive chef and partner of George's at the Cove, invited Bradley to participate in a "Taco Takeover" at George's casual sister La Jolla eatery, Galaxy Taco, Foshee didn't know what to expect.
"He has a great sense of humor, and he was so smart about it," Foshee said. "I was expecting him to do a caviar taco, but he didn't."
What Bradley did was line the homey sheet pans the tacos would be served on in decidedly opulent gold parchment paper.
"It was absolutely Addison, it was absolutely William," Foshee recalled with a laugh. "It speaks to who he is."
That Bradley could serve up an impish wink at his brand — the always-impeccable chef of a gilded gustatory temple — signals a recognition of, and comfort with, the singular stature he has attained in San Diego. In the dozen or so years Addison has been open at the posh Fairmont Grand Del Mar in Carmel Valley, Bradley has usually tried to deflect praise.
Ask him what not only puts Addison in a class by itself but how the restaurant has redefined the class, Bradley has always been quick to rattle off responses like:
It's not him; it's the team.
It's not just the food; it's also the service and the experience.
It's not even anything you can control; it's basically the ingredients.
"We're not reinventing the wheel," Bradley tried to explain away recently. "Mother Nature drives the menu 90 percent, 5 percent is technique and the other 5 percent is common sense."
Nonsense.
If Addison were in any other city, Netflix would have already shot an episode of "Chef's Table" about Bradley.
"If you would take him and put him in San Francisco, he would be a three-Michelin-star chef — nobody would question that," chef Gavin Kaysen told the Union-Tribune in 2016.
Addison has "set a standard and a tone in fine dining as it's looked at in some of the major metropolitan hubs and he (Bradley) has stuck to his guns in the same way (The French Laundry's) Thomas Keller does," Foshee said. "Addison has given San Diego, I think in the culinary world, it's given it the sense that we have one of those restaurants."
With Bradley's uncompromisingly meticulous approach to French technique and laser focus on achieving the ultimate balance and flavor in a dish, he has reached a level of culinary excellence that puts him in a league with legends, the most storied of whom — Keller — will be cooking for the first time in San Diego on Sept. 22 at Addison.
Bradley, Keller and chef Jérôme Bocuse will headline a team of celebrated chefs, including Kaysen, Dominique Crenn, Josiah Citrin, Paul Bartolotta and Ming Tsai, for an ultra-swanky weekend affair at The Grand Del Mar. Tickets for the full Robb Report Culinary Masters experience (hotel, gala reception and six-course dinner, golf or cooking class) are going for $4,900 per couple. There is a waiting list for the $1,500 per person gala dinner-only ticket.
As part of an occasional series on the culinary icons who make up an essential part San Diego's dining DNA, we sat down with Bradley for a relaxed lunch at Galaxy Taco to talk about the casualization of San Diego restaurants, why it's OK to love luxury, and the night Thomas Keller first came to eat at Addison.
RELATED
Culinary Icon: Terryl Gavre
Culinary Icon: Jeff Jackson
Reaching for the top, from the very start
Bradley said he first started working in restaurants as a teenager in San Diego because he just needed a job. But "I was drawn by the allure of the French chef. … I remember going to book stores because I was into cooking, and I would see books from Daniel (Boulud) and Jean-Georges (Vongerichten), and I was just like, 'Wow, these guys are so cool.' This was a level I didn't even know. … So I grew up to see if that could be an avenue of food that I could do." How'd he do that? In the mid 1990s, Bradley researched who was considered the best chef in the area at the time, and James Boyce's name came up. Learning that the chef at Azzura Point at Loews Coronado Bay Resort had worked for Boulud made a light bulb go off in Bradley's head. "I was kind of connecting … here's someone who had worked in New York for many years and had an amazing pedigree and was doing, at the time, very, very amazing food for a resort." He became a cook and then Boyce's sous chef. "That kind of started it for me," Bradley said. "Some of the cuisine we were doing at Azzura Point, it's still my reference point today."
He doesn't only eat caviar
"I don't go out to eat a lot, you know with the kids and the job, but when I do, I come here. It's my place," said the 43-year-old, who lives with his wife and children, ages 3 and 5, in Carmel Valley. Bradley's favorite is the mushroom taco in spicy tomato sauce; biting into it, he nodded his head in approval. "It's all about the tortilla, the texture."
But he does love his caviar
"I want to make sure the luxury ingredient doesn't die," Bradley said. "We're in this casual service atmosphere, and we're also in the casual cuisine atmosphere, (but) you know, if I come to a restaurant at a high level, I want caviar, I want truffles, I want great wine, I just don't want 'eh.' There is a place for all ingredients. They have to stand on their own, but I love luxury ingredients. … It's very important as a chef to get the best materials. And you know what, the last time I checked, a lot of that lies in luxury ingredients. And there's nothing wrong with luxury, it's unbelievable." And yes, he confirmed, he'll be pulling out the luxury ingredients for the Culinary Masters dinner.
Casual has its place. Just not his place
Reflecting on Addison's status in our current dining landscape, Foshee said, "the food scene in San Diego has always been fairly casual, but 20 years ago, when you were going to George's or Mr. A's or Mille Fleurs, you were going to get dressed up. Now you can go to Mille Fleurs in shorts and George's in the same thing. But not Addison." That's not an accident. As the epitome of formal, fine dining, Addison maintains a dress code. Bradley painted a picture of his dining room, on any given night: "Here you have 50 people who have planned months in advance, months and months, and they've thought it through, and they've flown in, and they're staying there and they're spending all this time and energy to get ready and the anticipation — and I just can't turn around and see someone next to me in flip-flops and shorts. We don't allow it, and we will never allow it. You need to respect your fellow customer."
Restaurants need to respect customers, too
Bradley said the single best meal he has ever had — "and I've traveled the world" — was at Alain Ducasse, the French chef's wildly controversial foray in New York. The food was exceptional, but Bradley's biggest takeaway was the experience. "His connection between the front of the house (the dining room) and the back of the house (the kitchen) as a unit was like no other. It's a business model that we have at Addison. The way we look at and approach the restaurant as a whole is ... we don't want service to outshine the cuisine or the cuisine to outshine the service. You know, you go to restaurants and people unfortunately are so driven by food that they just allow service to be sooo, so substandard. And that is sooo completely unacceptable. .... As a diner, as a food person, as someone who just loves the culture of dining, service makes food taste better. I worked very hard with a lot of people to compose a simplistic dish and the only way it gets elevated to the next level, where we're recognized as an amazing French restaurant, is service. ... I'll never stray from that. … When you come to Addison, you want people to literally pamper you from the time that you made you reservations until the time you're driving home. And that takes a tremendous amount of training and work. More so than the food. It's easy to be casual. Some of these restaurants that want to be taken more seriously and want to be on the next level, they need to really focus on service. I'm going to make sure it's not a dying breed. This can't be the norm. Don't get me going."
'Command response'
An unabashed perfectionist, Bradley runs his kitchen with military-like precision; he learned that kind of discipline from his father, who was a fire captain in Point Loma. The silence in Bradley's kitchen speaks volumes. "People have told me — I haven't heard it myself — but some of the people that are new there say it's like Navy SEAL camp. But what that does is, once you've trained someone to be able to understand the command response environment, it makes for a very precise, quiet, focused atmosphere. In our business, there are four hours that need to happen with precise concentration. And I truly believe and feel that you can't do that with other distractions. It's not OK to play music and hang out and goof off and have that environment when you are putting out food at our level and people's expectations are extremely high for you. … It's very rewarding to see your guest so satisfied because it lived up to their expectations. That's the best compliment that we receive. People have this, 'oh, it's Addison,' and we work very hard to live up to the expectation."
On Keller and confidence
It was then-wine director Jesse Rodriguez who used his connections as former head sommelier at The French Laundry to get Keller through the doors at Addison in 2010. Bradley, who for years has downplayed the accolades that have rained down on him and the restaurant, clearly knew even back then that magic was being made there. Before dinner service that night, Bradley made sure his team knew that, too. "My major focus was authenticity with Keller. I knew that all the work that we had put into this … I knew that all the training, all the hard work, if we were just ourselves, that all the hard work and training would pay off, and he would see it. He would know that these guys just didn't do this today for me. It would be impossible to pull this whole thing off one night and one night only. So I remember pre-shift, I remember saying to the team, let's just do what we do every night. If that impresses him, well, god that is amazing, and a bonus."
'Wowed'
Keller was duly impressed — make that wowed, as a Robb Report article described it. "I felt it the first time I walked into his kitchen," Keller is quoted as saying. "It's a sense of confidence, knowledge, and respect. He cooked me a piece of bass with crispy skin. His was one of the most crisp, perfect pieces of fish I've ever had." Keller invited Bradley to play a round of golf with him the next day at the Grand Del Mar and a professional bond, as well as a friendship, formed. Four years later, Keller chose Bradley as his representative in the Robb Report Culinary Masters Competition, highlighting rising star chefs. Spoiler alert! Bradley won. Today, Bradley can openly admit what others have been saying for years: "I truly feel now we're one of the top tables in the country."
'Too stuffy?'
Foshee said the universal reverence for Bradley doesn't make him envious: "Rising tides raise all boats." But some in San Diego looked at him somewhat warily when Addison first opened. "He was trying to build something and the rest of the restaurant community was kind of taking a wait and see (approach) — 'what's going to happen here?' " But Bradley rode that out. "That was a hard thing when I came here. I got a lot of negative feedback that we were too stuffy," Bradley said. "But remember, we were trying to elevate an environment. And If I would have said, 'You're right, we are, it's too stuffy, I need to change that,' we would not be open right now." Casual San Diego has come to appreciate what Addison has stood for since day one, he said. "I've never wanted to be in a situation where we were educating the diner, so we've kind of grown together. We've matured and evolved together. What I serve when we first opened and what I serve now, I could never have gotten away with" (for example, sweetbreads).
It comes back to authenticity
"I'm not for everyone, my style, neither is my restaurant, but I know what I am, and that's authentic," Bradley said. "I'm not going to put on a show. This is me, this is who I am. Evolved or not evolved. And I think it's very important for my staff to see that because if they want to venture off and create their own voice in this food world — where there's too many voices — they have to be authentic."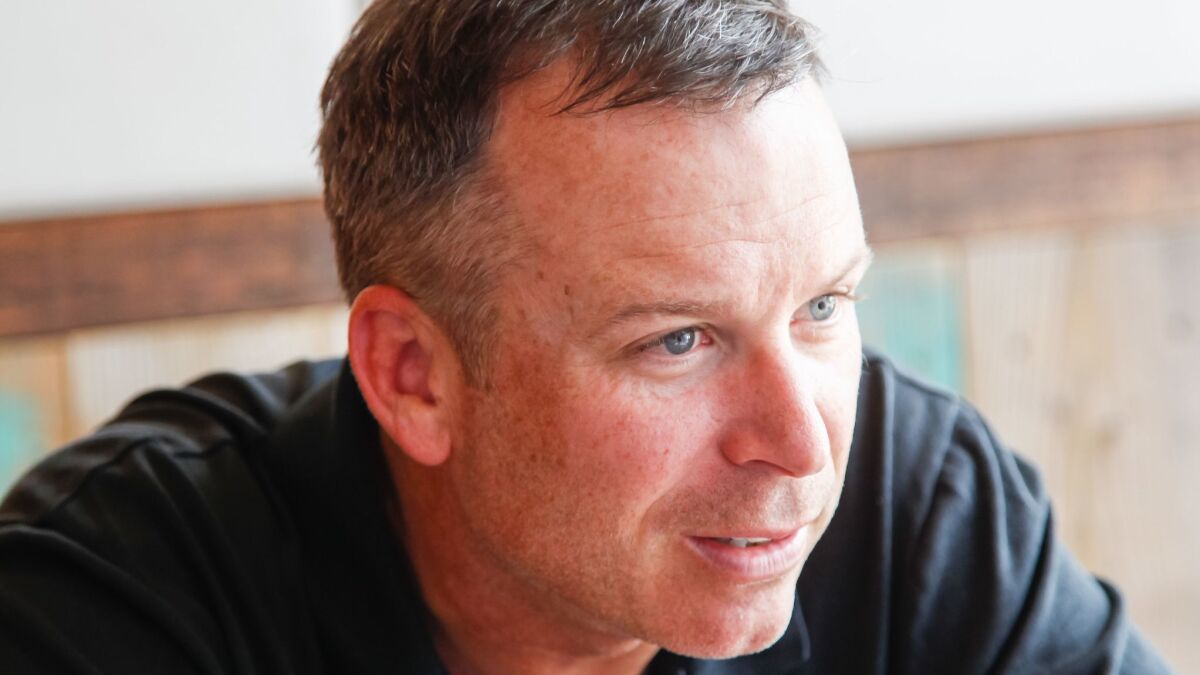 michele.parente@sduniontribune.com
Twitter: @sdeditgirl
Sign up for the Pacific Insider newsletter
PACIFIC magazine delivers the latest restaurant and bar openings, festivals and top concerts, every Tuesday.
You may occasionally receive promotional content from the Pacific San Diego.