Doughnuts, dry-aged steak, new menus and more: Here are 5 to try
What's new and exciting on the San Diego restaurant scene?
Oh, one or five things. From restaurant openings to menu debuts and expanded offerings, here's a taste of the ever-changing — and improving — local landscape.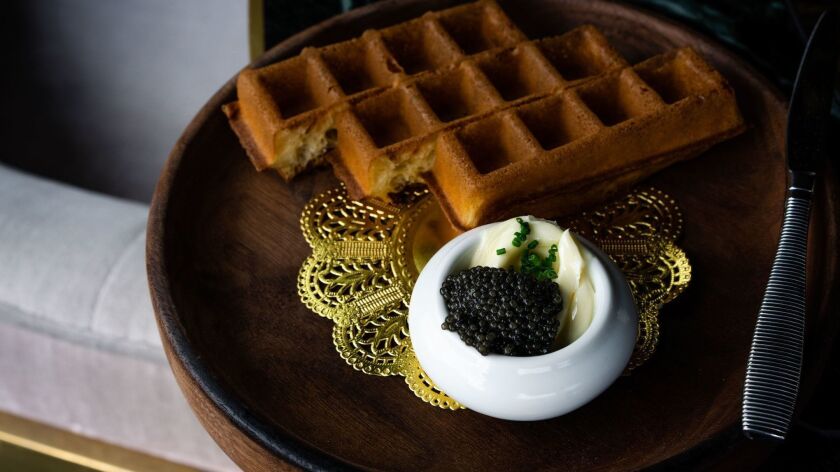 New happy hour: Born & Raised
If you love the food at Born & Raised — and how can you not? — but not the dent a full meal at this stunning Little Italy steakhouse can put in your wallet, this will make you happy.
An innovative, new happy hour menu introduced in late February lets you savor the singular and swanky Born & Raised experience at a fraction of the price. Plates range from $2 to $12, five specialty cocktails are $7 each and a handful of wines are discounted, between 4 p.m. to 6 p.m., Monday through Friday.
Born & Raised is unlike any other restaurant in San Diego, so naturally its early-bird menu had to be an elevated affair. No wings or poppers here, thank you very much.
Instead, the 11 small plates are an extension of the luxe, meat-centric dinner offerings, complete with cheekily written descriptions, like the savory/sweet Le "Slim Jim" beef spheres ($2 apiece), satisfying dry-aged Philly cheesesteaks ($5; with "our own farm fresh, locally sourced processed American cheese sauce") and ultra-flaky mini meat pies ($8; "just gleefully pissing off the big hot pockets lobby").
Exceptional choices are the smoky charcoal-roasted oysters with a trio of creamy aioli droplets to balance the smoky brine ($2 each); malty, humble waffle sticks paired with opulent caviar ($9, "Eggos for One-Percenters"); and melt-in-your-mouth tender Wagyu steak sandwiches ($12, "take comfort in the fact we're probably losing money on every one of these we sell").
We didn't taste any steak flavor in our Wagyu-infused bourbon Old Fashioned ($7), but the sandwich more than made up for it.
Two of us shared seven dishes and came away full — and stoked. In every bite, you could taste the amount of thought that went into that menu from managing partner and culinary director Jason McLeod and his B&R team.
We opted to sit at the dazzling main bar rather than on the upstairs deck, which made it easier to slide over to the dining room to try the luscious, new tableside bananas Foster.
Born & Raised's recently named executive chef, Ted Smith, said he's looking at ways to enhance the restaurant's signature tableside service. Smith, who comes from CH Projects' sister spot Craft & Commerce, will also unveil a "menu refresh" this summer. No doubt with a fresh arsenal of cheekiness.
1909 India St., Little Italy. (619) 202-4577. bornandraisedsteak.com
New dry-aging room: Lou & Mickey's
Dry-aged beef is apparently the new black.
The trendy, tender and intensely flavored — some would say funky — cuts have been popping up on steakhouse menus around town. But it's the rare restaurant that has the resources to invest in its own dry-aging room. (Born & Raised is one.)
Now, the venerable Gaslamp steakhouse Lou & Mickey's has opened an on-site, pink Himalayan salt-lined, temperature- controlled room right in the dining room. There, porterhouse, T-bone, and bone-in ribeye and New York steaks from Washington State's Double R Ranch are aged at temperatures hovering around freezing, and between 75 to 85 percent humidity, for 30, 45 and 60 days. A chalkboard lists the cuts available to be butchered by one of the three in-house butchers.
The extended dry-aging process — and steakhouses' need to hold onto its inventory — drives up the price. But that doesn't seem to be affecting its current popularity.
"It seems like in the last couple of years, people have a heightened awareness dry-aging and are asking for it," said Nathan Mantyla, Lou & Mickey's executive chef.
In the simplest terms, the beef is placed on racks, and the continuously circulating air helps break down the meat's collagen. As it ages, mold spores form an outer crust (which is later trimmed), the beef loses moisture and gets buttery tender, while the flavor becomes more concentrated.
The taste can be polarizing, with fans considering it the finest expression of beef and detractors decrying its somewhat gamy quality.
I've had dry-aged steaks I've loved — and a dry-aged burger I couldn't even finish — so I jumped at the invitation to test-drive Lou & Mickey's new room. Led by Mantyla, I tagged a side of bone-in ribeye with my name and said goodbye until it was time to try it at 30 days. I'll also try it at 45 and 60 days.
I'll report back at the conclusion of my meaty research project.
224 Fifth Ave., Gaslamp. (619) 237-4900. louandmickeys.com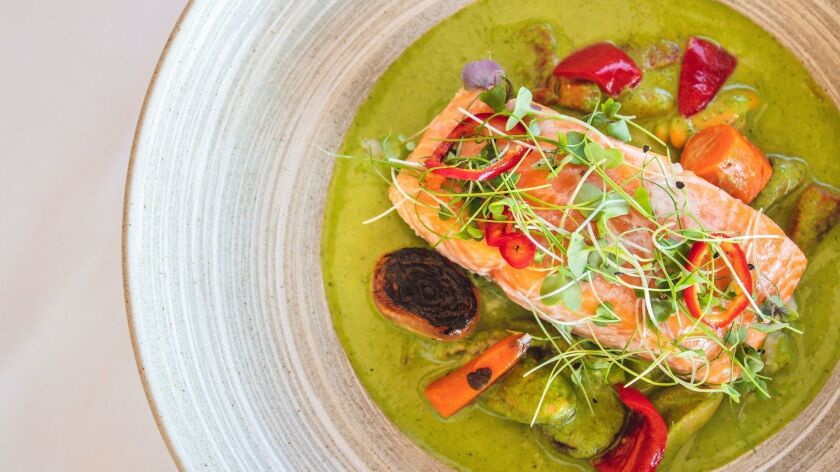 New, lighter fare: Island Prime
Another steakhouse shift is happening at Island Prime, where executive chef Deborah Scott has introduced a new lineup of dishes that reflect diners' changing tastes.
"I wanted to go lighter and brighter, less steakhouse," Scott said, adding that she has upped the number of gluten-free and vegan options, as well as those with Asian ingredients.
"I love cooking with Asian flavors," she said.
Scott said she'll soon be updating the menu at the Harbor Island waterside steakhouse's sister restaurant, Coasterra Modern Mexican, trying out the new dishes as menu specials to see which ones click with customers.
Of the six new selections I tried at Island Prime recently, all of them clicked with me, particularly the crunchy kale salad with marinated artichokes and pecorino Romano in an exceptional white balsamic dressing and the perfectly poached citrus glazed Skuna Bay salmon with PEI mussels and coconut rice in a sumptuous spicy green curry broth. Both showed the kitchen's deft precision and restraint.
Also lovely were the spicy Korean-style Wagyu ribeye tartare with avocado mousse (although my dining companion thought it was too spicy), the sesame seared yellowfin tuna in mushroom and brown butter dashi and the hazelnut-crusted scallops with curried cauliflower purée.
Charred rainbow carrots with harissa-honey glaze and toasted pistachios make a swell side, as do the velvety mashed potatoes.
So much for moving away from steakhouse fare: We devoured the impeccably grilled 28-day dry-aged New York strip. But we skipped the three sauces it comes with. Not because we were full but because the beef was so flavorful, why mask it?
880 Harbor Island Drive, Harbor Island. (619) 298-6802. cohnrestaurants.com/islandprime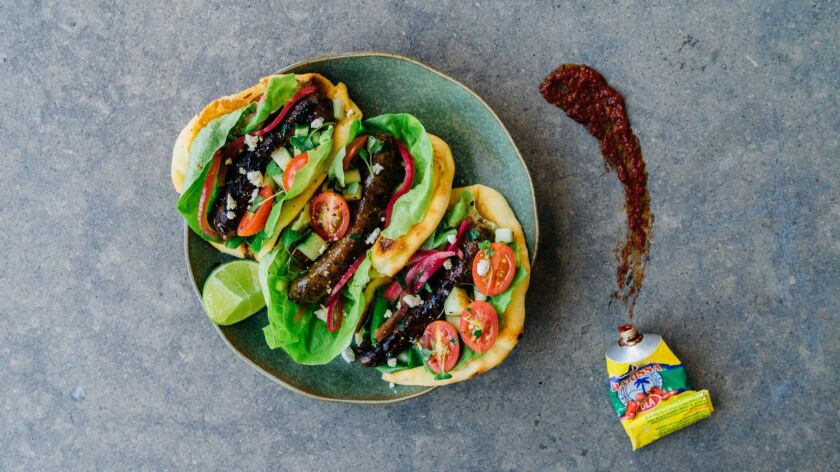 New Moroccan-Mexican: Medina
File this under small but essential. Medina Moroccan Baja Kitchen is a stylish, fast-casual restaurant with a limited menu that's finally putting substance in the overused dining descriptor Baja-Med.
The culinary mash-up makes sense, owner Alia Jaziri told me the night before Medina's March 1 opening, because there are complementary flavor profiles in Mexican and Moroccan cooking coming from the use of cumin and fresh coriander, cinnamon and mint.
"Plus, I grew up in San Diego eating Mexican food, and I really couldn't do 'Tun-Asian,' " Jaziri joked. Her father is Tunisian; her mother Chinese.
Staying simple to start, she's serving tacos and bowls with Moroccan-spiced chicken asado, homemade merguez lamb sausage or roasted sweet potato and black beans, as well as a shakshouka skillet with North African-style poached eggs in a smoky, spicy tomato-vegetable sauce.
For my $5.50, the merguez taco is the star of the menu. Served on a tortilla flatbread, the just-spicy-enough sausage is topped with pico, queso fresco, pickled onions, scallion vinaigrette and crema.
Wash that down with some Valle de Guadalupe red — and extra bonus points to Jaziri for pouring Monte Xanic's wonderfully acidic sauvignon blanc — and you'll have yourself a global feast on El Cajon Boulevard.
2850 El Cajon Blvd., North Park. (619) 230-5037. medinakitchen.com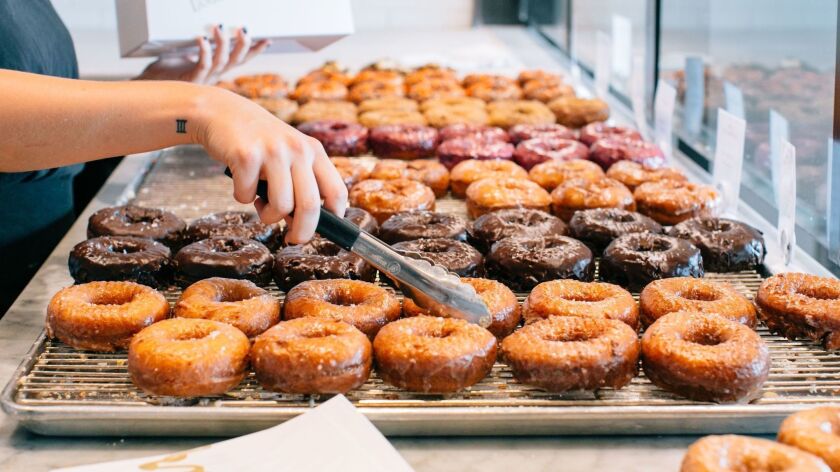 New obsession: Sidecar Doughnuts & Coffee
It took me a while to get to Sidecar, the popular SoCal doughnut chain that opened in December. Now all I do is dream of going back.
Flavors rotate each month, but the regular daily lineup is where I found my nirvana: the butter and salt, made from brown butter cake glazed with brown butter and fleur de sel. Simple yet decadent, rich and oh-so-buttery.
The old fashioned and Oregon huckleberry were also favorites, as was the now-gone chocolate red wine (didn't get the wine; all I tasted was deep, intense chocolate).
I got there too late to try the Basil eggs Benedict doughnut and the maple bacon was coming out just as I was leaving, so a return visit is mandatory.
Baked fresh in small batches all day — they won't sell anything more than an hour old — these little rounds are my new culinary crack. Just don't ask me to choose between them and Little Italy's Devil's Dozen! I can't. I won't.
3435 Del Mar Heights Road, at Del Mar Highlands Town Center, Carmel Valley. (858) 847-2019. sidecardoughnuts.com/del-mar
michele.parente@sduniontribune.com
Twitter: @sdeditgirl
---
Sign up for the Pacific Insider newsletter
PACIFIC magazine delivers the latest restaurant and bar openings, festivals and top concerts, every Tuesday.
You may occasionally receive promotional content from the Pacific San Diego.