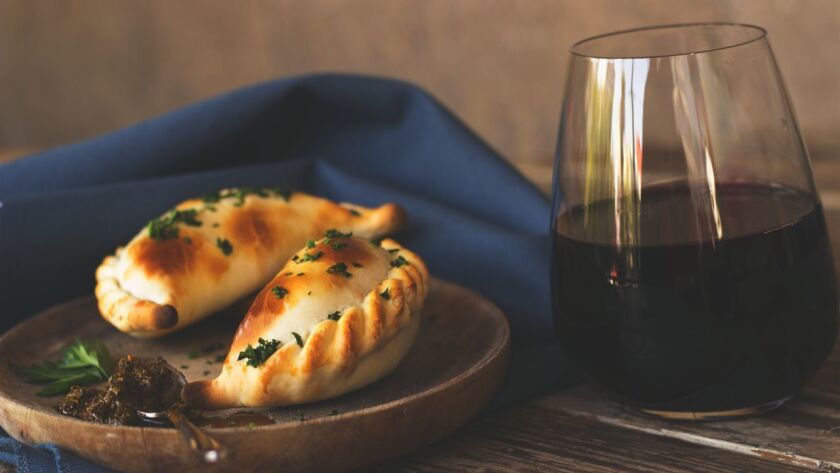 Empanadas just might be the perfect food.
Depending on the filling, the little hand pies can be breakfast, lunch or dinner, a snack, a party food or dessert; eaten as part of a meal or on the run as a quick pick-me-up. My favorite way was how I ate them in Argentina — daily at 4:30 p.m., with a glass of malbec, to tide me over until dinner at 10 p.m.
San Diego seems to have caught on to the chameleon-like magic of these delightful, sweet or savory stuffed pastry pockets, with three new eateries featuring empanadas opening in the past year.
Here are 5 places in San Diego to try Argentine empanadas right now:
Empanada Kitchen
After finding success at local farmers markets, the founders of Empanada Kitchen opened this sunny, stylish little spot earlier this year in downtown San Diego. With 12 varieties of savory pastries and several more sweet, you could eat there a few times a week and never get bored. Or at least I could. Top picks: The sweet corn and basil is a unique treat; the braised lamb a perfectly seasoned meat pie. 819 C St., downtown San Diego. (619) 228-9419. empanada-kitchen.com
San Telmo Argentine Cafe
An unassuming restaurant serving breakfast and lunch since November 2017, San Telmo offers a variety of Argentine sandwiches (choripan, or housemade chorizo, grilled ribeye, breaded chicken Milanesa) and steak platters. The more limited empanada menu, with five varieties, fried or baked, is the star at San Telmo. Top picks: The baked spinach and ricotta is flaky and delicate, while the fried beef empanada, dipped in chimichurri, is the quintessential Argentine bite. 531 Broadway, downtown San Diego. (619) 255-9598. santelmocafe.business.site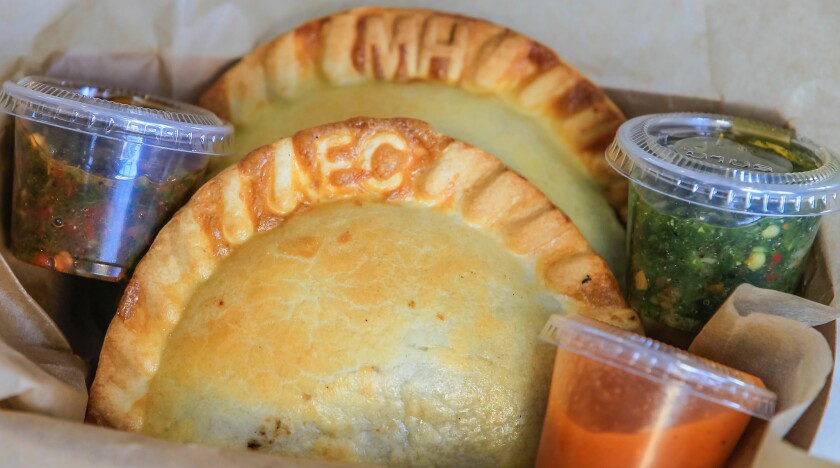 Paraná Empanadas Argentinas
One of the most popular stands at Liberty Public Market and now a go-to take-out eatery at Westfield UTC, Paraná is the hands-down leader in empanada pastry perfection. The dough is everything — even stuffed with air, they'd still be delicious. But luckily, the fillings are also top quality. Top picks: The mushroom, eggplant and rajas are the gold, silver and bronze on this A-team list. Buy a jar of the chipotle chimichurri and use it on everything. 2820 Historic Decatur Road, Liberty Station. (858) 900 3499. And 4545 La Jolla Village Drive, Westfield UTC. (858) 900 3493. paranaempanadas.com
Pampas Argentine Grill
One of the best-kept secrets in San Diego, this full-service restaurant is a carnivore's dream come true. Off the beaten path in Serra Mesa, the steaks are a real value. Portions are big, so start your meal off small, with two half moon-shaped, flawlessly prepared turnovers. Top picks: The signature carne, with onions, green olive and hardboiled egg, and choclo, with creamy corn, and fire-roasted red peppers and gouda, for a kick with balance. 8690 Aero Drive, Serra Mesa. (858) 278-5971. pampasrestaurant.com
Puerto La Boca
This Little Italy mainstay has all the bustling energy of a classic Buenos Aires neighborhood parrilla. In a nod to its location here — and to the sizable Italian community in Argentina — the extensive menu features plenty of pasta and four varieties of Milanesa cutlets (chicken and beef). Make it a party and go with a group. Top picks: You can't go wrong with any of the five empanada choices, but I'm partial to the spinach and cheese, which brings out the buttery flakiness in the pastry. 2060 India St., Little Italy. (619) 234-4900. puertolaboca.com
michele.parente@sduniontribune.com
Twitter: @sdeditgirl
---