'Mexipino' combines Mexican and Filipino flavors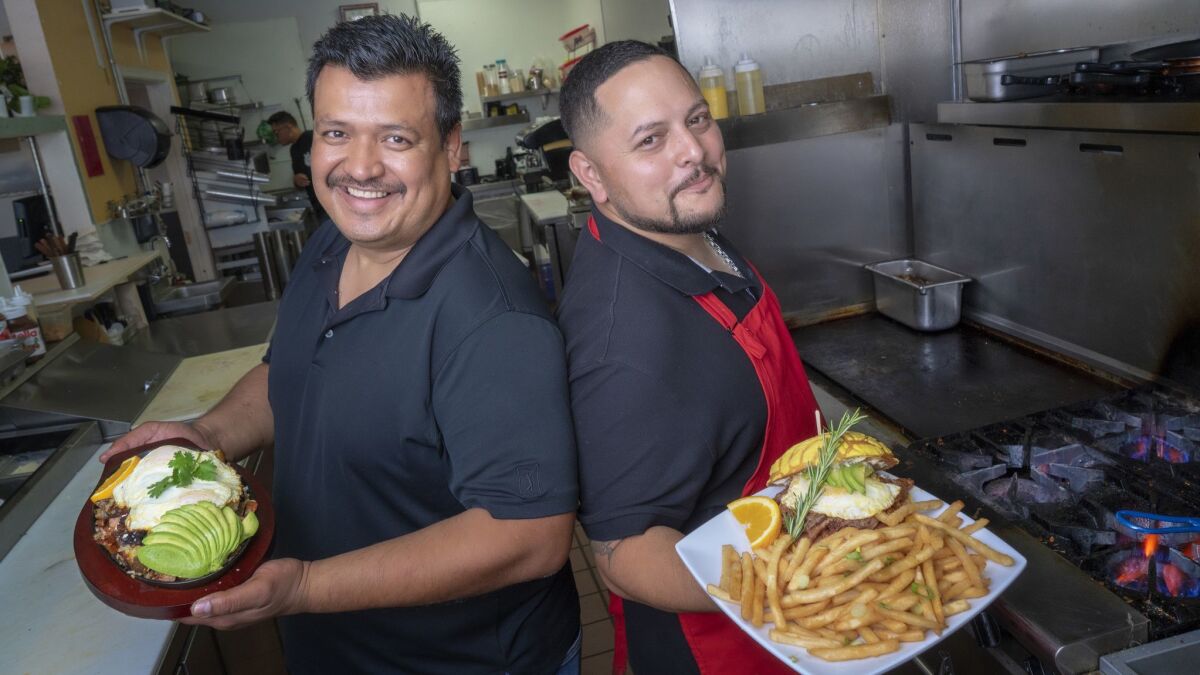 chula vista —
The Philippines and Mexico are thousands of miles apart. But in Chula Vista, both cultures live side-by-side.
Filipino and Mexican cultures are so intertwined in the South Bay that people even have a name for it: "Mexipino."
That is also the name of a restaurant on Broadway between Anita and Main streets in Chula Vista that opened in January.
"I grew up eating both cultural foods," said chef Roger Buhain. "My mother is Mexican and my father is Filipino."
Buhain and Richard Corpus, who is also Mexican and Filipino, decided to open a breakfast restaurant that celebrates both cultures.
Their menu includes traditional dishes like chilaquiles and huevos rancheros but also features unique fusions that blend Mexican, Filipino and American classics.
Nothing captures Mexipino's multicultural spirit better than the Mexipino hash. The dish comes loaded with achiote chicken, longaniza, purple yam, avocado, queso fresco and two fried eggs.
Differentiating between dishes that sound good versus those that actually taste good was a challenge. Buhain and Corpus spent a month trimming down 200 potential menu items through trial and error.
"We gained 15 pounds that month," Corpus joked.
And they aren't done. One of the most popular menu items, the adobo fried chicken and waffles, was added two days before they opened.
Buhain still experiments with new dishes at home. The restaurant currently has a breakfast and lunch menu but Corpus plans to have dinner options as well in the future.
Mexipino people have lived in San Diego for generations, according to Rudy Guevarra Jr., a fourth-generation Mexipino who is an associate professor of Asian Pacific American Studies at Arizona State University and published a book about the history of Mexicans and Filipinos in San Diego.
The two cultures first came together under Spanish colonial rule. They exchanged food, language and culture through the Manila-Acapulco trade route, Guevarra said.
Here in San Diego, Mexican and Filipino immigrants generally worked in some of the hardest and lowest-paying jobs like agriculture and fish canning. This, along with racially motivated redlining, kept them in close proximity to each other and over time they developed strong relationships, according to Guevarra's research.
Mexipino culture has largely been overlooked by academia. One of the few articles Guevarra found while researching his book was from a 1930s sociologist who suggested they would die out.
"We're still here and there's more of us," Guevarra said.
Guevarra grew up in San Diego but now lives in Arizona. A friend called him about the restaurant and he plans to dine there during his next visit.
Buhain and Corpus weren't aware of the area's Mexipino history before they opened the restaurant. Initially, they weren't sure how people would react.
But opening the restaurant introduced them to a large community of fellow South Bay Mexipinos they didn't know existed.
Many people who identify as Mexipino visit the restaurant because of the name and return because of the food.
"I'm surprised to see how many there are," Corpus said. "Honestly, I thought we were a unique mix but there's been a bunch. We're bringing communities together and that's great."
---
Sign up for the Pacific Insider newsletter
PACIFIC magazine delivers the latest restaurant and bar openings, festivals and top concerts, every Tuesday.
You may occasionally receive promotional content from the Pacific San Diego.