Old school Imperial Beach lives on in 50-year-old donut shop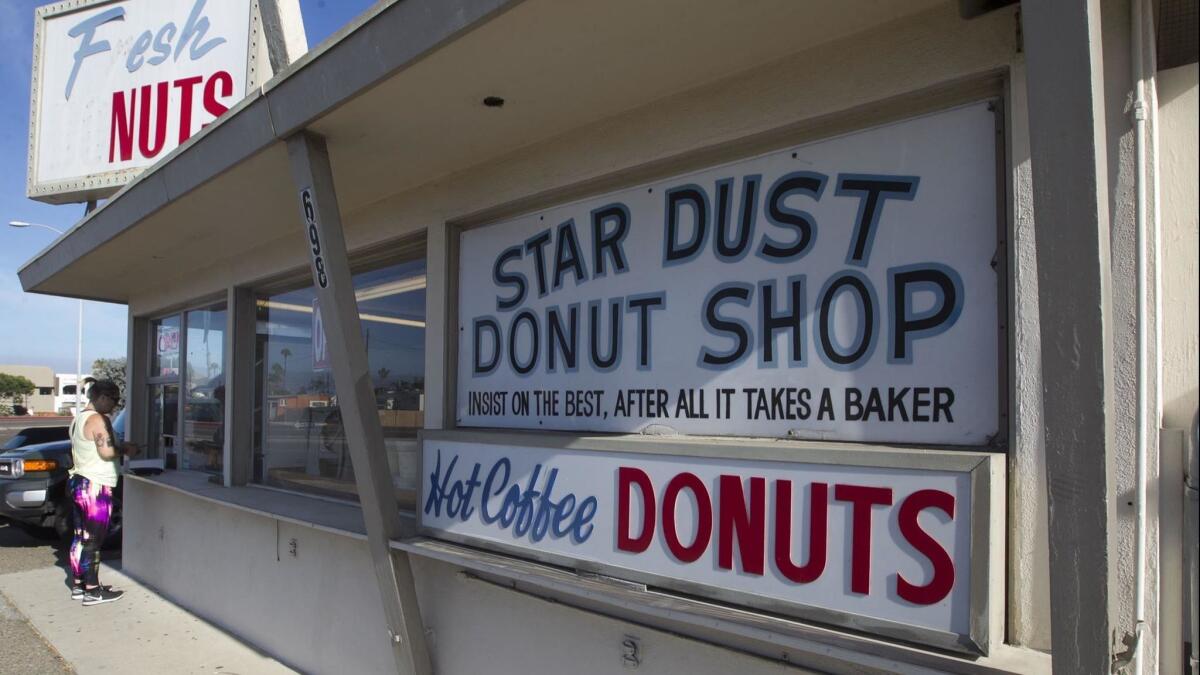 imperial beach —
Before the Coronado Bridge was built, the only way sailors could get to the naval base was through Imperial Beach.
That route took thousands of motorists by Stardust Donuts on Palm Avenue and 7th Street where Cliff Arnold remembers charging 7 cents for a glazed donut and making $269 profit the first month he ran the store – June 1967.
"I know what I'm doing," Arnold, 74, said after a recent morning rush. "I've basically been at it my whole life."
More than a half-century later, Arnold still sells donuts to sailors heading to Coronado. But now he charges $1.09 and makes more than $269 a month.
Arnold comes from a long tradition of donut shop owners. His grandmother opened one of San Diego's first donut shops, Keen's Donuts off Pacific Coast Highway, in 1929. His parents ran Keen's Donuts in Pacific Beach in the 1940s.
Stardust Donuts hasn't changed much since Arnold and his brother Ed ran it back in the late 1960s. The menu is mostly the same, with their popular cinnamon rolls, cake donuts, and chocolate and glazed donuts. The same "Fresh Donuts" sign still lures drivers from Palm Avenue to the shop's counter.
But the shop has seen better days.
The 2017 winter storm knocked a few letters from the classic sign. So now it reads, "Fresh nuts."
Arnold plans to repair the sign soon but he's in no mood to modernize.
He doesn't have a website.
"So anything you find on the internet about me or this place has been put there by somebody else," he said. "I've read the reviews on Yelp. Some people think I'm a real jerk and some people think I'm just fine."
And he doesn't plan to start accepting credit cards any time soon.
"I don't need to," Arnold said. "I'm selling enough donuts without having to take credit cards so why should I do it?"
Stardust's longevity stands in contrast to an increasingly changing Imperial Beach. The trailer park behind the store got turned into townhomes that sell for a half-million dollars. Across the street, a new strip mall has national chains like Starbucks, Five Guys, and Chipotle.
But the donut shop remains the same.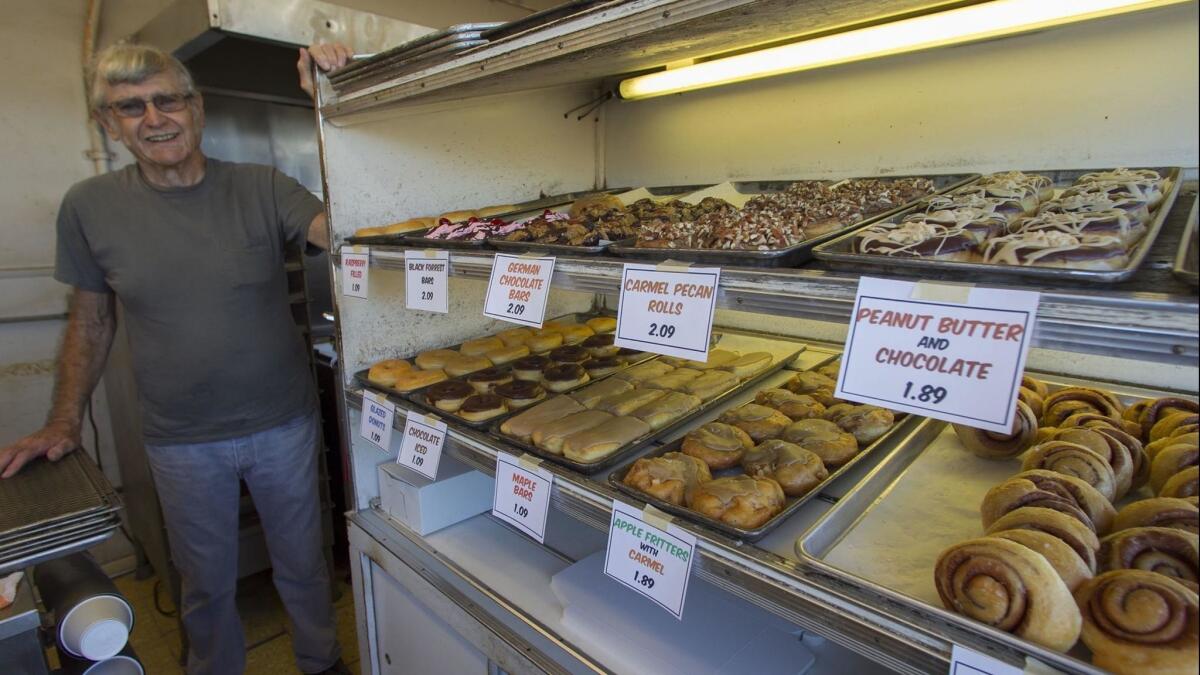 Carlos Rojas remembers sneaking out of first period to buy cinnamon rolls when he was a student at Mar Vista High School in the late '90s.
"We had auto shop, so we'd test drive a car and come get donuts," Rojas said.
His favorite back then were the cinnamon rolls.
Rojas, who is now 44 and owns a plumbing company in Imperial Beach, stopped by Stardust Donuts last week. He got cinnamon rolls.
"If I was going to a job site with more guys, I would've picked up more," he said.
A few minutes later, Jaimie Guzman, 19, walked up to the counter. He also ordered cinnamon rolls.
"I've been coming here since I was 2," he said. "We had this little tradition every Saturday when they'd open my dad would buy donuts and walk back home. By the time we got home, we'd finish like six donuts."
No one knows how long Arnold will keep selling donuts. His brother Ed died five years ago so he runs the shop alone.
The Arnold brothers bought the property in 1998 so he's not beholden to a landlord. Arnold doesn't have children or any other family he plans to leave the business to.
So what will happen to the shop when Arnold decides to stop selling donuts?
"It don't matter to me, I'll be gone," Arnold said.
But he doesn't plan to retire any time soon. Several people have offered to buy the lot but Arnold isn't interested.
Or maybe their sales pitches haven't been very effective.
"They come and say, 'Don't you want to retire and lay on the beach?' and I'll tell them, 'If I want to lay on the beach, I can do that any time I want. The beach is right over there,'" Arnold said as he gestured toward the Pacific.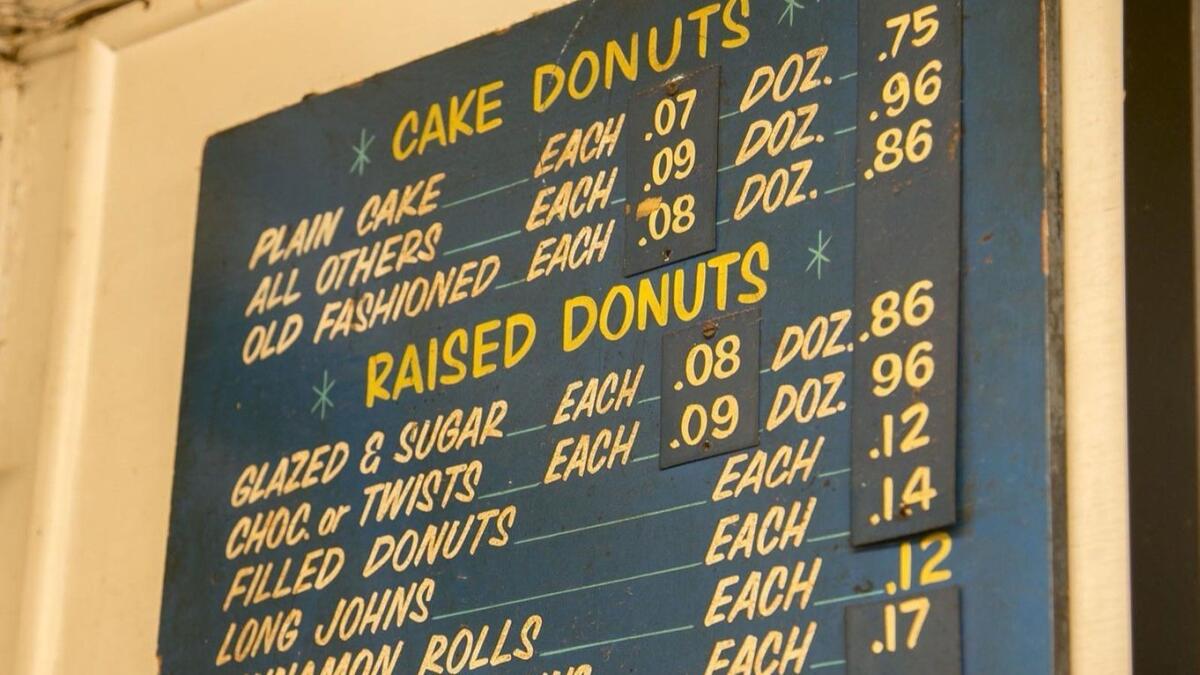 Sign up for the Pacific Insider newsletter
You may occasionally receive promotional content from the Pacific San Diego.