Want a plastic straw with your drink? In California, you gotta ask for it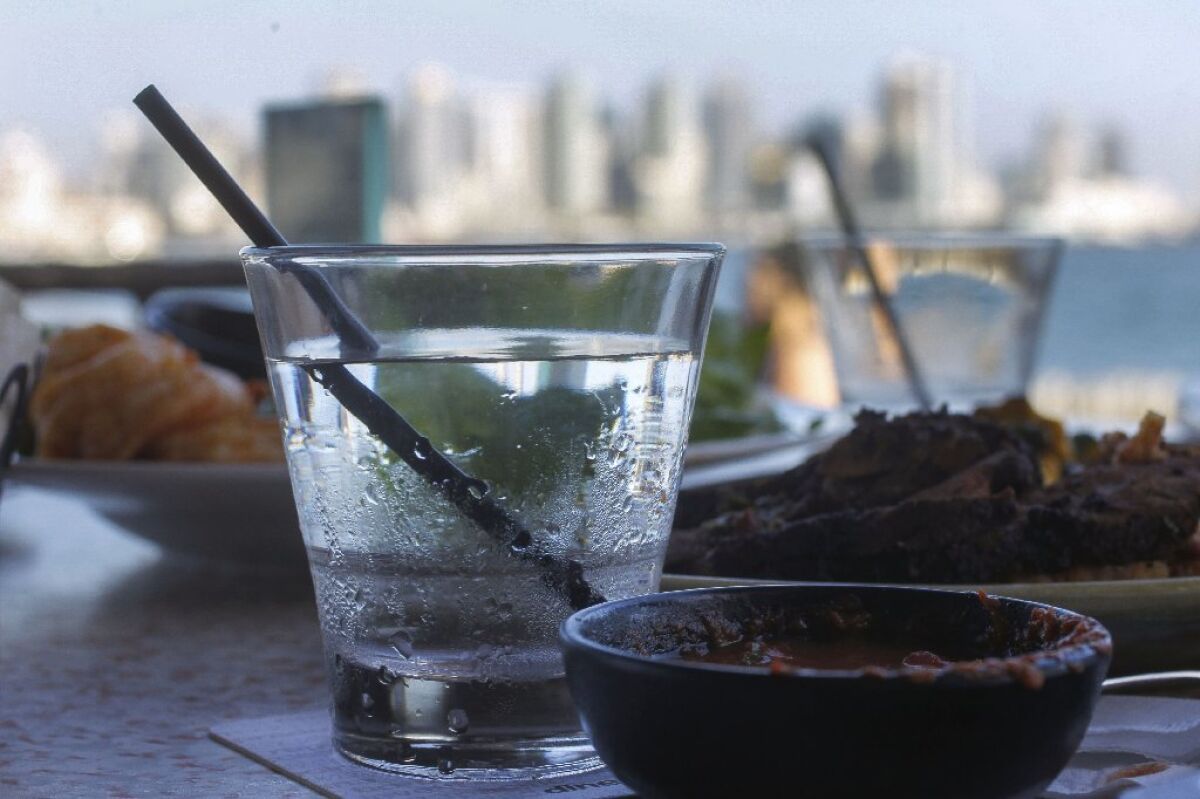 It's official. California is now the first state to restrict handing out single-use plastic straws at dine-in restaurants — which means that, starting Jan. 1, you'll have to ask for one if you want one with your drink.
Gov. Jerry Brown on Thursday signed into law new restrictions that specifically bar full-service, dine-in restaurants from automatically giving patrons a single-use plastic straw unless one is requested. First and second violations would result in a warning, and then a $25-per-day fine for subsequent violations up to a maximum of $300, according to the bill.
Additionally, it requires local health agencies to police the new law.
"Plastics, in all forms — straws, bottles, packaging, bags, etc. — are choking our planet," Brown said in a statement. "It is a very small step to make a customer who wants a plastic straw ask for it. And it might make them pause and think again about an alternative."
Though not an outright ban on plastic straws, the law is aimed at reducing the amount of plastics that pollute oceans since straws are not easily recyclable. Also, the law doesn't apply to fast-food restaurants.
Even still, environmentalists and Democrats applauded the law as one small inconvenience that could make a huge difference in the environment.
But of the dozens of bills Brown signed into law this week, few have inspired the mix of applause and derision as much as one that restricts the use of plastic straws statewide.
For months, conservatives have knocked the legislation as frivolous and overreaching. Criticism of the law continued Thursday and Friday on social media where one called it "ridiculous law of the week."
Others are skeptical that a law to restrict the use of plastic straws could make a difference in the fight against pollution.
In an opinion column published on Bloomberg, Adam Minter argued that there are other better ways to protect the environment rather than outright restricting plastic straws. After all, he writes, plastic straws account for only .03 percent of the 8 million metric tons of plastics estimated to enter the ocean every year.
Share your thoughts — do you think the law is a step in the right direction for reducing plastic pollution in the oceans? Do you think it falls short? Does it go too far and is it too frivolous?
---
Email: luis.gomez@sduniontribune.com
Twitter: @RunGomez
Read The Conversation on Flipboard.
Sign up for the Pacific Insider newsletter
PACIFIC magazine delivers the latest restaurant and bar openings, festivals and top concerts, every Tuesday.
You may occasionally receive promotional content from the Pacific San Diego.