6 local restaurants make Yelp's top 100 list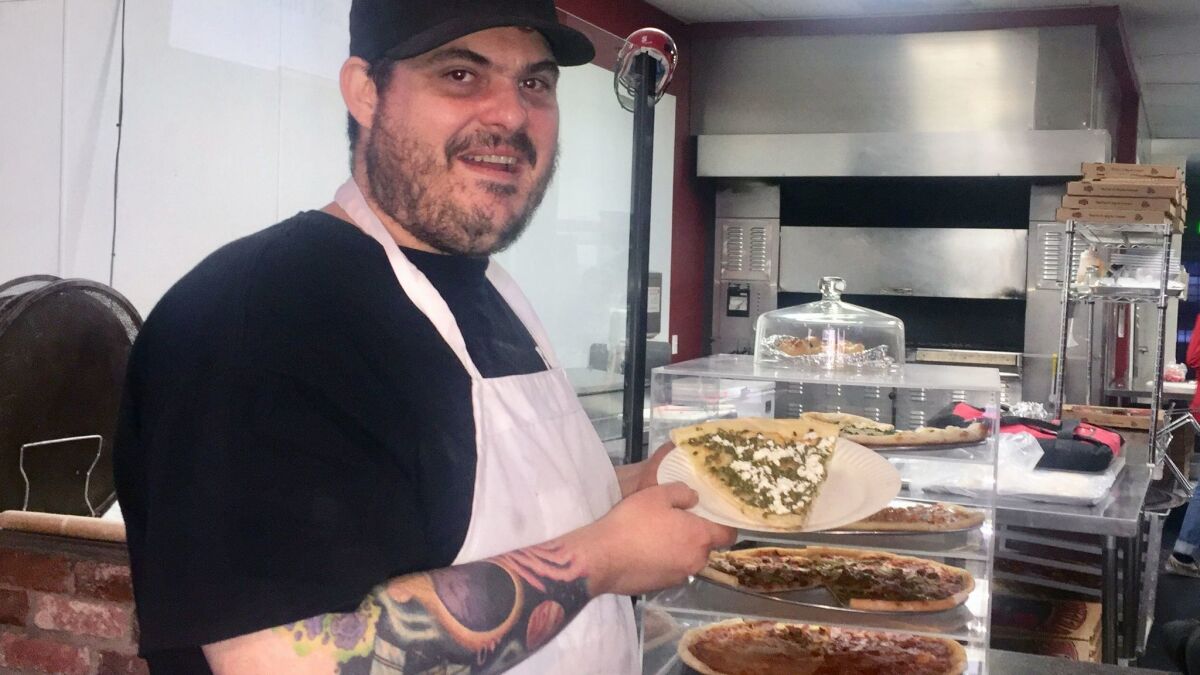 Three restaurants in North County and three in San Diego have been ranked by Yelp reviewers this week among the Top 100 Places to Eat in 2018.
Back for the second year in a row are Sunny Side Kitchen in Escondido, which moved up six slots to No. 45, and the Classics Malt Shop in San Diego, which rose five slots to No. 95. Two winners from 2016 returned to this year's list, Yoshino Japanese Deli in Carlsbad at No. 22, and T Deli in Hillcrest at No. 42. And two new spots joined the list this year, Beyer Deli in South Bay, ranked No. 59, and Pizzamaniac in Vista, which came in at No. 87.
Introduced five years ago by Yelp, a crowd-sourced dining reviews website, the top 100 ranking is based on a data formula that looks at restaurants' 5-star ratings and reviews with extra weight given to newer, up-and-coming, neighborhood eateries rather than larger, long-established regional restaurants.
List newcomer Ben Phillips, 37, said he was excited to get the news this week about his Pizzamaniac restaurant. He opened the north Vista pizzeria in February 2016 and is proud to have amassed more than 300 5-star reviews in the two years since.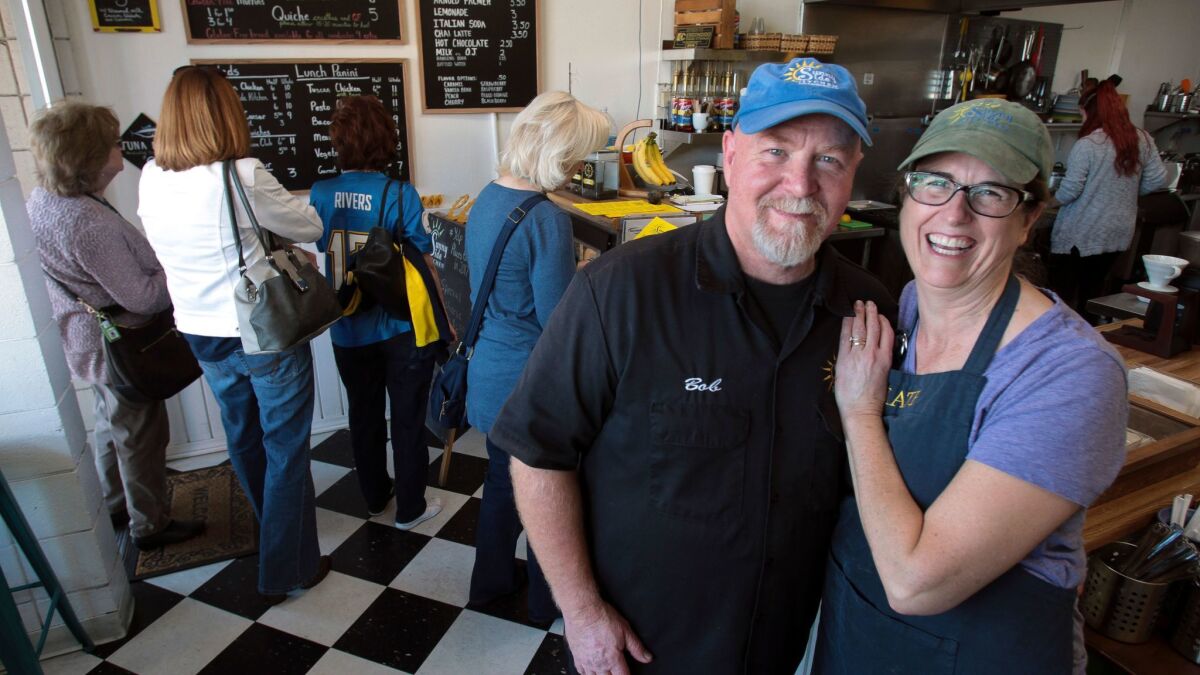 "I never wanted to own a restaurant, I just wanted to have a kitchen where I could feed people and watch them fall in love with pizza the same way I did 15 years ago," he said.
Phillips is a Vista native whose parents are both chefs. During his 20s he played guitar in a Seattle-based punk rock band. Between tours he'd pay bills by working in pizzerias, where he became fascinated with the science of dough-making.
After the band broke up, he returned to Vista and spent five years apprenticing at local pizzerias where he perfected his own New York-style thin-crust dough and sauces.
At the end of 2015 he leased the shuttered Pizzamania outlet at 1461 N. Santa Fe Ave. For legal reasons he needed to change the pizzeria's name, but with just $600 left to his name, he couldn't afford new signs. So he spent $300 on a letter "c" and Pizzamaniac was born.
Since then, he's gradually built a following of loyal customers who appreciate his quality standards. Everything is made in-house with fresh, never-frozen ingredients. Meats are cooked onsite, pizzas are hand-tossed and even the pineapple is cut fresh.
His top-sellers are a pair of white pizzas, the White Stone, with ricotta, mozzarella and Parmesan, and the Presto Pesto, with mozzarella, garlic, pesto and feta cheese.
Although business is good, Phillips said he hopes the listing will bring in a lot of new customers.
"You have these dreams," he said. "It's really rewarding to see that just treating your customers right and serving a quality product really works."
Sunny Side Kitchen co-owners Kathy and Bob Carpenter were happy to be ranked again to the Yelp list this year. Last year's first-time ranking gave their business a big boost.
The couple opened their breakfast-and-lunch cafe three years ago after running a successful baked goods and panini booth for five years at a local farmers market. The cafe is best known for its Tuscan chicken panini, "works" breakfast sandwich and miniature fresh-baked cookies.
Kathy Carpenter attributes their success to a couple of factors. Many items are made from scratch (cookies, brownies, soups, meatloaf and poultry roasted in-house) and a variety of gluten-free, vegan and dairy-free options are offered. But the most important ingredient is customer service.
"People want to know what's in everything these days and when people ask for something, we hear them and we want them to know they've been heard," she said. "We're not going head to head with Thomas Keller. We're just trying to do what we do best for our neighborhood."
Beyer Deli, which joins the list this year, opened in 2001 in an industrial park just north of the border in the Otay area. Reviewers who rated Beyer with five stars mention the friendly service, extra-large sandwiches, reasonable prices and fresh ingredients.
Back for the second year in a row is Classics Malt Shop, a '50s-style diner in San Diego's Midway district, at No. 95. The restaurant sells burgers, hot dogs, malts and other ice cream desserts. Carpenter said she visited the restaurant last year after the list came out and was impressed by Classics' food and service.
"The owners were exceptionally pleasant and made you feel like regulars, and they had wonderful food made to order," Carpenter said.
Yoshino Japanese Deli in Carlsbad returned to the list this year after first appearing in 2016. The lunch-only, cash-only quick-service eatery specializes in take-out poke bowls and sushi at low prices.
T Deli in Hillcrest returned to the list this year after ranking No. 30 in 2016. It is known for its chicken pesto torta, paninis, wraps and acai bowls.
No. 22: Yoshino Japanese Deli, 2913 State St., Carlsbad. (760) 889-0309.
No. 42: T Deli, 1469 University Ave., Hillcrest. (619) 682-4069 tdelisd.com
No. 45: Sunny Side Kitchen, 155 S. Orange St., Escondido. (760) 294-4450 or sunnysidekitchencom.ipage.com/
No. 59: Beyer Deli, 3065 Beyer Blvd., Suite A105, San Diego. (619) 428-4704.
No. 87: Pizzamaniac, 1461 N Santa Fe Ave., Vista. (760) 945-9901. pizzamaniacvista.com
No. 95: Classics Malt Shop, 3625 Midway Drive, Suite B., San Diego. (619) 226-1600 or facebook.com/Classics-Malt-Shop-286917283785/.
---
Sign up for the Pacific Insider newsletter
PACIFIC magazine delivers the latest restaurant and bar openings, festivals and top concerts, every Tuesday.
You may occasionally receive promotional content from the Pacific San Diego.