Windmill Food Hall announces list of restaurants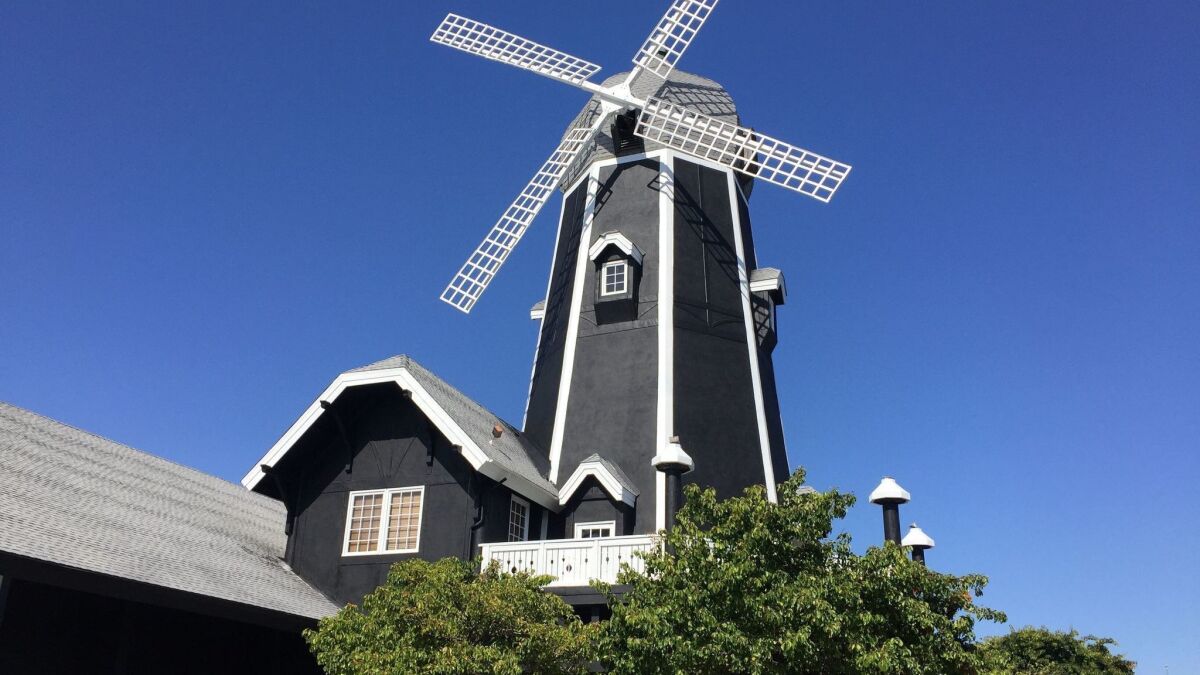 Carlsbad —
Although construction issues have delayed its planned opening by a couple months, Carlsbad's Windmill Food Hall will debut in early August and nine of its food vendors have been announced.
Earlier this month, the iconic windmill building at Palomar Airport Road and Interstate 5 was repainted from white and sun-bleached sky blue to black with white trim.
Those colors will be combined with whitewashed red brick in the 14,000-square-foot food hall, being built in the long-shuttered TGI Friday's restaurant location at 890 Palomar Airport Road.
Windmill Food Hall developer James Markham of Carlsbad said the project will have 11 food vendors, a 50-seat bar, vintage video and Skee-Ball games, lawn and table games, a communal seating area with fireplace, patio seating and a calendar of events. He's also planning to open a speakeasy bar on the windmill building's second floor at a later date.
The lobster roll sandwich at Lobster West, an Encinitas-born family-owned restaurant that will open a booth at Windmill Food Hall, opening in early August in Carlsbad.
(Pam Kragen/ U-T)
Markham said he's been overwhelmed with interest from both potential vendors and the public since the project was announced earlier this year.
"I feel like this is something North County has needed for a long time," he said. "North County needs more cool."
Windmill is one of three food halls scheduled to open around the county this year, joining Liberty Public Market, which opened in 2016 at Liberty Station in San Diego. Still to come this year are Little Italy Food Hall and Park Commons in Sorrento Valley.
Food halls are one of the fastest-growing culinary trends in the U.S., with the number expected to nearly double to more than 200 by 2019. Being on the front end of food trends is Markham's specialty.
The serial food concept creator was the brains behind the national chains Pieology, Project Pie and MOD Pizza, which earned him glowing write-ups in magazines such as Entrepreneur, Restaurant Hospitality and Business News Daily.
More recently, he's developed a string of quick-service outlets around San Diego including Doughballs Pizza, Crackheads breakfast eatery, Rolled Up sandwich shop and Jarfood. A few of these will join the tenant mix at Windmill Food Hall, which Markham says is long overdue in North County.
"A food hall eliminates the veto vote," he said, referring to families arguing over where to eat. "Not only does it touch everyone's palate, it can also act as an incubator for new restaurant startups. You can go to any city and some of the best food is found in farmers markets and food halls where these hard-working people are doing it because they love their food and believe in it."
Markham said it was never his plan to fill the hall with just his concepts. He and his wife and children have enjoyed visiting restaurant startups and market vendor stalls to find the perfect mix for Windmill.
Here's a look at the lineup:
Bing Haus — Thai-style rolled ice cream and other desserts in flavors such as green tea, black sesame and banana. Its original shop is on Convoy Street in Kearny Mesa.
Bread and Cheese — Gourmet grilled cheese sandwiches made by lifelong best friends Justin Frank and Devin Gneiting, who run a popular stand frequented by the Markham family at the Hillcrest Farmers Market.
Cross Street Chicken & Beer — Korean-style fried chicken is the specialty at this booth run by married restaurateurs Tommy Nguyen and Grace Chi, whose original location opened last fall on Convoy.
Lobster West — Award-winning lobster roll sandwiches are the specialty at this family-run Encinitas-born restaurant company owned by Kim and Joel Locker.
Taco Lady — A spin-off of the popular El Puerto Mexican & Seafood restaurant in Carlsbad Village. It will serve gourmet street tacos.
Thai-Style Kitchen — Traditional Thai dishes are prepared by this pop-up street fair vendor run by a former chef from Lotus Thai restaurant in Carlsbad.
Crackheads — Markham started this gourmet breakfast sandwich and coffee stand at Liberty Public Market last summer. He closed it this past spring in anticipation of moving it into the base of the windmill structure as a stand-alone restaurant.
Doughballs Pizza — Markham created this made-to-order pizza concept last year at Liberty Station and in Pacific Beach. Those have both closed for the move into Windmill Food Hall.
Rolled Up — Markham's third concept serves build-your-own sushi burritos. It will relocate from its current location in Hillcrest.
Markham said he's also working on a Korean hot pot station from Convoy's Friend's House restaurant, and he's in the hunt for a burger vendor who makes gourmet sliders. He's also considering keeping a station open for short-term rentals by chefs testing popup concepts.
Once Windmill Food Hall opens, Markham will begin work on a 60-seat Chicago-style speakeasy bar, which would share the building's second floor with a large banquet room.
The buildings are part of the 150-room Carlsbad By the Sea Hotel, which was opened in 1982 as part of the Pea Soup Andersen's hospitality chain. Last year, the property was purchased by RAR Hospitality, which is in the midst of a $1 million refresh that includes the windmill's new paint job.
Allison Whitt of Design X Architecture & Interiors in Lemon Grove is overseeing the look of the project, which will include roll-up garage door-style walls, a 35-foot bar with vintage-style leather bucket seats, custom-made leather sofas and cloth wingback chairs, and a patio with vintage outdoor furniture, fire pits and trees.
Windmill Food Hall will offer online ordering, curbside food pickup and delivery. It will also use a single-point payment system where they'll be issued a key fob or bracelet synced to their credit card, which can be swiped at any booth or the bar.
There will also be a monthly calendar with events such as sip-and-paint classes, dance lessons and Bumble dating/networking events.
Markham said he hopes visitors are surprised by the look and feel of Windmill Food Hall.
"I like the unexpected," Markham said. "You have to push people past their comfort zone to the point where they become comfortable with the uncomfortable."
Sign up for the Pacific Insider newsletter
PACIFIC magazine delivers the latest restaurant and bar openings, festivals and top concerts, every Tuesday.
You may occasionally receive promotional content from the Pacific San Diego.