North County's Urge Gastropub brothers planning Poway food hall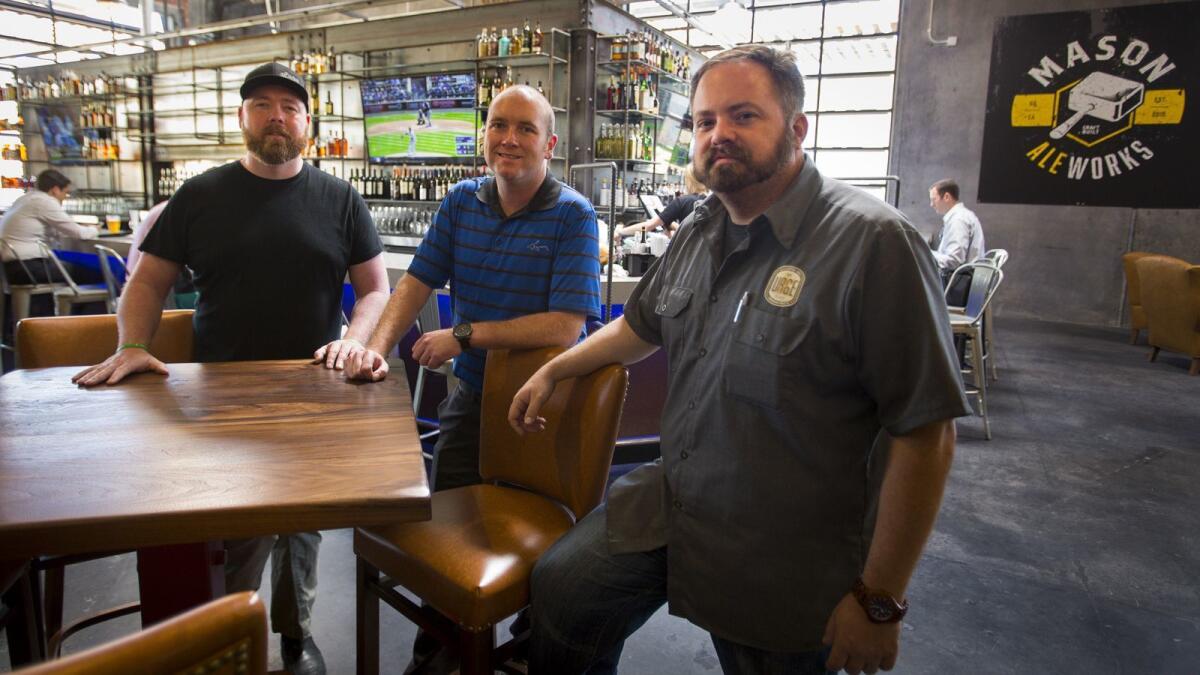 Over the past 11 years, 3LB Restaurant Group has opened three gastropubs, two breweries, two wine bars, a speakeasy, a gourmet deli/market and an upscale brewpub in North County.
Now, the company started in Rancho Bernardo in 2007 by two brothers and a buddy, is planning to bring all of its ideas under one roof with its most ambitious project to date: the Outpost Urban Food Hall in Poway.
The 21,000-square-foot, 14-concept food hall is slated to open in fall 2019. It will be the anchor tenant of the Outpost, a $35 million 1.5-acre mixed-use project that will include 53 residential units, a Crunch fitness center and an underground parking garage. Also, 3LB (an acronym for Three Local Brothers) is planning to open a Santa Maria-style barbecue restaurant and, possibly, a stand-alone coffeehouse, on the property.
Co-founder Zak Higson, 40, of San Marcos, said the project at 13247 Poway Road is much-needed in restaurant-starved Poway and it gives his entrepreneurial company a testing space to launch and refine its numerous culinary and beverage concepts.
The company he launched with best friend Grant Tondro, 39, of Escondido and his brother, Nate Higson, 37, of Boise, Idaho, operates Urge Gastropubs in Rancho Bernardo, Oceanside and San Marcos; Mason Ale Works breweries in San Marcos and Oceanside; Barrel Room wine bar/bistros in Rancho Bernardo and Carmel Valley; the 101 Proof speakeasy in Oceanside; Brothers Provisions deli, market and Mason Coffee Works in Rancho Bernardo; and the new Mason Ale Works Tasting Room + Kitchen in Carmel Valley.
The Outpost Urban Food Hall is one of four food halls set to open in the county in the next year. In late September, restaurateur James Markham will open his Windmill Food Hall in the former Pea Soup Andersen's windmill property in Carlsbad. In January, Whisknladle Hospitality will open the 10,000-square-foot Park Commons food hall in the Sorrento Mesa area. And in spring 2019, the Mexican-themed Pan y Sal food hall will open in the historic Bread & Salts arts center in Barrio Logan. They will join 2-year-old Liberty Public Market food hall in Point Loma and the Little Italy Food Hall, which opened in July.
Food halls are among the hottest culinary trends in the U.S. A recent study by Cushman & Wakefield said the popular destinations have grown in number from 70 in 2015 to a projected 300 by 2020.
The growth is fueled by foodies seeking a unique dining experience, an industry trend toward more fast-casual service to reduce labor costs and an increase in walkable mixed-use developments that combine housing, retail and office space.
Higson said he and his partners are big fans of mixed-use planning. The Outpost will be their third such project. In April 2017, they opened the 1-acre Urge Gastropub & Common House in the massive North City project in San Marcos, and in July they opened both a Barrel Room restaurant and the Mason Ale Works Tasting Room + Kitchen at The Merge development in Carmel Valley.
"We're very residential-oriented," Higson said. "The idea of being part of neighborhoods marries into our ethos."
The Higson brothers grew up in Canada and moved to Rancho Bernardo with their parents in 1993. A year later, Higson and Tondro met in driver's ed class at Rancho Bernardo High and have been best friends ever since. After college and careers in corporate finance and banking, they came back together and, with Zak's brother Nate, opened their first Barrel Room restaurant in R.B. in 2007.
Their business formula has succeeded from the start, but Higson said creating a successful food hall will take work. Because food halls are tourist attractions, business in the early months is always brisk with first-time visitors, but getting people to come back a second time is key.
"Poway is ready for this and we will create an immersive dining experience there, but the quality of the food will be foremost," he said.
The Outpost Urban Food Hall will have indoor seating for 171 people. Instead of renting booth space to local vendors, virtually all of the food served on the premises will be 3LB products.
Higson said the goal will be to create original and portable small-portion bites. Some of the ideas they've developed include Caesar salad tacos served in baked Parmesan cheese shells; hot Cheetos chicharrons; chicken pot fries; lardon salad; spicy chicken biscuits; pizza; sliders; popcorn confections; and shaved pork dip sandwiches. There will be a full bar specializing in Mason Ale Works beers, a bakery, a salad bar and an old-fashioned ice cream/soda jerk counter.
Upstairs, a barbecue restaurant is planned with a patio featuring a children's play area, fire pits for making s'mores and an outdoor movie screening area.
Higson said he hopes the Poway project will allow his company to bring together its built-in North County clientele with San Diegans who know the company for its beer and are attracted by the food hall concept.
"If we do things right," he said, "we can unite the clans."
Sign up for the Pacific Insider newsletter
You may occasionally receive promotional content from the Pacific San Diego.