Made-to-order doughnut shop opens in Encinitas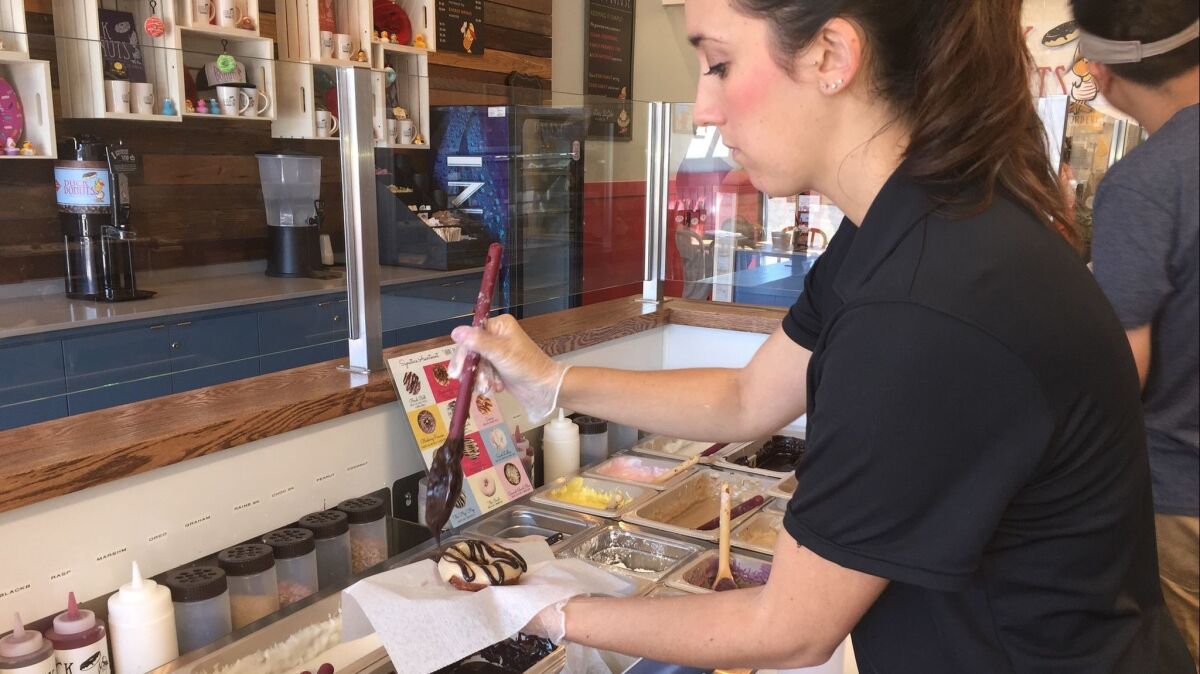 Encinitas —
Duck Donuts, one of the East Coast's most beloved doughnut chains, opened its first San Diego County store on Saturday in Encinitas.
Named for the North Carolina town where the first shop opened in 2007, Duck Donuts is famed for its unique style of service. Every doughnut is cooked to order, served warm and custom-topped to customers' specifications with more than 40 choices of coatings, toppings and drizzle sauces. Each sugary orb costs $2.25.
Lines out the door are not uncommon at new stores as customers learn how to navigate and order at Duck Donuts.
Online pre-ordering is available with at least 30 minutes notice, but company spokeswoman Kristin Kellum said most customers don't seem to mind the wait because they enjoy the freshness and custom nature of the product.
"We live in a world now where customization is key," she said.
Due to the cooking time and degree of customers' topping requests, store official say it takes about five to seven minutes from payment to doughnut delivery. But with a trained staff of 30, the Encinitas store is capable of turning out as many as 52 dozen doughnuts every hour, Kellum said.
Duck Donuts was started by Russ DiGilio, a health care executive who became frustrated when he couldn't find a decent doughnut shop during his family vacations in Duck, a small town in North Carolina's Outer Banks.
In 2013, the company opened franchise sales and there are now 72 stores in 15 states, with 140 more planned in the U.S. and Chile.
The 1,150-square-foot Encinitas franchise is owned by Brad and Laura Aughinbaugh of San Marcos. It's managed by Dave Manley, also of San Marcos.
Manley said he knew he wanted to be involved in Duck Donuts after his family bought a couple dozen during a vacation last year in Duck, N.C.
"We bought two dozen and they were gone in 10 minutes," Manley said.
In June, Money Magazine ranked Duck Donuts No. 7 on its list of the 10 best doughnut shops in America. And last year, The Washington Post also named Duck Donuts the best doughnut shop in the capital city.
Unlike most doughnut stores, Duck Donuts doesn't have glass display cases of pre-cooked pastries. Instead, customers fill out an order form and pay upfront.
Once the order is received, an automated doughnut machine drops rings of yellow cake doughnut batter into a bath of heated soy shortening where they cook for 90 to 120 seconds and are then dropped from a conveyor belt into a cooling basket.
After a minute to cool, the doughnuts are dressed to order as customers watch. Customers can choose from classic combinations, like the s'mores variety, with chocolate coating, graham cracker crumbs and marshmallow drizzle. Or they can build their own.
There are 11 heated coatings including cinnamon sugar, peanut butter, blueberry, maple and chocolate. There are 16 toppings including chopped bacon, Oreo crumbles, peanuts, coconut and sprinkles. And there are 16 drizzles, including salted caramel, blackberry and hot fudge.
The chain's two top-sellers are the Cinnamon Sugar and Maple Bacon varieties. DiGilio's current favorite is lemon coating with coconut topping and Manley's favorite is peanut butter coating with chocolate drizzle.
Kellum said that some doughnut shops specialize in unique and savory flavors but Duck Donuts is focused on serving "the classics."
"The traditional doughnut has never gone out of style. We're here to give people what they want," she said.
Besides doughnuts, the store sells doughnut ice cream sundaes and three varieties of brewed coffee.
The Aughinbaughs are planning to open two or possibly three more stores in San Diego County. Manley said they're now scouting locations in North County, downtown San Diego and the Eastlake area of Chula Vista.
The first California location opened in July in Huntington Beach. A third California location will open this week in Irvine.
Duck Donuts
Hours: 6 a.m. to 3 p.m. Sundays-Tuesdays. 6 a.m. to 7 p.m. Wednesdays-Saturdays.
Where: Village Square, 1452 Encinitas Blvd., Encinitas
Online: duckdonuts.com/location/encinitas-ca/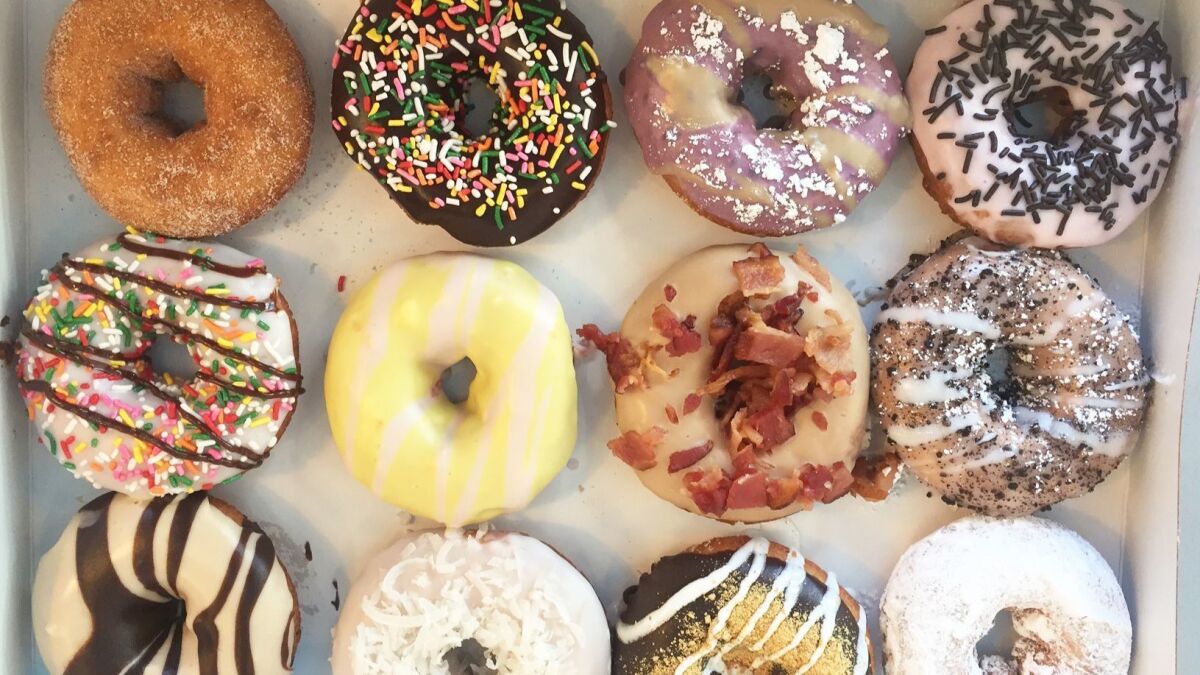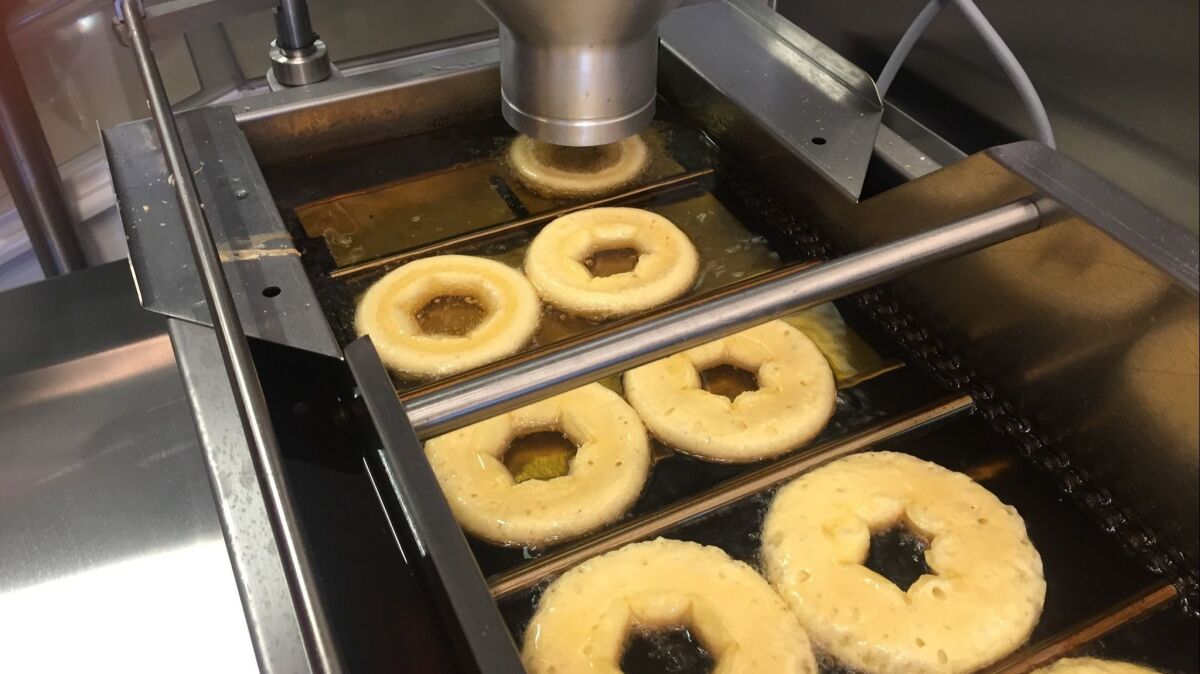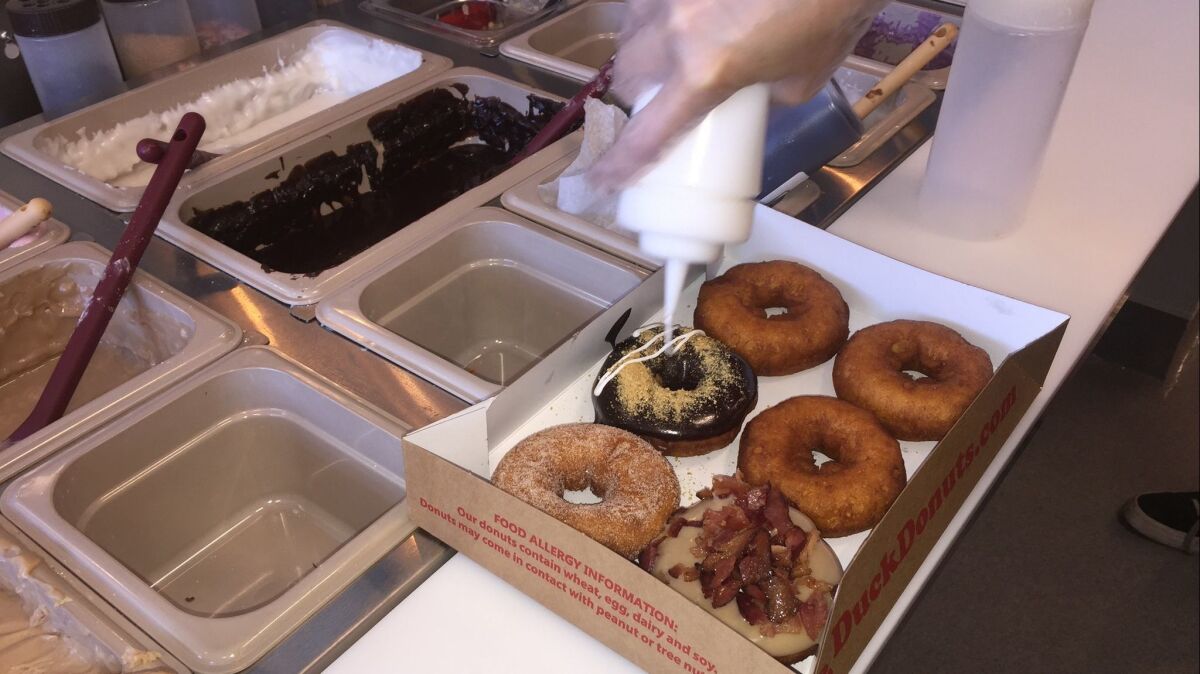 Sign up for the Pacific Insider newsletter
You may occasionally receive promotional content from the Pacific San Diego.