Long-delayed Dog Haus restaurant opening in Vista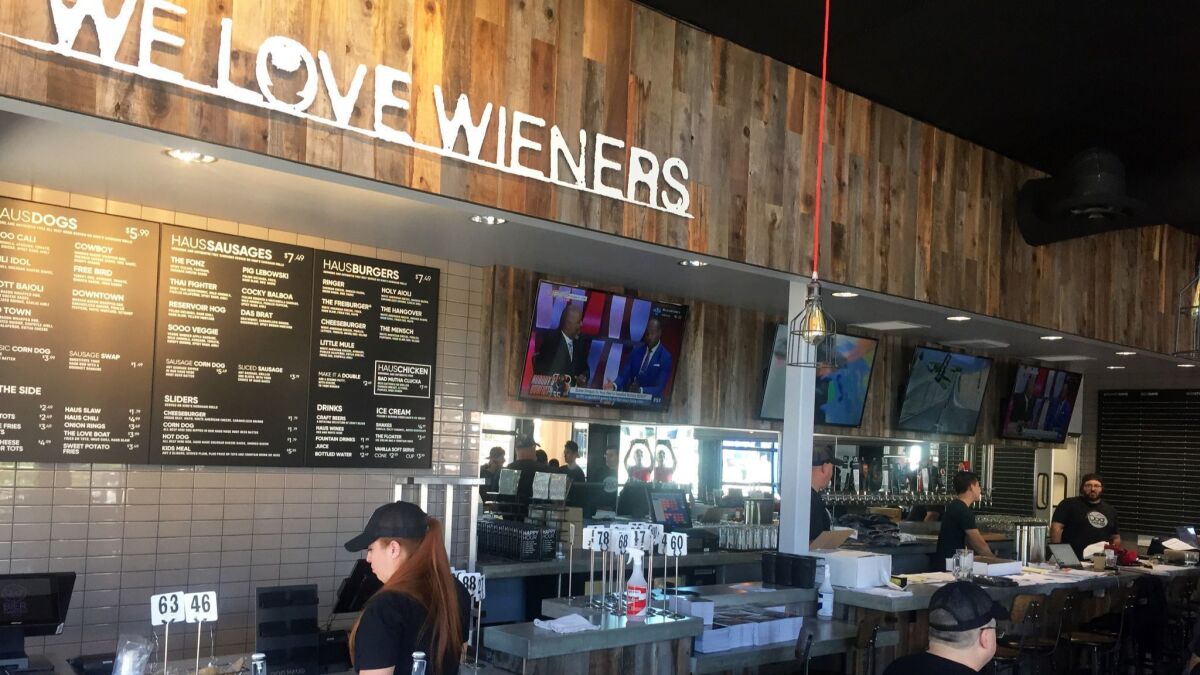 Vista —
Although its opening has been delayed by more than a year, the Dog Haus Biergarten in downtown Vista will make amends with its patient customers this weekend.
From 11 a.m. to 11 p.m. Saturday, which is opening day at the gourmet sausage and beer eatery, visitors will receive a free "Haus Dog" of their choice.
Founded in 2010 in Pasadena, Dog Haus is known for its gourmet all-beef hot dogs, no-nitrite sausages, Angus beef burgers and sliders, housemade corn dogs and fried chicken sandwiches.
The meats Dog Haus uses are hormone- and antibiotic-free and all of its sandwiches are served on grilled King's Hawaiian rolls. Entrees range in price from $6 to $7.50. The restaurant also serves 24 beers on tap, canned beers, wines and a selection of side dishes and ice cream desserts.
The Vista restaurant at 227 E. Broadway is the third Dog Haus owned by local franchisees Scott and Henry Lee. They purchased the franchise rights for the county's first location, which opened in San Diego's East Village in October 2016. They also opened a second location last spring inside Chula Vista's Mattress Firm Amphitheatre last spring. Their eventual goal is to have 10 franchises countywide.
The Vista location occupies the lot at Broadway and Indiana Avenue that was home for more than 60 years to the One Day Shoe Repair shop, which closed in 2015.
World War II veteran Bud Miller opened the shop inside a small red building on the property in 1959 and sold it in the 1970s to Dennis Manifold. Tom Fleming came on as an apprentice in 1985 and eventually bought the business in 1996.
Before he retired in 2015, Fleming sold the property to developer Lev Gershman who tore down the weathered building in 2016 to make way for a restaurant property.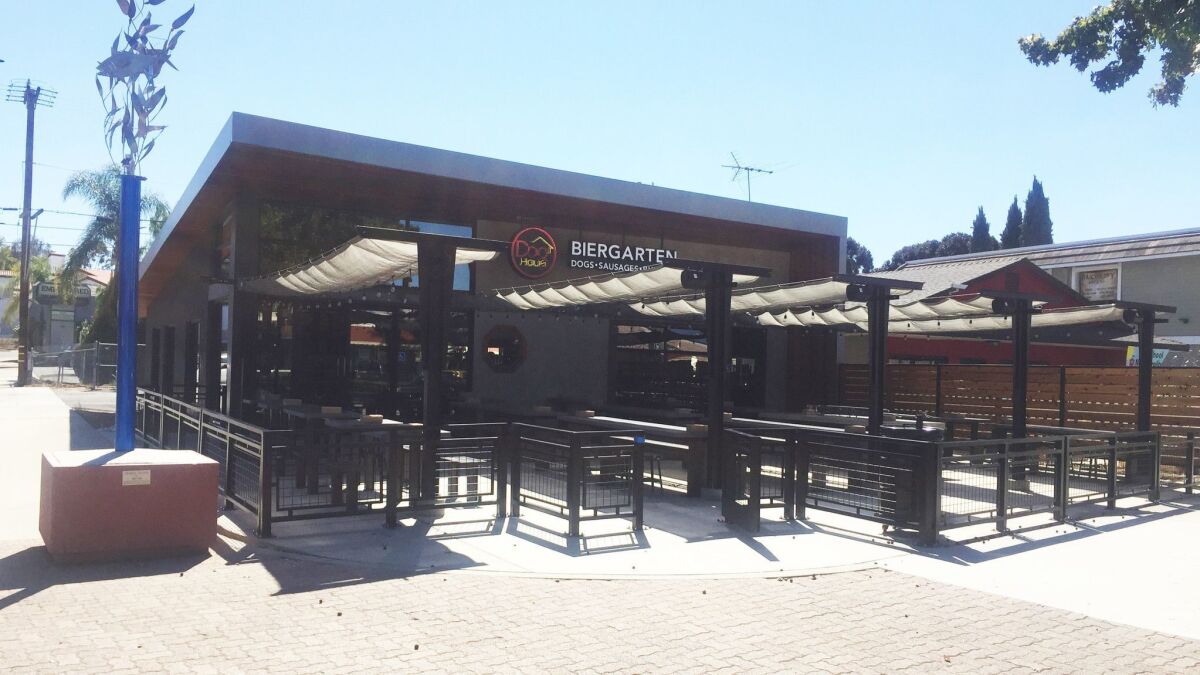 Dog Haus was originally scheduled to open in summer 2017, but the project encountered unexpected delays. The new "modern industrial" building has an indoor dining room with communal wood-and-steel tables as well as a large covered patio with fire pit.
At Saturday's opening, diners can choose from seven varieties of Haus Dogs. They include the top-selling Sooo Cali, an all-beef hot dog topped with wild arugula, avocado, tomato, crispy onions and spicy basil aioli. Other options are the Chili Idol (a chili dog with cheddar cheese sauce and onions), Downtown (a dog wrapped in smoked bacon with caramelized onions and pickled peppers) and the Free Bird (a turkey dog with avocado, tomato and smoked bacon and miso ranch dressing), among others.
Dog Haus Biergarten
Hours: 11 a.m. to 10 p.m. Sundays-Thursdays. 11 a.m. to 11 p.m. Fridays and Saturdays.
Where: 227 E. Broadway, Vista
Phone: (424) 224-7008
Online: vista.doghaus.com
Sign up for the Pacific Insider newsletter
You may occasionally receive promotional content from the Pacific San Diego.