After 4-year break, longtime chef back at Del Mar restaurant
Del Mar —
Ever since it opened in 1989, Pacifica Del Mar restaurant has been known for honoring traditions. Some of the dishes from the opening day menu are still being served, some folks dine there seven days a week and the bar's regulars visit so often they have their own stools.
For 15 years, Pacifica's chef/partner Chris Idso was another of those elements you could rely on every time you walked through the door. But in November 2014, Idso was offered the opportunity of a lifetime — move his family to Hawaii where he would open two restaurants at the Hanalei Bay Resort in Princeville, Kauai. It was an offer he couldn't refuse.
Turns out the grass isn't always greener outside San Diego, even in rainy Kauai. Two months ago, Idso returned to Pacifica at the invitation of its new owner, Sangiv Chopra. Since then, Idso has introduced a new menu, improved the consistency and quality of its classic dishes, is overseeing the revamp of its sister cafe, Pacific Breeze, and is enjoying reconnecting with all of the old customers he left behind.
"Things have been really good since I got back," he said. "It's nice to be missed."
Pacifica Del Mar in the Del Mar Plaza shopping center was one of three San Diego restaurants that former owner Kipp Downing and a former partner opened in the 1980s. Downtown San Diego's Pacifica Grill survived for a decade before closing in 1994 and Cafe Pacifica in Old Town lasted nearly 20 years before it shuttered in 2004.
Idso arrived at Pacifica Del Mar in 1999, bringing a more seafood-focused approach to the menu but retaining some of original chef Neil Stuart's most popular entrees, like sugar-spiced salmon and mustard catfish.
In 2014, Downing told Idso that he was looking to retire and sell the restaurant and Idso got the offer in Hawaii.
"It was the kind of thing that I figured if I didn't take it, I'd always regret it, so I did," he said.
Unfortunately, Kauai wasn't the paradise he expected. Small-town politics made it nearly impossible to build and open the planned fine-dining restaurant, it was difficult finding and hiring trained culinary staff on the island and his family missed their friends, family and the more urban lifestyle of San Diego.
After just six months, the Idso family left Kauai and moved to Los Angeles, where he spent the next year-and-a-half working at the downtown location of Water Grill. Finally, his family returned to San Diego County a little over a year ago when he took a job heading the culinary program at the Estancia La Jolla Hotel & Spa.
Chopra purchased Pacifica Del Mar in 2016 and hadn't been happy with the chefs at the restaurant, so he approached Idso in La Jolla and they worked out a deal that would bring the chef back in as a partner.
Idso said he was thrilled to discover that all of the kitchen staff he'd trained before he left were still there, along with a number of longtime servers. In his absence, Idso said he learned that some of the longtime customers had drifted away because the food wasn't as consistent, so that has been his first priority.
He's also working with local artisan foodmakers to bring in new ingredients, like coffee roasted in Oceanside and pastries baked in Vista. He's also introduced some dishes inspired by his recent travels, like a Hawaiian-style poke dish and more whimsical entree plating like he experienced in L.A.
He's planning to introduce new menus regularly to capitalize on seasonal produce, but he vows to keep the classics.
He's also overseeing the renovation of Pacific Breeze Cafe, which serves breakfast, lunch and coffee in a downstairs space. Both the interior and exterior are being refreshed and he's bringing in new menu items and cutting-edge drinks, like nitro cold-brew coffee and kombucha on tap.
"I'm really excited to be here," Idso said. "It was like coming home to a family. The regulars are returning and my family loves being back."
Pacifica Del Mar
Del Mar Plaza, 1555 Camino Del Mar
Phone: (858) 792-0476
Online: pacificadelmar.com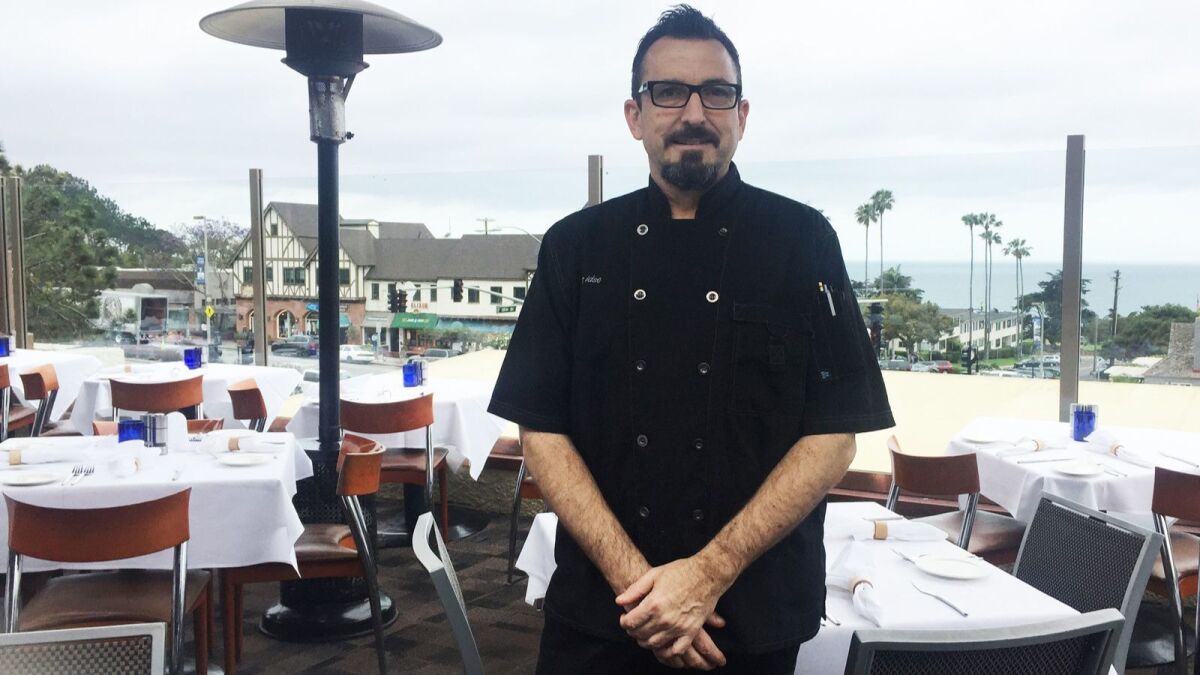 ---
Sign up for the Pacific Insider newsletter
PACIFIC magazine delivers the latest restaurant and bar openings, festivals and top concerts, every Tuesday.
You may occasionally receive promotional content from the Pacific San Diego.