El Jardín chef scores prestigious James Beard nomination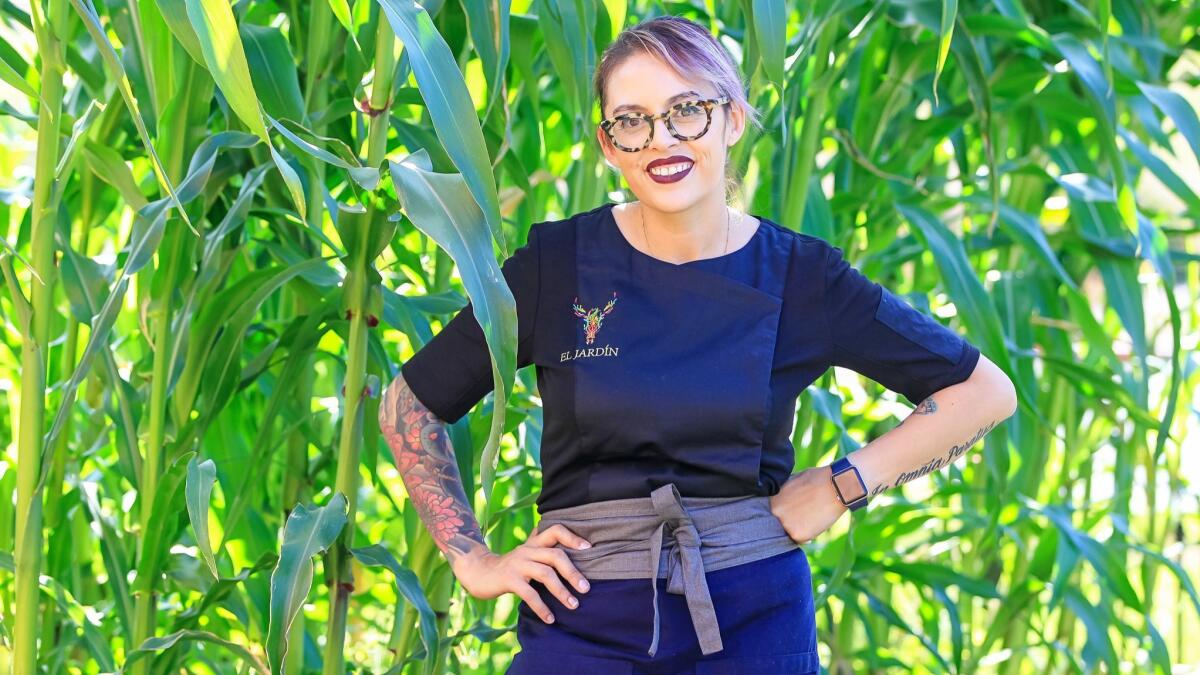 Claudette Zepeda-Wilkins, the chef at the groundbreaking, 7-month-old restaurant El Jardín, was named a semifinalist for a James Beard foundation award Wednesday, a nomination akin to an Oscar nod.
Zepeda-Wilkins — the Union-Tribune's 2018 Best Chef and San Diego County's only representative on the prestigious James Beard award list — will compete against 21 other chefs in the category of Best Chef: West.
"It's a Mexican Cinderella story, and I'm just amazed to be … on the radar of the committee," Zepeda-Wilkins said through tears Wednesday morning. "It's overwhelming, it's a huge responsibility for myself, for my team, for Mexico, and I feel there's so much more work to do. And even if I don't win, it's just another affirmation that I'm doing what it is I'm supposed to be doing."
Her fellow nominees include such nationally known culinary figures as Michael Cimarusti (Providence, L.A.), Jessica Koslow (Sqirl, L.A.), Niki Nakayama (n/naka, L.A.), Joshua Skenes (Saison, San Francisco), Travis Lett (Gjelina, Venice) and Carlos Salgado (Taco María, Costa Mesa).
"We're grouped in with L.A., which is full of crazy talent, but there is enough sun for everyone to shine. And I just want San Diego to be recognized for the talent we have here," Zepeda-Wilkins said.
"The fact that I'm on that list is amazing. It's like the Oscars — it really is an honor just to be nominated. It's like being on a roster with Meryl Streep. I can't see the win right now, but I'm telling myself, 'Man, just enjoy the ride, because tomorrow, you could put up a quesadilla that sucks.' "
The category finalists will be announced on March 27. The winners will be unveiled at the annual James Beard Award gala on May 6 in Chicago.
Since El Jardín opening at Liberty Station last June, Zepeda-Wilkins has earned widespread acclaim for her gutsy, modern interpretation of regional Mexican cuisine and, in particular, her celebration of the women who drive that cooking.
The "Top Chef" and "Top Chef Mexico" alum is believed to be San Diego's first female James Beard nominee, an honor that has previously gone to Addison's William Bradley and Carl Schroeder of Market.
While no San Diego chef or restaurant has won a James Beard award since the competition began in 1991, Zepeda-Wilkins has savored its accolades before. She was chef Javier Plascencia's chef de cuisine — the second-in-command — when Little Italy's short-lived Bracero earned a semifinalist nomination for Best New Restaurant in 2016.
Zepeda-Wilkins called Wednesday's nomination a validation of her team's hard work and of the people who have supported her over the years, as she went from being a single mom of two kids at 21 to executive chef of a celebrated restaurant.
"While this isn't a win, it is for people who share my story and share my struggle, the way I have," she said.
"For me it's always been overcome, overcome, overcome. By the time my son was 9, we had lived in 10 apartments because I was constantly trying to make life better — we would go from a studio to a one bedroom with three beds in it, to a bigger place," Zepeda-Wilkins said. "Or I being told I'm an awful cook, or being told I was hired to do the administrative work because I was a woman. This industry is not for the faint of heart. But I'm not a victim, I'm a fighter, I'm a survivor. People doubting me, being told I can't do something, that for me has been my fire."
Though most associated with the finest of fine-dining establishments in the country, the Beard nomination is also an acknowledgement of the simple authenticity she brings to the table.
"This is what we're craving now — we're craving food with soul, the food we cook at home," she said.
For all her technique and training, the bottom line, she said, is: "I'm a good cook. I make really good beans."
michele.parente@sduniontribune.com
Twitter: @sdeditgirl
Sign up for the Pacific Insider newsletter
You may occasionally receive promotional content from the Pacific San Diego.