Solace restaurants in North Park, Encinitas to close Wednesday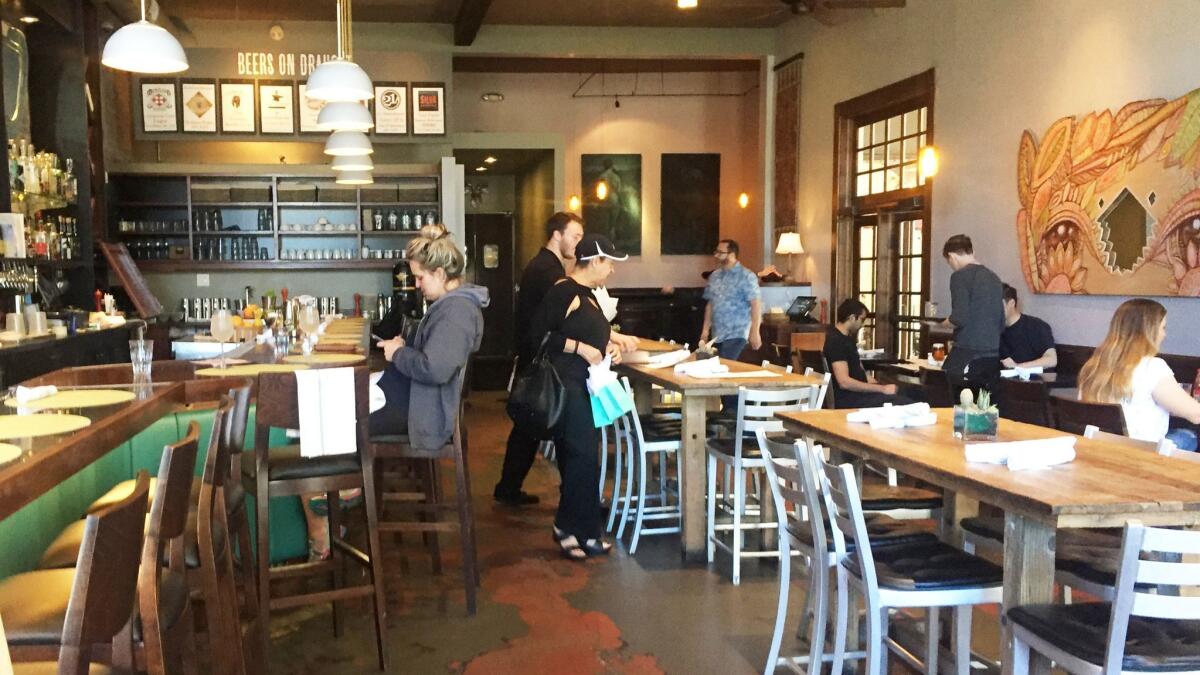 Four months after revamping the style and service model of his flagship restaurant Urban Solace, owner and chef Matt Gordon announced Tuesday that he is closing the North Park eatery as well as its sister restaurant, Solace & the Moonlight Lounge in Encinitas.
The restaurants' final day of service is Wednesday, March 13. Gordon could not be reached for comment, but wrote about the plan to close in an email on Tuesday afternoon.
"It is with a heavy heart that I write to you today," he wrote. "We have come to the very difficult decision that Solace Restaurants have run their course here in San Diego. … It has been an uphill battle for quite some time now, and it's just time to move on."
Last fall, Gordon announced plans to dramatically revamp the North Park restaurant, which opened in fall 2007. He expanded breakfast/brunch service from one to seven days a week, and he reinvented the dinner menu to a shareable plates concept to supplement a hopefully more robust social bar experience for diners. The changes were accompanied by an interior refresh.
In January, Gordon talked to the Union-Tribune about the challenges he faced as a traditional restaurateur in a changing marketplace. The fine dining industry is in transition and traditional dinner menus were no longer as popular with diners, particularly with younger patrons who prefer a more social dining and drinking experience.
Adding to this challenge was the evolution of North Park over the past decade. When Gordon and his wife, Young Mi, opened Urban Solace nearly 12 years ago, the neighborhood was more oriented toward sit-down restaurants. But in recent years, a number of bars, quick-service and fast-casual eateries have crowded the market, making it harder to compete in a more traditional, service-heavy style.
Urban Solace continued to attract loyal and older crowd for its dinner service and Sunday brunch, but sales were declining just as labor and food costs were on the rise.
Gordon and Mi also refused to compromise on the quality of their sustainable and natural ingredients. The North County couple was committed to a from-scratch, preservative-free menu because that is how they feed their children.
The closure of Urban Solace and Solace & the Moonlight Lounge, which opened in 2011, follow the closure of a third restaurant owned by the couple, Sea & Smoke, which operated in the Flower Hill Plaza shopping center from 2013 to 2016.
In his email, Gordon said he and his wife are grateful for the support they've received over the years.
"We love you all and thank you and San Diego in general for the wonderful 12 years that we were able to live out our dreams," he wrote.
Urban Solace at 3823 30th St. in North Park and Solace & the Moonlight Lounge at 25 East E St. in Encinitas will be open for service through March 13. To say goodbye to longtime guests, the Gordon family will be at the North Park location from 5 to 7 p.m. Wednesday and at the Encinitas location from 7:30 p.m. to close.
To help empty the bar and pantry, bills will be discounted by 25 percent. Visit barsolace.com.
pam.kragen@sduniontribune.com. Twitter: @pamkragen
Sign up for the Pacific Insider newsletter
You may occasionally receive promotional content from the Pacific San Diego.