Review: First bite: 2 new and 2 renewed restaurants in North County
At least a half-dozen independently owned restaurants open in San Diego every month, but North County has never seen the same level of love from chefs and restaurateurs.
That changed a bit this summer, at least in coastal North County, where several new restaurants opened and a few more debuted reimagined menus. We tasted a few and offer a quick culinary snapshot.
Death by Tequila, Encinitas
San Diego's chockablock with "Top Chef" contestants who've parlayed their TV fame into signature local restaurants. But "Top Chef All-Stars" alumnus Angelo Sosa keeps a much lower profile.
The Oceanside resident — who has cooked with some of the biggest names in New York's restaurant scene — is quietly wowing diners every night at Death by Tequila, which opened in mid-July in downtown Encinitas.
Sosa's an expert in Baja and modern Asian cuisines, and he blends them in fascinating ways at the restaurant/tequila bar nicknamed "DxT."
Case in point: The ultra-spicy Baja wings, which are fried in a crispy potato starch coating then bathed in sticky bright red tamarind sauce.
The best dish is his Ahi Crudo, served in a cool turmeric lime broth with sliced jicama. The dish is served in a bowl, since you'll want to drink every drop of broth.
Other exceptional dishes are the smoked Spanish octopus with housemade chorizo crumbles; the spicy albacore aguachile with serrano chiles, dill and mint; and the carnitas street tacos, made with tender Duroc pork, Mexican cinnamon and house-pickled onions.
Save room for the heavenly tequila flan topped with shavings of Manchego cheese.
Every dish on the menu is not only organic, gluten-free and sustainable, it's also beautiful. Color and presentation are as important as taste to Sosa, who's hopefully here to stay.
569 S. Coast Highway 101, Encinitas. (760) 230-6108. deathbytequila.com
Clara, Carlsbad
Carlsbad Village's newest restaurant/cocktail bar isn't named after a woman. Clara is the Spanish word for "clear," which describes chef Alex Carballo's straightforward approach to food at the 90-seat restaurant that opened Sept. 1.
Carballo doesn't believe in masking the natural flavors of the locally sourced, seasonal and sustainable ingredients on his menu. He aims for simplicity over heavy sauces. Most of his dishes have six ingredients or less.
Although there are plenty of animal proteins to choose from, the shareable plates menu is surprisingly produce-forward with many plant-based and flatbread options.
Fans who've followed Carballo around San Diego over the years may recognize some of his greatest hits from past kitchens (Stone Brewing World Bistro, Moto Deli, Indigo Grill).
One of these old favorites is the delicious chili-braised cauliflower tacos with jicama cilantro slaw and avocado aioli. Another winning appetizer is the lettuce wraps with lemongrass tofu, mushrooms, tamarind sweet chili glaze and cashews.
My favorite non-veggie dishes are the crunchy salt-and-pepper fried chicken with pineapple chili sauce and the tender grilled skirt steak with sweet potato hash, sofrito braised greens and chipotle butter.
Bartender Seth Marquez's cocktail menu plays on the same seasonal, not-overdone theme. My favorite drink is the tropical Queen of Makaha, made with tequila, Aperol, passion fruit, pineapple and lemon twist.
Carlsbad Village Faire, Suite 212, 300 Carlsbad Village Drive, Carlsbad. (760) 994-0699. claracarlsbad.com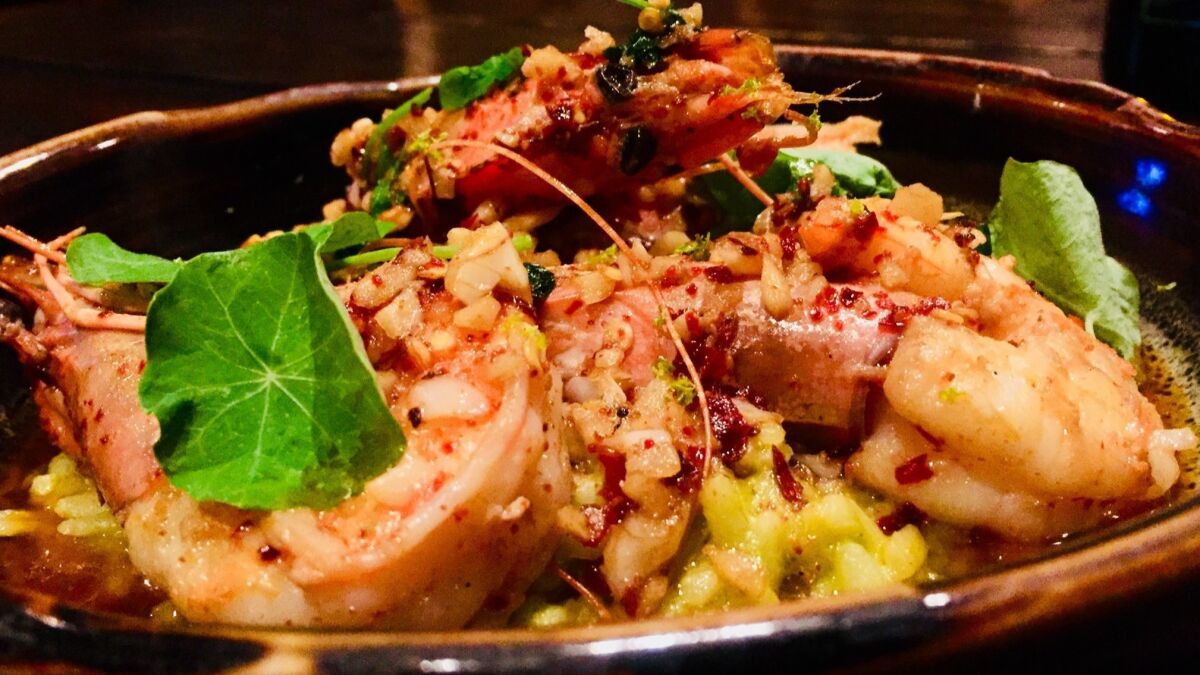 Solterra Winery & Kitchen, Leucadia
After five years in business, Solterra has recently undergone a kitchen and menu overhaul under the direction of consulting chef William Eick.
Over the past three months, Eick — who is executive chef at Oceanside's Mission Ave Bar and Grill — has gradually transformed and expanded the menu from mostly Spanish/Mediterranean tapas and charcuterie to a broader regional menu highlighting seasonal produce and seafood.
Each year, Solterra crushes 80 tons of grapes from Oregon to Mexico in its onsite winery and produces 52 wines under the labels Solterra, Costa Azul and Christopher Cameron. Eick's new menu is designed to complement these wines, which are priced from $8 to $16 a glass or $30 to $120 a bottle.
The menu is still evolving as fall approaches, but there are a few standouts.
The hearty beef tartare dish surprises with a topping of crispy shallots and dusting of crushed Marcona almonds. One of the tastiest new dishes is the Shrimp al Ajillo, head-on Pacific black tiger shrimp with green rice, garlic and chili flakes.
And for sheer showmanship, try the Tomato Gazpacho, which is hand-poured into a dish filled with crabmeat, bourbon cherries, mint, pesto and chiccharones. It's the perfect balance of acid, fat, sweet and tart.
934 N. Coast Highway 101, Leucadia. (760) ) 230-2970. solterrawinery.com
20/Twenty Grill, Carlsbad
With the rebranding of the former Sheraton Grand into the more upscale Westin Carlsbad, the hotel's restaurant has also been transformed.
The interior has been given a lush makeover, and the menu now overseen by executive Chef Julian Quinones has been equally upgraded.
Gone are the low-priced burgers and flatbreads — which are now available at the newly opened Sheraton next door. In their place are more upscale dishes like an exceptional pan-seared Atlantic halibut with broccoli cauliflower risotto and citrus vinaigrette.
Hearty diners may also enjoy the Butcher's Block, a shareable plate of high-grade beef, lamb or other meat that changes nightly.
Also new to the menu is a savory steamed mussels dish. The chef's creativity's on display with the Tomate salad, made with powdered olive oil and fig balsamic vinegar.
The dessert menu features modern and classic pastries made in-house, including the ultra-creamy creme brulee.
The 20/Twenty Grill is open for breakfast, lunch and dinner.
Westin Carlsbad Resort & Spa, 5480 Grand Pacific Drive, Carlsbad. (760) 827-2500. 20twentygrill.com
pam.kragen@sduniontribune.com. Twitter: @pamkragen
Sign up for the Pacific Insider newsletter
You may occasionally receive promotional content from the Pacific San Diego.