Reimagined Urban Solace still charms with new breakfast, small plate menus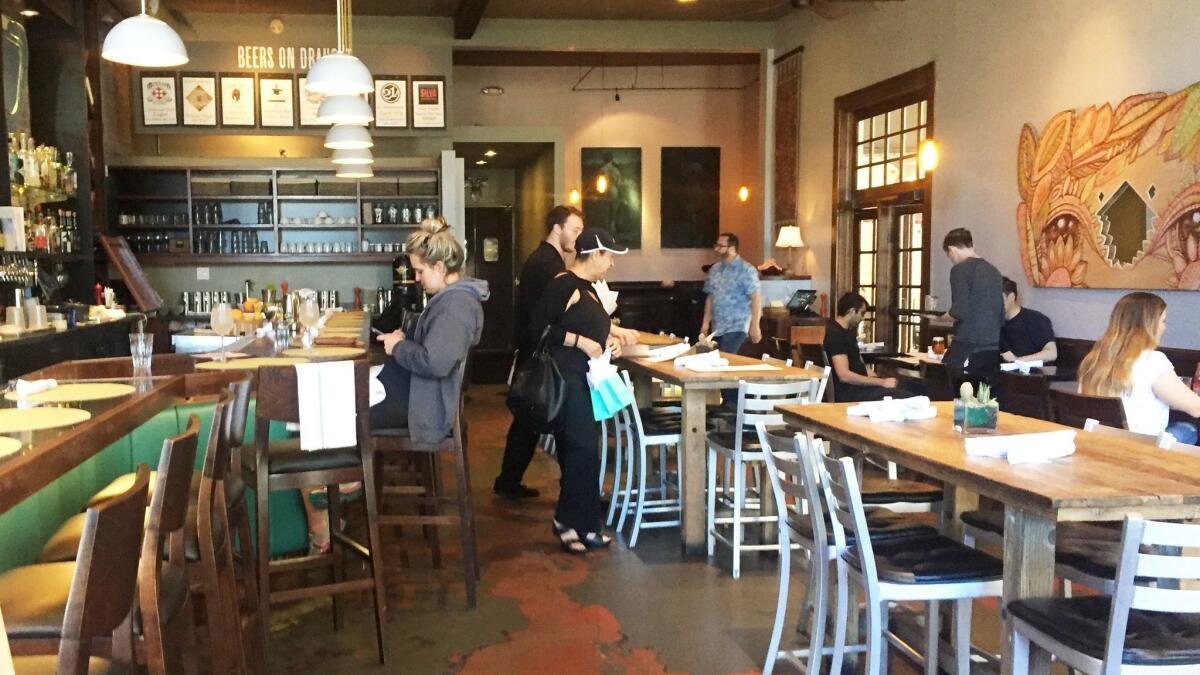 Most businesses operate under the principle that if it ain't broke, don't fix it. But not restaurants. They need constant reinvention to stay relevant.
But when Matt Gordon announced plans in October to reimagine his charming 11-year-old North Park restaurant Urban Solace, diners were shocked.
How dare you take away my duckaroni, meatloaf and chicken & dumplings, they cried.
But Gordon said the changes were long overdue. As one of the last full-service restaurants in North Park, Urban Solace's operating costs were rising, but its sales were falling.
Over the past decade, North Park has morphed from sleepy neighborhood to Gaslamp Quarter II. Sports and arcade bars as well as as quick- and counter-service restaurants have proliferated. But one underserved segment of the market was the breakfast crowd.
Urban Solace's Sunday bluegrass brunch was already the highest-profit meal service of the week, so Gordon said his next step was a no-brainer. At the end of November, he introduced breakfast/brunch service seven days a week with an all-new menu.
Step two was the debut of Bar Solace on Jan. 1. Instead of serving a traditional coursed-out dinner service, the new menu is all small plates designed for sharing over evening cocktails or wine. Dishes arrive as they're prepared, which allows the staff to serve more tables with greater efficiency.
The changes were accompanied by an interior refresh with a lighter, brighter, more open look, including fresh paint, new light fixtures and a new look for the bar.
Gordon said a handful of diners have expressed their displeasure in recent weeks, but for most, the new evening menu has been embraced and weekday breakfast service is growing gradually by word of mouth.
On two recent visits, I checked out the new menus and discovered two things. First, many of the new dishes are a welcome change, and the small plates service is more fun and interactive. And second, the things I always loved best about Urban Solace — the attentive service, the organically sourced ingredients, the cheddar chive biscuits and the wall portrait of "Anchorman" Ron Burgundy — haven't gone anywhere.
Gordon has replaced all but four items on the evening menu: the famed biscuits, the tomato-fennel soup and two burgers. The standout new dish to join their company is the delicate and rich ricotta gnocchi with squash, honey crisp apples and hazelnuts ($11). Another knockout is the caramelized black cod with garlic beech mushroom broth ($16). And the charred broccolini with feta, almonds and burnt orange wine sauce is also a winner ($9). I ordered six small plates of veggie, chicken and seafood items and it was not only plenty for two diners, it was surprisingly affordable.
The new breakfast menu is all new except for three old favorites: the house cinnamon rolls, the pork belly Benny (eggs Benedict) and the Kitchen Sink (a plateful of eggs, sausage, bacon, gravy and biscuits).
My favorite new addition is the Salmon Power Bowl, with farro, freekeh and quinoa, roasted veggies and Tamari glaze ($15.50). It's made with firm and flavorful sockeye salmon, a sustainable wild species Gordon discovered during three summers working in Alaska's fisheries in his early 20s.
Another excellent choice is the new Le Croque, Gordon's take on the croque monsieur sandwich topped with Mornay sauce and a fried egg with a savory side of fresh-cut hash browns ($13.55). And even if you're counting calories, split one of the decadent skillet pecan sticky buns with cream cheese frosting and butter pecan sauce ($5.75).
Gordon's reinvention of Urban Solace is bound to be a success, because he kept just enough of what always made it great while adapting to survive changes in the market. May it, Ron Burgundy and the cheddar biscuits live forever.
Bar Solace & Urban Solace
Hours: Breakfast: 8 a.m. to 2 p.m. daily. Bar Solace: 3 p.m. to close.
Where: 3823 30th St., North Park
Phone: (619) 295-6464
Online: barsolace.com
pam.kragen@sduniontribune.com. Twitter: @pamkragen
Sign up for the Pacific Insider newsletter
You may occasionally receive promotional content from the Pacific San Diego.