I stirred the pasta pot with my list of San Diego's best Italian restaurants — now it's your turn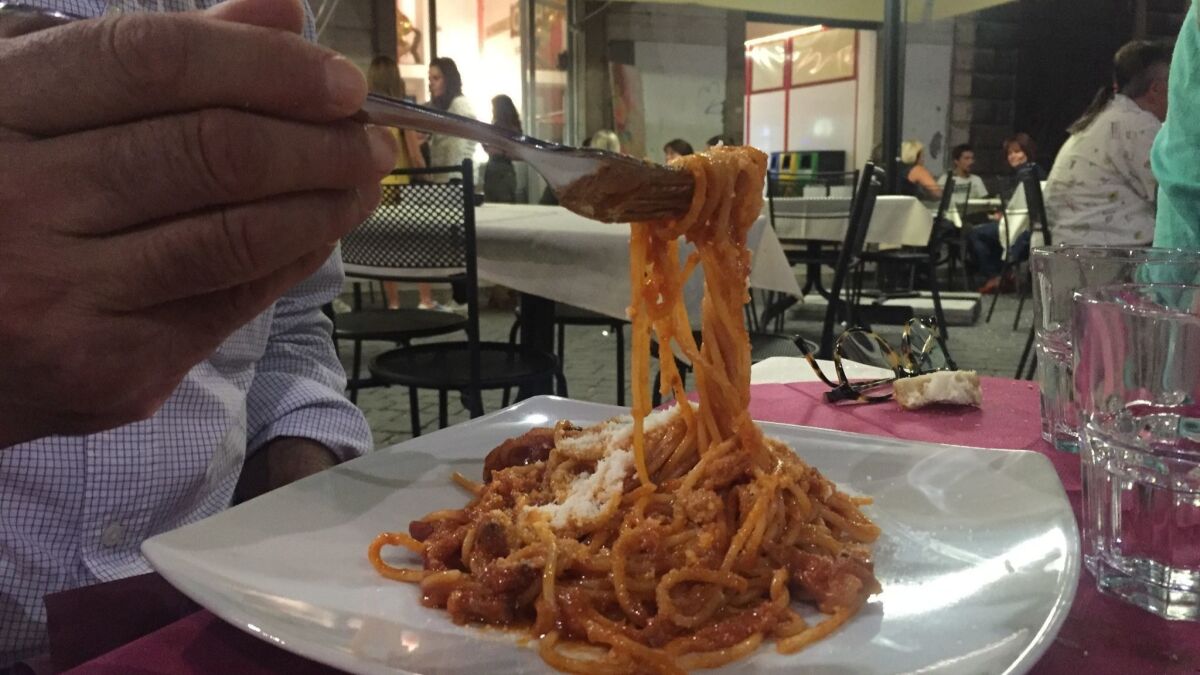 Restaurant writers know to expect three things: constant requests for recommendations (fun!); frantic appeals for advice on where to go for a special wedding anniversary (pressure!) and hate mail when you write a Best Of or Top 10 List (c'mon people, it's only food!).
I'm not sure what it is about burgers, bakeries and barbecue that brings out, shall we say, the saltier side of people but clearly Italian food lovers are a more gracious group.
Since my story, "For my list of Top 10 San Diego Italian restaurants, I could only find 7" published Thursday, my email inbox has been was jammed with letters from readers who politely agree to disagree with me or who told me I was right on target with my critique. I got a few that asked "seriously?" but nearly all the readers wanted to share the name of their favorite Italian restaurant or one they thought I should have included. Cin cin to civility!
Here are the Italian restaurants you love and wish had appeared on my list:
"Have you tried Alta Marea on Cass Street in PB, across the street from the library? It's where the native Italians I know go frequently, especially for northern dishes. Homemade fresh gnocchi, which is hard to find in this town, and risotto that you have to wait for and so is never overcooked. … Give it a try, but you have to bring your own wine." — Mike Thrift, via email (Note: Alta Marea's name has been changed to Oltre Mare.)
"Your article was most interesting, especially since we LOVE Italian food. But I think you missed out by not including Trattoria Positano in Cardiff. Family owned and excellent food. … Maybe another article needs to come out in the future. In the meantime, I plan to try some of the restaurants on your list. Thank you!" — Carol Hirsch, via email
"Dear Ms. Parente, I am not an Italian. I am not a pasta snob. I am, however, a world traveler who has eaten a lot of meals in many places overseas. I am interested if you purposely left Piacere Mio off of your list for some slight that would not matter to me. I find the fare, wine and atmosphere to be as good as the restaurants that I enjoyed in Palermo, Ragusa, and Catania. I am sorry, but most of my travels have been by sea and courtesy of the U.S. Navy, so I may have a different perspective in how I rate a restaurant." — Paul Broadway, via email (Note: Two other readers also recommended Piacere Mio.)
"Thanks for your article in the Trib about Italian Restaurants, sad that you feel you can only find 7 good ones....I think you need to try a little harder (might even need some larger yoga pants to do so!!). … Next time in Vista, try Uncle Tony's in Shadowridge. Best Calzone I have ever had. How about Cafe Luna in Carmel Mountain? You have to try their housemade sausage. Thanks again for the article." — A reader who's "the son of a 100% Italian father (Genovese)" and who loves Biga, via email
"Ristorante Illando is the best Italian restaurant in Little Italy." — Sean Smith, via email.
"My name is Jerry and I am also an Italian-American San Diegan in search of good Italian food. Thank you for your list of 7. And have you tried these two? a.) Volare (Midway District) b.) Mama Cella's (Rancho Bernardo). These two might not be Italy-Italian, but they are two good Italian-American places that deserve you attention. Thank you!" — Jerry Puorro, via email.
"Just completed reading your article. I don't disagree. I love Franco (Francesco basile, chef/owner of Antica Trattoria), I was there within the first month of Franco and Pietro opening Antica Trattoria. In early 2000s, when working in Italy, I was even able to visit with Franco's family in Sicily over a weekend, what roots. I sit at the bar routinely to this day and eat frittura mista, just this past Tuesday lunch, in fact. I think the list is missing one of my very favorite Italian restaurants, Baci's in Bay Park, and I would be amiss if I didn't mention it, since I frequent San Diego's Italian restaurants often. I would have at least thought it deserved an honorable mention in your article in the neighborhood portion. I love the old-world product, servers dressed appropriately, comfortable setting, and Mimo is truly one of the very best Italian chef's in San Diego. His mother used to make the cannoli in her backyard for Antica no less." — Rustin Brown, via email. (Note: Three other readers recommended Baci Ristorante.)
"I love reading your reviews and couldn't resist sending you two of my favorite Italian recommendations. First, Jack & Giulio's in Old Town. The Scampi alla Giulio is fantastic and the Tortellini Verde is one of our favorites. Then we have Jay's Gourmet in Carlsbad. The Linguine with Fresh Clams in White Sauce is superb as is the Chicken Marco Polo. That said, having been to Italy, I agree that we could use more choices of excellent dishes featuring few but superior ingredients. Bon appetit! — Karen Wirrig, via email.
" … I don't ever comment on food or restaurants ... but I have my favorite bars and restaurants all over town. Just read your article online, and I beg to differ. I'm no expert on Italian food (you might notice from my name that I'm Austrian descent) but frankly, I can't believe you missed on Solare. Chef Accursio from Sicily literally won the top pasta chef in THE WORLD, put on recently in Italy by Barilla pasta. They might know something about pasta. One of 20 chefs invited to Italy to compete. His winning dish, Seafood Pasta Carbonara was offered by Solare after he won for a two-day special period. My wife and I got to enjoy it, and I can assure you, flat out the finest pasta dish of my life. … No, I don't have any financial interest in the restaurant. — Wayne Raffesberger, via email. (Note: One other reader recommended Solare, at Liberty Station.)
"Have you ever tried Lido's in Lemon Grove? ... Marinara & meat sauces delicious. Many regular customers. I ate their wonderful pizza when I was in high school. As a senior, continue to appreciate them & many other items. — Geri Miller, via email.
Also recommended by readers via email, sandiegouniontribune.com and Twitter: Old Trieste (Morena Boulevard), recommended by two readers; Vigilucci's (multiple locations); Fresco (Bonsall); Osteria Panevino (Gaslamp); Villa Capri (Poway); Cicciotti's Trattoria (Cardiff, also located in Carlsbad); Osteria Romantica (La Jolla); Bencotto (Little Italy); Pomodoro (Point Loma); Rosanna's (Encinitas); Pummarò (Point Loma)..
* A note on my original list of 7: I should have added a caveat to my enthusiastic endorsement of Monzù Fresh Pasta. The East Village restaurant/retail shop may have excellent food but the customer service can be unreliable. It's nearly impossible to reach by phone and its hours can be spotty. A reader told me he had made several unsuccessful attempts to contact them and eat there. So I'll add an asterisk to my listing of Monzù — it's delicious but until the customer service is more reliable, you might want to have a Plan B. (B for Biga, not far away and also on my list, perhaps?)
michele.parente@sduniontribune.com
Twitter: @sdeditgirl
Sign up for the Pacific Insider newsletter
You may occasionally receive promotional content from the Pacific San Diego.