Little Italy's new Nolita Hall aims to be World Cup central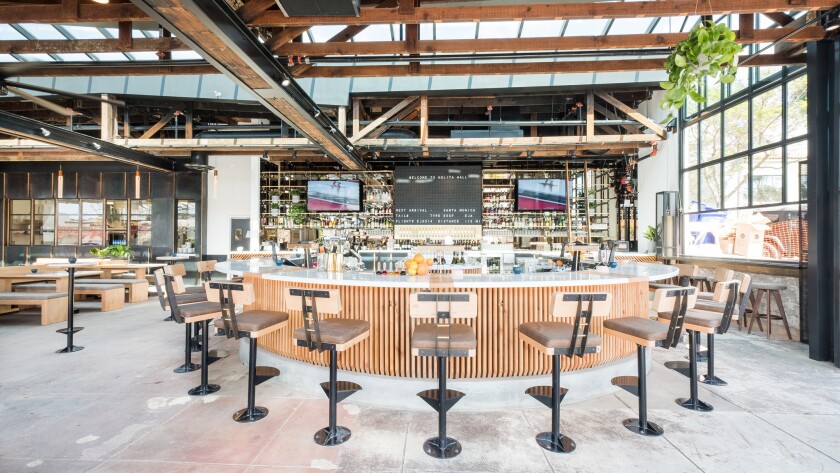 For those with a passion for FIFA World Cup soccer, a new European-style beer hall in Little Italy hopes to become their neighborhood hangout this summer.
Nolita Hall — so named for its location in North Little Italy at 2305 India St. — will kick off the season by opening its doors at 7:45 a.m. Thursday for the kickoff game between Russia and Saudi Arabia.
The 6,000-square-foot glass-walled venue, which opened May 1, specializes in serving local craft beers and wood-fired pizzas in a communal setting with table and floor games, X-box FIFA soccer tournaments and sports-viewing on two 165-inch high-definition projector screens.
Nolita Hall is the first project of Black Swan Hospitality, a design-forward restaurant company co-founded by president Douglas Hamm, operations manager Tony Viveros and investment partner Behram Baxter.
The exterior of Nolita Hall, a European-style beer hall located at the northeast corner of India and Juniper streets in North Little Italy. It hopes to become a central viewing spot for FIFA World Cup 2018 soccer.
(Heartwork Hill)
The northeast corner of India and Juniper streets was once home to a strip of shuttered, nondescript shops. It's now home to Nolita Hall, a European-style beer hall and restaurant.
(Douglas Hamm)
The new Little Italy beer hall and restaurant Nolita Hall was built from the shell of a strip of six shops that were gutted and the adjoining and some exterior walls were removed along with portions of the roof.
(Douglas Hamm)
The executive team at Nolita Hall during its final days of construction, from left, Tony Viveros, Nathan Coulon, AJ Manente, Douglas Hamm, David Gonzalez and Jordan Herigstad.
(Douglas Hamm)
Douglas Hamm and his wife, Lara, inside Nolita Hall in Little Italy, which opened on May 1.
(Douglas Hamm)
The interior of newly opened Euro-style beer hall Nolita Hall has an open, industrial chic vibe with exposed wood beams from the original building it replaced.
(Heartwork Hill)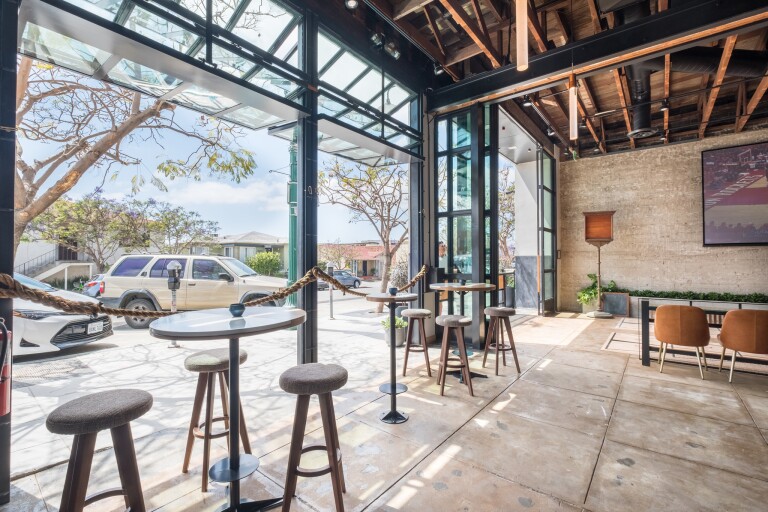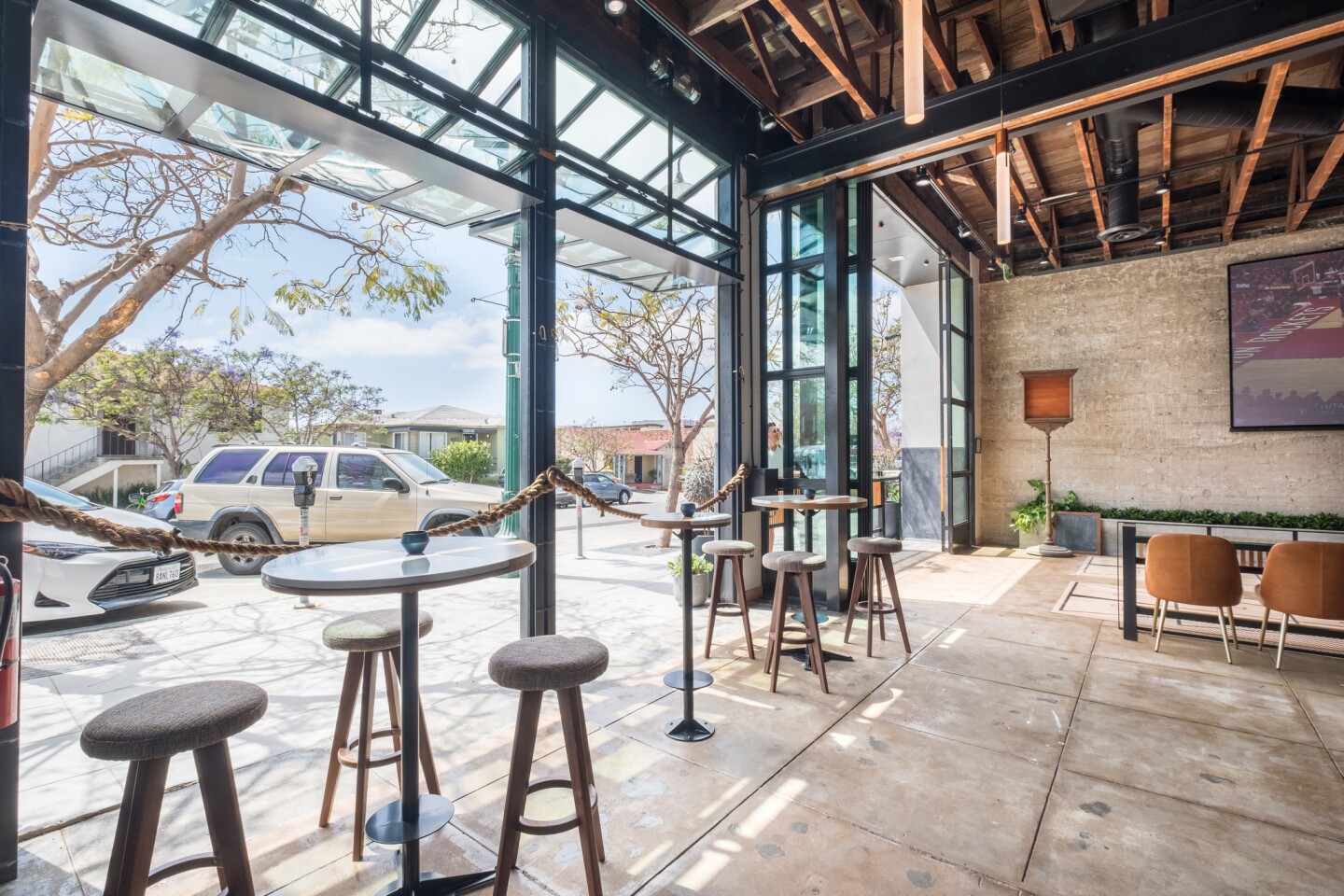 Garage-style glass door walls open up to India Street at Nolita Hall, which opened May 1 in Little Italy.
(Heartwork Hill)
Nolita Hall, which opened May 1 in Little Italy, is a European-style elevated beer hall with communal tables seating 200.
(Heartwork Hill)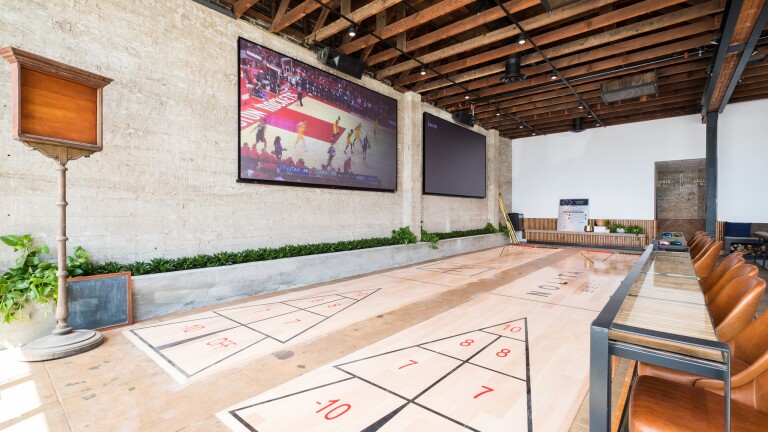 FIFA World Cup fans will be able to watch games on two 165-inch high-definition projector screens near the shuffleboard courts at Nolita Hall, which opened May 1 in North Little Italy.
(Heartwork Hill)
A fireplace seating area for game viewing is featured at Nolita Hall, a European-style beer hall/restaurant that opened May 1 in Little Italy.
(Heartwork Hill)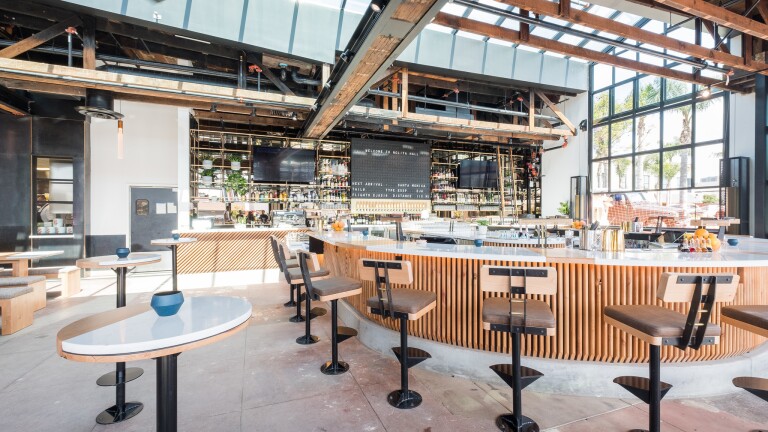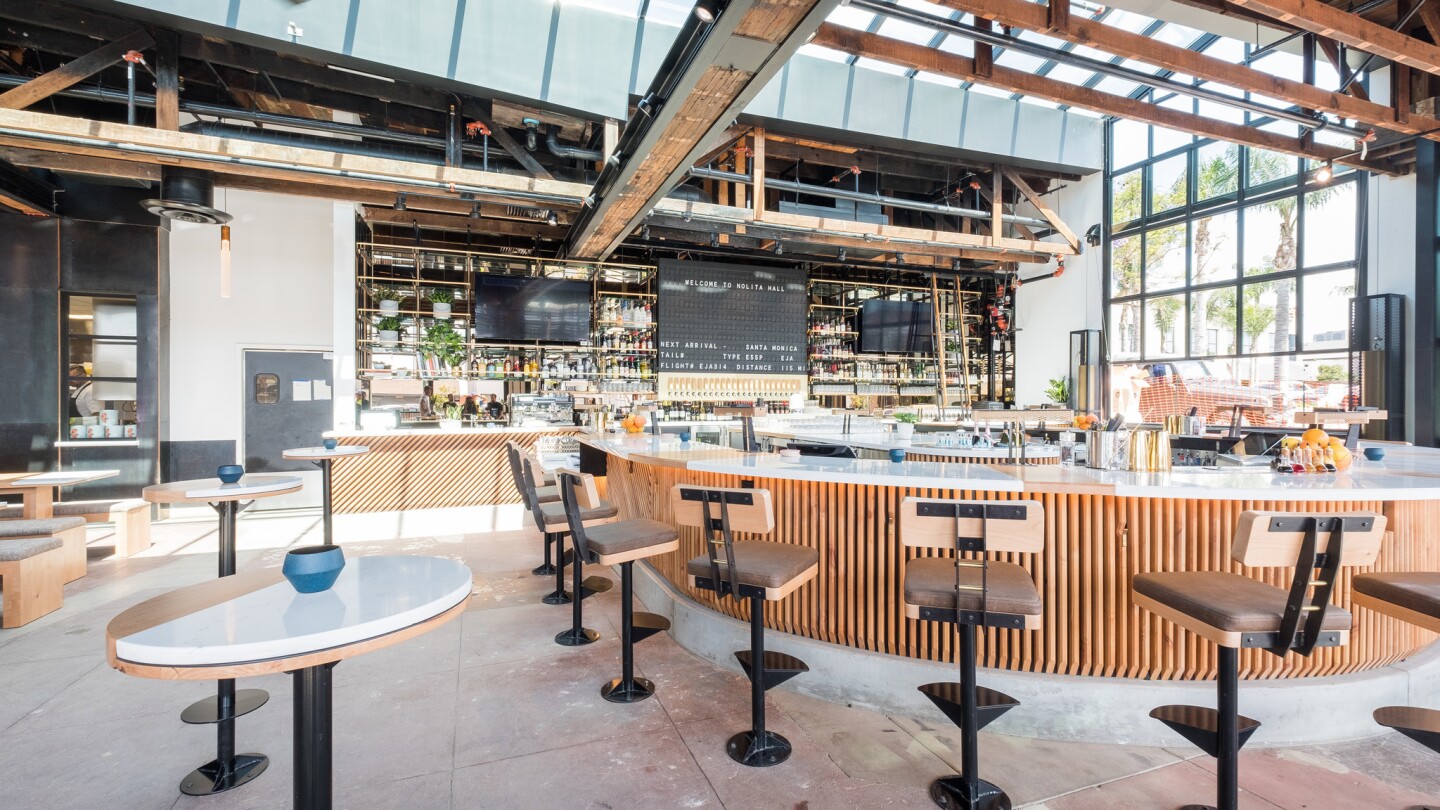 The bar area at Nolita Hall, a Euro-style beer hall that opened May 1 in Little Italy, features a 10-by-60 skylight where guests can watch planes soaring overhead and read their flight arrival information on a custom-made split-flap display sign behind the bar.
(Heartwork Hill)
Creative House designed Nolita Hall for its sister company Black Swan Hospitality. Its founders' goal is to created unexpectedly beautiful building designs.
(Heartwork Hill)
The creators of Nolita Hall build their 6,000-square-foot beer hall and restaurant in the gutted remains of a strip of long-shuttered old shops.
(Heartwork Hill)
Hamm said the goal of Black Swan — which is now at work on its second project, the $6.5 million Cedar Park restaurant/bar project eight blocks south — is to create unexpectedly designed projects "that are beautiful and treat people well."
Hamm, 34, came into the hospitality business by way of being a real estate developer. He arrived in the region from Minnesota to study finance and philosophy at the University of San Diego and never returned to the Midwest.
Hamm's company, Creative House, has invested in and redesigned numerous local office, hotel, restaurant and commercial properties.
The Nolita Hall space started out as just another project Hamm and his partners planned to revamp and lease, but along the way, they decided to open a business there themselves.
Designed by Tecture, Nolita Hall was built on the northeast corner of India and Juniper streets where there was once a nondescript strip of old shops. They gutted the building, tore out the walls and discovered old wood ceiling beams they kept exposed for an added industrial chic look.
Its design aesthetic is that of the popular beer halls in Germany, with the long communal tables and high ceilings. There's also a large bar area managed by Brian Prugalidad with 22 mostly local beers and two wines on tap and a selection of 13 craft cocktails.
Nolita Hall is under the flight path for aircraft landing at nearby Lindbergh Field. But rather than fight the jet engine noise, they've embraced it with slide-up garage door walls and a 10-by-60-foot skylight through which customers can watch approaching planes. There's even a custom-made train station-style split-flap display sign that's programmed to roll up the flight information for each incoming plane.
The menu is overseen by Black Swan culinary director Nathan Coulon, whose family has deep roots in San Diego's dining scene. Executive chef Jordan Herigstad is gradually expanding the menu which is "Italian-inspired American," with wood-fired pizzas baked in an imported Italian brick oven, charcuterie boards, entree salads and a light brunch menu being rolled out in time for World Cup season.
Specialties include the $16 Zest of Amalfi pizza, with organic tomato sauce, broccolini, Calabrian chili, calabrese, mozzarella, lemon zest and Reggiano cheese; the $14 Y Tu Brute salad, with romaine and kale leaves, oven-roasted tomato and fennel, Parmesan bread crumbs, white anchovy and Caesar dressing; and roasted snap peas and baby heirloom carrots tossed in pistachio mint pesto.
Nolita Hall seats 200 with a full capacity of 300, which is what Hamm hopes to see after World Cup matches kick off Thursday. On match days, the doors will open at 7:45 a.m. for games that will be live-streamed at 8 and 11 a.m. Taped games will be re-broadcast in the afternoon and evening hours. AJ Manente is the general manager and David Gonzalez is assistant manager of Nolita Hall.
Hamm, a Real Madrid soccer fan himself, lives just a couple blocks away from Nolita Hall. He said he's been gratified by how well the business has quickly established a neighborhood following.
"I really like sports, but there's an unusual lack of quality venues in Little Italy to watch games," he said. "This isn't a place with 100 TVs in your face. We only have five, but you can get a great view of the games if you want one or you can just choose to enjoy the beauty of the building and the community of friends around you."
Nolita Hall
Regular hours: 11:30 a.m.-midnight weekdays; 11 a.m. to midnight weekends. On FIFA World Cup game days, doors open at 7:45 a.m.
Where: 2305 India St., Little Italy
Phone: (619) 255-8000
Online: nolitahall.com
pam.kragen@sduniontribune.com. Twitter: @pamkragen
---
Sign up for the Pacific Insider newsletter
PACIFIC magazine delivers the latest restaurant and bar openings, festivals and top concerts, every Tuesday.
You may occasionally receive promotional content from the Pacific San Diego.