At insideOUT, Hillcrest's newest restaurant, just the right mix of elevated style and flavor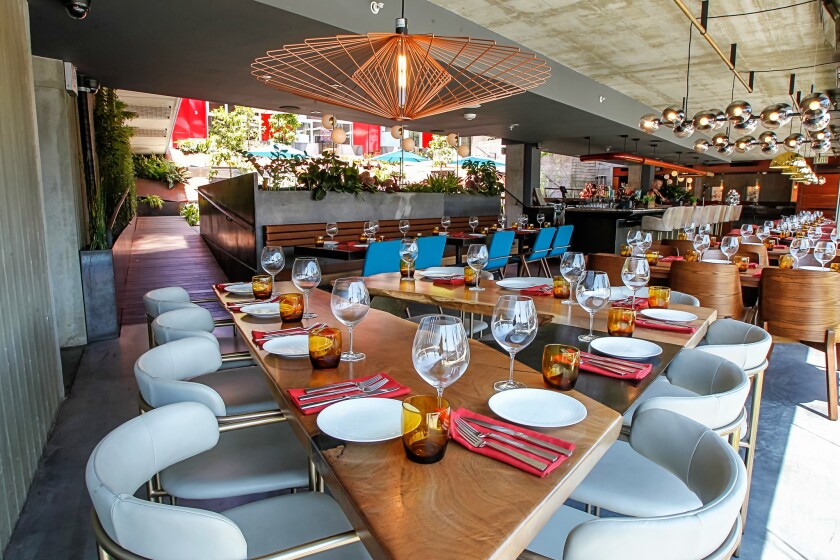 Owning and running one restaurant is difficult enough, so the fact that Matthew Ramon was mulling over a fifth one made him wonder: Is he crazy?
"A fifth one?" chuckled Ramon, whose Mo's Universe group already owns four other restaurants, all in Hillcrest: Urban Mo's, Baja Betty's, Gossip Grill and Hillcrest Brewing Company.
But three years ago, San Diego architect-developer Mike Burnett approached Ramon and his partners with a proposal. He and his firm, the FoundationForForm studio, were developing a new mixed-use building on the eastern end of University Avenue, and he wanted Mo's Universe to join the project. Burnett had a couple of ideas, but otherwise, it would be Ramon's show.
Ramon has seen Hillcrest through its ups and its downs. This new opportunity was something he just couldn't pass up.
"Mo's Universe has been working with the community for 27 years," Ramon said. "We grew up with the community, and we kind of helped develop the community, too. There was something about this project that just felt right."
So he was all in. And from the beginning, he knew what he wanted.
"It was more about what is not in Hillcrest and what the community would love to have," he said on a recent Friday afternoon. "There are so many great restaurants in Hillcrest, but we needed something that was different, something that had that 'wow' factor on all levels — food, drinks, space and overall experience. I wanted something elevated. It was just one of those things that was instinctual.
"You kind of know what you want, what you think the community needs, and then you go for it and cross your fingers."
Pushing the envelope
Fast forward to April 2018. Three years after the 29-unit Eitol Towers broke ground, Ramon and his partners were ready to introduce Hillcrest to their newest and most ambitious project yet. Called insideOUT, it's a lounge and a restaurant, much like the other establishments in the Mo's Universe portfolio. But this one, as Ramon envisioned it, was different.
Stylish but not stuffy, chic but not shabby, the restaurant occupies the ground floor of Eitol Towers, a collection of 13 candy apple-red, four-story buildings on the 1600 block of University Avenue, just west of Park Boulevard. The restaurant space is sleek and modern, elegantly appointed with shiny fixtures, stylish chairs and custom-made wooden and concrete tables handcrafted by local artist Sven Hasselberg.
The main dining area, its walls and ceilings made of unsealed concrete, sits next to floor-to-ceiling glass windows looking out at a bustling University Avenue. The space opens up to an atrium, which has a striking water feature and ample seating across a terraced area. In between the main dining area and the atrium sits a bar with one of Ramon's favorite features, a massive bar top made of stone imported from Brazil.
"We wanted it to … have that feeling of the outdoors and something earthy," said Ramon, co-owner of Mo's Universe and main owner of insideOUT. "That bar top had that, and we wanted to continue that throughout."
While Ramon worked closely with his partners and the design team — FoundationForForm's Craig Abenilla and Jeffrey Umphres — on executing the concept for the space, he relied on one person for the most important piece of this equation: the food.
That's where chef Maryjo "MJ" Testa came in. Already known around town for her culinary skills — she once co-owned the fast casual Salad Style, worked as sauté chef at Laurel and was chef at Caffè Calabria — Testa had just come back from a sabbatical in Italy and was ready for something new. She's known Ramon for decades — they go back to the early days of Hamburger Mary's, a popular Hillcrest hangout that once occupied the space where Urban Mo's is now located at the other end of University.
"We go back about 30 years. I started there with them as a server," Testa said, recalling her stint with what would become the Mo's Universe empire. "We were kids. I was 23 or 24 years old and same with (Matthew). The three of us, including Stefan (Chicote) over at Baja Betty's, we all served together, but I went off and did my own thing."
In 2009, after working in Italy, Testa was approached by Ramon and his partners: "They asked me to open up Gossip Grill. They needed somebody to design the menu and do the back of the house and do all that. So I did that for them."
When an opportunity came up to work abroad — in Italy once again — Testa left. But in 2015, Ramon had another proposal. He was working on a new restaurant, something completely different from all the others in the Mo's restaurant collection. And he wanted Testa back.
"I was ready for something different," she said. "Something where I could experiment and push the envelope."
A risk-taker, she knew what Ramon put on the table was an opportunity she couldn't refuse.
Opportunities for creativity
Testa saw the concept for the new building and the new restaurant. It was bold. It was different. And it was right up her alley.
"That's why I did what I did," Testa said while referring to the menu, a conglomeration of mostly Mediterranean flavors. "That is why I had to bring it up three notches. My competition, more than anything, was the environment. I had to make sure this food is really different because this place is really different. And I wanted our guests, when they leave, to realize they just experienced something they've never experienced in San Diego before."
Testa loves all things Mediterranean — a mixture of flavors from Spain, France, Greece, Italy and Morocco — "and I feel very comfortable with cooking that kind of cuisine, and being a native Californian, I thought that the California and Mediterranean cuisines had so many similarities in a lot of ways … the vibe, the weather, the people. I thought my knowledge with both experiences and both places was a good connection. It all meshes well together.
"You have a nice chunk of really interesting flavors that present a lot of versatility. You're not glued to one cuisine, so there's a variety there. That's one of the reasons I'm so drawn to Mediterranean cooking — it opens up a lot more opportunities for creativity and fun flavors."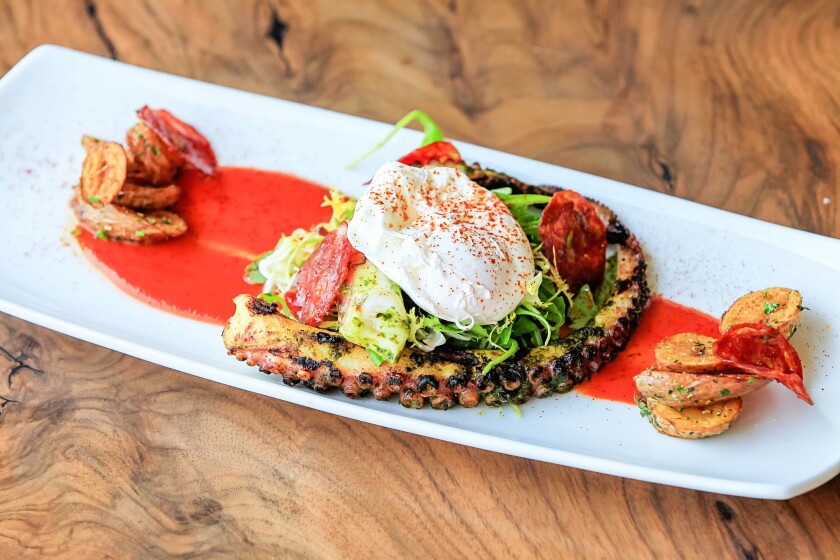 And indeed, the menu reflects Testa's creative approach to dishes. The Moroccan-spiced chicken, served with grilled eggplant and couscous, comes to the table in a tagine, accompanied by garlic hummus, habañero sauce and fig chutney. The grilled Spanish octopus — by far insideOUT's most popular appetizer and Testa's favorite — is a mix of smoke and heat, served with warm fingerling potatoes, thin slices of Spanish chorizo and arbol chili sauce, all topped with a soft poached egg.
"I was at Matty's house," Testa recalled, "and we were kind of playing with some dishes, and (the octopus) was the first one I put together, and he's like, 'winner!' This dish is very Spanish — the octopus is from Spain — so I stuck with that theme. I was trying to achieve the flavors of Spain.
"The dish has been popular, and I can't take it off the menu if my life depended on it," she said, laughing.
To keep things simple in the kitchen — and to keep her sanity, she jokingly added — Testa only uses ingredients that are local or easily accessible. She uses local suppliers like Specialty Produce, Catalina Offshore Products and Central Meat & Provision.
One of her dishes — the seafood entree served in a paella dish — uses a short vermicelli-like pasta known as fideo, "but none of my purveyors carried the fideo pasta. I go down to City Heights and see they have it cheaper than anywhere I can get it. So I was buying it from Amazon at first, (but) now I just go down to a supermarket in City Heights and grab a bunch." The dish — Fideo Rosa on the menu — is served with seared shrimp, Spanish chorizo, chicken simmered in a sofrito sauce, and then finished with housemade lemon aioli.
"I want to keep it local," said Testa, who besides being insideOUT chef also is co-owner with Ramon, general manager Paris Quion, Moe Girton (Gossip Grill), Chris Shaw (Urban Mo's), Chicote (Baja Betty's) and Burnett (FoundationForForm). "I want to make sure the ingredients are all within reach. I don't want to worry about it too much. If I can't get it on a regular basis, I'm not going to stress myself out."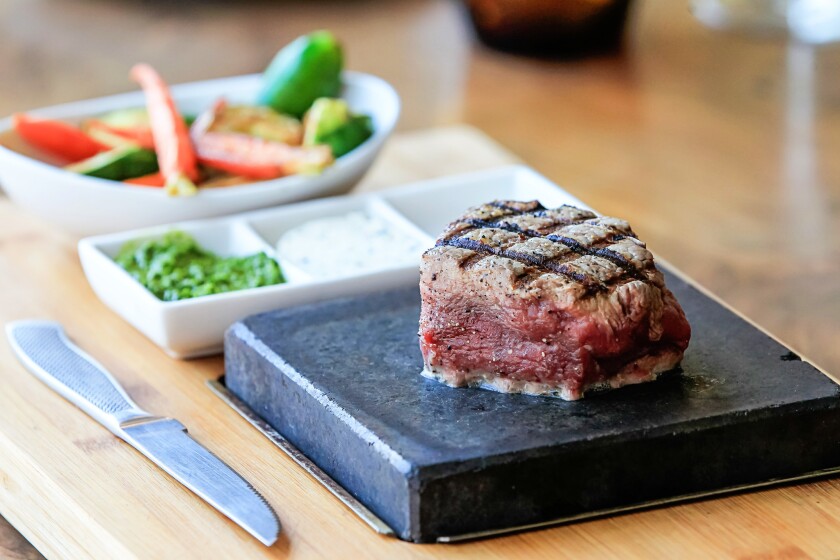 There is one thing in the kitchen that's not quite local, but Testa's just fine with that. Right at the bottom of the dinner menu, there's an 8-ounce aged Angus filet mignon. It's served rare on a hot stone from Australia. Heated to 450 degrees — there's a special oven to get the stone to that high temperature — the stone allows the diner to cook the steak to his or her liking. It comes to the table very simple: steak on a stone, accompanied by salt and butter. For $3, choose from a roster of sauces that includes creamy horseradish, chimichurri, habañero and a housemade steak sauce.
"It was mostly on the East Coast and starting to move west," Testa said. "We are the only restaurant in this area that uses it."
Something different
It's been a little over four months since insideOUT opened, and Ramon couldn't be happier.
"The reaction's been very positive," he said on a recent blazing-hot afternoon, just minutes before the happy hour crowd descended upon the restaurant for ice-cold cocktails.
If he had to do it all over again, he wouldn't change a thing.
"We opened this a different way from the other restaurants," he said. "We didn't do a grand opening. … We did word of mouth, and we opened it via social media. I didn't want to overwhelm the kitchen and the staff. I wanted to make sure what we produced was on an elevated level, and I didn't want anybody on staff to be so overwhelmed that we couldn't give that experience to our guests. That was very important.
"I was very excited to showcase something different for the community," Ramon said. "This is what I've been thinking of for 27 years and something I've wanted to do. I want people to walk away feeling good not just about the space, but the service, the food, the drinks. We want to give something great, something unexpected to a community that has given us so much."
insideOUT
Address: 1642 University Ave., Suite 100, Hillcrest
Phone: (619) 888-8623
Online: insideoutsd.com
Let's talk about the restrooms
When San Diego architect-developer Mike Burnett approached Matthew Ramon about coming up with a concept for a new restaurant inside Eitol Towers, Burnett pretty much gave Ramon carte blanche — except for the restrooms. Burnett had something in mind. Let's just say the restrooms at insideOUT might be in competition with the Ryan Gosling-themed restroom at downtown's Bang Bang as San Diego's most Instagram-able lavatory. In one of the restrooms, urinals face the street, separated from the outside by floor-to-ceiling glass windows. One Instagram user said: "New bathroom experience, but I did get a thumbs up by a group of passer-bys."
Twitter: @outdoorlivingsd
---
Sign up for the Pacific Insider newsletter
PACIFIC magazine delivers the latest restaurant and bar openings, festivals and top concerts, every Tuesday.
You may occasionally receive promotional content from the Pacific San Diego.