It's National Ice Cream Day. Here are 22 San Diego ice cream shops to check out
July is National Ice Cream Month and Sunday, July 15, is National Ice Cream Day, so we've picked some of our favorite scoops around San Diego to celebrate the occasion. For this roundup, we excluded gelato shops. We're saving those for another tasting soon.
Angels & Hearts: Harajuku Crêperie, Kearny Mesa
Convoy Street is the current center of the creative ice cream universe, with ICMonster and Bing Haus (rolled ice cream), -21˚ Snowflake and Sul & Beans (shave ice), Somi Somi (Korean/Japanese mash-up) and Cauldron Ice Cream (molecular gastronomic frozen rosebuds). Leading the ice pack is Angels & Hearts: Harajuku Crêperie, an Insta-cute side shop to Junya Watanabe's RakiRaki Ramen. Angels & Hearts specializes in two things: rolled crêpes and intensely flavored soft serve. The matcha ice cream is the mic drop of green tea treats — other versions around town pale in comparison. But it's the audaciously delicious taro caramel charcoal soft serve may give Angels & Hearts Convoy's creative crown 4646 Convoy St., Kearny Mesa. (858) 573-2400.
Baked Bear, multiple locations
Founded in Pacific Beach by San Diego pals Rob Robbins and Shane Stanger, this gourmet ice cream sandwich chain now has nearly two dozen stores in 10 states. Diners can choose from more than a dozen ice cream flavors made with all natural ingredients. They're sandwiched between either fresh-baked cookies, brownies or doughnuts, plus toppings, then warmed up in a hot press. 4516 Mission Blvd, Suite C, Pacific Beach. 11640 Carmel Mountain Road, Suite 120, Carmel Mountain Ranch. 7610 Via Campanile, Suite 142, Carlsbad. Petco Park, 1 Park Blvd., downtown. thebakedbear.com
Bing Haus, Kearny Mesa
Nancy Chi's Asian dessert, tea and coffee shop sells Thai-style rolled ice cream, which is made by pouring the liquid ice cream base on a frozen steel plate, mixing in ingredients, and then curling up the frozen cream with a metal spatula. Flavors include green tea, black sesame, Thai tea and banana. 4425 Convoy St., Suite 216, Kearny Mesa. A second location is planned in the Windmill Food Hall, opening this August in Carlsbad. (858) 276 - 9479. binghaus.com
Cali Cream Homemade Ice Cream, Gaslamp Quarter
This new scoop shop opening later this month has great potential. Cali Cream is the second ice cream concept opened by Ken Schulenburg and Juliana Ortiz, who opened Handel's Ice Cream in Encinitas last year. The North County store serves only Handel's brand recipes from Ohio. Cali Cream sells a whopping 70 flavors dreamed up exclusively by Schulenburg and Ortiz, like lavender honeycomb and root beer float. 425 Market St., Gaslamp Quarter. (619) 450-4078. facebook.com/calicream
Cauldron Ice Cream, Kearny Mesa
This Orange County-born ice cream company makes unusual fast-frozen flavors with liquid nitrogen like Earl Gray lavender, Vietnamese coffee and Milk & Cereal. It's known best for how it presents its small-batch frozen treats. Scoops can be hand-shaped into the form of a rose blossom and served in fresh-baked red-hued egg waffle cones known as "puffles." Be prepared for long lines in the evenings. 4646 Convoy St., Kearny Mesa. cauldronicecream.com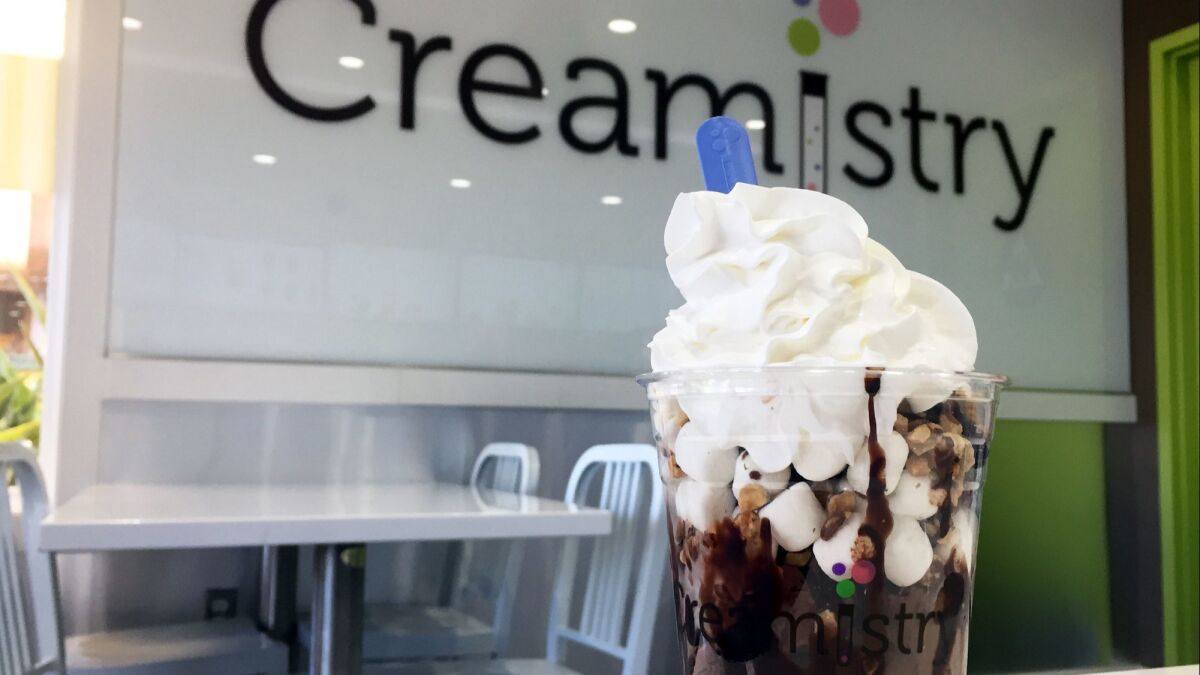 Creamistry, multiple locations
Best to come prepared with your order to a Creamistry shop, where customers have virtually hundreds of choices for made-to-order scoops. Choose from four bases — premium, super premium, sorbet or non-dairy — then select from more than 30 flavors and another 30 or so mix-ins, all stirred together under a jet of -321-degree liquid nitrogen, which quick-freezes the mix into a very dense and delicious ice cream. 731 W. San Marcos Blvd., Suite 120, San Marcos. 7825 Highlands Village Place, Suite E104, Carmel Valley. 7420 Clairemont Mesa Blvd., Suite 108, Kearny Mesa. 2220 E. Plaza Blvd., Suite S, National City. creamistry.com
Erlinda's Filipino Cuisine and Ice Cream Parlor, National City
If you're Filipino or familiar with Filipino desserts, then you know all about Magnolia Ice Cream. Magnolia is the premier dairy brand in the Philippines, established in 1925. Its line of ice cream boasts bold and unique flavors, everything from avocado to coconut to ube. Ube is the ubiquitous purple ice cream, found in many Filipino establishments in the form of pastries and desserts. It's made from purple yam, and it's deliciously creamy. Erlinda's Filipino Cuisine and Ice Cream Parlor, 3400 E. Eighth St., National City. (619) 470-6993. erlindas.com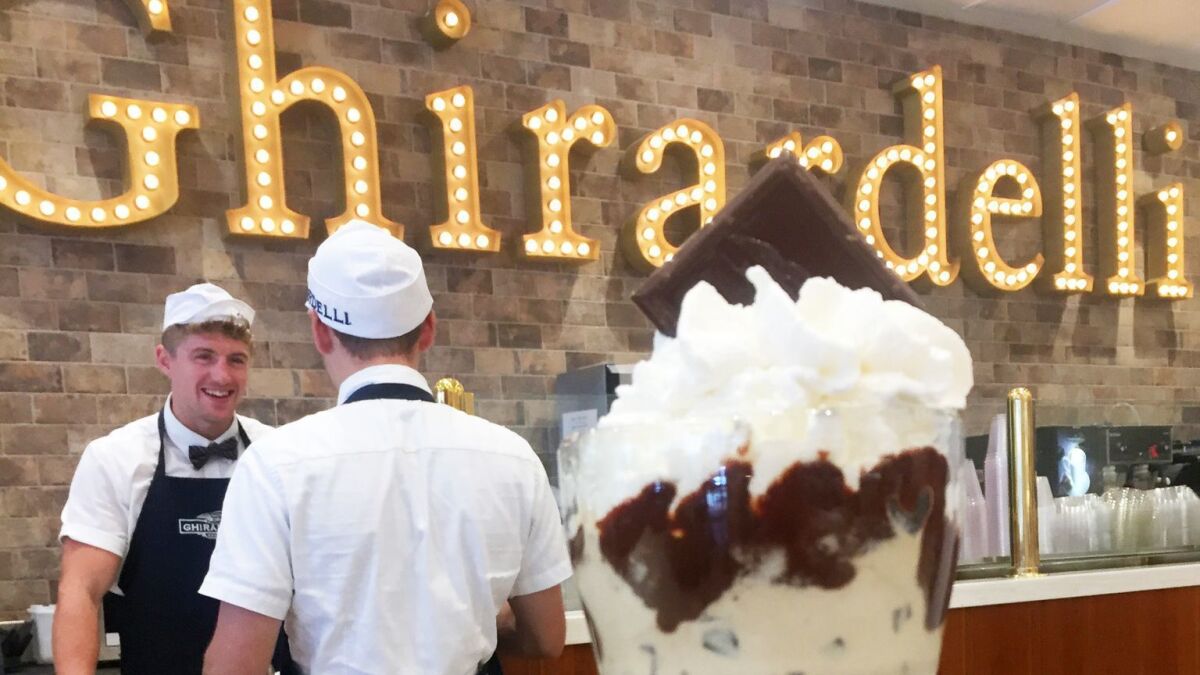 Ghirardelli Soda Fountain & Chocolate Shop, Gaslamp Quarter
If you're a fan of this Gaslamp Quarter dessert shop, there's even more now to love. After a brief remodel, the sweets parlor reopened June 15 with expanded retail space and a new streetside patio. Ice cream sundaes are the main attraction here, with choice of 13 ultra-creamy ice creams, including Cookies 'n' Cream, Ghirardelli chocolate and espresso chip, topped with house-made hot fudge (milk chocolate and dark chocolate varieties are available) and caramel sauces and fresh-whipped cream. 643 Fifth Ave., Gaslamp Quarter. (619) 234-2449. ghirardelli.com/StoreLocations-SanDiego
Hammond's Gourmet Ice Cream, multiple locations
Over the past four years, this North Park-born gourmet ice cream shop has added two more locations and developed more than 300 flavors. With so many choices, many Hammond's diners opt for the ice cream flight of six mini-cones of flavors like ginger cream, honey lavender and peanut butter guava. 3077 University Ave., North Park. 1418 Garnet Ave., Pacific Beach. 3740 Sports Arena Blvd., Suite 6, Point Loma. hammondsgourmet.com
Handel's Homemade Ice Cream, Encinitas
Long lines form outside this 2-year-old shop owned by Ken Schulenburg and Juliana Ortiz, who make up to 50 varieties of ice cream in small batches each day. The recipes come from the original Handel's, started in 1942 in Youngstown, Ohio. Top-sellers are Graham Central Station (graham cracker-flavored ice cream with graham ripple and chocolate covered honeycomb crunch), Oree Dough (chocolate chip cookie dough ice cream with large chunks of Oreo cookies) and Chocolate Peanut Butter Brownie. 90 N. Coast Highway, Suite 101, Encinitas. (760) 230-6948. facebook.com/handelssd/
ICMonster Cafe, Mira Mesa and Kearny Mesa
This Mira Mesa-born shop recently opened its second location on Convoy. The store specializes in Thai rolled ice cream. Customers choose from 15 ice cream bases that are poured on a frozen steel plate, then scraped up in rolls and served in choice of cup or fresh-baked bubble-pattern egg waffle. Base flavors are a mix of Asian (Thai tea, Viet coffee, matcha, ube, black sesame, red bean) and American (Oreo, Fruity Pebbles and Corn Flakes). Can't decide? There are 15 special sundaes that make choosing easy. 8945 Mira Mesa Blvd., Mira Mesa. 4698 Convoy St., Kearny Mesa. icmonstercafe.com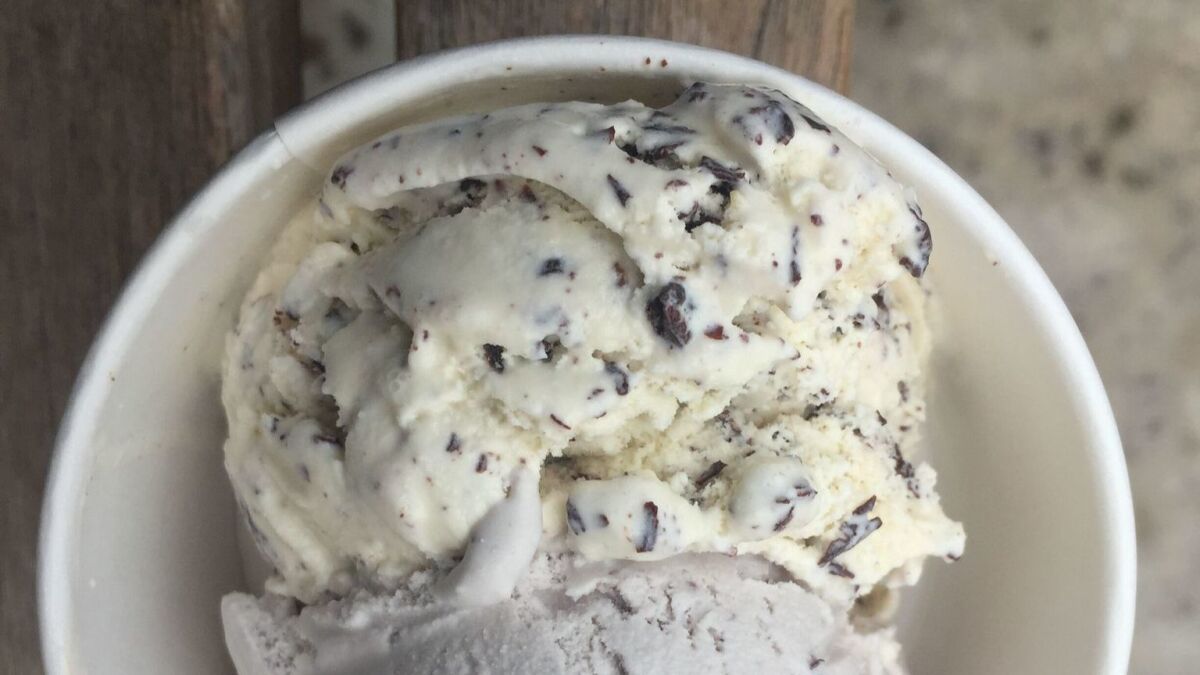 JoJo's Creamery, Encinitas
This artisinal, family-owned shop opened last year the Lumberyard shopping center. The shop makes super-premium ice creams with organic cream from Straus Family Creamery, gourmet ingredients and no artificial colors or additives. Top-sellers are the Madagascar vanilla bean, Coconut Mounds with bittersweet chocolate and unsweetened coconut and the unusual but delicious honey lavender. Vegans swear by the dairy-free peanut butter cup and chocolate cookie monster varieties. The shop also makes gluten-free waffle cones, four topping sauces and secret-recipe chocolate cookies (a free mini cookie comes with each ice cream order). 937 S. Coast Highway 101, Suite 106, Encinitas. (760) 487-5937. jojoscreamery.com
Lappert's Ice Cream & Coffee Lounge, Poway
Kauai's Lappert family has been making islands-inspired super-premium ice creams for nearly 40 years. At this scoop shop owned by a member of the Hawaiian family, there are a couple dozen islands-inspired flavors, but skip them all for the decadent Kauai Pie, a mix of Kona coffee ice cream swirled with chocolate fudge, coconut flakes, macadamia nuts and vanilla cake crunch.12265 Scripps Poway Parkway, Poway. (858) 577-0015. lapperts.com
Lighthouse Ice Cream & Yogurt, Ocean Beach
Longtime Ocean Beach resident Carol Ladiges opened this shop in 1997 with her late husband, Dick. The shop is known for its ice cream sandwiches made with fresh-baked waffles. It sells two super-premium ice cream brands, Cascade from Oregon and Double Rainbow from San Francisco. 5059 Newport Ave., Ocean Beach. (619) 222-8600. lighthouseicecreamob.com
Mariposa Ice Cream, Normal Heights
In 2016, Mariposa lost its "ice cream man," 74-year-old Dick Van Ransom, but the beloved made-from-scratch scoop shop carries in the hands of his widow, Anna. The shop is known for its large variety of flavors and homemade hot fudge. Try the Mexican chocolate, coconut or banana walnut flavors. 3450 Adams Ave., Normal Heights. (619) 284-5197. mariposaicecream.com
MooTime Creamery, Coronado
A Coronado institution since 1998, MooTime makes more than 50 flavors of super-premium ice cream served in fresh-baked waffle cones. Customers can also make their own flavor with a vanilla base and mix-ins of fruit, nuts, cookies, candies and fudge. Two locations: 1025 Orange Ave. and the Hotel del Coronado, 1500 Orange Ave., Coronado. (619) 435-6611. mootime.com
Niederfrank's Ice Cream, National City
Tucked away next to a sewing machine repair shop on quaint A Avenue in National City is Niederfrank's Ice Cream, established by Elmer Niederfrank in 1948. Since 1995 the parlor has been owned by Patti Finnegan and Mary Ellen Faught and still churns out all of its own all-natural ice cream. Popular flavors include pistachio and, believe it or not, vanilla. But try butter rum pecan and coffee almond fudge. You'll thank us. Niederfrank's Ice Cream, 726 A Ave.,National City. (619) 477-0828. niederfranksicecreams.com
Neveria Tocumbo, Chollas View
This neveria — ice cream parlor — on Market Street is the original location of this family-owned operation, with the latest additions on Main Street in Barrio Logan and Third Avenue in Chula Vista. Established in 2004, Tocumbo produces all-natural, handmade ice cream. The menu has everything from strawberry and chocolate to corn, rose and mango ice cream. The Bubulubu ice cream is a quadfecta of flavors: rich, creamy ice cream with a chewy threesome made of strawberry jelly, marshmallow and chocolate. Every bite is sumptuous. 4686 Market St., Chollas View. 1900 Main St., Barrio Logan. 1172 Third Ave., Chula Vista. tocumboicecream.com
Oasis Ice Cream, Imperial Beach
Founded in 1978 by the late Juan Andrade, this shop is still run by his family with the same devotion to churning out made-from-scratch Mexican-style ice creams with fresh fruit. Popular flavors include watermelon, cantaloupe, rice, lime and tamarindo. 1832 Coronado Ave., Imperial Beach. (619) 429-8980. oasisicecreamsd.wixsite.com
Peppertree Frosty, Vista
Since 1953, this no-frills Vista institution has been serving up soft-serve with a smile. Nostalgia is the best ingredient in the butterscotch malt, a super-size treat with vanilla ice cream, rich butterscotch syrup and a mild malt flavor. Also, consider the Boston shake — a milk shake with a sundae on top. 270 S. Santa Fe Ave., Vista. (760) 726-0732. peppertreefrosty.com
Salt & Straw, Little Italy
The Oregon-born super-premium ice cream chain opened its first San Diego store in December (a second will open next year in Carmel Valley). Salt & Straw is known for its ultra-creamy, high-butterfat content, its small-batch freshness and its all-natural ingredients. But most of all, it's known for its wildly original flavors, like bone marrow with bourbon-smoked cherries and green apple with wasabi flower sorbet. Each shop collaborates with local chefs, beer and ingredient-makers and serves 12 regular flavors and five seasonal varieties that change monthly. 1670 India St., Little Italy. (619) 542-9394. saltandstraw.com/sd-locations/
Somi Somi, Kearny Mesa
Asian ice creams treats are all the rage, but this Somi Somi soft-serve dessert is one of the best. Customers start with fish-shaped waffle, made fresh before your eyes. That's lined inside with a dollop of Nutella, custard or red bean paste, then filled with choice of six creamy soft-serve flavors (ube, matcha, black sesame, milk and blends) and topped with all the toppings you want (sprinkles, Oreo crumbs, macaron cookies and more). 4620 Convoy St., Kearny Mesa. (619) 435-2771. somisomi.com
Michele Parente and Michael James Rocha contributed to this report.
pam.kragen@sduniontribune.com. Twitter: @pamkragen
---
Sign up for the Pacific Insider newsletter
PACIFIC magazine delivers the latest restaurant and bar openings, festivals and top concerts, every Tuesday.
You may occasionally receive promotional content from the Pacific San Diego.