Giardino Neighborhood Cucina: A taste of Italy in East County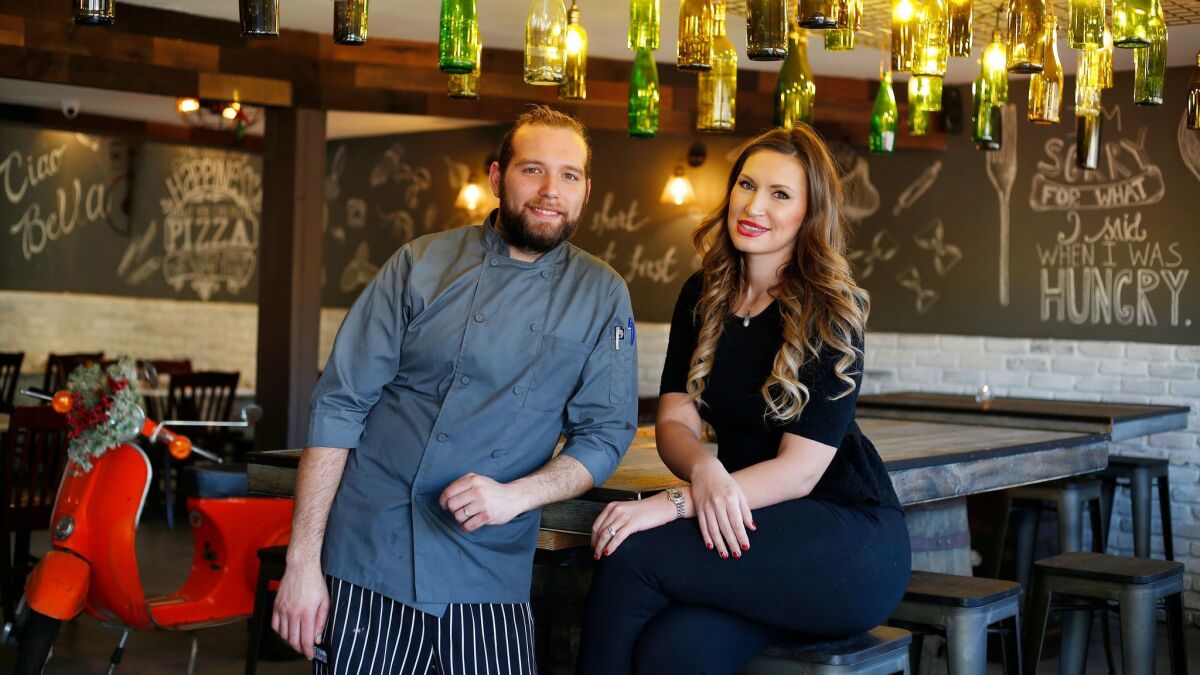 For Karina Kravalis and Marco Provino, love blossomed over a plate of spaghetti di mare.
The seafood dish — a specialty by Provino, a chef — proved to be the key that unlocked Kravalis' heart.
"This is the pasta that when we started dating, Marco was always making for me," she says. "I'm a seafood person. He cooked it for me, and then I invited my girlfriends over, and they were like, 'Oh my god, this is the best pasta in the world. You need to marry this guy.'"
Now, the dish — clams, mussels, baby shrimp, calamari in a spicy marinara and white wine sauce — has a prominent place on the menu at Giardino Neighborhood Cucina, the couple's Italian restaurant in Lemon Grove.
The latest addition to a growing roster of new restaurants in East County — check out the culinary boom in nearby La Mesa — Giardino is slowly gaining popularity in a city that doesn't normally land on dining must-lists, save for Coop's West Texas BBQ on Lemon Grove Avenue.
Open for just over a month, the restaurant's gotten so busy it's had to double its staff to keep up. And Kravalis has found it difficult to manually confirm all reservations made on their website, so next on the agenda is signing up for opentable.com, the online reservation service.
Giardino — garden in Italian — is a labor of love for Kravalis and Provino, who both worked in the Gaslamp Quarter before embarking on their own. She was a general manager at Osetra Seafood and Steaks, and he was a chef at Osetra's sister restaurant, Osteria Panevino. Shortly after getting married in 2015 — they exchanged vows in Sicily, where he's from — they moved to Lemon Grove and wondered why there was a dearth of upscale-casual dining choices — places where good food is served without the fussiness of a fine-dining setting.
"Our dream was to open our own restaurant," Provino says.
"We started looking into it," Kravalis says, "and we were considering a lot of different areas and then we thought, why not open one near our house? Even our neighbors were telling us, 'You guys should just open here.'"
So they did.
Giardino — at 8131 Broadway — is a seven-minute drive from their house and bloomed in what was once a dilapidated space that previously was a Thai restaurant and before that, a longtime Mexican restaurant. Provino found it online in May of this year.
"I walked in and I knew that this was it," Provino says as he looked around at what's now a cheery and casually chic dining space. "I could picture everything in my head."
Soon, the transformation of the dated interior began to take shape. The bulk of the remodel began in July. Burnt-orange brick walls were whitewashed. Drab walls were either painted a trendy shade of gray or covered with bold floral-motif wallpaper. Provino, who's quite handy, built tables out of oak barrels and reclaimed wood purchased from Habitat for Humanity. He fashioned dozens of empty wine bottles into a stylish chandelier over a community table ("I drank the wine, he built the chandelier," Kravalis joked.) Old shelves from the shut-down Cost Plus World Market store downtown became wine racks in a private dining room that seats up to 10.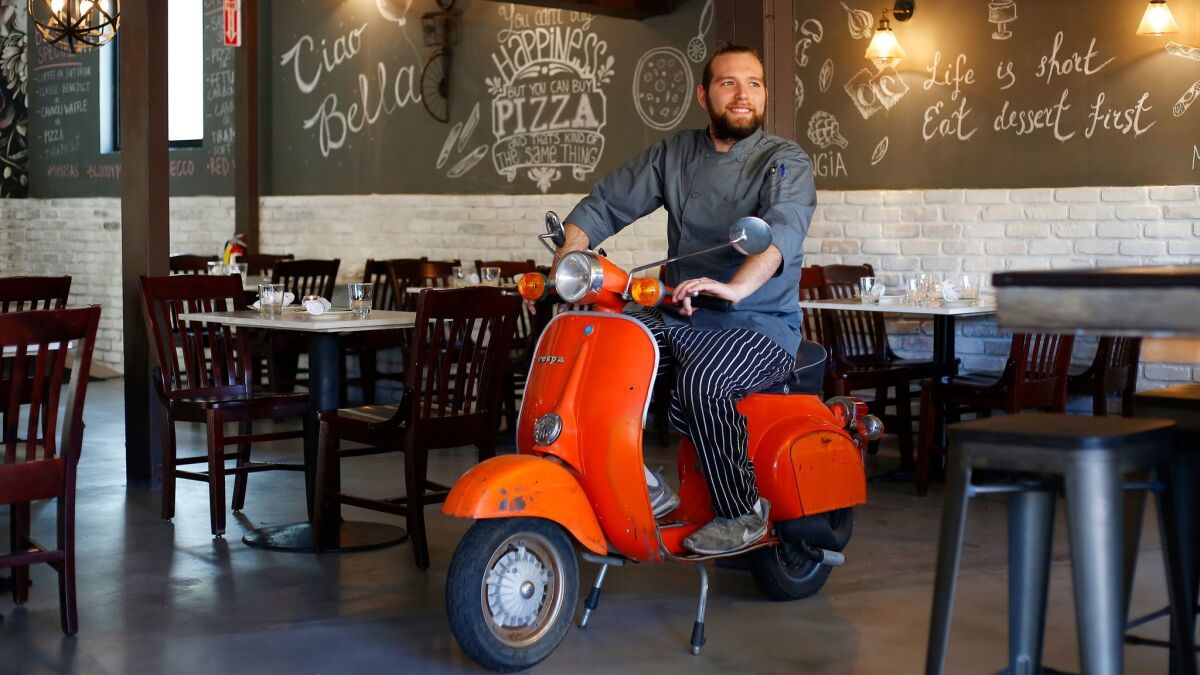 It's a Pinterest-worthy space — from the vintage Edison light bulbs to the bathroom sinks built out of old secretary desks. There's a hot-pink neon sign that says "Wine Is Love." A sun-orange Vespa — "it still works," Kravalis says — sits in the middle of the dining room. And a chalk-friendly gray wall has Instagrammable sayings for visual foodies: "You can't buy happiness, but you can buy pizza." "I'm sorry for what I said when I was hungry." "Life is short. Eat dessert first."
The same kind of attention to detail was given to the menu. By the time they officially opened Nov. 17, the menu had gone through changes, but its mission remained the same: It had to give a nod to Provino's Sicilian heritage. The arancini — deep-fried stuffed saffron rice balls — is his mother's recipe. It's crispy on the outside topped with a dallop of pesto aioli. Bite into it, and you'll find warm rice tossed in Bolognese sauce.
"It's very typical food you can grab in the street in Sicily," Provino says. "We made a little smaller ball so it's easier to share."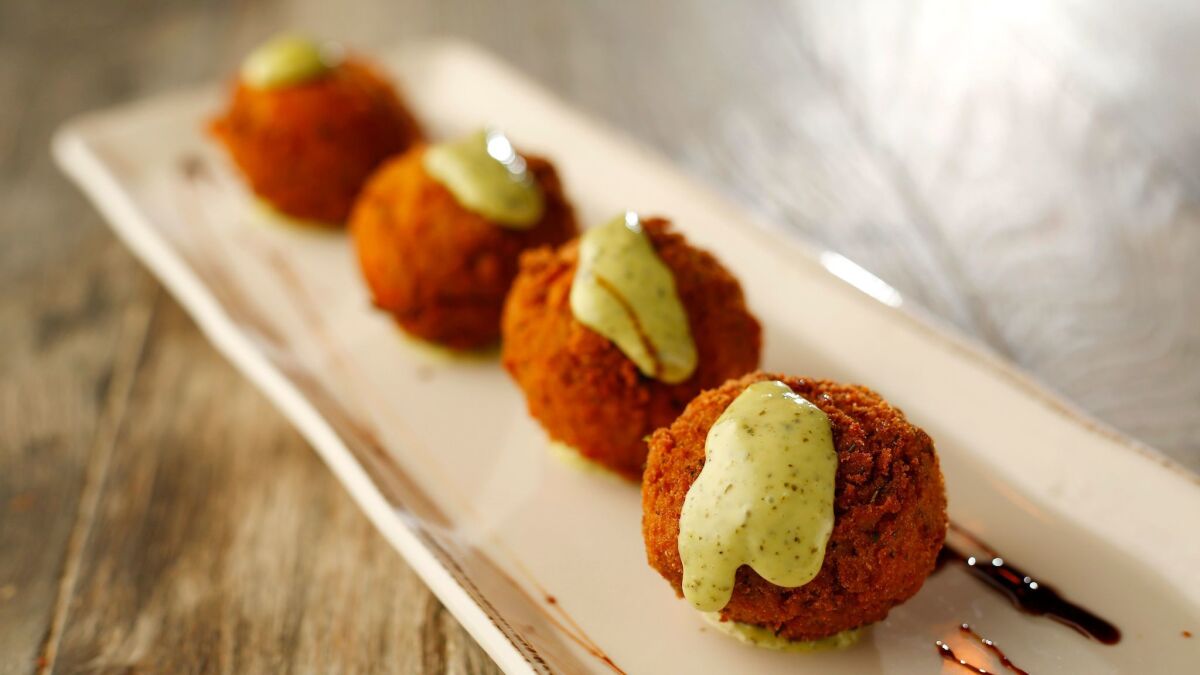 The two-page dinner menu is jampacked, offering everything from $8 eggplant rolls (ricotta, Parmesan, tomato sauce, mozzarella) and $9 meatball lollipops (beef, pork, veal, garlic, spicy pomodoro) to $15 fettuccini carbonara (bacon, onion, egg yolk, brandy cream) and $19 truffle risotto (wild mushroom, brandy cream sauce, truffle oil, mascarpone cheese).
"That was the last thing we added," Kravalis says of the truffle risotto. She feared the menu didn't have enough choices for vegetarians. "And it's been popular."
The eggplant rolls, like most of the dishes at Giardino, come in shareable portions. The cheese is neatly tucked in lightly breaded eggplant — just the right mix of flavors in a tomato sauce that isn't overpowering.
During a recent visit, the meatball lollipops sounded fun, but they fell apart, so the novelty of picking them up with a toothpick didn't quite pan out. But they were tasty.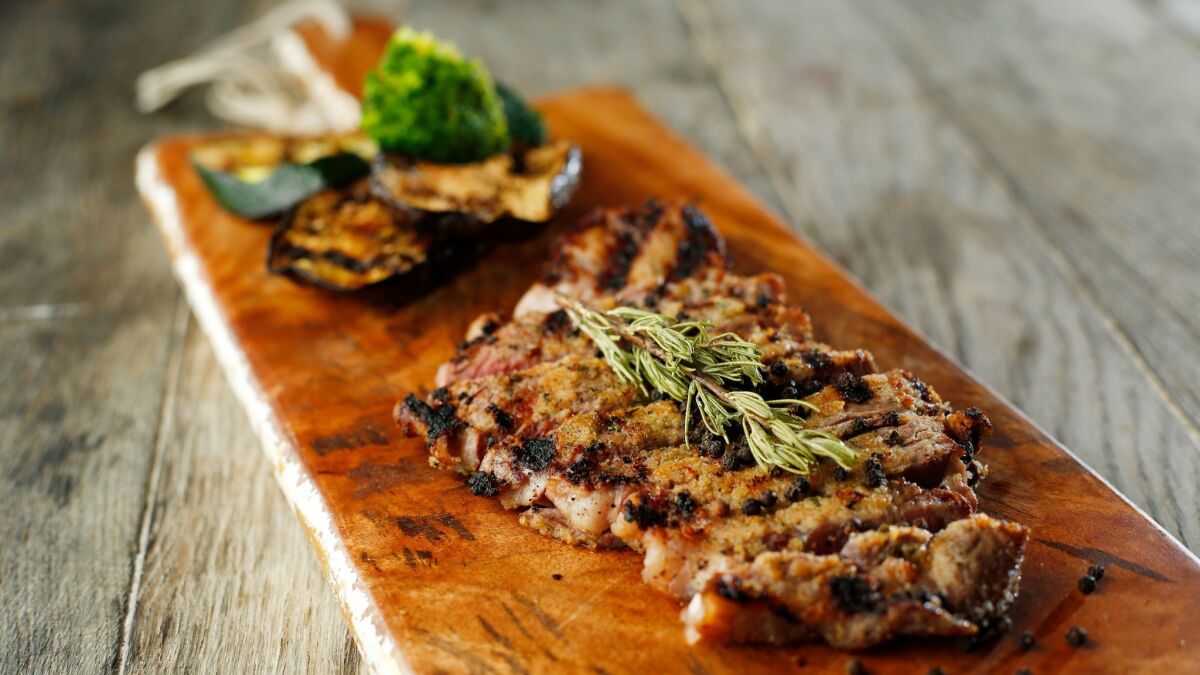 Popular entrees include the steak Siciliano, a lightly breaded 12-ounce boneless ribeye served with seasonal garden vegetables ($28); and the cioppino of mussels, clams, mixed fish, baby shrimp, calamari in lobster tomato broth ($24).
Provino, for now, literally has his hands on everything that comes out of the kitchen — from house-made pastas to desserts like cannoli and limoncello cheesecake. He uses fresh vegetables sourced from an urban garden 2 miles away. They're licensed for beer and wine and hope to soon include selections from local wineries. At the bar, there's a blonde and red beer, both organic, sourced from an Italian company.
Most days, Provino's up and running by 6 a.m. and in the restaurant by 8 a.m. He's there until closing time, sometimes past that. This week, though, he'll get some help in the kitchen when his parents visit from Sicily. Provino's 53-year-old mother, Leticia, will make a guest appearance in the kitchen while they're visiting for the holidays — "expect a nonna special or two on the menu," Kravalis says, chuckling.
Kravalis, who was born in Russia, turns serious and says of moving to Lemon Grove and launching their new husband-and-wife venture: "We wanted to start living like a real American family."
Provino, relishing the calm after a particularly busy lunch last week, finishes her sentence: "And live our little American dream."
Giardino Neighborhood Cucina
Address: 8131 Broadway, Lemon Grove
Phone: (619) 825-7112
Online: giardinosd.com
Twitter: @outdoorlivingsd
Sign up for the Pacific Insider newsletter
PACIFIC magazine delivers the latest restaurant and bar openings, festivals and top concerts, every Tuesday.
You may occasionally receive promotional content from the Pacific San Diego.