Review: El Jardín: Gutsy regional Mexican from a fearless chef
Chef Claudette Zepeda-Wilkins calls the cooking at her new restaurant El Jardín comida abuelita, or chic grandma food.
But let's call it what else it is: comida chingona — badass cuisine.
Zepeda-Wilkins' cooking tastes like a big, warm bear hug from your abuelita, if grandma's arms were all tatted up.
An audacious, modern interpretation of regional Mexican cooking, El Jardín is about edgy comfort food. Zepeda-Wilkins' dishes pop with flavor and sear with heat, they can be mischievously playful or earnest and faithful to her mission of honoring the women of Mexico who cook.
With her inked arms, hipster glasses, goth lipstick, (currently) purple hair and swagger to spare, she cuts a bold figure. In the words of chef Gavin Kaysen, her former boss at El Bizcocho, she is "fearless."
With the support of San Diego's Rise & Shine Restaurant Group (Breakfast Republic) behind her, Zepeda-Wilkins made a gutsy decision to serve San Diegans Mexican food that may be unrecognizable to them at upscale dining prices. She uses ancient recipes, indigenous ingredients she sourced herself throughout Mexico and produce she grows in the garden alongside the patio of the Liberty Station restaurant.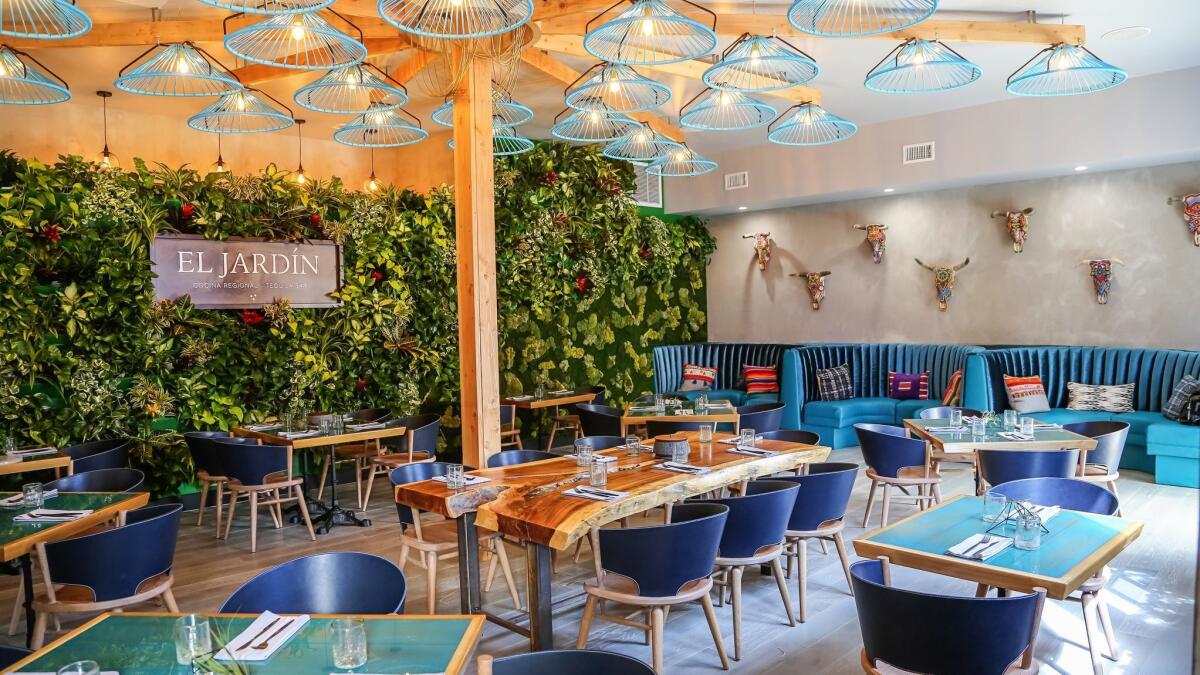 El Jardín, the first restaurant where Zepeda-Wilkins is in charge, debuted less than three months ago with expectations so hefty, they'd vanquish the mightiest among us, not the least of which is being the most anticipated new restaurant of 2018.
Good thing Zepeda-Wilkins is a weightlifter — chingona! — because the pressure is on. Let me count the ways:
Would one of the few high-profile woman female chefs — whose kitchen staff is 50 percent female and who is devoted to paying tribute to women's food — pull off opening a restaurant that delivers an awesome dining experience and not just morsels of matriarchal moralizing?
Would Javier Plascencia's chef de cuisine at the failed Bracero succeed where her famous former boss couldn't — at propelling San Diego's Mexican food to the next level?
Would a dining public smitten by tacos be open to corn tlacoyo (pre-Hispanic, heirloom masa cutlets) from Mexico City or octopus tikin xic (cooked with orange recado spices) from the Yucatán?
And would the villainess of "Top Chef" season 15 learn from her self-inflicted wounds and let her cooking do the talking?
We think she's up to it.
Over the course of several meals I had at El Jardín, my dining companions and I tried a total of 17 dishes — each of which took us on a journey. We were transported to the kitchens of Zepeda-Wilkins' mother and abuela. We were back in her aunt's restaurant in Guadalajara. We were in the marketplaces from Mérida and Michoacán. We were with chefs from Sonora to Oaxaca, Mexico City to the Valle de Guadalupe.
And perhaps most exhilarating, we were on an adventure in Zepeda-Wilkins' head, with all her intent and imagination.
Sitting down recently in the dining room she designed with fabrics, tableware and accessories she curated during her travels in Mexico — down to a half a ton's worth of volcanic rock tortilla warmers she had shipped from two artisan women in Mexico City — Zepeda-Wilkins ticked off the dishes strongly inspired by people across the border. The menu that day had more than a dozen.
She's not copying, though; she's showing reverence. Also on display is a level of maturity "Top Chef" fans had no sign of.
For example, ingredients are used smartly, not just for show.
"I'm in an editing mode right now," she said. "I'm taking stuff off the plate, not putting it on."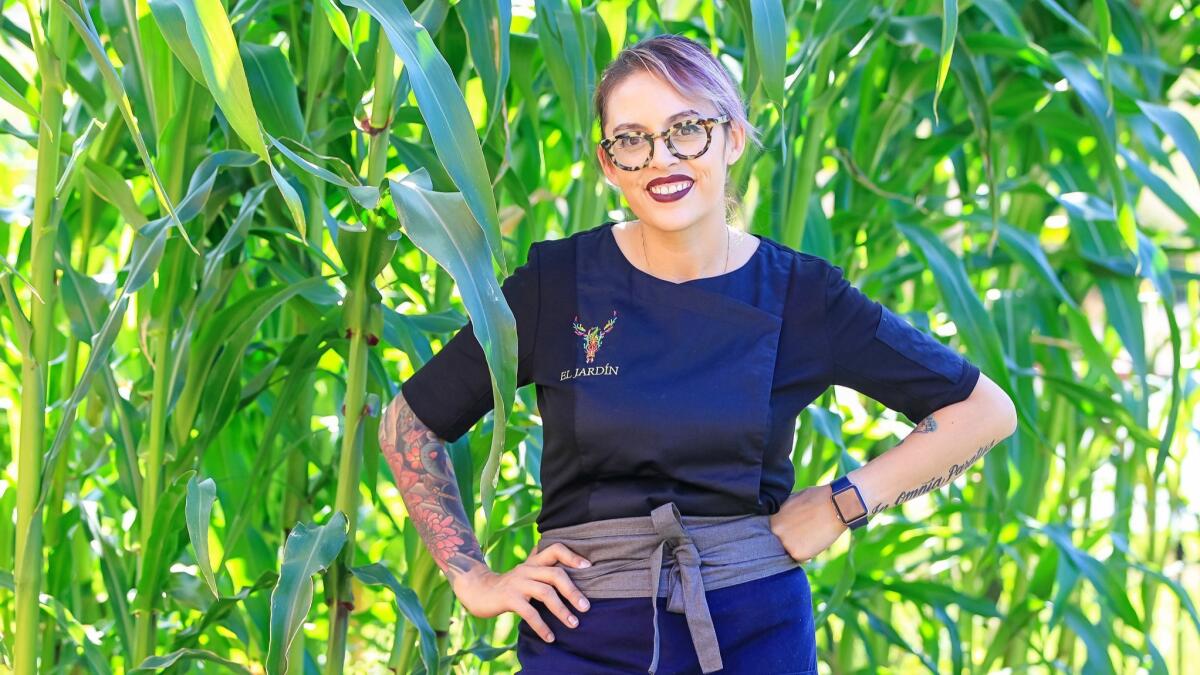 Not one to play it safe, her menu exhibits impressive range.
There is brightness — as with the Vuelve la Vida (back to life) ceviche cocktail and green aguachile, served in a coconut shell with meat that's meant to be scooped. (Note that the menu frequently changes; not all the dishes described are available.)
There is soulful — in slow-cooked dishes like cazuela de chilorio Sinaloa, pork shoulder in chile sauce, and Michoacán pork shank carnitas, from a recipe she said has been made for generations.
And then, there is homage, where you'll find some of the chef's most memorable dishes. The mesmerizingly rich, smoked beef and pork albondigas en chipotle are from her mother's kitchen ("they're legit," she pronounces). The Baja yellowtail, on a wonton-light tostada, is a nod to her time with Plascencia, as well as an internship at Deckman's, the Valle's famed restaurant. Sra. Francisca's mole poblano tamal, with Oaxacan smoked chile chintexle; is no ordinary tamale; it's one of the most elevated versions of rootsy fare I've tasted.
Zepeda-Wilkins, who was a pastry chef under Kaysen at El Bizcocho in Rancho Bernardo, unleashes an unexpectedly whimsical flair with her desserts.
An ultramodern banana semifreddo, ancho chile and Oaxacan chocolate jam confection is cleverly crafted to look like a banana still life from the collection of Andy Warhol. The No Mameys, which politely translates to "No kidding!," evokes the flavor of the tropical mamey sapote fruit and comes with a blue corn pinole crumble so addictive she should sell it in a jar.
I wrote one word next to the deconstructed dessert Margarita Hold the Salt, with lime mousse, white chocolate and cacao gel: genius.
With all the justifiable focus on Zepeda-Wilkins' food, it would be a shame to overlook El Jardín's extensive tequila and mezcal offerings and the creative cocktail menu. The restaurant's large, inviting patio is a perfect place to sit and sip.
Not everything is perfect at El Jardín. I wish there were more vegetables offered as appetizers or sides, particularly when she's growing so many of them there herself.
The wine list is small but thoughtful, but it would be nice to see one of the Valle de Guadalupe reds served by the glass.
Most importantly, the menu needs a lot more explanation. If Zepeda-Wilkins is going to be our tour guide to Mexico's multitude of culinary traditions, she needs to give us a better map. She doesn't need to dumb it down, but with all that heritage to explore and unfamiliar ingredients/preparations facing diners, a little more description would help people embrace and appreciate her food more.
Note to chef: No one wants to be intimidated when they go out to eat — and not everyone is chingona enough to risk looking unsophisticated.
El Jardín
Address: Liberty Station, 2885 Perry Road, Point Loma
Phone: (619) 795-3414
Online: eljardinrestaurantbar.com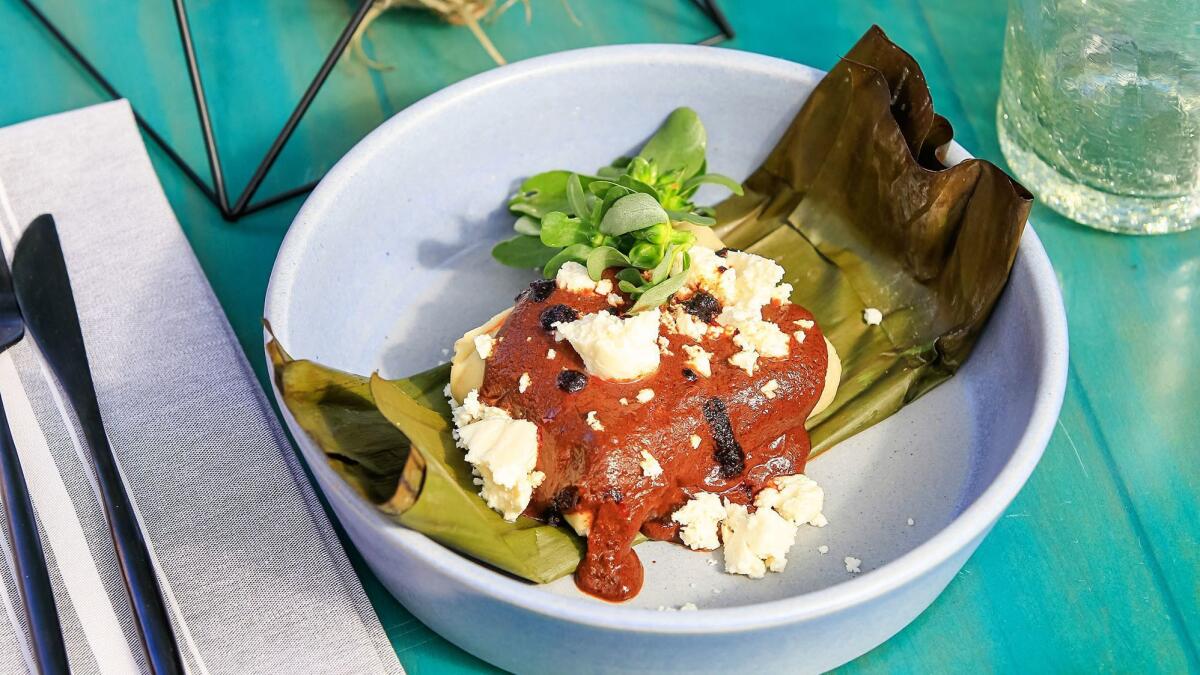 Sign up for the Pacific Insider newsletter
You may occasionally receive promotional content from the Pacific San Diego.