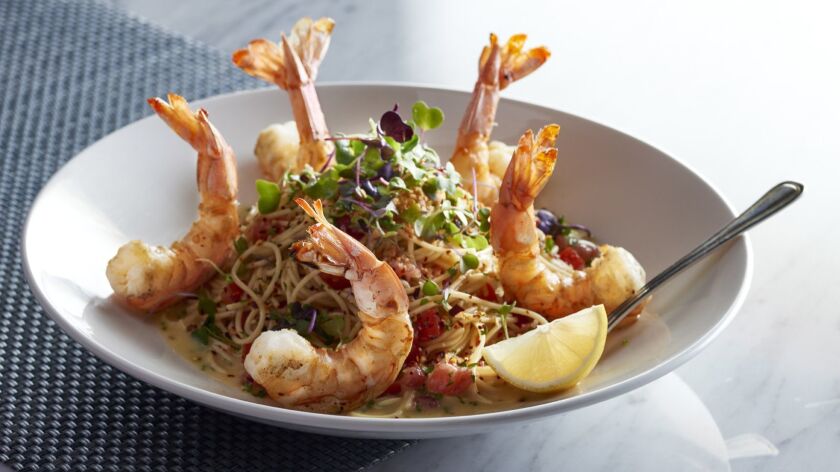 San Diego restaurants are dishing up a variety of specials on Father's Day. And as always, reservations are highly recommended. (All menus will be served on Sunday, unless otherwise noted.)
Barleymash in the Gaslamp Quarter will set up barber chairs and offer father-and-son shaves, sponsored by Teelings Whiskey. Chow down on chimichurri steak and eggs and sip whiskey drinks on special throughout Father's Day. Starting at 10 a.m. 600 Fifth Ave., San Diego. (619) 255-7373. barleymash.com
Backyard Kitchen & Tap in Pacific Beach will offer a Father's Day menu, complete with a special gift selected just for dad. 832 Garnet Ave., San Diego. (858) 859-2593. backyardpb.com
Beerfish in Normal Heights will serve half-priced burritos, including the Fish 'N Chip burrito, made with wild white fish, signature fries, spicy slaw, Herbert's Tartar and malt vinegar mayonnaise. Beer-loving dads can choose from a selection of 30 craft beers on tap. 2933 Adams Ave., San Diego. (619) 363-2337. beerfish.com
Bleu Boheme's Father's Day menu features foie gras-inspired dishes like foie gras and bacon jam served with a Belgian waffle; and warm gingerbread with foie gras terrine, caramelized pears and port reduction. 4090 Adams Ave., San Diego. $70 per person; $30 additional wine pairing. Reservations: (619) 255-4167. bleuboheme.com
Breakfast Republic will kick off Father's Day with food and drink specials like Iced Almond Roca Mocha, Watermelon Mimosa and a Bees Knees cocktail, crafted from Old Glove Gin, fresh lemon and honey. Breakfast dishes include birthday pancakes, made with Funfetti batter pancakes and topped with sweet cream-cheese glaze and sprinkles; and caramel macchiato French toast topped with caramel sauce. Available through June. Seven locations: North Park, East Village, Encinitas, Liberty Station, Carmel Valley, Pacific Beach and Ocean Beach. breakfastrepublic.com
Cafe 222's hearty Father's Day "Pop-Belly" breakfast plate includes chicken fried steak smothered with peppery pork gravy, served with two eggs, griddled potatoes and toast. 222 Island Ave., San Diego. $14.95 per person. (619) 236-9902. cafe222.com
California Pizza Kitchen will serve a Father's Day prix fixe menu with a choice of two small plates (charred Shishito peppers, white corn guacamole plus chips, crispy macaroni and cheese, bianco flatbread); three entrees (chicken piccata, garlic cream fettuccine or any of their pizzas — cauliflower crust and gluten-free crust available for an additional charge); and one dessert (butter cake, salted caramel pudding, Belgian chocolate soufflé cake). Friday to Sunday at participating locations. Dine-in only. $49.99, excludes beverages, tax and gratuity. cpk.com/FathersDay
Casa de Bandini will offer a variety of Mexican and traditional breakfast favorites like scrambled eggs, pancakes, cheese enchiladas, chilaquiles, fruit, flan, pan dulce and danishes. 10 a.m. to 2 p.m. Forum Carlsbad, 1901 Calle Barcelona, Carlsbad. $27.95 per adult; $16.95 per child under 10. (760) 634-3443. casadebandini.com
Charles + Dinorah will serve chef Andrew Santana's revamped version of its classic burger, served with smoked cheddar and a secret sauce, along with hand-cut fries and a beer for $15. Be sure to mention the secret phrase "My Dad is RAD" when ordering. The Pearl Hotel, 1410 Rosecrans St., Point Loma. (619) 226-6100. thepearlsd.com/dining
In addition to its eight serving stations, Choices the Buffet will expand its Father's Day menu to include items like Canadian lobster tail, crusted rack of lamb, Asian-style spicy shrimp, backyard marinated beef ribs and New York steak, as well as a selection of more than 80 desserts. 9 a.m. to 9 p.m. Pala Casino Spa & Resort, 11154 Highway 76, Pala. $46 per person. Reservations: (760) 510-2299. choicesreservations@papacasino.com
Dickinson Farm in collaboration with Garden Kitchen will host a Father's Day Brews & Churrasco BBQ Farm Dinner that includes a farm tour, appetizers, farm-to-table menu, wine and beer. 4 to 9 p.m. 1430 E. 24th St., National City. $125 per person, tax and tip included. dickinson.farm/events
El Chingon will offer its Bad Ass Fajitas and a "Papárita" Margarita Flight. The fajitas include your choice of filet mignon, chicken or shrimp flambéed tableside, and the margarita flight features samplings of El Chingon's signature Madero cocktail, made with Azunia Blanco Tequila, house-made watermelon cordial, fresh lime and Tajin; traditional frozen margarita and Battle of Juarez, made with Olmeca Altos Blanco Tequila, lemon, ginger, honey, St. Germaine and Ancho Reyes Verde. $29.99 per person. 560 Fifth Ave., Gaslamp Quarter. (619) 501-1919. elchingon.com
Fig Tree Cafe's specials include a Strawberry Fields Mimosa Flight served with strawberry kiwi, strawberry pineapple, strawberry mango and strawberry orange tasters; Iced Coconut Mocha, made with espresso, rich chocolate milk, coconut, whipped cream and coconut shavings; and cookies and cream stuffed French toast, topped with warm fudge sauce and cookie crumbs. Available through June. Three locations: Pacific Beach, Hillcrest, Liberty Station. figtreeeatery.com
Flower Child will serve dads its steak plate with smashed organic potatoes and Sichuan green beans, along with a selection of $6 local craft beer, and a rotating selection of Ballast Point draft brews. 2690 Via De La Valle, Del Mar. (858) 314-6818. iamaflowerchild.com
Greystone Prime Steakhouse & Seafood will pamper dads with two prix fixe menu options: savory share plates, fresh salads and entrees, including buffalo tenderloin, tender lamb chops, USDA Prime New York strip, bone-in rib eye and fall-off-the-bone lamb shank. Elevate your dining with free-flowing craft beer for an additional $25 per person, or experience local craft beer or Japanese whiskey flight specials. $59.99 per person or $69.99 per person. 685 Fifth Ave., Gaslamp Quarter. (619) 232-0225. greystonesteakhouse.com
Harrah's Resort Southern California features a Gatsby-inspired Cigars and Spirits Father's Day celebration. The evening includes a full whiskey bar, dancing and cigar-rolling demonstrations. 7 to 10 p.m. Saturday. 777 Harrah's Rincon Way, Valley Center. $40 per person; $70 per couple. Tickets: harrahssocal.com/events/cigars-spirits
Havana 1920 will introduce its El Jefe (the boss) Daiquiri on Father's Day. The $25 drink is made with Ron Zacapa XO Rum, house-made Demerara Syrup and lime juice. 548 Fifth Ave., Gaslamp Quarter. (619) 369-1920. havana1920.com
Hello Betty Fish House will offer dads $2 off any draft beer at the bar and in the dining room. On the rooftop deck, guests can order 5 for $25 buckets of Imperial and Corona beer. Reservations accepted for parties of up to 15 people. 211 Mission Ave., Oceanside. (760) 722-1008. hellobettyoceanside.com
Island Prime at Harbor Island will offer a choice of entrees such as encrusted ahi tuna, Pacific shrimp scampi, 10-ounce chargrilled rib eye or braised horseradish-crusted short rib. 1 to 9 p.m. 880 Harbor Island Drive, San Diego. $49.95 per person. (619) 298-6802. cohnrestaurants.com/islandprime
JSix at Hotel Solamar will raise a glass to dad with its Smoking Room cocktail ($10), made with Russell's Reserve Bourbon, smoked vanilla honey and lemon, as well as $5 draft beers. 616 J St., East Village. (619) 531-8744. jsixrestaurant.com
Leroy's Kitchen + Lounge is the place where dads can kick back and relax with a beer from one of the restaurant's large draft selections, while eating a Leroy's burger crafted with bacon jam and house pickles. 1015 Orange Ave., Coronado. $20 per person. (619) 437-6087. opentable.com
Maritime Museum of San Diego will host Brats and Beer on the Bay on Father's Day weekend. Guests can choose to board the Californian or San Salvador (Saturday only). Prior to sailing, each adult receives a bratwurst sandwich, chips and a cold beer, and for the kids, hot dogs and soft drinks. Food will be served from 10 to 11:30 a.m., with boarding check-in at 11:40 a.m., returning to the museum at 3 p.m. Saturday or Sunday. 1492 N. Harbor Drive, San Diego. Tickets: $20-$70 (Californian); $25-$90 (San Salvador). sdmaritime.org
Mezé Greek Fusion celebrates Father's Day with its Mezé burger and Greek beer combination. The burger is made with seasoned ground beef and lamb mixed with feta cheese, garlic, onion and mint, topped with sauteed onions, mushrooms, Swiss cheese, fiery feta and garlic aioli, and served with a side of Mezé fries or Greek salad. Pair it with a Septem Brewing Greek Pale Ale or Mythos Greek Lager. $15 per person. 345 Sixth Ave., Gaslamp Quarter. (619) 550-1600. gaslampmeze.com
Morton's The Steakhouse offers guests a three-course prix fixe dinner menu. Guests can choose from three different salads, five signature entrees, including the 8-ounce filet mignon, braised short rib and double-cut prime pork chop, and a choice of one of three classic desserts: double chocolate mousse, key lime pie or an individual souffle. The Harbor Club, 285 J St., San Diego. $59 per person. (619) 696-3369. mortons.com
Nason's Beer Hall will serve its man-friendly "Rad Dad Dinner" that includes a Nason's pretzel, T-bone steak and a beer pairing. 3 to 10 p.m. 570 J St., San Diego. $39 per person. (619) 738-7060. opentable.com
Pacific Beach AleHouse will host a Father's Day brunch on its second-story, ocean-view patio, where you can toast to dad with a $15 Father's Day glass growler filled with his favorite brew. 721 Grand Ave., San Diego. (858) 581-2337. pbalehouse.com
Pacific Beach Fish Shop will serve Father's Day specials all day, and each dad will receive a gift card with prizes like a complimentary pint of craft beer or $10 off their next visit. 11 a.m. to 10 p.m. 1775 Garnet Ave., San Diego. (858) 483-1008. thefishshoppb.com
Pisco Rotisserie & Cevicheria will take dad on a trip to Peru with its three-course tasting menu. Two locations: 2401 Truxton Road, Suite 102, Liberty Station, (619) 222-3111; and 5970 Avenida Encinas, Carlsbad, 760-438-1212. $40 per person. piscorotisserie.com
Primavera Ristorante will celebrate Father's Day with a 14-ounce New York steak topped with balsamic-rosemary steak sauce, served with grilled radicchio with Gorgonzola, Peroni-battered onion rings and garlic mashed potatoes. $42 per person. 932 Orange Ave., Coronado. (619) 435-0454. primavera1st.com
Rancho Valencia Resort & Spa's Father's Day buffet features a selection of pastries, oatmeal, fruits, charcuteries and cheeses, crab legs, shrimp and lox, a Bloody Mary bar and desserts. 5921 Valencia Circle, Rancho Santa Fe. (858) 756-1123. ranchovalencia.com
Sammy's Woodfired Pizza & Grill will offer a $35 prix fixe menu, including a draft beer. Diners can choose from favorites like New York-style pizza or chicken tequila fettuccine. Seven locations: Costa Verde/UTC, Del Mar, La Jolla, La Mesa, Mission Valley, San Marcos and Scripps Ranch. sammyspizza.com
Seasons Restaurant will offer the following Father's Day options. Seasons Residence Club Aviara, 7210 Blue Heron Place, Carlsbad. Reservations: (760) 814-8677. seasonsaviara.com/reservations
Hops with Pops: Bring dad to the Chef's Table for an hour of beer tasting and pretzel making. Kids under 21 can enjoy a frothy root beer while grownups enjoy the real stuff. 2 to 3 p.m. Saturday. $35 per adult; $15 per child, includes an apron and one pint of craft (or root) beer.
Tableside Whiskey Wagon: Loaded with the best in whiskey, bourbon and scotch, the wagon will make the rounds during brunch from 11 a.m. to 2 p.m. and dinner from 5 to 9 p.m.
Dining with Dads: Seasons' Father's Day exclusive Dad's Bourbon BBQ Burger with Fries weekend special. Saturday and Sunday.
Stake Chophouse & Bar will present dads with a complimentary whiskey pour, while they choose from the Wagyu Month special menu featuring a la carte dishes like Australian AACo purebred Wagyu rib eye or a pastrami sandwich with Lone Mountain Ranch Wagyu. 1309 Orange Ave., Coronado. (619) 522-0077. stakechophouse.com/reservation
The Grove Steakhouse will offer a 28-ounce Brandt Beef Tomahawk steak with chimichurri and red wine sauce and charred tomato compote for $50. Add a slice of Bailey's chocolate chip cheesecake for $11. Viejas Casino & Resort, 5000 Willows Road, Alpine. viejas.com/dining/grove-steakhouse
The Haven Pizzeria in Kensington will serve Neapolitan-style pizzas along with sandwiches and pasta dishes, as well as half-off pitchers of beer. 11 a.m. to 9 p.m. 4051 Adams Ave., San Diego. (619) 281-1904. thehavenpizzeria.com
The Marine Room's Father's Day Brunch Buffet features options like white chocolate brioche French toast, Baja seafood cocktail, Brandt Farm prime rib of beef and Carlsbad strawberry cheesecake. 10 a.m. to 2 p.m. 2000 Spindrift Drive, La Jolla. $78 per person; special pricing for children. (858) 459-7222. marineroom.com
The Oceanaire's Father's Day menu features a 10-ounce center-cut filet with one of three fresh seafood selections, including whole steamed lobster, jumbo shrimp scampi or crab cakes. Belly up to the bar for $1 oysters served all day. 400 J St., San Diego. $75 per person. (619) 858-2277. theoceanaire.com
The Rabbit Hole in Normal Heights will offer dads its Prime Rib Plate and a Pint for $20 on Father's Day. 3377 Adams Ave., San Diego. (619) 255-4653. rabbitholesd.com
The Shores Restaurant's Father's Day Brunch Buffet will offer appetizers like bacon and egg potato salad; entrees such as St. Louis-style natural pork ribs; sides like grilled summer vegetables; and desserts like ice cream sundaes. A children's station will offer turkey meatballs with marinara, macaroni and cheese and freshly baked cookies. 10 a.m. to 2 p.m. 8110 Camino Del Oro, La Jolla. $64 per person; special pricing for children. (858) 456-0600. theshoresrestaurant.com
Tidal at Mission Bay features a waterfront brunch with dishes like lemongrass chimichurri and eggs, and prime rib. 9 a.m. to 2 p.m. Paradise Point, 1404 Vacation Road, San Diego. opentable.com/tidal
Tajima Restaurants will offer $1 beer with the purchase of a bowl of ramen. 11 a.m. to 10 p.m. Five locations: North Park, Hillcrest, East Village and Kearny Mesa. tajimasandiego.com
Trade restaurant will offer dads a choice of a draft beer, a pour of Buffalo Trace Bourbon and a burger, while watching the PGA Tour finals. Hotel Republic San Diego, 421 W. B St., Gaslamp Quarter. $30 per person. (619) 398-3100. hotelrepublicsd.com/dine/trade
Union Kitchen & Tap Encinitas will offer brunch and dinner specials along with a cocktail just for dads. 1108 S. Coast Highway 101, Encinitas. (760) 230-2337. localunion101.com
Union Kitchen & Tap Gaslamp welcomes dads with a gourmet brunch and bottomless mimosas from 9 a.m. to 2 p.m., $20 specialty whiskey flights and barbecue ribs specials from 5 p.m. to close. 333 Fifth Ave., San Diego. (619) 795-9463. gaslampunion.com
Waterbar's Father's Day brunch includes a special steak sandwich, made with shaved rib eye, bourbon-stewed onions, French onion aioli and Hatch chili cheddar, all served on a French roll with your choice of fries or salad. The dinner menu features a dry-rubbed flank steak, plated with bourbon-stewed onions, a baked potato, roasted broccoli and whiskey sauce. Whiskey specials will be available all day. Brunch: 9 a.m. to 4 p.m.; dinner: 4 p.m. to close. 4325 Ocean Blvd., Pacific Beach. waterbarsd.com
---