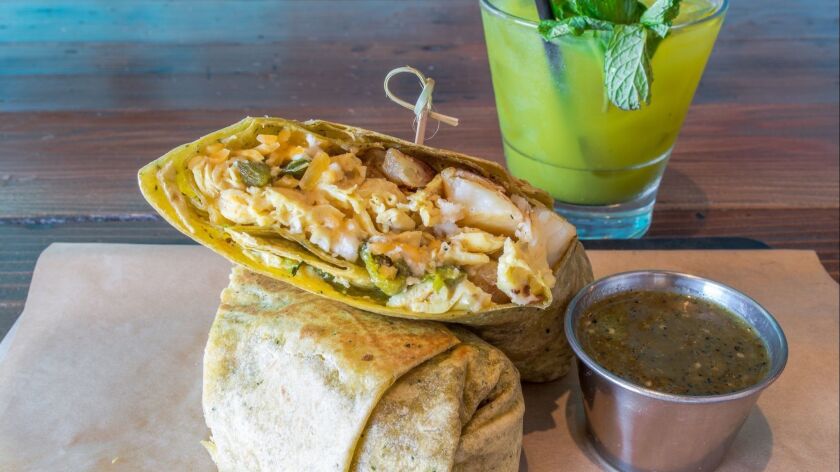 Introduced in the United States in the 1930s at the El Cholo Spanish Café in Los Angeles, the burrito will be celebrated today at restaurants throughout the region.
The Taco Stand will offer eight burritos off its menu, including the classic California burrito, filled with flame-grilled Angus steak, cheese, fries, guacamole, tomato, salsa and sour cream and the al pastor burrito, made with rotisserie marinated pork, cilantro, onions, cilantro sauce and pineapple. Four locations: downtown, North Park, La Jolla and Encinitas. letstaco.com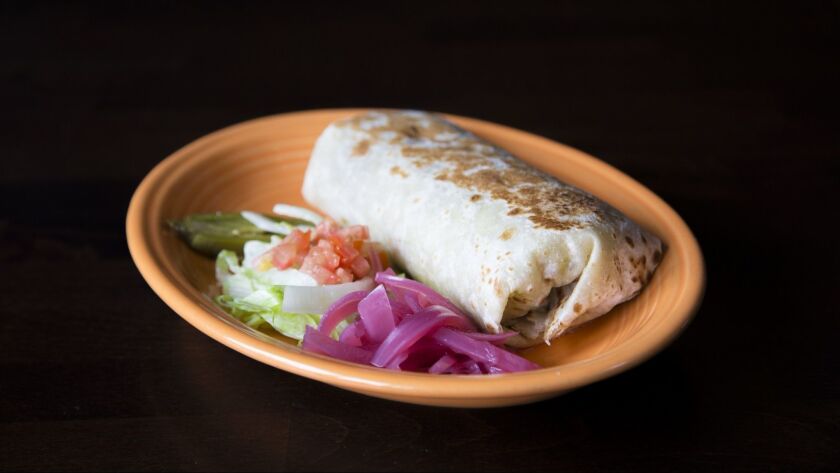 Vegetarian-friendly Del Sur Mexican Cantina will offer its cantina veggie burrito, a mix of chayote, charred corn, onions, mushrooms, black beans, rice, cheese, avo-serrano sauce and poblano crema and a three-chese mix bean and cheese burrito. 2310 30th St., San Diego. (619) 501-0643. delsurmexicancantina.com
Breakfast Republic's California Breakfast Burrito is a hearty mix of skirt steak, eggs, pico de gallo-infused guacamole, potatoes, bacon, cheddar cheese and sour cream, served with black beans, Mexican rice and salsa. Seven locations: North Park, Liberty Station, Encinitas, East Village, Ocean Beach, Pacific Beach and The Village at Pacific Highlands Ranch in Carmel Valley. breakfastrepublic.com
Jalisco Cantina will serve its vegan burrito, made with black-bean smash, cauliflower rice, avocado, pico de gallo, lettuce, cilantro and hot sauce. Pair it with the Oceanside Refresh, made with grapefruit vodka, fresh strawberry puree, fresh lemon and simple syrup. 213 N. Coast Highway, Oceanside. (760) 429-1679. thejaliscocantina.com
The Duck Dive's breakfast burrito is made with house-made chorizo, potatoes, poblanos, roasted corn, queso fresco, cheddar cheese, scrambled eggs and fresh cilantro, rolled in a spinach tortilla. 4650 Mission Blvd., San Diego. (858) 273-3825. theduckdive.com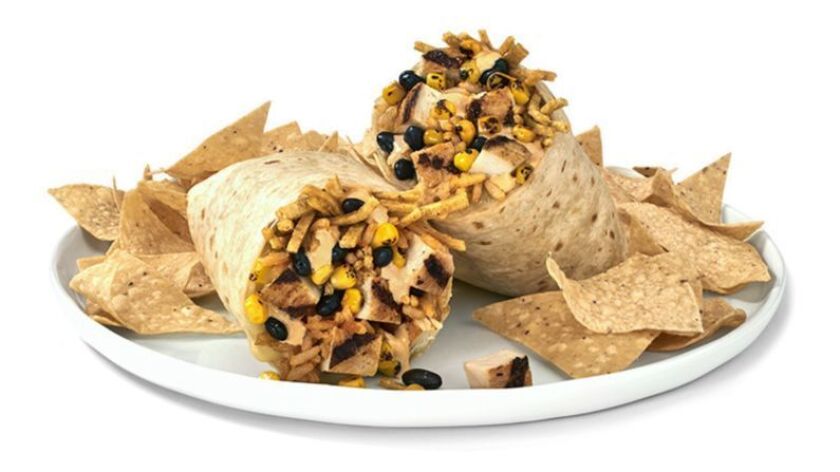 Rubio's Coastal Grill will celebrate two things today: National Burrito Day and Ralph Rubio Day. The shop will offer guests any burrito on the menu, including its new chipotle chicken ranch burrito, for $5, with the purchase of a drink. Ralph Rubio Day, declared by the city of San Diego in 2016, was given to Rubio for his entrepreneurial spirit, community involvement and contributions to the food industry. rubios.com
Del Taco invites customers to celebrate National Burrito Day with a free small order of its famous crinkle-cut fires when you purchase a two for $5 Classic Burritos deal. Options include: Del Combo Burrito, Del Beef Burrito, Classic Grilled Chicken Burrito, Spicy Grilled Chicken Burrito and the 8 Layer Veggie Burrito. deltaco.com
New on the menu
Tidal on Mission Bay has unveiled new seasonal brunch, lunch and dinner menus. Options range from starters like egg foo young shrimp omelet to dinner entrees like American Kobe-beef tartare. Paradise Point, 1404 Vacation Road, San Diego. (858) 490-6363.
Herringbone La Jolla will kick off April with no corkage fees for the entire month, along with two new dessert treats: Gluten-free hazelnut olive-oil cake and warm blueberry donuts, made with sweet mascarpone, rosemary shortbread and lemon-zinger sorbet. 7837 Herschel Ave., La Jolla. (858) 459-0221. heringboneeats.com
Islands Restaurants are celebrating pineapple season with the return of the Makaha Maggie margarita, available through April. The drink is mixed with house-made grilled pineapple-infused tequila. Complement your dish with the signature Hawaiian burger or yaki tacos stuffed with grilled chicken and topped with a fresh pineapple salsa. islandsrestaurants.com
Searsucker San Diego in the Gaslamp Quarter has launched a new Old Fashioned Happy Hour menu, featuring a PB & J Old Fashioned ($9), a peanut-infused Elijah Craig Bourbon with fassionola syrup; snacks like shrimp and grits or Philly meatball ($8 each); $7 house infusions, wells and wines; $6 drafts and $5 cans of local craft beers. 4:30 to 7 p.m. Monday through Friday. 611 Fifth Ave., San Diego. (619) 233-7327. searsucker.com/san-diego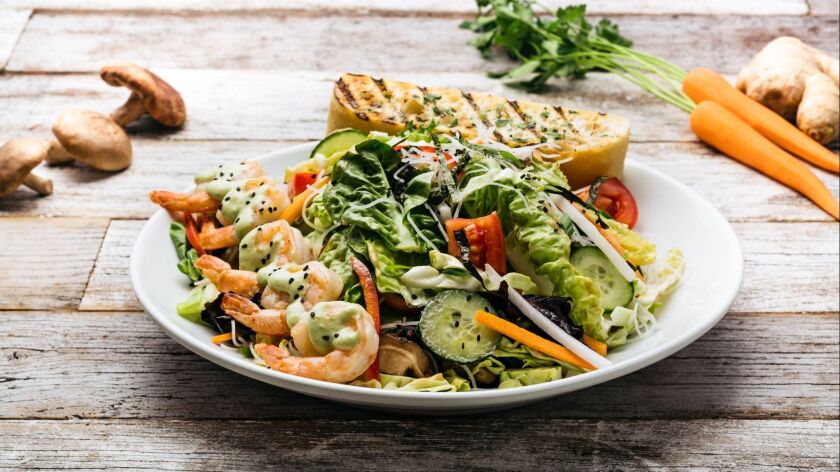 Urban Plates has added new spring bites to its menu. The featured dishes include an Asian-inspired miso barramundi sea bass plate, Thai shrimp salad and chickpea and kale soup. New to the drink program is the Cantaloupe Pineapple Mango Replenisher. Three locations: Carlsbad, Del Mar and La Jolla. urbanplates.com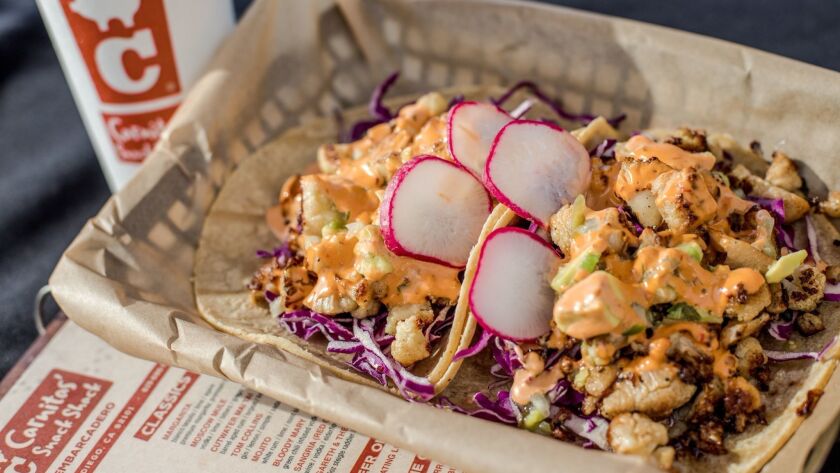 Carnitas' Snack Shack Embarcadero has added four new menu items to its lineup of signature favorites: pork belly sliders, Carnitas queso fries, braised pork belly and cauliflower tacos. 1004 N. Harbor Drive, San Diego. (619) 696-7675. carnitassnackshack.com
Rustic Root has unveiled new food and drink menus perfect for spring and summer. Dishes include teriyaki salmon poke, sausage and peppers and braised short rib. Refresh your palate with a Pink Lady, made with Monkey Shoulder-blended scotch or the San Diego Breeze, made with Hendricks Gin. 535 Fifth Ave., San Diego. (619) 232-1747. rusticroot.com
Upcoming
Jameson Irish Whiskey brings its inaugural Love Thy Neighborhood Block Party tour to San Diego. A nod to the classic neighborhood block party, the tour spotlights the aspects and features that make each local neighborhood its own special place. The celebration includes food, vendors, live music from Jameson Music's artists and craft beer from Green Flash Brewery and other tastemakers. Proceeds from the event will benefit Keep America Beautiful. 2 to 6 p.m. Sunday. Mavericks Beach Club, 860 Garnet Ave., San Diego. $35 per person. jamesonblockparty.com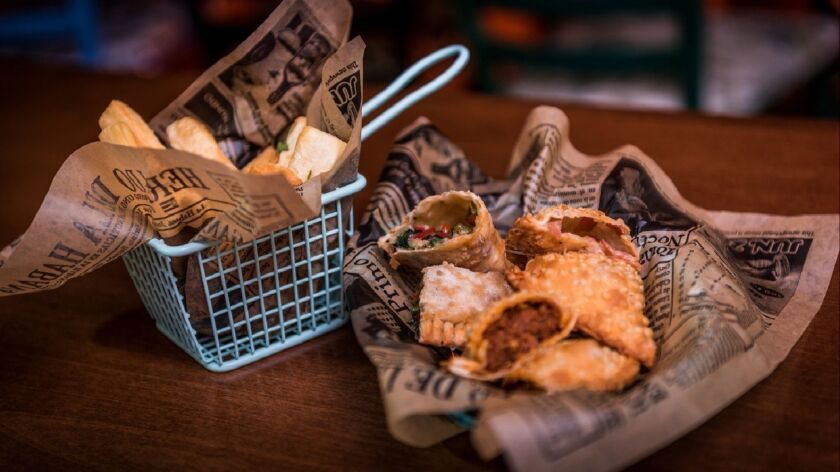 Sunday is National Empanada Day and instead of serving its traditional, Spanish-influenced fried pastry, Havana 1920 will offer guests an Italian twist on the local favorite: pizza empanadas stuffed with pepperoni, marinara and mozzarella. Priced at $5 each, the Cuban restaurant and bar will offer a two-for-one special to guests throughout the day. 548 Fifth Ave., San Diego. (619) 369-1920. havana1920.com
The Wine Pub will host Meet the Baja Winemaker, an evening featuring renowned wine experts who will share how locals can sip on Baja-made wines without leaving Point Loma. The series opens with Jorge Maciel of Cava Maciel Winery on April 12, followed by Villa Montefiori Winery's Paolo Paoloni on July 31. Sergio Castro, The Wine Pub's resident chef and owner of Baja California restaurant Mancha de Castro, will craft the menu. The dinners start at 6:30 p.m. Reservations are required. 2907 Shelter Island Drive, Suite 108, San Diego. $65 per person. thewinepubsd.com
A.R. Valentien executive chef Jeff Jackson has announced the return of its signature wine dinner series, Artisan Table. Each of the monthly dinners will feature a guest chef who will work with the restaurant's team to craft a unique menu or culinary theme. The series launches with chef Kara Snyder of Tender Greens, who was part of The Lodge's team until January 2013. The dinner pays homage to Snyder's time at The Lodge and features select items found on the menus of previous Artisan Tables. Seating is limited to 40 guests. 7 to 9:30 p.m. April 12. The Lodge at Torrey Pines, 11480 N. Torrey Pines Road, La Jolla. $165 per person, including tax and fees. Tickets may be purchased at lodgetorreypines.com
Openings
Empanada Kitchen opened its doors in downtown San Diego. A featured vendor at local farmer's markets since 2016, owners Matias Rigali and Dan Housenga decided to open a storefront in order to keep up with the increasing popularity of the Argentine handmade pastry. Flavors range from beef, braised lamb and chicken to vegan ratatouille and sauteed chicken, as well as vegan options like ratatouille. The empanadas can also be found at Bump Organic Coffee Roasters in Encinitas and Meraki Cafe in University Heights. 819 C St., San Diego. (619) 228-9419. empanada-kitchen.com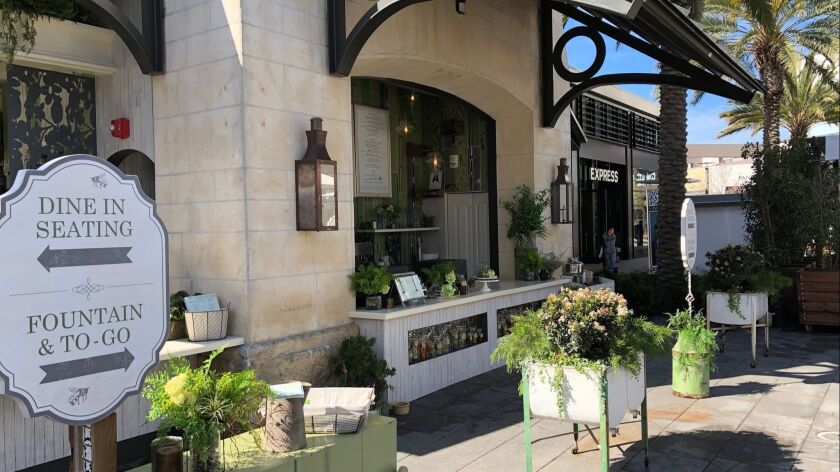 Queenstown Public House in Little Italy has launched a sister restaurant, Queenstown Bistro, in Westfield UTC. Situated in the central clock tower, the bistro features a lush plant-filled garden patio, shaded by giant striped pagoda umbrellas. The overall atmosphere is modern with hints of classic New Zealand and British design accents that add a touch of whimsy. The menu ranges from shareable small plates to soups, salads and sandwiches, and its signature burgers made with organic grass-fed beef, chicken and other exotic meats. Beverages include wine, beer, house sangria and soju-based cocktails. 4545 La Jolla Village Drive, San Diego. (858) 623-2748. queenstownbistro.com
---