Cafe Chloe turns 14 with new menu, decor and sister shop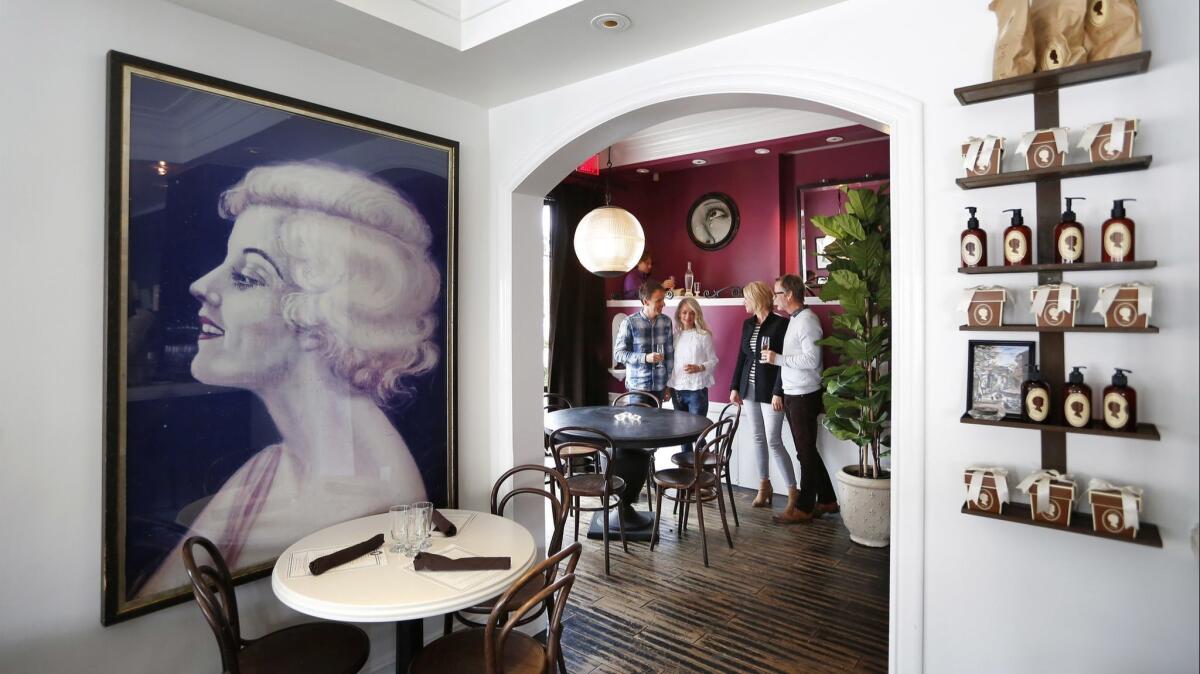 East Village —
Opening a new restaurant isn't for the faint of heart, since most close within their first year.
East Village has been particularly deadly of late, with the shutdowns of Tilted Kilt, Dragon's Den, Salvucci's, Bottega Americano and Market Hall in just the past year.
But one restaurant that has not only survived but thrived in East Village is Cafe Chloe, the 60-seat French bistro that marks its 14th anniversary this week.
To celebrate the occasion, Cafe Chloe rolled out both a new menu and a newly decorated interior on Sunday. The refresh follows the company's recent expansion. In October, owners unveiled Minou, a Parisian-style creperie cafe and special event space located just one block west.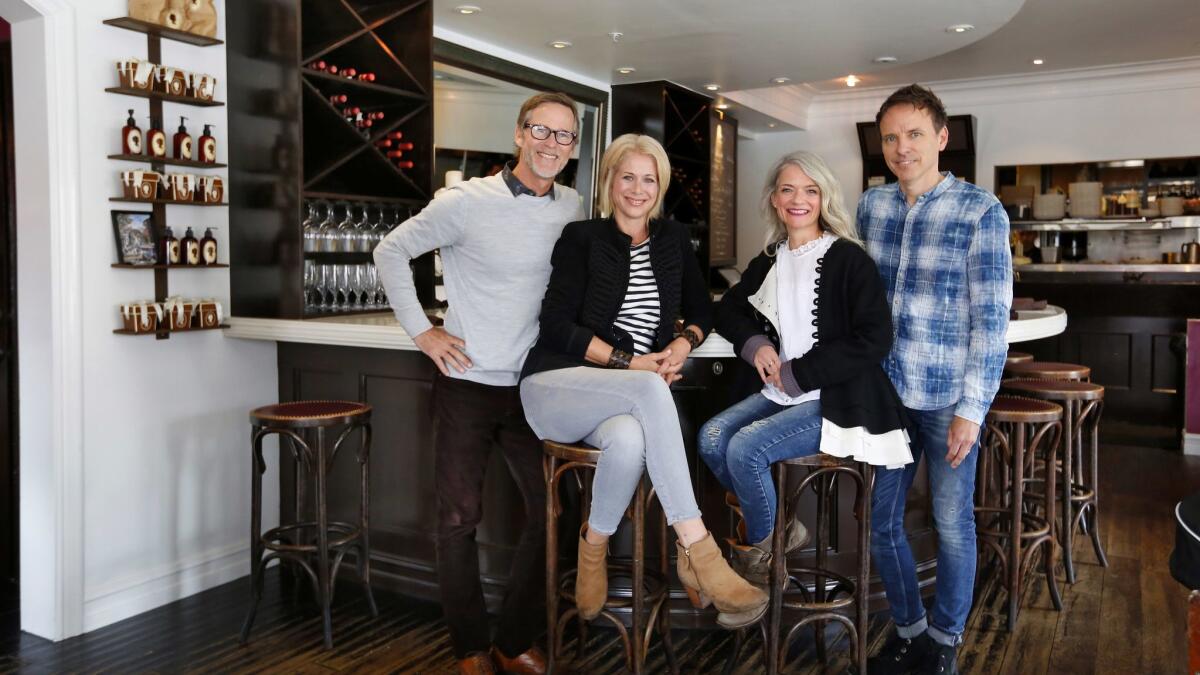 Cafe Chloe is owned by two San Diego married couples: Alison McGrath and John Clute and Jerry and Chrissy Reynolds. They attribute the restaurant's sticking power to several factors.
The petite cafe is a popular neighborhood "date night" spot, thanks to its homey, romantic atmosphere. Its menu has fine dining elements but affordable options as well. It's famed for its ever-changing cheese plate, which has featured more than 600 fromages over the past 14 years. And since many of its servers have worked there for ages, regular customers — and their dogs — are often greeted by name.
Over the years, Cafe Chloe has cultivated a following so loyal that McGrath said she's never had to advertise. Instead, they carry on what she calls a community "conversation" with guests on their Facebook page.
The all-day restaurant has been the site of numerous engagements and even a wedding for a couple who had their first date there. McGrath's favorite fan story is when a woman recovering from brain surgery checked out of the hospital and came directly to the restaurant with her head swathed in bandages because she couldn't wait to satisfy her craving.
"To know that people come to us for their special occasions in life is amazingly gratifying," she said. "It makes you want to hang in."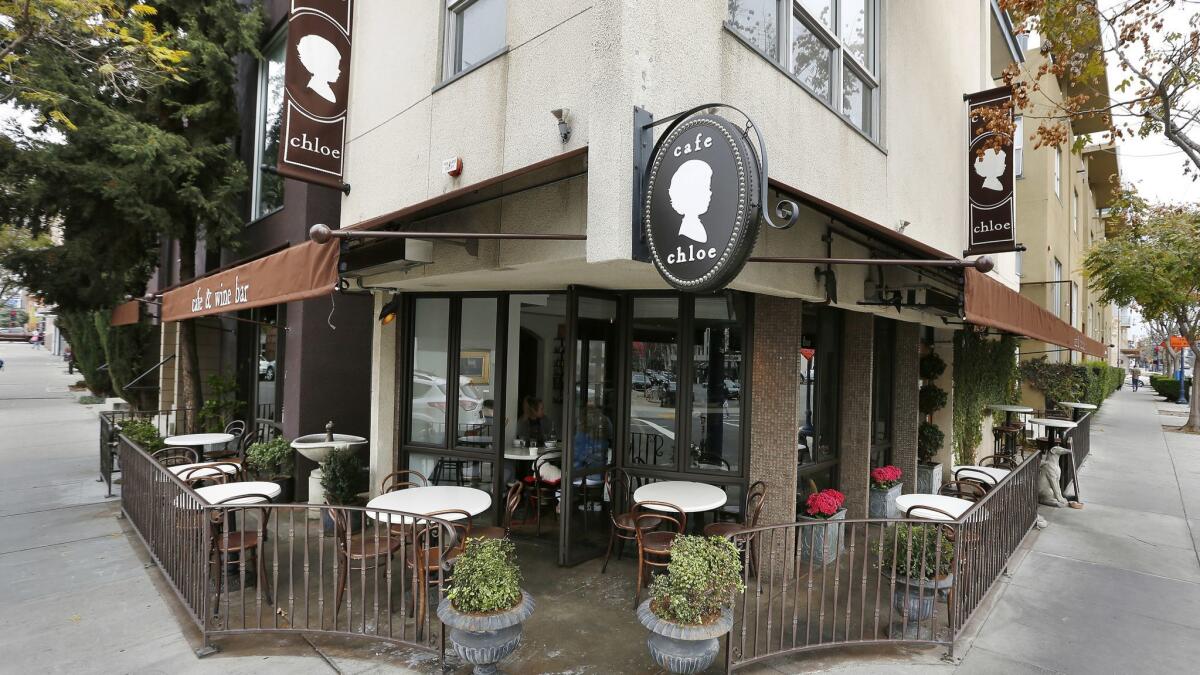 McGrath and Clute met 26 years ago while working at Cafe Japengo in La Jolla. Their first conversation was about how San Diego needed a European-style bistro that served an egalitarian crowd.
Later they moved to San Francisco where they managed several restaurants and their daughter Chloe, now 15, was born. Not long after, the family returned to San Diego with the goal of opening a restaurant in the fast-developing downtown area. They set their sights on East Village, even though at the time it was economically depressed.
"We looked at the plans on the Centre City Development Corp. website and we saw what was coming. We knew it would be developed in a forward-thinking and intelligent way, and I think they've accomplished that," she said.
With a former partner, they leased a sunny corner shop at Ninth Avenue and G Street that was being used by a friend for storage. In 2004, they opened Cafe Chloe, which bears both their daughter's name and her silhouette on its monument sign.
For most of Cafe Chloe's existence, chef Katie Grebow ran the kitchen. She stepped down in 2016 to launch a private chef business. Theo Dimitriou took over as executive chef 18 months ago. Formerly of Chicago, he introduced some protein-forward entrees but has retained the cafe's signature dishes, including the mussels, steak frites and Croque Madame breakfast sandwich. Louis Laterza is sous chef.
McGrath described the new menu as "super Frenchy," featuring all of the old favorites with the addition of new items like escargot, duck l'orange and cassoulet.
Three years ago, Jerry and Chrissy Reynolds bought into the business as partners. They're veterans of San Diego's theater design scene and have brought a sense of theatricality to Cafe Chloe's new decor and the entire design concept of Minou, at 721 Eighth Ave.
On a visit to Paris a couple of years ago, the Reynolds took a photo of their young children with their faces pressed up against the glass window of a pâtisserie shop. From that photo, Minou was born.
The 32-seat shop and private event space features authentic Parisian street lamps and decor, an apartment-style dining room and a street-side crepe take-away window. It serves French-style breakfast and lunch, including coffee drinks, fresh-baked croissants, sweet and savory crepes, quiches, sandwiches and salads and what McGrath calls "the best French onion soup in San Diego."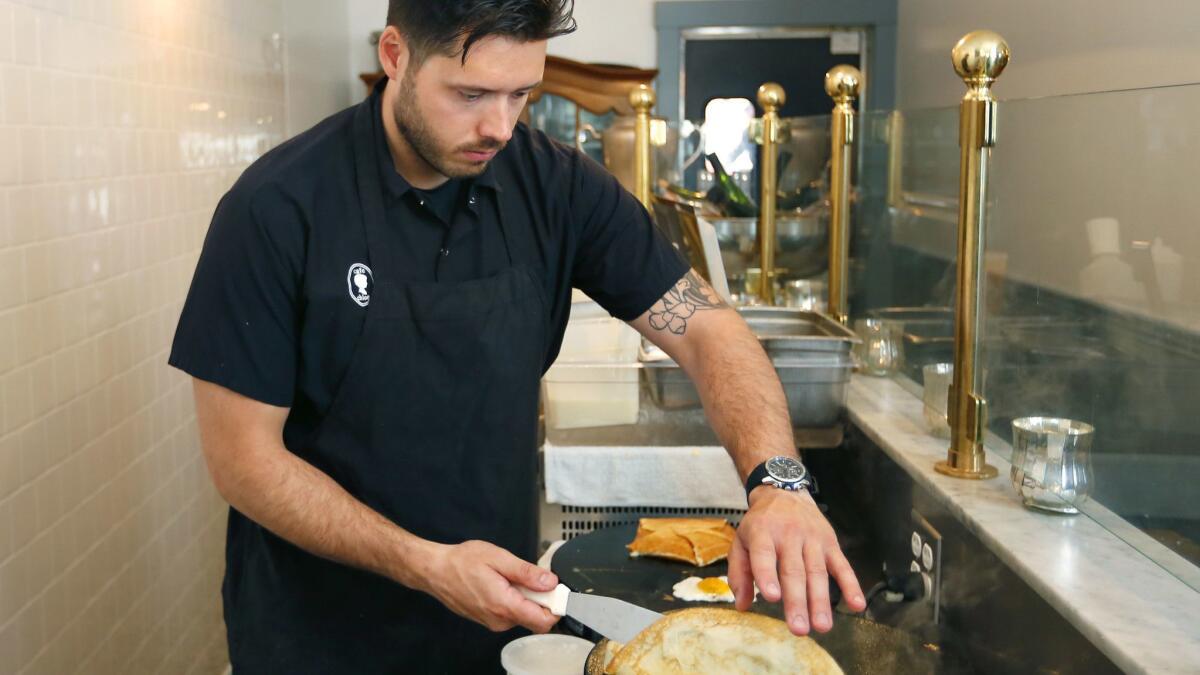 The owners have plans to open a third concept some day, but for now they're content with their two intentionally petite restaurants.
"They're tiny but we like the feel of it, the intimacy," McGrath said. "Sometimes you go in big restaurants and they're half-empty, but with the same number of customers here, we're comfortably full. It's always bustling and fun."
Cafe Chloe, 721 9th Ave., East Village. Hours vary. (619) 232-3242. cafechloe.com
Minou, 721 Eighth Ave., East Village. 9 a.m.-4 p.m. daily. (619) 391-7587. minoucreperie.com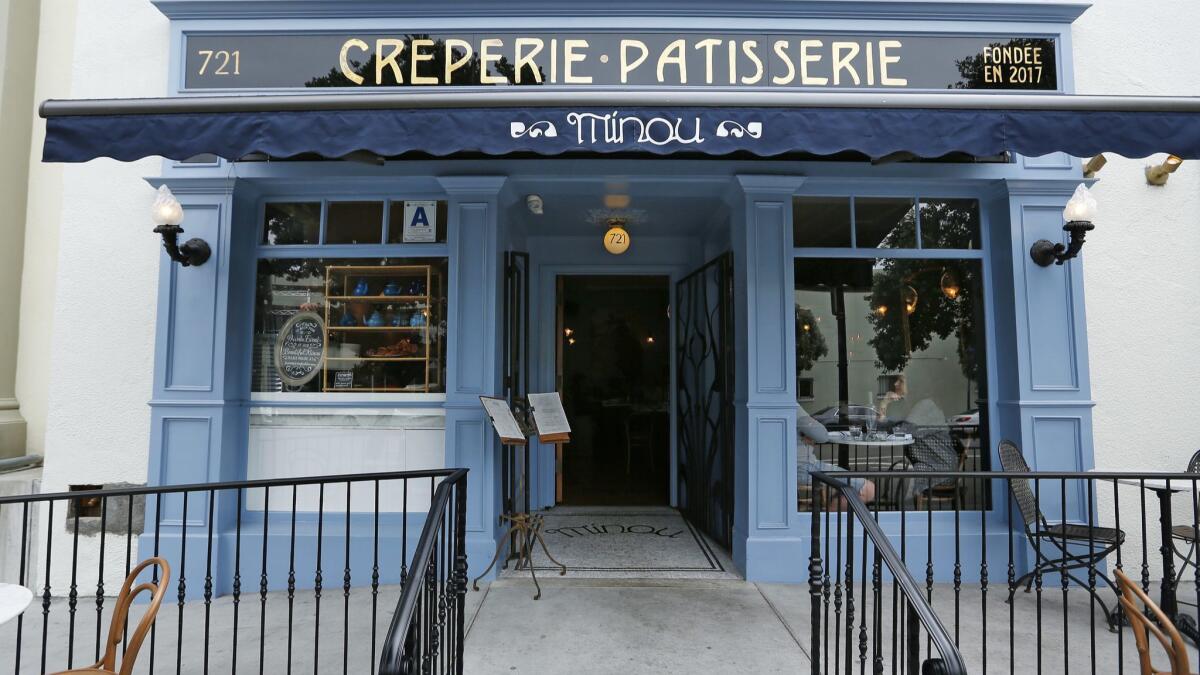 pam.kragen@sduniontribune.com. Twitter: @pamkragen
Sign up for the Pacific Insider newsletter
You may occasionally receive promotional content from the Pacific San Diego.