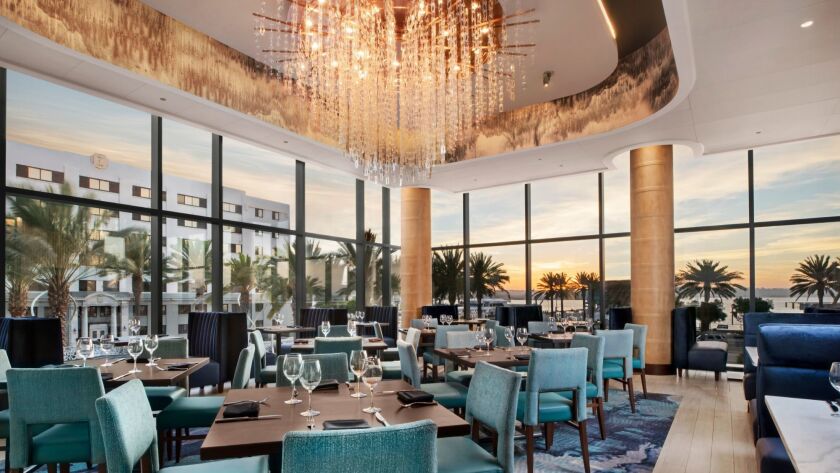 If fine dining is dead, the afterlife sure looks swanky.
In conventional culinary wisdom, so-called white table cloth restaurants — pushed to the buzz-o-meter back burner by the perpetual proliferation of fast casual spots, "eatertainment" playgrounds and gastro-bars and pubs — have been deemed passé.
Tell that to the people of Del Frisco's Double Eagle Steakhouse, who just spent $10 million to build the most glitteringly glamorous new restaurant in town. Or you might want to share that with the team behind STK San Diego, the alluring and elegant steakhouse that opened in July, after a years-long delay. Both are part of respected nationwide chains and their downtown San Diego debuts came on the heels of Born & Raised making a game-changing splash in Little Italy at the tail end of 2017.
That ultra-luxurious stunner, named the Union-Tribune's 2017 Restaurant of the Year, redefined the upscale steakhouse experience in San Diego, with retro tableside food and cocktail service, modern twists on classic dishes and elevated everything — from the silverware to the service.
The crown jewel in San Diego's hip CH Projects empire (Raised by Wolves, Polite Provisions, Ironside Fish & Oyster), Born & Raised has made steakhouse dining cool again, introducing it to a generation that likely wouldn't know a chateaubriand from a cheeseburger.
With the rise of the taco truck and ramen shop to cult status in recent years, it became easy to dismiss the broad category of fine dining as irrelevant. Refined (read: stuffy) service, encyclopedia-sized wine lists and dinner tabs that rival car payments were the stuff of a food snobs' dreams, not yours. Hello street food, goodbye tweezers.
Likewise, the fancy steakhouse sub-category was relegated to the cliché restaurant where your parents or business travelers on expense accounts went. There is some truth to some of that — they can cost some serious money. And it's not a coincidence that Del Frisco's and STK are both housed in a hotel (the InterContinental and Andaz, respectively).
Happily, though, steakhouses are thriving in today's culinary landscape, with these pampering palaces serving as the last bastion of fine dining, an enduring antidote to come-as-you-are casual.
Not all steakhouses are the same — even if they all seem to feature similar fare (crab cakes, creamed spinach, lobster bisque, chocolate lava cake). We've tasted enough steak in recent months to test even the most committed carnivore. Way more times than not, our food has been delicious; the experiences civilized and long on pleasure.
So sharpen your knives and pop open your best bottle of Napa cab — with the holidays here and family memories destined to be made, it's the perfect time to check out a winning newcomer like Del Frisco's, or any of San Diego's other best steakhouses. If you're lucky, maybe your parents will pick up the check.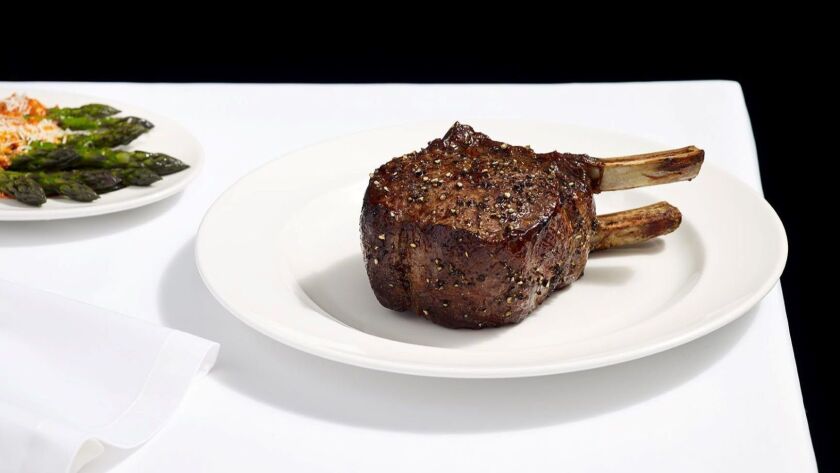 Del Frisco's Double Eagle Steakhouse
This two-story, indoor-outdoor, 480-seat, $10 million bayside restaurant is a show-stopper.
Taking full advantage of its prime location along the waterfront, Del Frisco's has floor-to-ceiling windows and two heated patios, including a sexy upstairs space built around a circular dining table with a fire pit in the center.
The décor emanates luxury, with plush blue banquettes ringing the main upper dining room, and stylish, dangling crystal chandeliers that are visually arresting.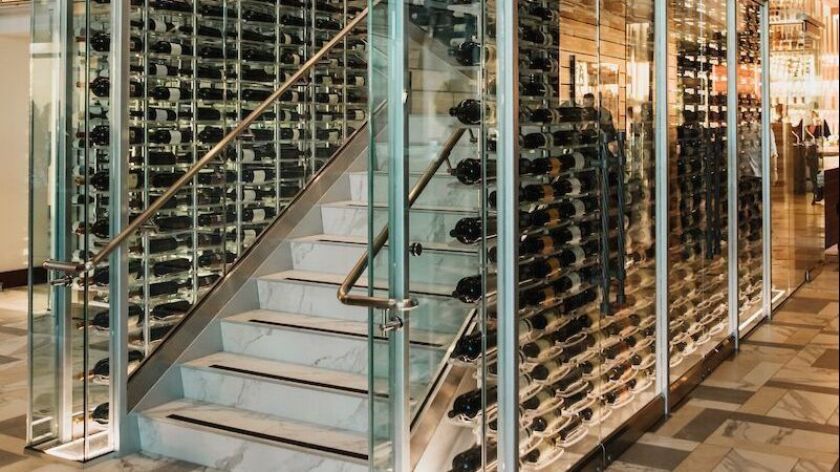 Temperature-controlled wine walls expertly carve the interior into dramatic dining and bar areas, with even the staircase lined with selections from the 1,100-label, 8,000-bottle collection of stellar California, French, Italian and other global bottlings.
Just for fun, try to spot the most expensive bottle on the list: a $10,000, 2005 Pétrus from Bordeaux. But have no fear, Del Frisco's accomplished and charming wine director, Faith Fulginiti, can point you to the adventurous, yet accessible, values, which start at $38.
The wine program has something for everyone — from big, bold, expensive California reds to obscure international varietals and everything in between.
Fulginiti pointed out several Valle de Guadalupe wines as well as one from Lebanon. "I'm part Lebanese and I wanted to bring a little piece of me to the list," she said. (She's also part Italian and that piece of her is widely represented on the list.)
With San Diego as its first West Coast location, Texas-based Del Frisco's put down roots here in a big way, bringing Fulginiti and executive chef Brian Christman from the chain's New York City flagship restaurant — one of the highest volume steakhouses in the world.
Christman, a Wisconsin native whose beefy résumé includes time at Smith & Wollensky, Mastro's and Brett Favre's Hall of Fame Chophouse, skillfully oversees the premium hand-cut steak program.
My own expense account didn't allow for me to try the $140 "Double Eagle" 45 day, 32-ounce, dry-aged double bone prime ribeye, but the 16-ounce prime ribeye ($55) was a tender, juicy consolation.
Menu standouts at Del Frisco's include the silky, jumbo lump crab cake, the lobster-packed mac 'n' cheese, and the butteriest butter cake I've ever tasted.
A few flaws — somewhat chewy bone-in strip steak, a lemon cake that lacked citrus zing, unexceptional bread — didn't mar a pretty terrific meal. But they did prompt me to go back at lunch to give the stunningly beautiful restaurant another try.
I'm glad I did. The three best reasons to go for lunch are the view — which is on full display during the day — lower prices and deals, and several of Christman's own signature dishes.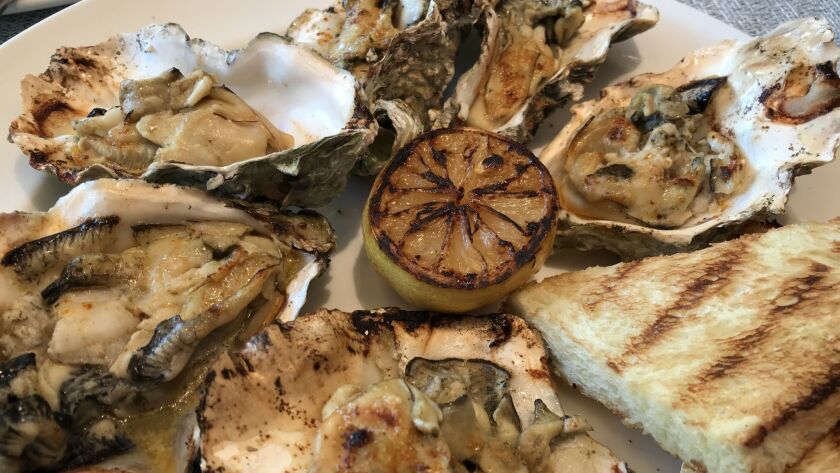 A $34 business lunch includes soup or salad and your choice of filet medallions, pan-seared king salmon or Jidori chicken piccata. Each is served with a side, a bonus that the regular entrées don't come with.
Like most national chain steakhouses, the menu at Del Frisco's is a corporate invention, with dishes served here, there and everywhere there's a location.
But Christman has put his own touches on the bar menu — perfect, ultra-fresh Creole chargrilled oysters, indulgent cheesesteak eggrolls and addictive white cheddar cheese curds, battered in local Thorn Barrio Lager and gently fried. They are a welcome Cheesehead-San Diego mashup.
Just as Del Frisco's is a welcome addition to San Diego's sizzling steakhouse scene.
At the InterContinental Hotel, 901 Bayfront Court, downtown San Diego. (619) 272-5060. delfriscos.com/steakhouse/sandiego
San Diego's best steakhouses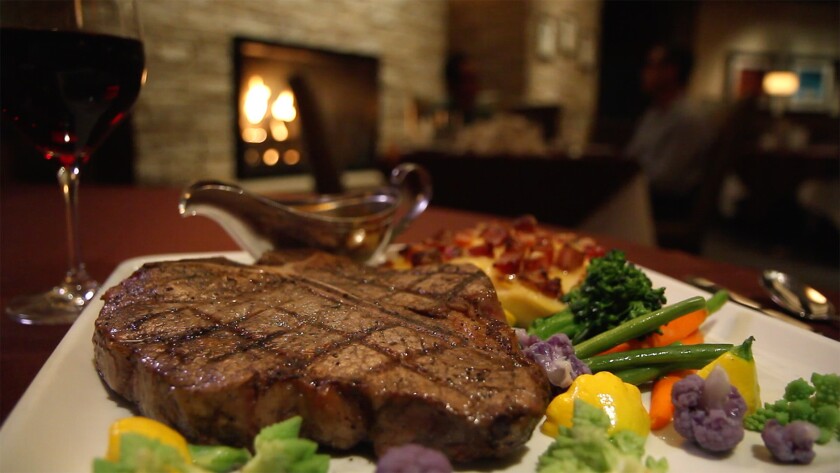 Barona Oaks Steakhouse
Elegant, yet accessible, Barona's stylish steakhouse excels in food, wine, service and atmosphere. Barona has its own dry-aging room and the steaks are cooked on a wood-burning grill. A highpoint is the exciting yet exceptionally reasonable wine list, while the musical magic of longtime pianist Jonathan Zarzosa makes Barona Oaks truly memorable. At Barona Resort & Casino, 1932 Wildcat Canyon Road, Lakeside. (619) 328-3126. barona.com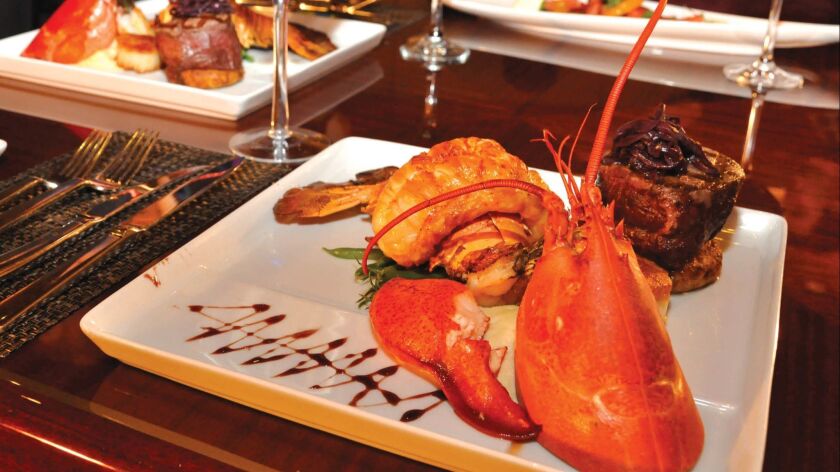 Black&Blue
Glamorous touches abound here, from the warm hand towels and amuse bouche to first-rate wine flights. The bargain-priced three-course $40 menu includes filet mignon, but if you're feeling lucky, the "Ultimate Surf & Turf" may or may not cost $85. When it's time for the bill, a card table is rolled over and if pick the right card, your surf and turf is free. At Valley View Casino & Hotel, 16300 Nyemii Pass Road, Valley Center. (760) 291-2130. valleyviewcasino.com
(Note: This story was updated on Feb. 26, 2019 to reflect that the three-course menu was changed to $45.)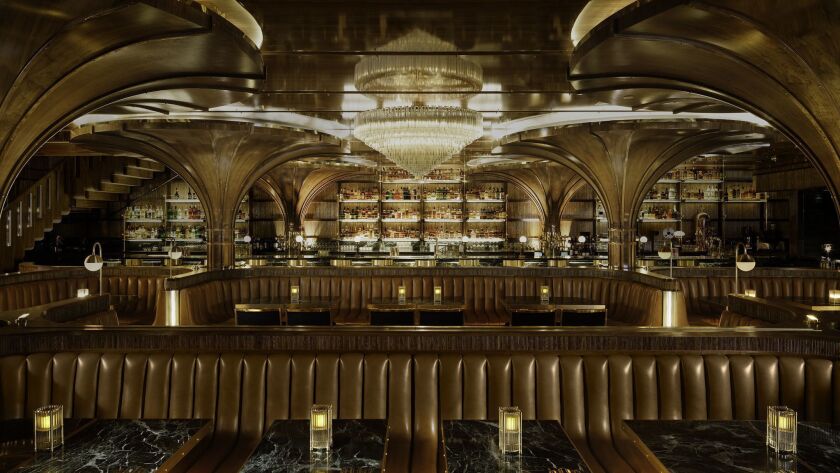 Born & Raised
Born & Raised was an instant classic when it opened and remains a restaurant for the ages — San Diego's top steakhouse. With unparalleled design, polished service and, most importantly, fabulous food, this Little Italy hotspot transports you to another time and place. You can't go wrong with anything on the menu but the spaghetti with uni and the bread are — hyperbole alert! — life-changing. 1909 India St., Little Italy. (619) 202-4577. bornandraisedsteak.com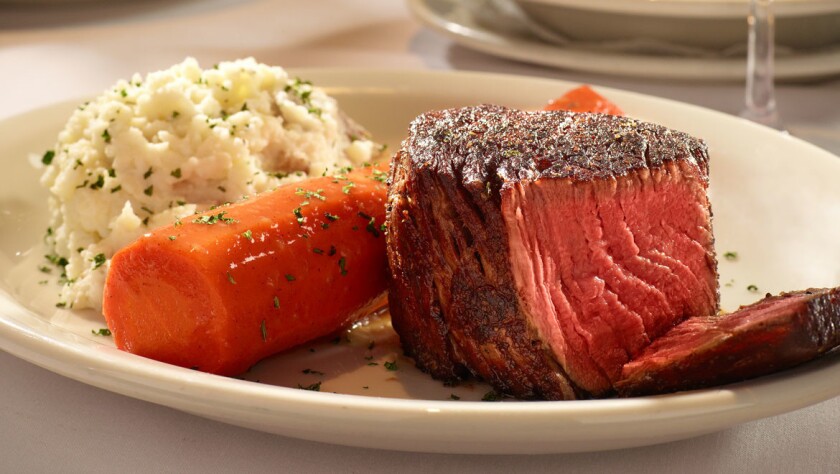 Bob's Steak & Chop House
Here's the best reason to visit a wellness resort: Texas-sized steakhouse portions of fine fare at Bob's. The Omni La Costa Resort might be more famous for its spa and (Deepak) Chopra Center, but this traditional steak and chop house should be known for one of the most flavorful filet mignons a friend and I ever tasted. Big cuts of beef come with a giant carrot and a two-fisted baked potato or other starch. I'm feeling better already. At Omni La Costa Resort & Spa, 2100 Costa Del Mar Road, Carlsbad. (760) 929-6346. bobs-steakandchop.com/carlsbad
Bully's East Prime Bistro & Sports Bar
An outlier on this list, Bully's is more of a neighborhood longtime favorite than a spiffed-up steakhouse. But the quality of its steak, couple with great value, earns Bully's its place among the best. Deservedly boasting the best prime rib in San Diego, Bully's serves five different cuts and preparations of it. The horseradish-crusted prime rib for $29.75 is a standout. You could also make a meal from the appetizer and small plates menus (filet meatballs, fried artichoke hearts, glazed ribs, kung pao wings and prime rib bits are tops). 2401 Camino Del Rio South, Mission Valley. (619) 291-2665. bullyseastsd.com
Cowboy Star Restaurant & Butcher Shop
A must-try for every urban cowboy, this underrated, sophisticated Western-themed steakhouse also has an in-house butcher shop, which guarantees top-notch beef. More casual than most elegant steakhouses — but no less delicious — Cowboy Star has a menu to satisfy traditional as well as adventurous tastes. You'll find bison, venison, cheesy grits, wagyu pasta, house-made beef jerky, charcuterie and more among its offerings. Cowboy up at the bar for exquisite craft cocktails. 640 10th Ave., East Village. (619) 450-5880. cowboystarsd.com
Fleming's Prime Steakhouse & Wine Bar
A top-tier national steakhouse chain, Fleming's goes beyond culinary prowess to distinguish itself in other ways. One is the Newport Beach-founded restaurant's unparalleled approach to wine. There are always 100 different wines available by the glass, the wine list is nicely varied and Fleming's frequently hosts wine-maker dinners. Join the mailing list to see how else Fleming's is different. Among the offers in my mailbox recently have been Sunday three-course menus featuring slow-roasted beef tenderloin for $48, filet and lobster specials for $55 and $25-$100 dining credit coupons. 380 K St., Gaslamp. (619) 237-1155. 8970 University Center Lane, La Jolla. (858) 535-0078. flemingssteakhouse.com
Island Prime
Island Prime has a postcard-perfect panorama of the San Diego Bay and downtown skyline. But you can't fill up on vistas and that's where the restaurant's carefully chosen steak program comes in. Island Prime might be ginormous in volume, selling an estimated 40,000 steaks a year, though it procures beef like an artisan eatery. The menu reads like a responsibly raised cattle geography lesson: "Eye of the Ribeye" steak from Snake River Farms in Boise, Idaho; Kerwee Australian Angus New York strip from Queensland; Aspen Ridge flat iron from Greeley, Colo. You can't eat ethos either and that's where deliciousness comes in. 880 Harbor Island Drive, Harbor Island. (619) 298-6802. cohnrestaurants.com/islandprime
Stake Chophouse & Bar
We didn't think Coronado could be more perfect. And then Stake arrived in 2014. Upscale glam, with prices to matches, Stake elevates the steakhouse experience with touches like getting to choose from specialty steak knives (Laguiole from France, Global and Shun from Japan, F. Dick and Wüsthof from Germany) and being very selective about the beef it serves. The menu at Stake includes an A5 Japanese wagyu so regarded it comes with its own certificate of authenticity. Ironically, some of the best dishes I've had at Stake have come from the sea and the garden. Because when you're in the perfect place, you've got to be perfectly balanced. 1309 Orange Ave., Coronado. (619) 522.0077. stakechophouse.com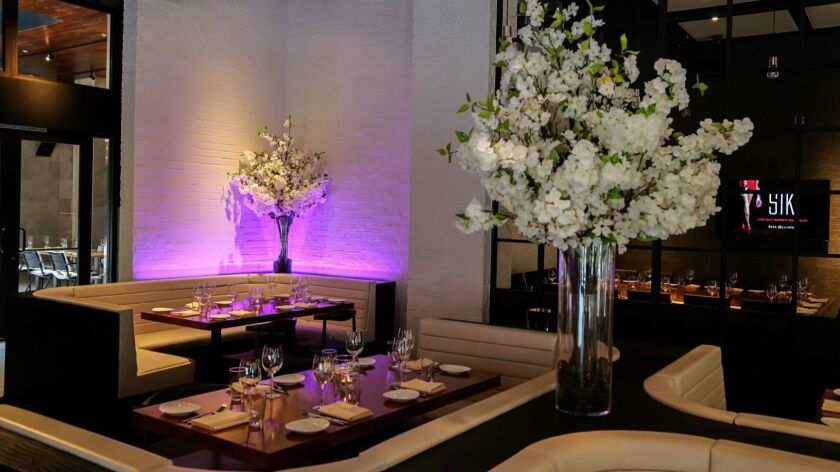 STK San Diego
Delayed for eons, this new downtown San Diego hotspot finally opened this summer, and it was worth the wait. Steaks are served with a side of clubby atmosphere, as a DJ spins funky classics during the peak dinner hour. Menu highlights include the über-flavorful 14-ounce, 45-day dry-aged Delmonico steak and the hand-foraged mushrooms bursting with umami goodness. The $5 smoked bacon skewers and "Lil' Brg" waygu sliders washed down with $7 craft cocktails make for a happy hour indeed. At the Andaz Hotel. 600 F St., downtown San Diego. (619) 354-5988. togrp.com/venue/stk-san-diego
michele.parente@sduniontribune.com
Twitter: @sdeditgirl
---