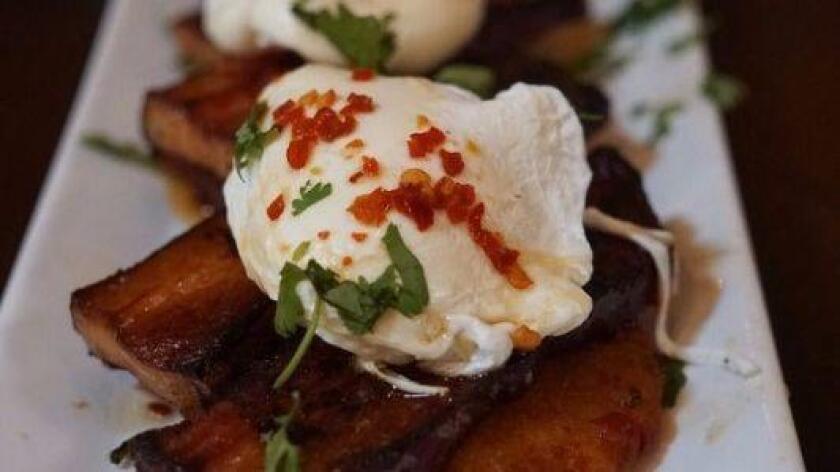 You'd expect any respectable list of the top restaurants in San Diego to include Cucina Urbana, Sushi Ota and Juniper & Ivy.
Sure enough, they're all there on Yelp's inaugural ranking of the 30 Most Popular Restaurants to Make a Reservation in San Diego, at number 2, 9 and 14, respectively.
And coming in at No. 1? Werewolf.
Were-what?
"I was surprised, too," said Stacy Simmons, general manager of the 3-year-old spot in the Gaslamp Quarter. "We're basically a dive bar that takes reservations and there are so many great restaurants in San Diego."
Taking reservations were essential to be included on Yelp's list but what propelled Werewolf to the top were its nearly 2,000 reviews - nearly all of them glowing - on the popular crowd-sourced website and its near-perfect 4.5-star rating, out of five.
"We definitely try to build our reputation one drink at a time," Simmons said. "We want to make sure people have a better day when they leave than when they came in. ... It sounds simple; it's not. But it's working."
For its ranking, which had only been done before in Yelp's hometown of San Francisco, the site factored in a restaurant's mobile page views, and only those with at least 150 reviews and a minimum 4-star rating. That methodology not only captures an eatery's relative popularity but how it connects to its customer base online.
"It used to be that reservations were only used for a special occasion, planned over a week in advance, and made on the phone or sometimes (gasp!) in person at the restaurant," Yelp Reservations General Manager Vish Prabhakara said in an email.
"More and more, diners are searching on their mobile devices for their next meal. They may be on-the-go, or on the couch, but mobile phones are increasingly the primary source for restaurant information."
Prabhakara noted that the local index spans a wide range of restaurants, from Lucha Libre Gourmet Taco Shop in Mission Hills to Shan Xi Magic Kitchen on Convoy Street, Barbusa in Little Italy to Urban Solace in North Park.
"From this list, we can tell that San Diego residents are wowed by a diversity of cuisines, price point, and they embrace up-and-coming restaurants but don't forget classic local favorites."

The full list
1. Werewolf
2. Cucina Urbana
3. Great Maple
4. Submarine Crab
5. Lucha Libre Gourmet Taco Shop
6. Ironside Fish & Oyster
7. Crushed
8. Cafe 21
9. Sushi Ota
10. Dumpling Inn
11. Craft & Commerce
12. Kettner Exchange
13. Urban Solace
14. Juniper & Ivy
15. Barbusa
16. Searsucker
17. Prepkitchen Little Italy
18. Trust
19. Island Prime
20. Rustic Root
21. Puesto
22. Bencotto Italian Kitchen
23. Pardon My French Bar & Kitchen
24. Coasterra
25. Tom Ham's Lighthouse
26. Shan Xi Magic Kitchen
27. Embargo Grill
28. Cafe Sevilla
29. The Prado At Balboa Park
30. GARAGE Kitchen + Bar
Twitter: @sdeditgirl; michele.parente@sduniontribune.com
---