Well-grounded chef poised for stardom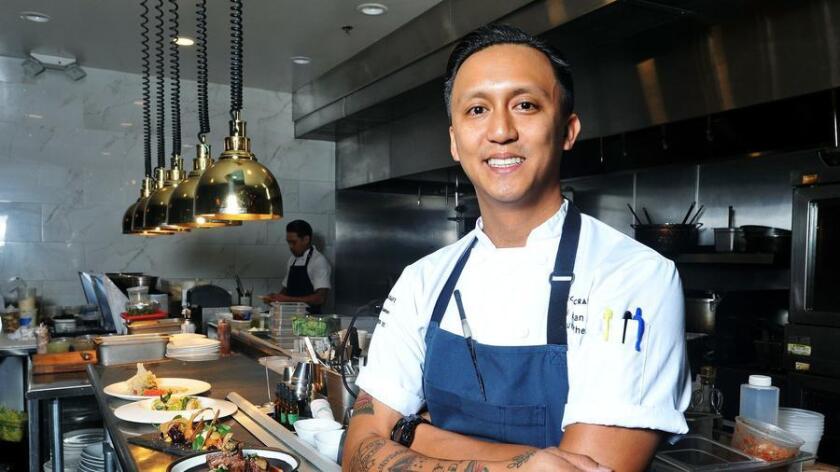 In a city with its fair share of "celebrity" chefs, Phillip Esteban is a beacon of hope. An interview with the executive chef of The Cork and Craft - perhaps the most dynamic and simultaneously under-wraps restaurant in the county - reveals that Esteban is indeed poised for fame, though it most likely won't stem from television network hoopla.
In a city with kitchen staff that come and go in the blink of an eye, Esteban is breaking the mold, with 90 percent of his original crew still with him a year and a half later. It's an anomaly even after dining there, dazzled by the symphonic display of dishes coming together in its bright, modern open kitchen.
"Maybe I could have become an executive chef a lot earlier in my career," Esteban said matter-of-factly. "But my biggest fear was to fail my own staff by not being able to teach them."
With a degree in culinary arts, at 27 years old, Esteban left San Diego to absorb all he could. He learned the ins and outs of charcuterie while opening seven Tender Greens locations in Los Angeles, and then after two years, he kept the challenge going and bought a one-way plane ticket to New York City where he landed a pivotal gig at none other than one of David Chang's restaurants, Momofuku Ssäm Bar.
"I learned so much, say, just at Momofuku itself," said Esteban, who was also staging - like a cooking internship - at various NYC restaurants on his days off.
"It's a great company, but it's their business model that I really believe in. It's all about self enrichment."
Esteban explained that attached to every paycheck, there was a newsletter with headlines and highlights, and a schedule of classes and different tours. This kind of mentorship program, and dedication to nurturing young talent, is something that San Diego lacks, Esteban said.
"Every Thursday at 10:30 a.m. we (the kitchen staff) go over reading from this book called the '21 Indispensable Qualities of a Leader,' because in 10 to 15 years from now, they're going be the future of food, not me," Esteban said about his staff. "So, it's our job as chefs to educate them, teach them the right things, and not to half-ass. As a whole, I think our industry is missing leaders."
After five years of cooking between L.A. and N.Y.C, and then two months of travel across the U.S. staging at restaurants from Chicago to Portland, Ore., Esteban came back to San Diego older and wiser, and accepted the lead position at Rancho Bernardo's The Cork and Craft, nestled in the midst of Abnormal Wine Co. and Abnormal Beer Co.'s operations.
Must order
Wagyu beef tartare ($14)
Showing off Esteban's Asian-leaning personal tastes and knowledge of traditional French cuisine, this umami bomb-take on the classic is thrilling with its cured egg yolk, aerated umeboshi, nori croutons and pickled radish that you mix in with silky rich, minced beef.
Grilled octopus ($14)
With lemon ricotta agnolotti, etrog citron confiture, pearl onions, sorrel and ajoblanco, here's another standout starter from Esteban, who combines Spanish and Italian techniques and accents them with multiple citruses and textures.
Smoked selva shrimp ($12)
Gigantic smoked shrimp with sweet peas, asparagus and asparagus cream, nasturtium and elderflower is super clean and elegant - both to behold, and devour.
Ribeye ($22)
A generous hunk o' meat served delightfully thick atop sweet potato purée with broccoli rabe and bordelaise sauce flecked with pickled mustard seeds.
From the outside looking in, this business park compound isn't catchy - but once inside, the gleaming equipment, great smells and Esteban's cool, collected kitchen, you'll know you're in a special place. Then the smooth service and knockout food kicks in and you'll think you've died and gone to heaven.
Esteban leads his staff on visits to farms, cooks with them outdoors, hosts pasta-making classes, and participates in the ongoing education he's built into the restaurant's cultural fabric - like wine and cheese pairing and beer classes. In the future, The Cork and Craft will also make its own distilled spirits.
Besides dropping knowledge on his staff, Esteban also volunteers at Morse High School's culinary program as a guest instructor every Monday, and has even invited students into his restaurant to help prep dinner with guest chefs like Jon Bautista of George's California Modern. Esteban is also involved with the South Bay Uprising dinner series, which aims to draw attention to the South Bay by hosting events there, because many of the participating chefs who are from the region, like himself, now cook elsewhere in town.
"What I always tell my staff is: our industry doesn't give a lot," said Esteban. "It takes everything from us. We miss a lot - like first steps and first words - and don't make a lot of money working 16-hour days. But at the same time, we get to do something we love."
He continued: "I get to work with people that I hand picked and have stayed with me since day one at The Cork and Craft. It takes three years to turn a profit, but we did after eight months, so we're doing something really well. I have my staff, my drive and passion for what we're doing, and that makes me feel rich ... Money will all work itself out, because the success we're creating will bring all of that to us."

Don't miss
The next installment of the Abnormal Dinner Series:
"The point of the series is to pair with other breweries," Esteban said of the monthly event happening at The Cork and Craft. "San Diego is the beer capital of the world, so what we want to do is bridge the gap between that and fine dining. Most beer dinners are really just bar snacks."
The series sells out every time thanks to Esteban's pull with noted chefs from near and far, ranging from Jason Knibb of Nine-Ten to the twice Michelin-starred Keone Koki of Commis in San Francisco, who all put out a course based on the style of beer they're working with from the featured brewery. "People scream and clap at these beer diners when the next course comes out," Esteban said with a laugh. "It's really cool to see."
Amy T. Granite is a dauntless eater who has written about food in San Diego since 2006. You can follow Granite and her tasty adventures on Twitter and Instagram @saysgranite. Send your mouth-watering ideas to her at amytgranite@gmail.com.
Source: DiscoverSD
---
Sign up for the Pacific Insider newsletter
PACIFIC magazine delivers the latest restaurant and bar openings, festivals and top concerts, every Tuesday.
You may occasionally receive promotional content from the Pacific San Diego.