Hare we go again: See what's hoppin' at Volcano Rabbit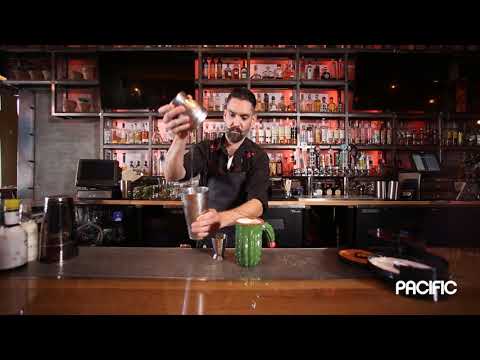 Mixology 619:  Marshal Emerson, Tequila Enthusiast at Volcano Rabbit makes the Spicy Hacienda Margarita
Rabbits are quiet, docile creatures, but be prepared for some wild and crazy when it comes to the Gaslamp's newest addition, Volcano Rabbit.
The restaurant/nightspot, which opened in mid-February in the former Don Chido Mexican restaurant comes after RMD Group closed Don Chido last fall to revamp the space into a more nightlife-focused concept. Partner Mike Georgopoulos said early response has been strong.
Cute and fuzzy it is not. Volcano Rabbit is a high-energy, 95-seat tequila bar, with 175 agave spirits in house, DJs four nights a week, bottle service, tequila lockers and a Saturday party brunch.
The venue's no-holds-barred marketing slogan? "Flirt with the DJ, welcome mischief."
"Tequila bars are meant to be fun and we've created a stylish space for customers to drink creative cocktails, socialize and get a bit loud. Even our Taco Tuesday has a DJ. We wanted to make sure our messaging was in line with the energy that's happening inside," Georgopoulos said.
Founded in 2008, RMD Group is owned by Georgopoulos, Dave Renzella and Dan Renzella. They own or operate eight restaurants, bars and nightclubs downtown. He said running businesses in the highly competitive and expensive downtown district isn't for the faint of heart. Case in point: Salvucci's, an East Village Italian restaurant the company shut down on March 10 after just two years in business.
Georgopoulos said the hospitality industry is a fast-changing marketplace with constantly shifting customer preferences. To stay ahead of the curve, RMD has tried to find unfilled niches. One of its first projects, Side Bar, introduced the hybrid restaurant/lounge/nightclub concept. And Rustic Root opened in 2015 as the Gaslamp's first rooftop restaurant.
Now comes Volcano Rabbit, which is actually a real thing — a tiny, nocturnal, mountain-dwelling rabbit found only in Mexico.
"It was a memorable and interesting name that captured the essence of the concept," he said.
Georgopoulos said the company decided to revamp Don Chido because the restaurant industry has been so volatile in recent years. By contrast, RMD's tried-and-true nightlife formula is what he calls "future-proof."
The centerpiece of Volcano Rabbit is its spirits menu, serving downtown's largest selection of tequila and international agave spirits. Locals can rent in-house tequila lockers, which entitles them to buy bottles for half-price. There's also a 40-label bottle service program, with a mix-and-match mini-bottles option.
On the food side, chef Andre Alto is serving craft tacos, with fillings ranging from carne asada to octopus, seared ahi and sticky beef short rib. Every month, he creates a new $20 taco with gourmet ingredients. March's "Luxe" taco featured butter-poached Maine lobster, sturgeon black caviar, edible gold leaf and shaved black truffle. There are bigger entrée items and meat boards for heartier appetites.
Volcano Rabbit also offers a DJ-driven Saturday Party Brunch. The $25 all-you-can-eat service includes a build-your-own ceviche station and custom chilaquiles. For an extra $20, you get unlimited mimosas and build-your own bloody Marys.
"People should get prepared for a unique and energetic brunch experience to kick off the weekend," Georgopoulos said.
527 Fifth Ave., Gaslamp, 619.232.8226, volcanorabbitsd.com
Take a shot!
How to choose among 175 tequilas? Management recommends their favorites:
Casa Dragones Joven: While not a true blanco, it is a blend of small batch blanco and muy anejo tequilas, rested in new American oak barrels for five years. Fresh and inviting, subtle floral and citrus aroma with notes of sweet roasted agave. Taste notes: Soft and smooth with hints of vanilla and spiced undertones, with a warm bright finish. $40 a shot.
Azunia Reposado, Don Chido Edition: Aged 11 months in American oak whiskey barrels that previously held Gentleman Jack whiskey. You get notes of light agave, vanilla and butterscotch with a little wood. There are only about 40 bottles left before it's gone forever. $12 a shot.
Expresiones del Corazon Thomas H. Handy Anejo: Aged 19 months in Thomas H. Handy Sazerac rye whiskey barrels. Notes of sweet bell peppers, berry fruit, cinnamon, orange blossom, vanilla, nuts, herbs. The burst of flavors ends with a pleasant pop of peppery heat, possibly owing to its higher proof $16 a shot.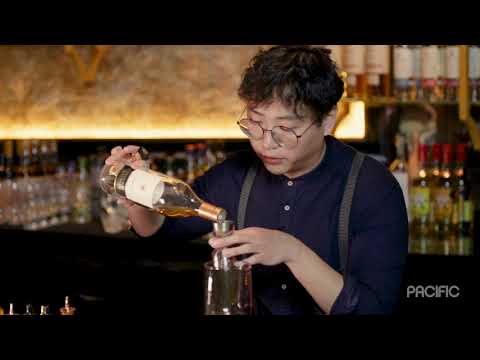 On Now
Mixology 619: The Opium Den
On Now
Mixology 619: It's Always in the Banana Stand
On Now
Video: Mixology 619: Avo-Colada
On Now
Mixology 619: Cucumber Stiletto from STK
On Now
Mixology 619: The Merlion
On Now
Mixology 619 Spicy Hacienda Margarita
On Now
Mixology 619: The Painkiller
Sign up for the Pacific Insider newsletter
You may occasionally receive promotional content from the Pacific San Diego.