Prepare for a food marathon at Fusion Izakaya 52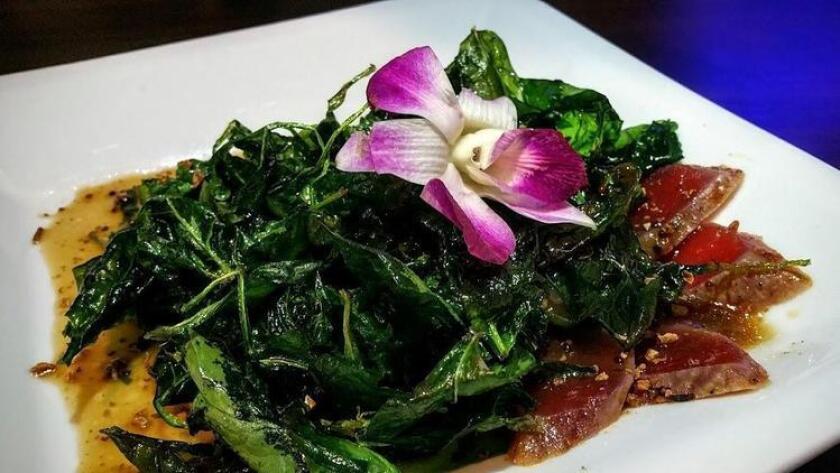 My only gripe about Kearny Mesa is that it doesn't allow camping, because a bonfire and air mattress would really come in handy after a long night of eating. That's what you do here: Take your time and gorge, then rally, eat some more, and wish to no avail that your bed were just a few steps away.
On a recent chilly night, my half frozen date and I experienced the next best thing to Kearny campout at Fusion Izakaya 52 with its tabletop Japanese clay stove, whose flames sparked with every sizzle-pop of bacon-wrapped scallop skewers, plus six meaty sticks in the Yakitori Sampler ($18).
The skewers arrive cooked, but the flickering grill allows you to eat at the pace of a 90-year-old, heating up the meat morsels in between bites. If the thick, tender beef skewer was the best tasting of the bunch, then the bacon-wrapped rice cake - a Korean specialty, similar to mocha in Japan, said the server - wins for most fun. Bouncy and spongy, the savory bacon clung right to the sticky tube of smooth, white rice, and came topped with a deliciously sweet teriyaki-style sauce. I would like my Christmas stocking stuffed with 50 of these.
Another quirky hit came off the house special menu: the Popeye, which consists of crisp, fried spinach salad dressed with a whole grain mustard and soy sauce vinaigrette - thin slices of vibrant seared ahi poking out from within.
Camping out at this cozy spot is made even easier because a) they're open till 1:30 a.m. and b) serve 16-ounce frosty Sapporo beers for $1.99 - not for happy hour, all the time - or a large beer and large sake for $7. Besides the aforementioned shareable plates, there's also a sushi bar and ramen at this Japanese-Korean mashup. Heck, you can even get Korean-style ramen topped with beef bulgogi.
Super friendly, attentive service and the fact that you can drink on the cheap and light food on fire from the comfort of your table till the wee hours makes Fusion Izakaya a solid choice for your next wintry date night. Give the relative newcomer a whirl.
Fusion Izakaya 52 is at 4367 Convoy St., Kearny Mesa. (858) 430-6689.
Speaking of newcomers
A common gripe in food savvy circles is that there isn't enough legit Asian food outside of Kearny Mesa.
If you share this view, then help nurture new businesses along like Tokyo Deli - located in the former Juice Saves in East Village - where you can score delicious items like edomae-style nigiri from yellowtail to salmon and tuna; a sushi roll whose rice is infused with matcha green tea; and downright bizarre items, like the nori and rice ensconced roast beef sandwich "burrito" thing.
But what I really love about this concept is that "Edo-style" is derived from a period in the 1800s when fast food emerged in Tokyo as a response to its impatient, on-the-go culture. In case you need to get hit over the head with it: If you're a business professional in downtown, Tokyo Deli was designed for you.
Open from 11 a.m. to 7 p.m. daily with cafe seating, and handy online ordering coming soon. 871 G St., East Village. (619) 564-6960, tokyodeliusa.com
Source: DiscoverSD
---
Sign up for the Pacific Insider newsletter
PACIFIC magazine delivers the latest restaurant and bar openings, festivals and top concerts, every Tuesday.
You may occasionally receive promotional content from the Pacific San Diego.