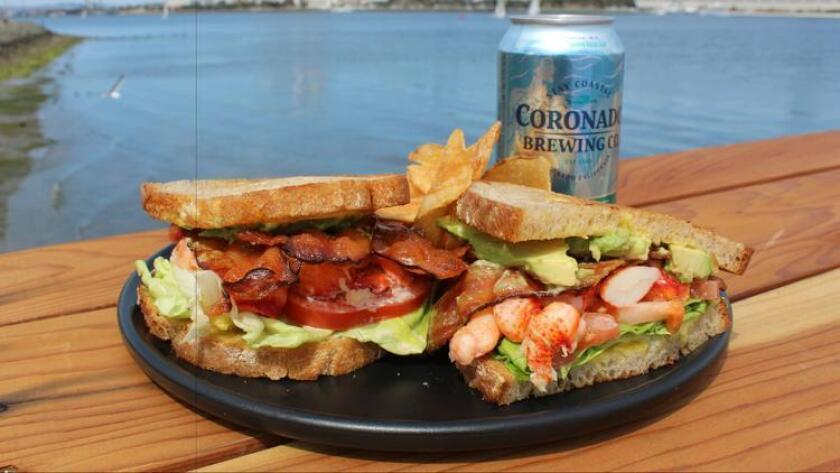 It's time to shed the heavy, hearty dishes of winter and give diners the light fare that marks the rebirth of spring. Here are some restaurants that are rolling out new seasonal menus.
Bistro 39 Restaurant & Lounge is offering springtime specials with an emphasis on color and crisp flavors. Through April, guests can choose menu items like Grilled Salmon Tostado ($30) or, on weekends, Prime Rib ($24.99). The wine of the month is the Joel Gott Alakai Grenache 2013, a sweet, spicy berry wine from Napa Valley. 3939 Ocean Bluff Ave., San Diego. (858) 720-9500
Cafe Gratitude has introduced a new plant-based burger just in time for spring. The "I Am Magical" burger is made with two black bean patties layered with fresh tomato, red onion and chipotle ketchup, topped with a thick melted layer of cashew macadamia cheddar and sandwiched in between a gluten-free amaranth and millet bun. Roasted chunks of garnet yams are served on the side. 1980 Kettner Blvd., San Diego. (619) 736-5077 or cafegratitude.com
The Cork & Craft has introduced colorful flavor-infused dishes just in time for spring and summer. Choose from starters like Chilled English Pea Soup or Grilled Asparagus Salad and entrees such as Shrimp Scampi, Stuffed Quail or Alaskan Halibut. 16990 Via Tazon, San Diego. (858) 618-2463 or thecorkandcraft.com
Current & Tides Restaurant has unveiled a new restaurant and Happy Hour menu featuring more than 20 new dishes crafted by executive chef Michael Poompan and chef Aaron Obregon. Menu highlights include Coconut Rice Meal Bowls, Up and Down Fish Tacos and Lobster BLTA. The new drink menu features Coconut Margarita, Pomegranate Sangria, Cape Coronado and wines from the Valle de Guadalupe, including Monte Xanic, Adobe Guadalupe and La Lomita. Coronado Island Marriott Resort & Spa, 2000 Second St., Coronado. (619) 522-3150.
Cusp Dining & Drinks has unveiled a new spring menu, handcrafted by chef Ingrid Funes. Plated dishes include Strawberry Orange Fennel Salad, Crab Tostada, Black Sesame Crusted Ono and Roasted Chicken Breast. 7955 La Jolla Shores Drive, La Jolla. (858) 551-3620 or cusprestaurant.com
Farmer & The Seahorse welcomes spring with a new menu featuring fresh, seasonal ingredients. Dishes include Pan Roasted Jidori Chicken with heirloom root vegetables, charred green onions, confit fingerling potatoes and herb pan jus; Salmon Salad with butter lettuce, baby spinach, cucumber, grapefruit, Marcona almonds and lemon vinaigrette; and Wild Boar Sloppy Joe, made with smoked cheddar, crispy sage-dusted onions on a sea salt Kaiser roll. 10996 Torreyana Road, San Diego. (858) 260-5400.
Green Acre chef Brian Malarkey and chef de cuisine Jason Gethin are dishing up new menu items using garden-fresh ingredients at its two locations. Campus Point, a full service restaurant, features Cuban Marinated Pork Torta with avocado spread, Oaxaca cheese, shaved onion and tomato. The Nautilus, a counter-service cafe, is serving Chicken Hummus Wrap, made with lemon hummus, shredded lettuce, tomato, bean sprouts, kaiware sprouts and a lime peanut vinaigrette and Blackened Salmon with fire-roasted vegetables, quinoa, arugula and a lemon vinaigrette. Campus Point, 10300 Campus Point Drive, San Diego, (858) 450-9907; The Nautilus, 3535 General Atomics Court, San Diego, (858) 587-6601 or greenacresd.com
Hello Betty Fish House chef Jared Hills has entered the brunch scene for the first time since the restaurant opened more than three years ago. Menu highlights include Piña Colada Fritters ($12), Baja Bagel & Lox ($15), Betty's Biscuits ($11) and Chilaquiles Scramble ($11). Cocktails are also available, like the Bloody Mary ($9) and bottomless mimosas ($15). 10 a.m. to 2 p.m. Saturday and Sunday. 211 Mission Ave., Oceanside. (760) 722-1008 or hellobettyoceanside.com
Herb & Wood chef Brian Malarkey has added spring-inspired items to its Cali-Med wood-fired menu. Highlights include the Citrus Salad, made with Castelvetrano olives, pistachios, EVOO and lemon; Baby Broccoli, made with XO sauce (a spicy seafood sauce), chili and furikake (a dry Japanese seasoning); Grilled Swordfish, made with herb spaetzle (little drop dumplings), morels (mushrooms), green garlic and preserved lemon relish; and Passion Fruit Pavlova, made with passion Bavarian cream, coconut, cilantro, white chocolate avocado cremeux, raspberry chia conserve (jam) and pink guava sorbet. 2210 Kettner Blvd., San Diego. (619) 955-8495 or herbandwood.com
Hope 46 has revamped its menu with dishes like the Steak Panzanella Salad, the Lafayette Burger and the tangy Char Sui Pork Belly Sliders with Chinese barbecue sauce, pickled cucumbers and sriracha aioli. The Lafayette Hotel, 2223 El Cajon Blvd., San Diego. (619) 296-2101 or lafayettehotelsde.com
Jsix has rolled out a new happy hour menu, Springtime Sips & Bites, using seasonal flavors from apricots, agave and radishes. Selections include the J6 Burger ($12), Apricot Glazed Cauliflower ($9) and Gouda Cheese Loaded Garlic Fries ($9). Pair your bite with a Pineapple Express, made with Yellow Chartreuse and Averna (liqueurs); Cracker Jack, made with Plantation rum; or Pero Por Que, made with Milagro Blanco Tequila. 4 to 7 p.m. weekdays in the bar. 616 J St., San Diego. (619) 531-8744 or jsixrestaurant.com
Madison on Park has added new spring menu items to its Mediterranean and SoCal-inspired cuisine. The menu includes Kale and Mozzarella Ravioli, made with tomato and burrata sauce and pesto drizzle; Beet-Cured Salmon Crudo, made with citrus, fennel, jicama, orange, radish, sea grass and jalapeno sesame drizzle. 4622 Park Blvd, San Diego. (619) 269-6566 or madisononpark.com
The Nolen has branched out into the brunch scene with its cocktail program, The Sunday Requirement. The cocktail menu features a variety of handcrafted Bloodys (Mary and Maria) and a build-your-own mimosa bar with house-made shrubs (acidic beverage made of fruit juice, sugar and other ingredients). Brunch dishes include Chilaquiles Verde, Carnitas Benedict and Smoked Trout. 10 am. to 1 p.m. Sundays. 453 Sixth Ave., San Diego. (619) 796-6536 or thenolenrooftop.com
Pacific Del Mar is serving new lunch and dinner items, created by executive chef David Burke. For lunch, sample the Fried Oyster Banh Mi, made with coconut-marinated oysters, pickled daikon (root vegetable) and carrot, chili aioli and a baguette. Dinner offers Scallop Aguachile, made with Japanese scallops, radish, cucumber, lime and tortilla chips, as well as a 12-ounce Prime New York Strip. 1555 Camino Del Mar, Del Mar. (858) 792-0476 or pacificadelmar.com
Puesto is springing into the season with new dishes. Menu items include Spring Salad, made with whipped house-made Mexican ricotta, cucumber, pickled red onion, organic baby kale, watercress, green chile and herb oil; Peagate Guacamole, made with guacamole and sweet peas and grilled spring onion; and Spaghetti Squash Fideos, made with roasted spaghetti squash, chipotle tomato, soy chorizo, avocado crema, queso fresco, and Puesto's house-made tortillas to make veggie-centric tacos. Read about Puesto's 5th anniversary festivities here. The Headquarters at Seaport, 789 W Harbor Drive, San Diego. (619) 233-8880 or eatpuesto.com
Rustic Root executive chef Marcel Childress has launched his new spring menu. Dishes include Spinach and Pear Salad, Stuffed Squash Blossoms, Manila Clams, Duck Confit Ravioli, 16-ounce Duroc Pork Shank, Roasted Duck Breast, Pan Roasted Rainbow Trout and Seared Sea Scallops. 535 Fifth Ave., San Diego. (619) 232-1747 or rusticroot.com
Whisknladle has launched its new Friday brunch menu for noshers who don't want to limit brunch to just weekends. Dishes include Chilaquiles, Eggs Benedict and Duck Hash. Signature brunch cocktails include the Seasonal Mimosa, made with cumcumber and tangerine; the Michelada, made with lager, sangrita, lime and hot sauce; and the Cynar Spritz, made with Cynar (an Italian bitter liqueur), sparking wine and lemon. 10 a.m. to 3 p.m. Friday, Saturday and Sunday. 1044 Wall St., La Jolla. (858) 551-7575 or whisknladle.com
---