Entrez noveau: What's new and coming to the San Diego dining scene
A look at what restaurants invited guests in to finish up 2017 and which will open their doors during the first half of 2018.
NOW OPEN
(opening dates between July and December 2017)
Brooktown Fusion Kitchen & Coffee, Fallbrook
This family-run café opened in August, serving a mix of American, Cuban, Thai, French and Cajun dishes.
139 S. Main Ave., Fallbrook, 760.645.3891, facebook.com/brooktown139
Ceviche House, Old Town
Chef Juan Carlos Récamier continues his upward climb with this seafood concept, which started at a local farmers market in 2014, graduated to a tiny restaurant space in North Park the following year and opened in November in a full-size and full-service restaurant with an expanded menu in Old Town.
2415 San Diego Ave., Old Town, 619.795.2438, facebook.com/cevichehouse
City Tacos, La Mesa
Gerry Torres, whose restaurants include Tostadas, IB City Tacos and Tiramisu Trattoria, returns to La Mesa with a sister location of the North Park hotspot, City Tacos. Joining forces with Sheldon's Service Station restaurateur Aaron Dean, the duo expand the menu with seasonal specialties and kid-friendly "quesitacos."
8325 La Mesa Blvd., La Mesa, 619.296.2303, citytacossd.com
Coin Op, Gaslamp Quarter
The cocktail bar/retro arcade, which was featured in the December PACIFIC magazine, opened its second San Diego location last fall in the Gaslamp Quarter. Menu includes pizza and snacks.
789 Sixth Ave., Gaslamp, 619.546.6441, coinopgaslamp.com
Cloak + Petal, Little Italy
Cloak + Petal, which opened in December, serves authentic Japanese fare served in an izakaya-style setting. The 7,500-square-foot location (formerly occupied by Entrada Mexican) has been revamped into a dining room with a crudo and sushi bar and a cocktail bar serving Japanese beers and sake.
1953 India St., Little Italy, 619.292.8898, cloakandpetal.com
Dija Mara, Oceanside
Globally trained chef Ryan Costanza and owner Rob Jones have collaborated on this Indonesian-inspired restaurant and wine bar. The mid-priced, no-reservation, modernistic dinnerhouse replaced the old 1930s-era Bessie's 1929 Café.
232 S. Coast Highway, Oceanside, 760.231.5376, dijamara.com
Donna Jean, Bankers Hill
Open since August, this homey patio restaurant serves vegan fare seasoned with herbs from its onsite garden, as well as kombucha and beer. It's named for Chef Roy Elam's late mother.
2949 Fifth Ave., Bankers Hill, 619.299.5500, donnajeansd.com
Fishmonger's Market, Middletown
Chef/owner Frank "Frankie the Bull" Terzoli has opened this European-style sustainable fish market and seafood bar inside the 57 Degrees wine retail and storage complex. Menu specialties include lobster salad, Florida grouper sandwiches, paella and maple-glazed Alaskan halibut.
1735 Hancock St., Middletown, 619.234.5757, fiftysevendegrees.com
Fung Fung Yuen, Mira Mesa
The former Hometown Buffet location has been transformed into an upscale 360-seat dim sum eatery. Vegetable, meat and seafood dumplings are served tableside from rolling carts. The restaurant also serves fresh seafood, Asian beers, sake and cocktails.
10660 Camino Ruiz, Mira Mesa, 858.578.8800, fungfungyuen.com
Giardino Neighborhood Cucina, Lemon Grove
Married restaurant veterans Karina Kravalis and Sicilian-born Marco Provino are serving a menu of wood-fired pizzas, local seafood, house-made pastas and Italian-cured meats and cheeses.
8131 Broadway, Lemon Grove, 619.825.7112, giardinosd.com
Good Seed Food Co., Mira Mesa
Chef Chuy De La Torre has opened this from-scratch kitchen serving house-made breads, noodles, cheeses and more. Good Seed Food Co. shares a space with Serpentine Cider and Lost Cause Meadery.
8665 Miralani Dr., Ste. 100, Mira Mesa, 619.323.2056, goodseedfood.com
Havana 1920, Gaslamp
Designed to resemble a Cuban speakeasy at the dawn of the Prohibition era, Havana 1920 features classic Cuban dishes by chef Anthony Porras (Cuban sandwiches and ropa vieja) in the 80-seat restaurant/bar and a cocktail menu developed by mixologist Ryan Andrews. A takeout Cuban bakery is located on the ground floor.
584 Fifth Ave., Gaslamp, 619.369.1920, havana1920.com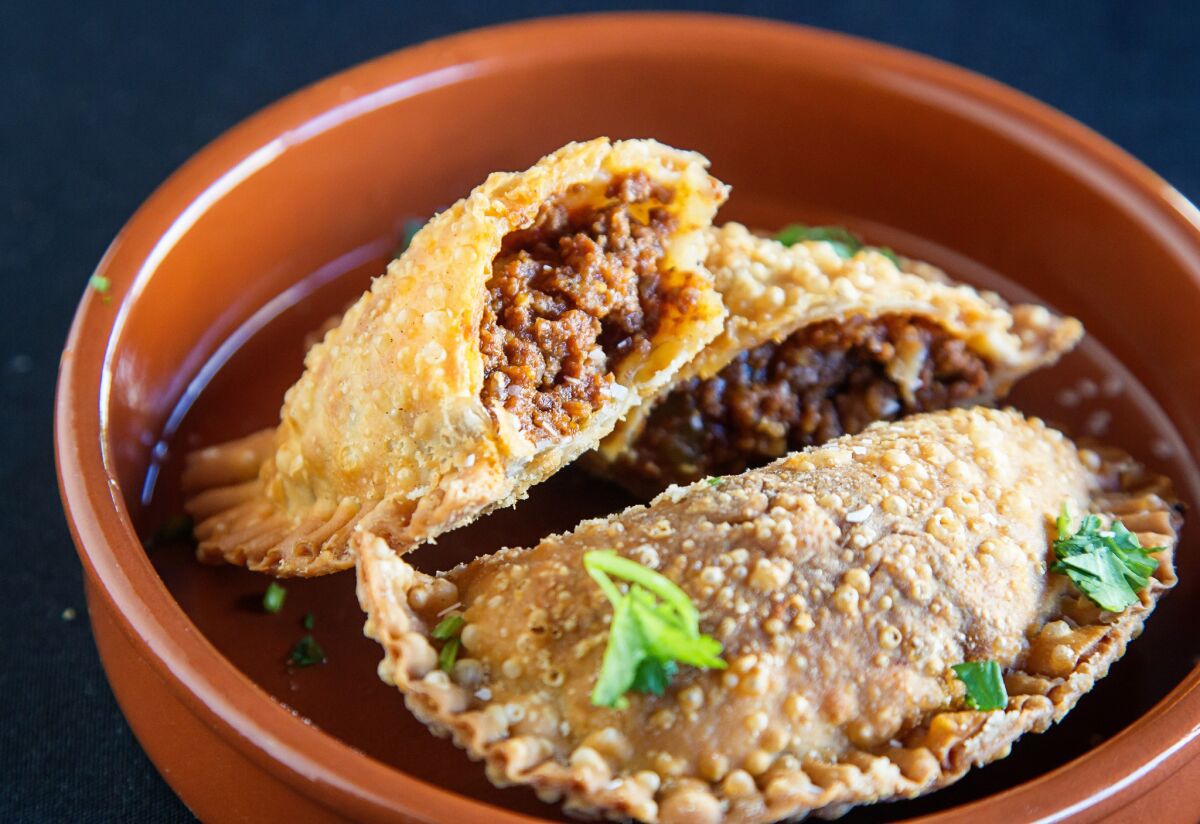 ICMonster, Kearny Mesa
Jenna Hu's Mira Mesa-based Asian-style treat shop opened its second location in November on Convoy. The family-friendly dessert company sells Thai rolled ice cream made with ingredients that range from Pop Rocks to red beans.
4968 Convoy St., Suite 105, Kearny Mesa, 858.705.4678, facebook.com/icmonster.cafe
Jalisco Cantina, Oceanside
Elevated central-coastal "fresh Mexican" cuisine and tequila-based cocktails are the focus of this restaurant/bar that opened in September. House specialties are mezcal and tequila flights, pozole soup and house ceviche.
213 N. Coast Highway, Oceanside, 760.429.1679, thejaliscocantina.com
King & Queen Cantina, Little Italy
The latest occupant in the space formerly occupied by Bracero Cocina and Romesco Mexiterranean Cocina, King & Queen is owned by Jorge Cueva, who founded Orange County's Tempo Urban Kitchen. Tempo's regional Mexican and Latin menu is being served in the Little Italy location.
1490 Kettner Blvd., Little Italy, 619.756.7864, kingandqueencantina.com
Lager San Diego, Gaslamp
This newly opened self-pour tap room in Horton Plaza shopping center has 26 craft beers on tap and a menu of gourmet sandwiches, salads and other bar foods.
75 Horton Plaza Drive, #55, Gaslamp, 858.210.9305, lagersd.com
Landon's Gourmet Kitchen, San Marcos
Charlynn and Garrett Mann's moderately priced farm-to-table eatery in Old California Restaurant Row is believed to be the first restaurant in San Diego with onsite supervised babysitting (it's named for the Manns' 6-year-old son, Landon). Chef Christophe Douheret's menu is a mix of American, French and Middle Eastern cuisines.
1020 W. San Marcos Blvd., San Marcos, 760.509.2287, landonsgourmetkitchen.com
Maretalia Ristorante, Coronado
Blue Bridge Hospitality has taken over the former Vigilucci's restaurant in Coronado and given it a new name and look. Florentine chef Marco Sedda has stayed on and refreshed the menu with a modern coastal Italian vibe.
1300 Orange Ave., Ste. 200, Coronado, 619.522.0946, bluebridgehospitality.com/maretalia
The Melt, La Jolla
This Bay area sandwich shop chain opened its 13th location in September at La Jolla Village mall. The menu is primarily gourmet grilled cheese sandwiches and Angus and Wagyu beef burgers.
8849 Villa La Jolla Dr., Ste. 305, La Jolla, 858.926.7517, themelt.com
Minou Creperie, East Village
From the owners of Café Chloe comes this equally charming creperie and patisserie around the corner. The petite menu features seasonal sweet and savory crepes, pastries and sandwiches.
721 Eighth Ave., East Village, 619.391.7587, minoucreperie.com
Monkey King, downtown
Harken back to 1920's San Diego with this revival locale, located in the original Monkey King Lottery House. Offering a variety of Asian fusion dishes and a cocktail menu created by renowned mixologists Christian Siglin and Eric Johnson, the Gaslamp location offers lunch to late-night eats for the downtown crowd.
467 Fifth Ave., downtown, 619.359.8897, monkeykingsd.com
Nick & G's, Rancho Santa Fe
Grand Restaurant Group opened this Mediterranean/Italian restaurant in the former Ponsaty's space in mid-August. Chef Brian Freerksen's menu features flatbreads, house-made pastas, steak, pork and seafood dishes.
6106 Paseo Delicias, Rancho Santa Fe, 858.771.8871, nickandgs.com
Nomad Donuts & Bagels, North Park
The second location of Brad Keiller's popular Normal Heights artisan bakery has customer seating and an expanded menu that includes wood-fired bagels and, soon, beer and wine service.
3102 University Ave., North Park, 619.431.5000, nomaddonuts.com
Nonna, Little Italy
The latest restaurant offering from San Diego's Busalacchi family, Nonna serves the family's Italian comfort food classics (chicken Parmesan, past Bolognese) prepared by chefs Nino Zizzo and Joe Busalacchi. The family's adjacent Italian bakery, Cafe Zucchero, has been incorporated into Nonna's newly renovated space.
1735 India St., Little Italy, 619.531.1731, nonnasd.com
Open House Food + Drink, Encinitas
Encinitas restaurateur Wade Hageman converted the former El Callejon taqueria into a multi-concept 4-in-1 dining destination this past fall. Chef Marlaw Seraspi overseas the Crafty Egg (breakfast/brunch), Asian Kitchen (poke, ramen and wok dishes), Driftwood Tavern (beachy bar, burgers and flatbreads) and Saltwater (pop-up weekend tequila and raw bar).
345 S. Coast Highway, Encinitas, 760.452.2555, openhousefooddrink.com
Parachute Brunch & Supper Room, La Jolla
This elevated American brunch and dinnerhouse is a reimagining of the former StreetCar Merchants fried chicken shop at that location. Chef Matthew Cranert's eclectic menu still features StreetCar-style doughnuts and fried chicken, but adds burgers, sandwiches, flatbreads, salads and plated entrees.
811 Prospect St., La Jolla, 858.291.8191, parachutelajolla.com
Pisco Rotisserie & Cevicheria, Liberty Station and Carlsbad
Sami Ladeki, founder of Sammy's Woodfired Pizza chain, launched this Peruvian restaurant concept over the summer at Liberty Station's Public Market. Pisco has a rotisserie and ceviche-centric menu developed by Emmanuel Piqueras, a chef and Peruvian cooking show producer. The first location opened in Point Loma's Liberty Station in the summer of 2017, with a second location scheduled to open in December at the former Sammy's location in Carlsbad.
Liberty Station: 2401 Truxton Rd., Ste. 102, 619.222.3111; Carlsbad: 5790 Avenida Encinas, piscorotisserie.com
Peruvian cuisine, a rich melting pot
Poke 1-2-3, Liberty Station
This quick-service poke shop, scheduled to open in December, offers traditional seafood bowls, as well as chicken and vegan options served in choice of bowls, nori-wrapped burritos and tacos.
2400 Historic Decatur Rd., Ste. 107, Liberty Station
poke123usa.com
Renegade, University Heights
This retro '80s-style food window opened in the fall at Park & Rec neighborhood bar. The window, now open evenings only, is a collaboration with next-door restaurant Madison on Park and serves poke nachos, burgers, grilled sandwiches and other quick-service items.
4612 Park Blvd., University Heights, 619.795.9700, parkandrecsd.com
Roma Urban Market, Little Italy
This long-anticipated Italian delicatessen debuted in September, offering imported Italian grocery items and wines, a sandwich bar, bakery and pizzeria.
555 W. Beech St., Little Italy, 619.255.5700, romaurbanmarket.com
Salt & Straw, Little Italy
Portland's ultra-popular 7-year-old scoop shop chain opened its first San Diego location on Christmas weekend. The ice cream shops are famous for the long lines that form for scoops of honey lavender, sea salt with caramel ribbons, peppermint cocoa and many other unique flavors.
1670 India St., Little Italy, saltandstraw.com
San Telmo Argentine Café, Gaslamp Quarter
Argentineans Fabricio and Pamela Prencesvalle have opened this casual café serving empenadas, sandwiches, pork dishes, pastries, desserts and more.
531 Broadway, Gaslamp, facebook.com/SanTelmoArgentineCafe
Snooze: an AM Eatery, La Jolla
Blazing trails in breakfast, Denver based duo Jon and Adam Schlegel open up their 24th location in the newly revamped La Jolla Village amongst Whole Foods and Mendocino Farms. With 12 Months of Green and 90% of waste in compost and recycling, Snooze paves the way for responsible restauranturing.
8861 Villa La Jolla Dr., Ste. 509, La Jolla, 858.483.5556, snoozeeatery.com
Steamy Piggy, Kearny Mesa
Serving up made-from-scratch dumplings, noodles, and "piggy"-inspired dishes, this fresh and modern locale appeals to the hip crowd. Look for the lychee green tea, Nutella dumplings and a piggy wall for Instagram and Snapchat shots.
4681 Convoy St., Ste. A, Kearny Mesa, 858.492.0401, steamypiggy.com
Stella Public House and Halcyon, San Marcos
This dual dining concept, first introduced in East Village in 2015, opened in October in the North City development near Cal State San Marcos. Halcyon is a breakfast/lunch/coffeehouse/cocktail/late-night bites spot. Stella Public House serves lunch, dinner and weekend brunch with a house specialty of wood-fired pizzas.
Halcyon Coffee Bar: North City Block C, 250 N. City Dr., Ste. 1, San Marcos, 760.798.8340, halcyoncoffeebar.com
Stella Public House: North City Block C, 250 N. City Dr., Ste. 3, San Marcos, 760.798.8350, stellapublichouse.com
Temp by Cosecha, Chula Vista
Chef Steve Brown's farm-driven modern American 40-seat restaurant offers mid-priced dinner service Tuesdays-Saturdays, a boozy brunch on weekends and periodic Cosecha fine-dining, multicourse pop-up dinners every other Sunday night.
277 Third Ave., Chula Vista, 619.737.5470, chefstevebrown.com
Topside Terrace Kitchen & Bar and Trade, downtown
San Diego's The Patio Group is operating these two new restaurant/bar concepts in the Hotel Republic San Diego, a boutique inn that opened in November. The third-floor terrace restaurant/bar Topside has an everything-made-in-house, farm-to-table menu. Trade is the 57-seat lobby cocktail bar, serving a seafood-centric lunch and dinner menu.
421 W. B St., downtown, 619.398.3100, hotelrepublicsd.com
West Pac Noodle Bar, Coronado
Blue Bridge Hospitality's culinary tribute to San Diego's naval history features the cuisine of eight Pacific Rim countries. It was set to open in December.
1166 Orange Ave., Coronado, westpacnoodle.com
When Pigs Fly, Vista
Dale and Tommy Ginos, who have run their award-winning barbecue restaurant for the past four years at a Chevron gas station in North Vista, were scheduled to relocate their eatery in December to a newly renovated storefront in Vista Village.
230 Main St., Vista, 760.945.7828, whenpigsflybbq.com
____________________________________________
OPENING 2018
(Scheduled to open between January and summer)
An's Dry Cleaning, North Park
This spring, the historic dry cleaning store will be transformed into an artisan gelato shop, but it will retain its retro name. Seven flavors of fresh-made sweet and savory gelato will rotate daily, with ingredients like gorgonzola, cactus and wasabi flowers in the mix.
3017 Adams Ave., North Park, adcgelato.com
The Bell Marker Brewery & Kitchen, downtown
The Artisanal Brewers Collective has named this 200-seat American brasserie and craft brewery after the famous Mission bells along El Camino Real. The menu features pizza and modern California cuisine. A winter opening is planned.
602 Broadway, downtown, thebellmarker.com
Better Buzz Coffee, Hillcrest
San Diego-based Better Buzz, with seven retail outlets countywide and a roasting warehouse in Vista, expands this winter with a 7,500-square-foot retail/office center in Hillcrest. The ground floor will be a coffee bar and special events space and the upstairs will serve as Better Buzz's new headquarters.
801 University Ave., Hillcrest, betterbuzzcoffee.com
Blue Water Seafood Market & Grill, Ocean Beach
Brothers Matt and Judd Braun will open the second location of their Mission Hills-born seafood eatery this spring in Ocean Beach. They plan to update the location with a new stage for live music.
5083 Santa Monica Ave., Ste. B, Ocean Beach, bluewaterseafoodsandiego.com
Breakfast Republic, Carlsbad and Pacific Beach
In the spring, Rise & Shine Restaurant Group will open the eighth location of this brunch-centric restaurant chain at The Shoppes at Carlsbad shopping mall.
The Shoppes at Carlsbad, 2525 El Camino Real, Carlsbad; 4465 Mission Blvd., Pacific Beach (now open), breakfastrepublic.com
Chloe at Scout, East Village
This winter, the owners of Café Chloe will open a European-style catering and special events venue serving French Provencal food, wines and garden-inspired cocktails.
2675 Rosecrans St., Liberty Station, cafechloe.com
Ciao Plaza, Vista
The 20-year-old north Vista restaurant is building a massive 10,000-square-foot expansion at its current location, with plans for completion later this winter. The 300-seat location will add a bakery, deli, gelateria, enoteca and large banquet hall.
2015 E. Vista Way, Vista, 760.630.7333, ciao2.com
Don Chido, Gaslamp
The 3-year-old modern Mexican eatery shuttered in November for an overhaul that will finish up later this winter. Owner RMD Group says the new Don Chido will be more nightlife-focused with an elevated lounge, music, dance floor and improved menu featuring craft tacos by Chef Andre Alto.
527 Fifth Ave., Gaslamp, 619.232.8226, donchido.com
El Jardin, Liberty Station
Current Top Chef competitor Claudette Zepeda-Wilkins (formerly of Bracero Cucina) is developing the menu for this latest entry from Johan Engman's Rise & Shine Restaurant Group. Zepeda-Wilkins, who grew up on both sides of the Mexican border, is planning a contemporary, refined take on regional Mexican cuisine in a colorfully decorated indoor/outdoor space. It's scheduled for an early 2018 opening.
2885 Perry Rd., Liberty Station, riseandshinerg.com
Empanada Kitchen, downtown
This popular Argentinean empanada vendor at the North Park and La Jolla farmers markets will open its first fast-casual storefront this winter.
819 C St., downtown, 619.988.7265, facebook.com/empanadakitchenSD
Frost Me Café & Bakery, Little Italy
Frost Me Gourmet, the Seaport Village cupcake shop that came up a winner on Food Network's ninth season of Cupcake Wars, will open its second shop this winter in Little Italy. Located on Little Italy's new pedestrian Piazza della Famiglia, the outlet will serve desserts, sandwiches, salads, charcuterie boards, coffee drinks, beer and wine.
523 W. Date St., Little Italy, frostmegourmet.com
Grubby's Poke & Fish Market, Carlsbad
This new concept from the owners of Señor Grubby's will feature poke bowls, fresh fish entrees and locally-caught sushi-grade fish sold by the pound.
The Shoppes at Carlsbad, 2525 El Camino Real, Carlsbad
grubbyspoke.com
Haru Mama, Little Italy
This winter, Jenny and James Pyo, who own Love Boat Sushi, Pokewan and several other local Asian eateries, will open this contemporary ramen bar, featuring steamed buns, bowls, noodle dishes and salads.
1901 Columbia St., Little Italy, 619.564.8970
The Kitchen, Rancho Bernardo
Bernardo Winery owner Ross Rizzo Jr. will open this Italian-American wine-themed restaurant on the winery property in the spring. Rizzo's restaurant will use recipes that have been in his family since the 1920s. The Kitchen replaces Café Merlot, which was set to close on Dec. 31.
13330 Paseo Del Verano Norte, Rancho Bernardo
858.487.1866, bernardowinery.com
Lola 55, East Village
Owner Frank Vizcarra and Chef Drew Bent are planning an early spring opening for this fine/fast-casual restaurant serving a Mexican-inspired healthy menu of gourmet tacos with a full bar program.
1290 F St., East Village, lola55catering.com
Lucha Libre Taco Shop #3, Carlsbad
Brothers Jose Luis, Maurilio and Diego Rojana-Garcia bring their secret chipotle sauce, Surfin' Cali burrito and TJ Dog to a third location, this time in North County. Located at the newly remodeled Shoppes at Carlsbad mall, lovers of the Lucha can devour a variety of gourmet tacos and shop for Luchado-inspired gear.
The Shoppes at Carlsbad, 2525 El Camino Real, Ste. 218-C, Carlsbad, tacosmackdown.com
Maestoso, Hillcrest
Celebrated New York chef Marco Maestoso will partner with Dalila Ercolani and local Italian ex-pats Christopher Antinucci and Giulia Colmignoli (owners of the Napizza chain) to open a 90-seat modern Italian restaurant this winter in The Hub Hillcrest Market. Maestoso's four-part menu will feature pinsa (an ancient form of pizza), build-your-own pasta dishes, traditional plated entrees and a chef's whim option called passaggi.
1040 University Ave., Hillcrest, casamaestoso.it
Mavericks Beach Club, Pacific Beach
The former PB Bar & Grill is being remodeled and will reopen this winter as a 15,000-square-foot restaurant and bar.
860 Garnet Ave., Pacific Beach, maverickssd.com
Menya Ultra Ramen, Mira Mesa
With a popular Clairemont Mesa location (8199 Clairemont Mesa Blvd., 858.571.2010) under its belt, the home of the "best ramen in America" by Andrew Zimmern opens up a new outpost in Mira Mesa. Delectable house made noodles and broth brings crowds in droves, with expansion plans including a central kitchen and third location by close of 2018.
8141 Mira Mesa Blvd., Mira Mesa, menya-ultra.com
Monzu Fresh Pasta, East Village
Italians Aldo de Dominicis Rotondi and Serena Romano are planning a restaurant/retail pasta shop in East Village later this winter. A wide range of house-made, fresh pastas will be made daily, along with a variety of sauces from different regions of Italy.
455 Tenth Ave., East Village, monzufreshpasta.com
Parana Empanadas, Golden Triangle
This family-owned company, offering Argentinian empanadas developed from family recipes, will open its second storefront this winter at Westfield UTC. The family project started in farmers markets around San Diego then expanded to its location at Liberty Public Market.
Westfield UTC, 4545 La Jolla Village Dr., La Jolla, paranaempanadas.com
Park Commons, Sorrento Valley
Whisknladle Hospitality is taking over the former San Diego Tech Center building to create a 10,000-square-foot food hall and event space. Chef Ryan Johnston will oversee the multi-concept food stations that will serve salads, Middle Eastern wraps, street tacos, poke, sandwiches and coffee, plus an evening bar. A summer opening is projected.
The Park, 9645 Scranton Road, Sorrento Valley, whisknladle.com
Point Loma Fish Shop, Point Loma
Billy Ramirez will open the fourth location of his 8-year-old Fish Shop casual seafood chain this winter in Point Loma. Like the other locations, the eatery will serve a variety of fresh-caught seafood in soups, sandwiches and grilled platters.
1110 Rosecrans St., Ste. 100, Point Loma, facebook.com/plfishshop
Punch Bowl Social, East Village
In March, a Colorado-based "eatertainment" chain plans to launch Punch Bowl Social, a 24,000-square-foot restaurant, bar, bowling alley, karaoke hall and game arcade in East Village. The menu will be Southern-inspired and created by Hugh Acheson, celebrity chef and cookbook author. The Denver Punch Bowl Social menu includes dishes like pot roast, Kobe beef franks, lobster bacon fries and OMFG Southern Fried Chicken. Read more about the upcoming opening here.
15th and E streets, East Village, punchbowlsocial.com
Queenstown Bistro, Golden Triangle
This winter, the owners of Queenstown Public House in Little Italy will open Queenstown Bistro (formerly known as Arbor), serving wine and craft beer, shareable plates and organic sandwiches and burgers for lunch and dinner.
Westfield UTC, 4545 La Jolla Village Dr., La Jolla, 619.546.0444, queenstownbistro.com
Raised by Wolves, Golden Triangle
This winter, CH Projects will open this $2 million spirits-themed retail shop and speakeasy-style cocktail tasting room at Westfield UTC mall. The shop will offer a 1,500-square-foot shop selling books, barware and CH-branded products with a hidden cocktail bar for onsite tastings. Read more about the new CH Projects location here.
Westfield UTC, 4545 La Jolla Village Dr., Ste. 4301, La Jolla, consortiumholdings.com
Raising Cane's, Vista
San Diego County's first Raising Cane's chicken fingers outlet will open this year in Vista Village. The drive-thru fast-food eatery will replace the shuttered Famous Dave's barbecue restaurant.
303 Vista Village Drive, Vista, raisingcanes.com
Rio Churrascaria Brazilian Steakhouse, San Marcos
This Brazil-inspired restaurant specializes in charcoal-grilled meats as part of a 20-item buffet. It replaces the shuttered Elephant Bar restaurant in Grand Plaza later this winter.
105 S. Las Posas Rd., San Marcos
Sisters Pizza, Bankers Hill
Emily Green will open an East Coast-style pizzeria this spring in a former beauty salon space in Bankers Hill. It's named for her late sister, Kate, who died in 2016. Chef Alex Carballo (former chef/owner URBN Coal Fired Pizza) is helping Green develop the menu, which will include pastas, salads, sandwiches and more.
3603 Fourth Ave., Bankers Hill, 858.228.6822, sisterspizzasd.com
Texas De Brazil, Carlsbad
This Brazilian-style churrascaria will open in late 2018 in The Shoppes at Carlsbad mall. The 20-year-old Texas-based chain's restaurants serve all-you-can-eat grilled and roasted meats served tableside.
The Shoppes at Carlsbad, 2525 El Camino Real, Carlsbad, texasdebrazil.com
Ways & Means Oyster House, La Jolla
This spring, the Orange County restaurant company will open its first San Diego County location in the former Alfonso's space in La Jolla. Ways & Means, with outlets in Huntington Beach and Tigard, Ore., is known for its vast menu of fresh raw oysters, including a brand of its own.
1251 Prospect St., La Jolla, wmoysters.com
Wokcano, Carlsbad
The L.A.-based chain will open its first San Diego location later this winter in The Shoppes at Carlsbad shopping mall. The Asian fusion restaurant offers a contemporary take on Japanese and Chinese cuisine, including sushi, sashimi, noodle dishes and Asian-inspired cocktails.
The Shoppes at Carlsbad, 2525 El Camino Real, Carlsbad, wokcanorestaurant.com
Freelance writer Laurie Delk and Union-Tribune writer Jeanette Steele contributed to this story.
Sign up for the Pacific Insider newsletter
You may occasionally receive promotional content from the Pacific San Diego.