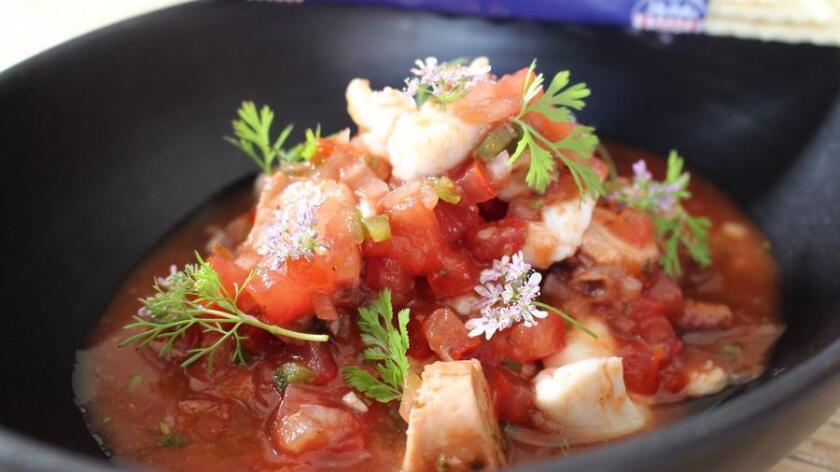 These San Diego restaurants are adding new touches to their menus.
Jsix Restaurant has added $5 Rose & Ceviche Tuesdays to its menu. The ceviche is made daily with fresh fish ranging from tuna to sea bass and is served with a dry Spanish rosé. One of the offerings, Kinilawin, a Filipino-style ceviche, is made with calamansi juice, fish sauce, red onion and serrano chiles, white distilled vinegar and coconut milk. Shaved red onion and cilantro top off the dish, which is served with Sky Flake crackers. 4 to 10 p.m. every Tuesday. 616 J St. , San Diego. (619) 531-8744 or jsixrestaurant.com
The Shores Restaurant is offering guests seasonal Maine lobster and happy hour specials. Guests can feast on a three-course menu of steamed one-pound Maine lobster served with sausage, clams, new potatoes, corn and drawn butter, choice of soup or salad and dessert. The dinner is offered Thursday and Friday in a limited quantity for $39.50 per person. The New 7 for $7 Happy Hour, served from 3 to 6 p.m. Monday through Friday, offers guests savory options like pork belly corn dogs, honey ancho chicken wings and maple-glazed sweet potato fries, and drink specials like pineapple mint mojitos, white peach sangria, craft beer and wine by the glass. 8110 Camino Del Oro, La Jolla. (858) 456-0600 or theshoresrestaurant.com
The Buffet at Viejas Casino & Resort is offering King Crab Leg Fridays. The Alaskan king crab is served alongside a variety of offerings, including a street taco station, an Italian station with pastas, sauces and cheeses, a create-your-own Asian soup station and an omelet station. 11 a.m. to 10:30 p.m. every Friday. 5000 Willows Road, Alpine. (619) 445-5400 or viejas.com
Red Card Cafe has launched a new lunch, dinner and brunch menu, crafted by its new executive chef Jeff Larson. The lunch and dinner lineups feature almost 20 small plates with items like Chino Farms heirloom gazpacho and arugula stone fruit salad, along with more than a half-dozen larger entrees with plates like pork belly BLT, Jidori chicken breast and braised short rib. Brunchers will find corn dog fried sausage in maple syrup, duck confit hash, fried chicken and sweet potato waffles, 14 craft beers on tap and bottomless mimosas. 4140 Morena Blvd., San Diego. redcardcafe.com
Bankers Hill Bar + Restaurant has added new dishes to its menu, including fried green tomatoes and burrata (fresh Italian cheese) with basil oil, tomato jam and arugula; three cheese stout fondue served with toasted garlic sourdough and cherry tomatoes; and chipotle-glazed barbecue pork ribs (half rack) with barbecue baked beans, buttermilk-chive cornbread and rosemary butter. 2202 Fourth Ave., San Diego. (619) 231-0222 or bankershillsd.com
Trust Restaurant is offering a trifecta of new menu items: savories, sweets and sips. Chef Brad Wise has concocted new dishes featuring house-cured meats in plates like chop salad with salami and wood-grilled pork sausage. Pastry chef Jeremy Harville's desserts include a strawberry tomato tart and chocolate cake. Bar manager Juan Sanchez has conjured up a collection of classic and contemporary cocktails as well as signature originals like the Paper Plane, made with Evan Williams Bourbon; Toki Old Fashioned, made with Toki Whiskey and vermouth; and Paloma, made with tequila, grapefruit and agave. 3752 Park Blvd., San Diego. (619) 795-6901 or trustrestaurantsd.com
Cucina Sorella in Kensington is serving a new dinner menu perfect for summertime dining. Entrees include tagliatelle ($20), a pasta dish made with pistachio pesto, peas, celery, mint and lime; and grilled bavette (sirloin tip) steak ($26), served with oyster and enoki mushrooms, romaine, rosemary croutons and Caesar dressing. 4055 Adams Ave., San Diego. (619) 281-4014.
Pacific Standard Coastal Kitchen has revamped one of its patios into a pooch-friendly retreat complete with complimentary, all-natural, house-made dog treats. While your pet is busy noshing away, two-legged guests can snack on the restaurant's newly launched happy hour menu offering favorites like braised spare ribs, pork and beef meatballs, wings, lager-battered fish, charcuterie and cheese plate and a house-made brioche loaf for $5 each. Drink specials include select $5 wines, wells and drafts and $6 and $7 craft cocktails. 4 to 6 p.m. daily. 2137 Pacific Highway, San Diego. pacificstandardrestaurant.com
Cafe Gratitude has unveiled a new menu featuring seasonal ingredients. Highlights include the Liberated, a raw kelp noodle dish served with heirloom cherry tomatoes, olives, arugula, cashew ricotta and Brazil Nut Parmesan; the Brilliant, a coconut ceviche with summer squash, roasted tomatillo sauce, coconut bacon, avocado and tortilla chips; the Local, a grilled peach and asparagus salad topped with arugula, goji berry chipotle, shaved fennel, cashew mozzarella, coconut bacon, gremolata (Italian condiment) and spicy pepitas (pumpkin seeds); and the Fabulous, a raw Mexican lasagna with heirloom tomatoes, squash noodles, cilantro pumpkin seed pesto, sweet corn, cashew queso fresco and cacao mole. 1980 Kettner Blvd., San Diego. (619) 736-5077 or cafegratitude.com
---