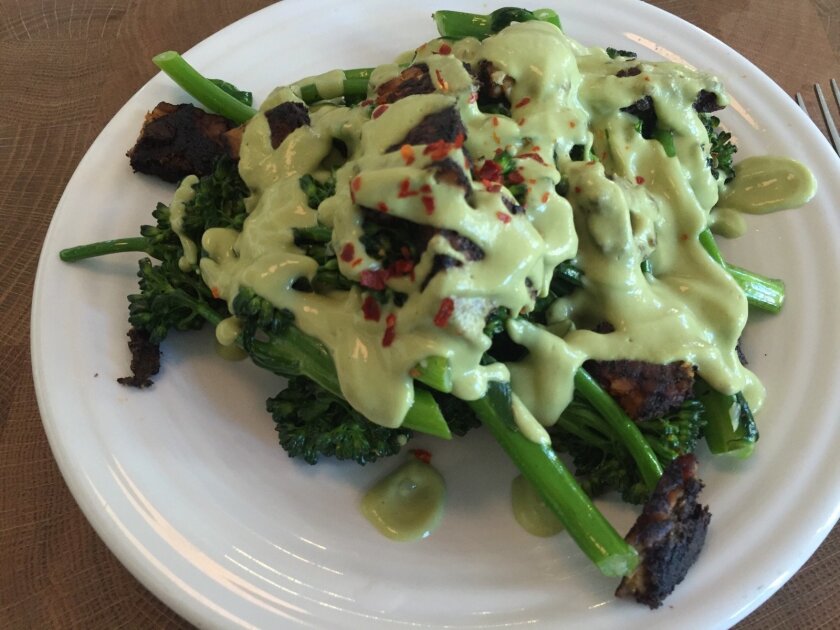 What is it? "Bright," a sauteed spicy broccolini dish
Where is it from? Cafe Gratitude, Little Italy
What's in it? Braised broccolini, marinated tempeh crisps, red chili flakes and avocado cream
How much will it cost me? $11.50
Why we love it? Broccolini is a veggie that we love to have alongside other foods, but rarely does it stand strongly as a dish in itself. The braised broccolini in this dish is topped with fresh, spicy red chili flakes and a house-made avocado cream, helping to add some additional texture and rich flavors that round out the "bright" meal. The addition of marinated tempeh crisps is the perfect touch, making it a complete, protein-filled meal.
1980 Kettner Blvd., Little Italy. cafegratitude.com
Side note: the restaurant is turning one and celebrating with a one-year-anniversary party this weekend. Get the details here.
Want more?
Meatless Monday: Loaded sweet potato from Sol Cal Cafe
Meatless Monday: Vegan ramen from Tajima
Source: DiscoverSD
---