Havana nights: Authentic Cuban vibes unleashed at new Gaslamp restaurant/bar
The hospitality group behind Havana 1920, the new Cuban restaurant/bar in the Gaslamp Quarter, is named GBOD, an acronym for Go Big or Die. The 3-year-old San Diego restaurant company's fearless business philosophy has happily paid off with a string of successful ethnic eateries. But they were merely the appetizer for Havana 1920, GBOD's biggest shoot-for-the-moon enterprise yet.
Havana 1920 is the passion project of Chief Operating Officer Joe Santos. He's the grandson of Cuban immigrants, and the restaurant's pastel-colored walls, historical décor, menu and classic cocktails are a love letter to his family and the traditional dishes he grew up eating.
"Havana 1920 has been in my head for the longest time, well before I started working in restaurants," said Santos, who was born and raised in Puerto Rico, where his grandparents settled after leaving Cuba in the mid-1950s.
Manager Andrew Walsh said no expense has been spared in re-creating the look, flavor and ambience of Havana in 1920. That's the year U.S. Prohibition laws sent thousands of thirsty Americans winging their way south for rum drinks and the tropical lifestyle later popularized by island transplant Ernest Hemingway.
The 80-seat venue resembles a '20s-era Havana home, with a quick-service market on the ground floor (look for the hand-painted city mural with the Santos family house) and homespun tables with mismatched chairs in the upstairs dining room, which customers reach by climbing a Cubana airlines stairwell lined with antique plane tickets and travel posters.
There are Cuban license plates (pre- and post-Castro), antique Cuban cigar boxes and rum bottles, historic posters and family heirlooms. On weekend nights, there's live Cuban music.
By the bar, there's a video floor showing Cuban films and a table with an inlaid wood map of the isles. Behind the bar, mixologist Ryan Andrew has a machine that crushes island-grown sugar cane to mix with some of the venue's more than 150 varieties of fine and rare Caribbean rum.
Chef Anthony Porras' menu is what Santos calls "the anti-fusion food" of Cuba. Except for some Spanish influences, Cuban cuisine has changed very little over the past century. There are classic Cubano sandwiches, yucca fries and plantain snacks, croquetas, citrus-marinated chicken and cafecitos (espresso brewed with brown sugar granules).
"The greatest compliment we can get is when people come in and say our food tastes just like their grandmother used to make," Santos said.
GBOD is a partnership of brothers Ray and Patrick Davoudi, Santos and Aleko Achtipes. Their first Gaslamp project was Meze Greek Fusion in 2014. Their underground speakeasy, Prohibition, is directly beneath Havana 1920, and right next door is El Chingon, which has a Mexican Revolution theme. The group also owns the Greek-inspired Saganaki by Meze at Liberty Station.
Santos said he's grateful his partners let him go all in on Havana 1920, which is one of San Diego's only classic Cuban restaurants. It's a risk to serve such simple food in the high-rent Gaslamp district, but Santos is optimistic.
"This was such a passion project for us that even if we break even, we'll be happy," he said. "We took a chance because we believed in it."
Havana 1920: 548 Fifth Ave., Gaslamp, 619.501.1919, havana1920.com
The dish
Empanadas: Traditional, Spanish-influenced fried pastries, served with two dipping sauces: mojo criollo (garlic, olive oil and citrus juice) and Havana royale (ketchup and mayonnaise). To get the right crunch and sweetness, Havana 1920 flies its pastry dough in from a Cuban bakery in L.A.
Sandwich Cubano: The classic hot sandwich made with slow-roasted pork, Swiss cheese, yellow mustard and pickles on Cuban bread that's flown in weekly from Miami.
Ropa Vieja: Cuba's national dish of stewed beef, tomato sauce, peppers, onions and spices. The name is Spanish for "old clothes" because the slow-cooked dish resembles shredded fabric.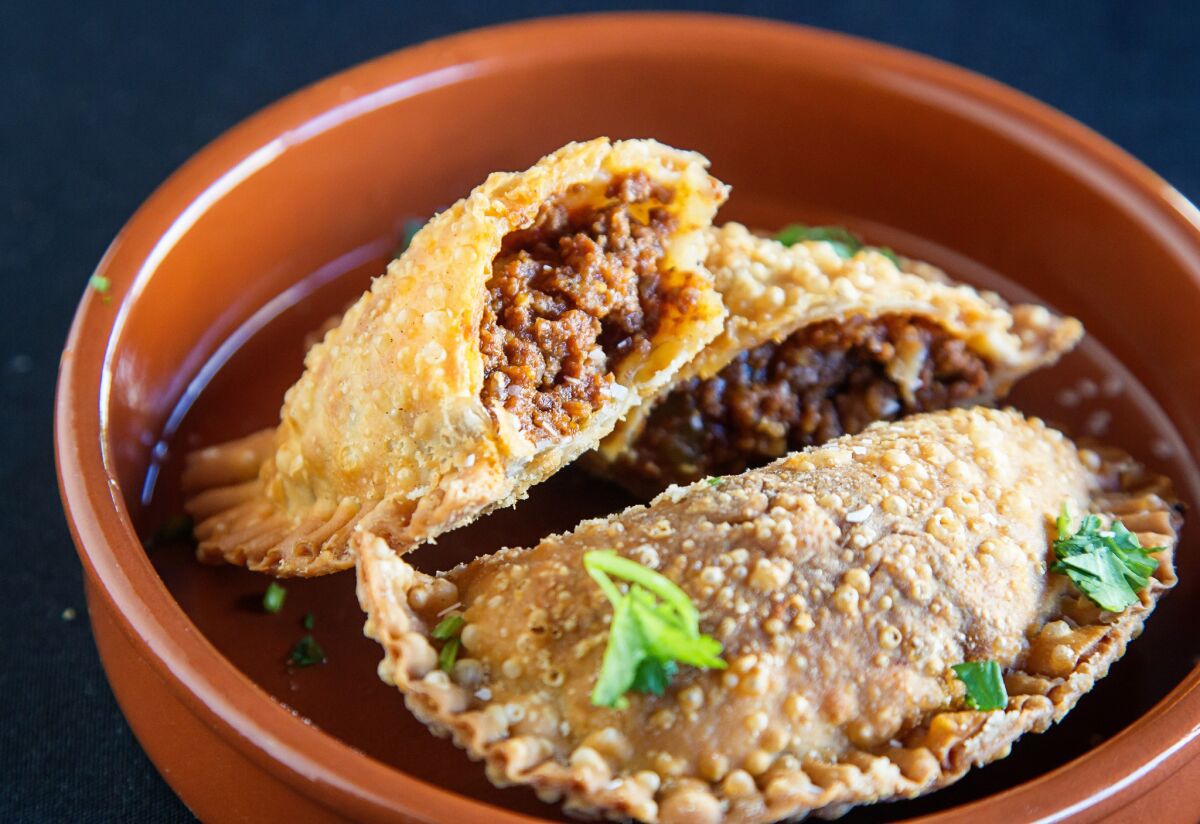 Sign up for the Pacific Insider newsletter
You may occasionally receive promotional content from the Pacific San Diego.